There are 2.5 million iOS Apps
in the World. Make yours differently!
We are dedicated towards building a concrete iOS application for your next idea. At SoluLab our team is dedicated to create elite, secure and powerful iOS applications which influence your business to be less complex and more productive. We utilize the knowledge of best iOS application developers with broad learning of iOS application development frameworks, SDKs and APIs.
Our group of senior iOS engineers offers demonstrated involvement in building up the absolute most creative iPhone & iPad application ideas into reality. Regardless of what your requirement for iOS application might be, we would build up the best iOS application that matches your prerequisites and budget.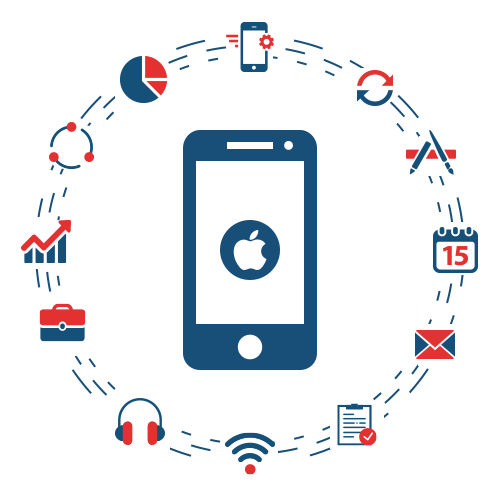 Here is the rundown of reasons why businesses
select us over other service providers in the industry
Our iPhone & iPad application development team consist of incredibly gifted group of iOS developers who are specialists in working with Apple and Mac related technologies. Our splendid team is known in mobile application industry for outlining exceptional UI plans with moderate approach that is perfectly suited for iPhone gadgets.

With a considerable industry experience in application development, we have an extensive scope of amazingly created iOS applications in Apple App Store.

We use prompt techniques and developments to make applications with a user friendly interface and amazing user experience.

We are one of the best in iPhone application development companies as we deliver world-class versatile applications for customers, which offers excellent user experience to iPhone users.

Our qualified team is not just focused on crafting apps that meet client's needs, but also ensures that the developed mobile app follows stringent guidelines of iPhone app store.

Our iOS application team monitor new updates made by Apple every year in the Worldwide Developer Conference - WWDC to stay updated while developing versatile applications with most recent functionalities. This process encourages us to remain ahead of other iOS application development companies in the industry.
Words aren't enough to build a brilliant app strategy
Our Design and Development Process
Work speaks louder than words
Casting Work Book

SoluLab

2021-03-31T11:59:50+05:30

Deals En Route

SoluLab

2020-02-27T07:53:40+05:30

Hello Layover

SoluLab

2020-02-27T07:55:29+05:30
What our client says

Based on what I've seen from our beta tests, the site is quite stable.

They manifested our concepts and were quite responsive.

They're very agile and able to use the technology you need to solve the problem, not the other way around.
Our recent posts
Kajol Wadhwani
Explore the future of smart contracts in blockchain development, trends, and how SoluLab can elevate your business in dApps.
Neeraj Raisinghani
Discover how AI is reshaping careers and industries, unraveling the future of work in transformative ways.
Kajol Wadhwani
Navigate seamless cloud migration with key insights. Explore key points for a successful transition in this informative guide.
FAQs
Is it the right time to make an investment in developing iPhone app?
SoluLab
2018-02-16T14:02:30+05:30
Yes. If you want to move a step ahead and want app development for iPhone, it's a time to implement your idea into an iOS app. Success is not solely based on a good idea but also depends on the proper execution.
We take pride to develop a winning application with scalable and easy to maintain code. We have expertise in extending brands into digital platforms by developing a high-quality iOS application that accepted by global users. So, stop thinking more, talk to our iOS engineers for the better solution.