Best Cross-Platform Mobile App Development Company
Hire SoluLab's talented Cross-Platform App Developers to create outstanding multi-platform mobile apps. We are growing as one of the trusted brands in Cross-Platform Apps Development in USA and Canada. Connect with us discuss you convert your idea into stunning Cross-Platform Mobile App Development.
Trust us with Cross-Platform Mobile App Development
SoluLab is a best supplier of Multi-Platform application advancement and cross-stage portable application improvement administrations. Our group of master portable application engineers with broad involvement in Cross-Platform Mobile App Development have been constructing probably the most exact applications on stages like ionic, phone gap, react native, native script to give some examples.
At SoluLab, we consolidate space information with innovation skill and business keenness to convey superior, practical outcomes. We spend significant time in full-benefit cross stage advancement process appropriate from prerequisites gathering, UX/UI configuration, coding, testing to item upkeep and support to fabricate completely included and quality-rich applications at a competitive price.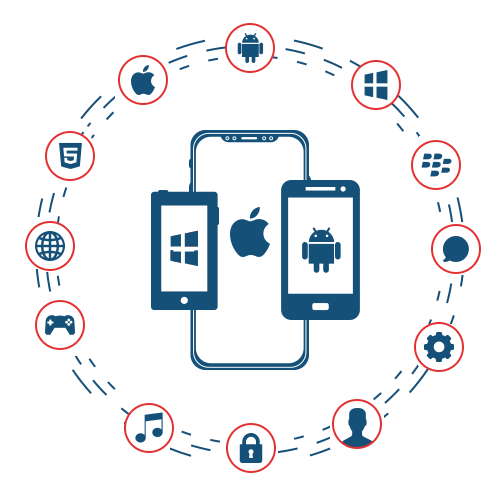 We make the finest Cross-platform apps that
run smooth on multiple devices.
Cross-platform mobile app development alludes to the advancement of portable applications that can be utilized on numerous portable stages.
In the business world, a developing pattern called BYOD (Bring Your Own Device) is rising.
BYOD alludes to representatives bringing their very own cell phone into the working environment to be utilized as a part of place of conventional desktop PCs or organization gave cell phones to getting to organization applications and information.

As a result of BYOD, it has turned out to be vital for organizations to build up their corporate portable applications and have the capacity to send them to a wide range of cell phones that work on different systems and utilize distinctive working frameworks.

We utilize propelled techniques and advances to make applications with a way breaking interface and propelled highlights.

Cross-platform mobile development can either include an organization building up the first application on a local stage (which could be iOS, Android, Windows Mobile, BlackBerry/RIM, and so forth.) or building up the first application in a solitary domain for improvement that will at that point permit the application to be sent to a wide range of local stages.

There are the two advantages and disadvantages to cross-platform mobile application development. These instruments are valuable since they diminish expenses and increment the speed at which applications are created. What's more, cross-platform mobile development instruments are by and large very easy to use as they are based off of the regular dialects for scripting, including CSS, HTML, and JavaScript.

In any case, Cross-platform mobile development has a couple of downsides. Initially, portable working frameworks are every now and again refreshed. At whatever point a portable working framework gets another refresh, the applications should likewise be refreshed to be perfect with the new framework. Likewise, rendering times with cross-stage portable advancement might be longer as each working framework needs a different arrangement of code.
The framework in which we work are
Ionic
Ionic is an open-source SDK for mixture versatile application advancement. It is a valuable cross-stage apparatus. It utilizes web advances like HTML5, CSS and Sass. It is based over AngularJS and Apache Cordava. It gives a stage to coordinating administrations like push warnings and investigation. It gives all the usefulness that can be found in local versatile improvements SDKs. With the assistance of Cordava, clients can assemble their applications, alter them for Android or iOS. Ionic is a npm module and requires Node.js.
Some of its highlights:
Build intelligent applications utilizing HTML5 and AngularJS

Build iOS and Android forms and see changes immediately with the assistance of Ionic Serve Lab.

Update your applications in a split second with code changes

Ionic maker, a helpful apparatus for UI prototyping

Generate symbols for various screens utilizing one charge.
PhoneGap
Open source PhoneGap is an awesome choice for  Cross-platform mobile app development utilizing on existing web advancements. PhoneGap is most appropriate for portable applications that don't make considerable utilization of the telephone's local highlights. It bundles your applications inside a local application compartment which enables JavaScript to get to gadget level APIs a similar way typical application does.
Some of its highlights:
It permits making half breed applications utilizing well known web advancements (HTML5, CSS3 and JavaScript), which are additionally promptly accessible ranges of abilities

It gives you a chance to convey a solitary code base to various stages including iOS, Android, Windows Phone, BlackBerry, Firefox OS and then some

It takes after a module capable engineering, which implies that entrance to local gadget APIs and more can be reached out separately

It empowers you to make utilization of in-application, coordinated instalments by means of the App Store for iOS, the Google Play Store for Android and that's only the tip of the iceberg
React Native
Respond Native joins local application improvement with JavaScript UI advancement. While computationally overwhelming highlights can be actualized with local modules for iOS and Android, whatever is left of the code can be composed with JavaScript and shared crosswise over stages. Dissimilar to PhoneGap and Cordova cross-stage devices, React Native doesn't utilize WebView, a versatile motor that wraps code. Rather, it gives access to local portable controllers which takes into consideration accomplishing local look and feel to applications.
Some of its highlights:
Right now, React Native structure is one of the speediest and most proficient conditions for portable application advancement. It's undifferentiated from ReactJS, and this is what you should know as far as versatile.

React Native uses JavaScript – quick and famous programming dialect

Besides, React Native influences and joins the primary points of interest of JavaScript and ReactJS. Because of the pervasiveness of JS code, architects can work quicker and all the more productively on the grounds that they don't need to restart a created application after each refresh to see transforms; they can basically revive the review page.

Native controls and local modules in React Native enhance execution

React Native renders some code segments with local APIs, dissimilar to different cross-stage.

On best of that, React Native gives basic troubleshooting and blunder informing instruments. For example, like web-programming, pros can utilize Chrome or Safari engineer instruments, both of which they're normally acquainted with.
Nativescript
Nativescript is another open-source stage for building local cross-platform mobile applications. Nativescript gives you each local APIs in JavaScript of the greater part of the portable stages. You can without much of a stretch reuse existing module from npm straightforwardly in NativeScript ventures, making it less demanding to broaden the highlights of your applications.
Some of its highlights:
It has profoundly implanted help for Angular.js 2 and TypeScript

It gives you a chance to utilize any javascript library that does not depend on the web

Its applications use local parts and have guide access to the local APIs alongside full access to the advancement libraries

It has a cross-stage Declarative UI bolster, enabling you to make the application's UI once and utilize it effectively on other upheld stages
Work speaks louder than words
What our client says

Based on what I've seen from our beta tests, the site is quite stable.

They manifested our concepts and were quite responsive.

They're very agile and able to use the technology you need to solve the problem, not the other way around.
Our recent posts
Sonal Mehta
Where the popularity of the Native Apps seems never-ending and at the same point developers [...]
Sonal Mehta
TypeScript is superset of JavaScript. It has the same functionalities that are available in JavaScript [...]
Sonal Mehta
Among many various types of mHealth apps, medication tracker app i.e. pill reminder app is [...]
FAQs
How many design iterations will be there?
Sonal Mehta
2019-06-17T07:46:45+00:00
We are having an experienced UI/UX team. Once you award the project, Project Manager will send you design requirement document, which you required to fill in and send back, based on the same UI/UX designer will create 2-3 sample of icon and loading screen and sent for your approval after 2-3 revisions we expect this to be finalized. Once this is finalized we will move for designing remaining screen and complete the full application UI.