Our Web3 Development Services
At SoluLab, we provide a wide range of Web3 development services that are comprehensive in nature. We take pride in delivering exceptional Web3 solutions to our clients, all while ensuring highly competitive prices.
dApps Development

Our team of Web3 developers are well-versed in Rust, Golang, and Solidity programming languages, allowing us to create scalable dApps tailored to your specific business needs. Our customized Web3 decentralized applications are equipped with exceptional features such as scalability, security, and interoperability, resulting in an unparalleled user experience.

DeFi Development

Our DeFi development experts are dedicated to creating tailored DeFi solutions, including DeFi decentralized applications, layer 2 solutions, non-custodial wallets with automated market makers (AMMs), cross-chain DeFi exchanges, and more.

Metaverse Development

By leveraging cutting-edge technologies like blockchain, augmented reality (AR), virtual reality (VR), and 3D reconstruction, we bring to life an array of immersive elements - think stunning 3D spaces, NFT marketplaces, web3 wallets, captivating avatars, and self-sovereign identities.

NFT Development

Web3 provides a range of applications for NFTs, including but not limited to digital identification control, NFT verification on social media platforms, and leveraging NFTs to verify identities for granting membership and voting rights on different platforms.

Smart Contract Development

At SoluLab, we specialize in developing Smart Contracts that are supported by transparency, and allow for the automation of business processes across different levels. Our comprehensive services encompass the creation, development, and meticulous security testing of Smart Contracts and automated transaction processes.

Web3 App Development

It's time to take a giant leap into the future with our web3 development services and release a business app focused on your customers. Our user-centric Web3 Application Development Services allow thousands of transactions to be completed within microseconds.

Web3 Game Development

With our extensive knowledge and skillset in blockchain and related technologies, we can design and develop Web3 games of any size, type, or category. Our team of Web3 Game Development Experts is well-versed in utilizing Unreal Engine 5 and Unity to create modern, cutting-edge games that align with the industry's latest trends.

Web3 Integration Services

Integrating flexible and responsive Web3 applications that enable smooth A2A (application to application) and B2B data exchange. Our services encompass aiding you with the integration of web3 technologies and functionalities into your pre-existing business platform or application.

Web3 Marketing Services

Blockchain-enabled platforms and applications present enhanced security and transparency, facilitating reliable business operations and seamless customer engagement. Maximize the global reach of your brand through unparalleled marketing initiatives offered by our Web3 App Development Company.
Web3 Technologies We Serve
What Makes Our Web3 Developers Different?
Looking to stand out in the crowded Web3 development space? Look no further than our team and hire skilled Web3 developers.
With a focus on agile development and a commitment to exceptional business results, we go above and beyond to differentiate ourselves from other companies. Here's what you will be offered:
Experienced Web3 developers
Flexible engagement options
Cost-effective Web3 solutions
Daily/weekly/monthly reporting
Smooth communication
Our Hiring Process
First Consultation

We'll start with a phone conversation to better understand your needs and see whether we match your project.

Selection of Web3 Developers

Choose from our qualified in-house team and hire a developer for web3 projects. Interview and select individuals to discover your team's best match as quickly as possible.

Effortless Integration

Our engineers become an extension of your team, collaborating with you to guarantee smooth cooperation and accountability. You may assign tasks and get regular reports to keep track of progress.

Scaling a Flexible Team

We provide the ability to scale your team up or down in response to changing business demands, assuring maximum efficiency and performance at all times.
Our Hiring And Engagement Model
Hire top web3 developers today and take the first step towards building innovative web3 solutions that drive your business growth and success. You can also hire freelance web3 developers/web3 developers on contract via one of our engagement models.
Why Choose SoluLab to Hire Web3 Developers?
The efficiency with which our development team works at SoluLab calls for work experience with them. Hire top rated web3 developers from SoluLab today to get work experience like never before.



Hassle-free client interactions



Timely delivery of projects
Web3 Developer Skills & Qualifications
As a web3 developer, you will need a combination of technical and soft skills to be successful in the field. Here are some of the key skills and qualifications you will need.

A strong understanding of web3 technologies, including blockchain, decentralized finance (DeFi), and decentralized autonomous organizations (DAOs).

Proficiency in programming languages such as JavaScript, TypeScript, Python, and Rust.

Experience with web3 development frameworks and libraries, such as Ethereum, Polkadot, and IPFS.

Familiarity with decentralized applications (dApps) and web3 development tools, such as MetaMask, Remix, and Truffle.

Strong problem-solving skills and excellent communication skills for collaboration with stakeholders and clients.

A willingness to continuously learn and adapt to new developments in the field, and a degree in computer science or a related field is preferred.
Benchmarking
We offer customized, resilient, expandable, and secure Web3 development solutions that create user satisfaction and enhance engagement.
| Benchmarking | SoluLab | In-House | Freelance |
| --- | --- | --- | --- |
| Time to hire skilled developers | 1 day to 2 weeks | 4 to 6 weeks | 1 to 12 weeks |
| Project initiation time | 1 day to 2 weeks | 2 to 10 weeks | 1 to 10 weeks |
| Ongoing expenses for employee development and benefits | 48 hours to 1 week | 4 to 16 weeks | 1 to 12 weeks |
| Risk of project failure | Exceptionally low with a 98% success rate | Low | Very High |
| Developers supported by project management | Yes | Some | No |
| Exclusive development team | Yes | – | Some |
| Assurance of work quality | Yes | High | High |
| Guaranteed work precision | Yes | Some | No |
| Advanced development tools and workspace | Yes | High | Uncertain |
Industries We Serve
We are proud to serve a wide range of industries, providing innovative solutions that solve real-world problems and drive growth. Here are just a few examples of how we can help businesses in different sectors.
Healthcare

Web3 development offers the potential for secure, transparent, and patient-centric management of medical data and services.

Fintech

In fintech, web3 can bring decentralized financial services, enhanced transparency, and reduced costs for users.

Exchange

Web3 exchange development enables trustless and decentralized trading of assets, with greater security, transparency, and control for users.

Marketplace

Web3 marketplace development empowers users with greater control over their data, payments, and transactions, while facilitating peer-to-peer exchange and collaboration.

Gaming

By incentivizing gamers to participate in in-game activities, this innovative technology allows players to earn rewards that reflect their contributions to the game.

E-learning and Education

In e-learning and education, web3 development can enable decentralized and transparent platforms for knowledge sharing, skill development, and credentialing, with greater accessibility and inclusivity for learners.

Social Media

By providing a decentralized network, it allows individuals from all corners of the globe to connect with one another without compromising the security of their personal data.

Real Estate

The integration of Web3 technology in the real estate industry is a transformative development that eliminates intermediaries and third parties. This innovative technology puts the power back in the hands of the individuals behind each project.

Logistics and Supply Chain

Web3 development can help streamline logistics and supply chain management, providing a decentralized platform for tracking and verifying goods' movement, reducing costs, and enhancing transparency and efficiency.
Client's testimonial
"Working with SoluLab has been an exceptional experience for MultiVAC. Their team's expertise in blockchain technology, project management, and testing has been invaluable in developing and launching our project. "

Zach Weakland
CEO & Founder, MultiVAC
"Partnering with SoluLab has been a game-changer for NFTY. We are grateful for SoluLab's expertise in blockchain technology and its commitment to innovation in the DeFi space."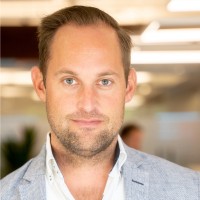 Chris Mills
Co-founder & CEO, NFTY Token
Frequently Asked Questions
To hire a Web3 Developer, you can utilize various channels such as job portals, social media, personal networks, or outsourcing companies specializing in Blockchain development. Look for Developers with experience in Web3 technologies, such as blockchain, smart contracts, and decentralized applications (dApps). It's crucial to evaluate their technical expertise and understanding of distributed ledger systems.
Hiring a Web3 developer is important because Web3 technologies, such as blockchain, smart contracts, and decentralized applications, are becoming increasingly popular and have the potential to transform industries. A skilled Web3 developer can help you build decentralized applications (dApps) that are secure, transparent, and tamper-proof. They can also help you implement smart contracts that automate business processes and reduce transaction costs. By hiring a Web3 developer, you can leverage the power of decentralized technologies and stay ahead of the curve in a rapid