Our Web3 Development Services
Discover a new dimension of decentralized applications with SoluLab's Web3 Development Services. We excel in blockchain, smart contracts, and decentralized finance protocols, crafting dynamic solutions. Stay ahead in the rapidly changing Web3 landscape with our tailored expertise.

Web3 Platform Development
Our team of expert developers helps create a decentralized and token-based platform that spins around the concepts of blockchain technology.

Web3 Integration Services
We design platforms centered around users, seamlessly integrating modern, advanced features into existing systems. Experience enhanced performance and fortified data security firsthand.

Web3 Application Development
Decentralized application made super easy by our top-tier Web3 application development services, and propel your business forward.

Web3 Games Development
Elevate players' gaming encounters with our Web3 development solutions, meticulously tailored to construct cutting-edge games enriched with in-game advantages and safeguarded by blockchain security.

NFT Marketplace Development
We specialize in crafting NFT marketplaces that empower creators and collectors to seamlessly trade, showcase, and monetize their digital assets, backed by our expertise in blockchain technology and user-centric design.

Metaverse
Development
Our pioneers immersive Metaverse experiences, seamlessly merging technology and creativity to craft interconnected virtual realms that redefine user engagement within the Web3 ecosystem

Real Estate
Tokenization
SoluLab revolutionizes property investment through blockchain-based tokenization, creating accessible and secure fractional ownership opportunities in the real estate market.

Exchange
Development
SoluLab crafts secure and user-friendly cryptocurrency exchanges, ensuring seamless trading and top-tier user experiences through advanced technology.

DeFi
Development
Our skilled team crafts tailored DeFi solutions, spanning dApps, layered systems, AMMs, non-custodial wallets, cross-chain exchanges, and beyond.

Our Web3 Development Technology Stack
Client Testimonials
"SoluLab's Web3 expertise reshaped our digital landscape. Their solutions added a dynamic edge to our services, and their team's dedication was exceptional."

Adil Abbas

CEO, Alacrity

"SoluLab created a one-of-a-kind platform for us. With complete visibility of the process, they ensured smooth collaboration and seamless performance."

Lourens Reijgersberg

Product Manager, Mighty Jaxx

"We closely worked with the SoluLab team to create a platform that we envisioned. Converting our ideas and keeping our end-user experience in mind, SoluLab developed an interactive and one-of-a-kind platform that we are proud of."

Bela Gulacsi

Founder, EnverX UG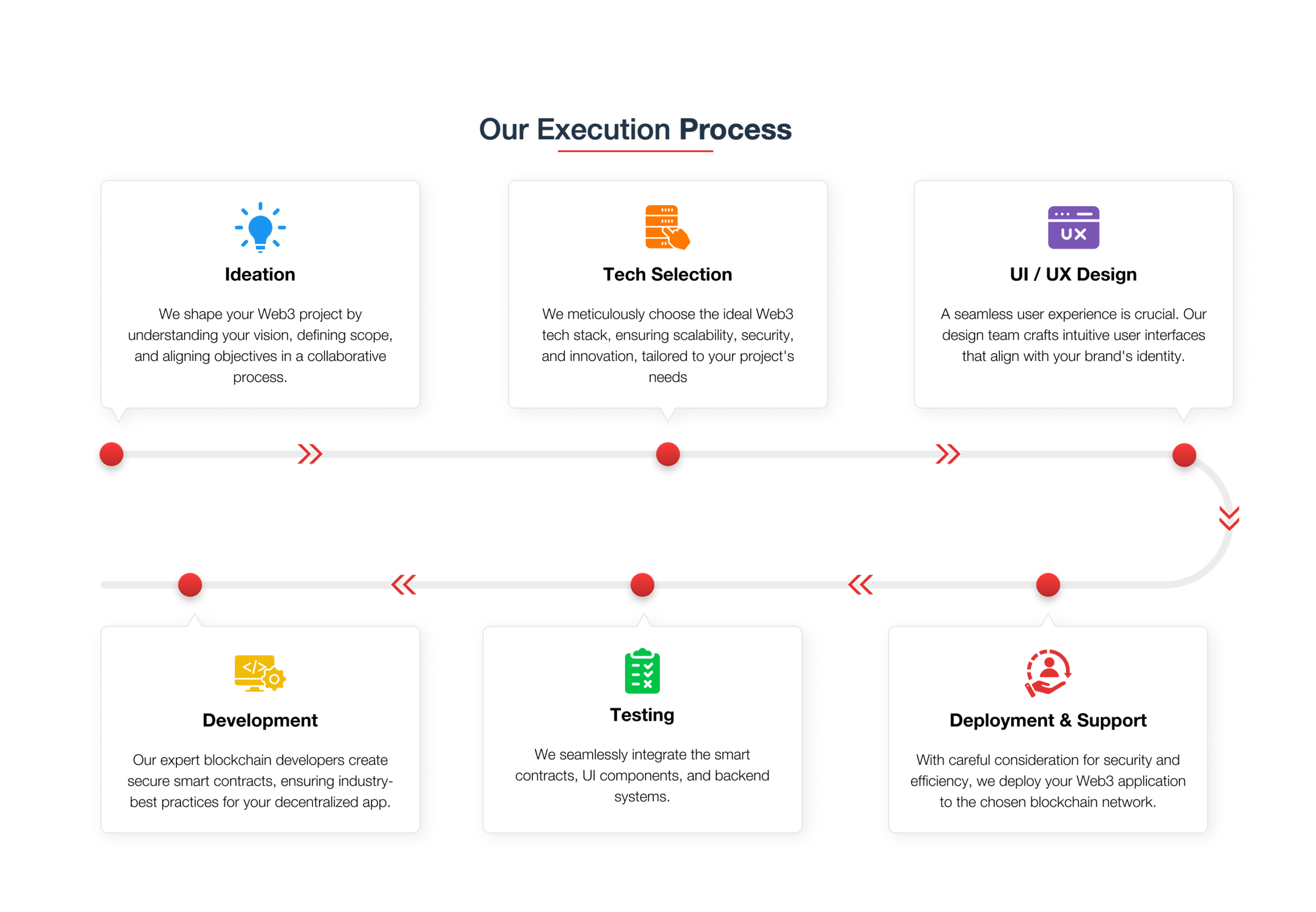 Our Web3 Projects
With our proficiency in blockchain, decentralized protocols, and smart contract development, we offer innovative and customized solutions that cater to your specific business needs. Our projects span across various industries, from finance to gaming, utilizing the potential of Web3 technologies.
Frequently Asked Questions
Web 3 signifies the evolution of the internet through blockchain. Unlike traditional platforms, it embraces decentralization, enabling direct interactions without intermediaries. This grants users heightened security, transparency, and data control, aligning with the core principle of distributing authority across the network.
Web 3 empowers large corporations with increased data security, streamlined processes, and the potential to create decentralized applications that enhance transparency and customer experiences. It also opens new revenue streams through tokenization and innovative business models.
Web 3's core features include:
Decentralization: It brings forth a distributed network fostering collaborative autonomy and innovation.
Immutability: Data on the network is unchangeable once recorded.
Interoperability: Different blockchains can communicate and collaborate.
Security Enhancement: Transactions achieve robust security through cryptographic mechanisms, eliminating the necessity for intermediaries.
SoluLab maximizes Web 3's potential by crafting decentralized applications (DApps) and platforms, fortified by blockchain protocols. Smart contracts ensure secure and autonomous interactions. Moreover, SoluLab empowers users through DAOs, enabling decentralized decision-making for communities and organizations, thus revolutionizing traditional business models.
Businesses benefit from Web 3 by gaining a competitive edge through innovative applications, improved user experiences, reduced operational costs, and enhanced security. They can also explore new revenue streams through tokenization and decentralized business models.
Web 3 development is versatile and can be customized for various industries at SoluLab. We cater to a wide range of industries, tailoring Web 3 solutions to their unique needs, such as:

Finance
Supply Chain
Healthcare
Gaming
E-commerce
Real Estate
Energy
Education
Entertainment
Agriculture
Our expertise enables the customization of Web 3 technologies to drive innovation and transformation across the aforementioned diverse sectors.
SoluLab guides businesses through the transition by offering consultation, technology assessment, and step-by-step development. We ensure a smooth integration that aligns with your business goals and technological requirements.
SoluLab showcases its Web 3 proficiency through various projects like DeFi platforms, NFT marketplaces, supply chain trackers, and asset tokenization. We also excel in carbon credits management, employing blockchain to enhance transparency and sustainability efforts. These successes demonstrate SoluLab's adaptability in harnessing Web 3 for varied sectors and innovations.
Security is paramount. SoluLab implements advanced security measures such as cryptographic protocols, smart contract audits, and decentralized identity solutions to ensure the security and integrity of Web 3 applications.
By embracing Web 3 development early, businesses position themselves as pioneers in adopting cutting-edge technology. This not only enhances their brand image but also allows them to offer innovative solutions that cater to changing customer expectations.
Absolutely. SoluLab's experts can assess your existing processes and design Web 3 solutions that seamlessly integrate with your current systems, enhancing efficiency, security, and transparency.
To learn more about SoluLab's Web 3 development services or initiate a project, simply reach out to us through our website or contact information. We're here to help you explore the possibilities of Web 3 technology for your business.
Tell Us About Your Project
Once you've determined the necessities, our technical specialist will set up a call and review your idea in depth after signing a Non-Disclosure Agreement. We guarantee to uphold the privacy of all information and data.