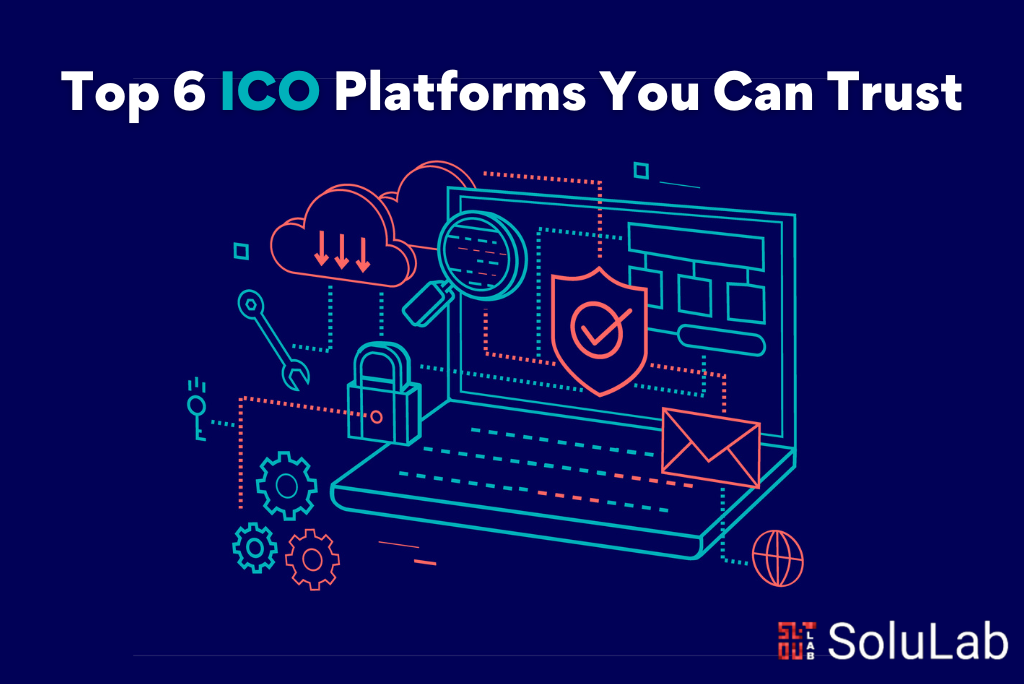 What makes an ICO platform ideal can be determined from an objective standpoint using a range of metrics for measuring performances. These metrics must be researched by the proposed investor, and from there, make a decision on which ICO platforms to commit funds for token purchases. In this article, we have a list of the top 6 ICO platforms that you can trust
Of the top ico platforms where new coins can be purchased, only a few can be ranked as one of the best ICO platforms around today. It should be noted that the blockchain or cryptocurrency ecosystem has evolved in a lot of ways, and the ICOs are either in the form of Initial Exchange Offerings (IEOS), or Initial Decentralized Exchange Offerings (IDOs). All have their uniqueness and varying mode of offering the gems hosted on their platforms. Let's dive into the list, shall we?
What are Initial Coin  Offerings?
ICOs are a variety of cryptocurrencies that companies use to raise funds. Investors receive special cryptocurrency " tokens" for their monetary investment through ICO trading platforms. It is a type of crowdfunding that includes creating and selling a digital token to raise money for a fund project development.
Read also: Initial Coin Offering (ICO): Everything You Need To Know!
This special token serves as a currency unit and provides investors access to distinctive features of a project operated by the issuing business. These tokens are distinguished because they support open-source software projects that would otherwise be challenging to finance using traditional arrangements.
How is ICO Creating Hype?
ICOs can create a lot of hype, and there are numerous online websites where investors meet to discuss new opportunities. Some well-known actors and entertainers with high profiles, like Steven Seagal, have boosted their fans' confidence to participate in a hot new ICO. However, a warning has been released to investors by SEC provided that it is illegal for celebrities to endorse ICOs on social media without revealing the amount they received in return.
The ICO for Centra Tech, which raised $30 million at the end of 2017, was once promoted by DJ Khaled and boxing legend Floyd Mayweather Jr. The two celebrities settled with U.S. regulators after Centra Tech was ultimately found to be a fraud in court, and three of the company's founders pleaded to ICO fraud. 

Investors who want to participate in ICOs must become familiar with cryptocurrencies and acquire a thorough understanding of ICOs before deciding to participate. Prospective investors should proceed with the utmost caution because ICOs are hardly regulated.
Initial Coin Offering (ICO): How it Works?
When the project organisers want to earn money via an ICO, their first step should be to determine the coin's structure. There are several ways to set up ICOs. Here are some:
Static supply and fixed price

: A company can set a particular funding aim, which implies that the overall token supply is predetermined and the cost of each token sold during the ICO is fixed.

Static supply and fluctuating price

: An ICO may have a set number of tokens available and a flexible funding target, in which case the price per token will rely on the total amount of funds received.

Static pricing and fluctuating supply:

Some ICOs have fixed pricing but a fluctuating token supply. This means that the supply is based on the amount of funds received.
ICO vs IPO 
Regulatory oversight has become a large distinction between the ICP and IPO. Prospect is the legal document that is required to create if any business wants to issue an IPO as part of the registration by the regulatory authorities.
The prospectus is a binding legal disclosure of the company's intention to sell shares to the general public and must follow strict transparency requirements. Along with other things, a prospectus should also provide crucial information about the company and its planned IPO to aid in making strong decisions for potential investors.
Contrarily, as written in recent US regulatory action, ICOs are the only ones who can control the regulation if shares have been issued as security tokens instead of security tokens. We will discuss it in more depth below. Investor evaluations and due diligence are much harder to perform as such regulatory activity has been made recently.
Read more about this: ICO Vs IPO: What's the Difference?
This is especially true compared to evaluating stock IPOs, which are governed by rigorous procedures supervised by accounting firms and investment banks, giving investors more security and information.
Which are the leading ICO platforms you can trust and why?
1. Coin Factory
Coin Factory ICO platform ranks the market with the #1 position, with a proven track record of conducting several successful ICOs.This ICO platform helped its clients to raise an aggregate of $120 Million USD with 10+ successful ICOs.It can let your ICO platform stand out of the crowd as it supports end-to-end customisation. The platform supports a wide range of necessary features like
Social sign up

Multilingual

Referrals

Ability to set bonuses

Two-factor Authentication

Airdrop

Current exchange rates

Bounty programs

Integrated KYC

Purchase with 4 different coins
Accepted Currencies:
Bitcoin

Bitcoin cash

Ethereum

Ethereum Classic

Binance coin
Why Coin Factory?
It is a self hosted platform and the investors have direct access to the source code.

No transaction fee or success fee is charged. The platform is built to help investors make the most money out of it.

The platform keeps the ICOs honest.

The Coin Factory is backed by the best companies in the blockchain space that is Accubits Technologies.
2. Coral
Coral let you publicly sell your tokens in a safe and easy fashion, assisting both in the pre-sale and sale processes.It general public a simple interface to buy your tokens using a pre-registered address. Coral's token sale supports a wide range of crowd-sale implementations, including per-user investment caps, vestings, discounts, and dynamic pricing.
All data requested from the participants is entirely customizable and can range from basic personal information to scans of legal documents.
Features:
Supports pre-sales and sales

Customisable user data

Supports acceptance of multiple coins



Accepted Currencies
Bitcoin

Ethereum

Bitcoin cash

Monero and more
Why Coral?
Built with security standards used in OpenZeppelin.

Seamlessly accept ETH, BTC or other major blockchain assets, sent from any type of wallet.

Coral offers the general public a simple interface to buy your tokens using a pre-registered address.
3. Coinlaunch
Coinlaunch is a complete Crypto-Asset Issuance Platform to Create, Deploy and Manage, secure regulatory compliant crypto-assets. It lets you Manage ERC20 tokens, Crowdsale campaigns or deploys Geo-targeted Private Genesis block (Proof-of-Stake) Ethereum Blockchains through an easy to use dashboard.
It also has Geo-targeting tools enable access based on various regulatory and legal requirements.
Features:
Integrated White-Label Tools

Regulatory Compliant

Crypto-Asset Issuance Dashboard
Accepted Currencies:
Bitcoin

Ethereum
Why Coinlaunch:
Embed all the CoinLaunch elements directly into your website or apps with your own branding and domain.

Deploy pre-built decentralized apps, tokens, and blockchains
4. Blockstarter
Blockstarter lets you list your campaign, create a smart contract, raise funds or contribute to other startups. It allows you to create ERC20 tokens and sell them to your ICO contributors. Blockstarter wants you to Describe your campaign step by step.
Features:
An easy-to-navigate listing of campaigns

Enable support for different cryptocurrencies

Generate a smart contract for the Ethereum platform
Accepted Currencies
Ethereum

Bitcoin

Litecoin and more.
Why Blockstarter?
Issue tokens on the Ethereum platform

Contribute with popular cryptocurrencies

Built-in token calculator, token balance
5. ICO Box
ICOBox is a business facilitator for companies seeking to sell their products via ICO crowd sales. They provide Box solutions for conducting ICOs for 40 BTC. They offer different packages from basic, standalone, and add-on modules to customize what your ICO founder wants. The platform provides end-to-end solutions and is comparatively more expensive.
Features:
Simplify integration with exchanges and other services

Simplify token holders' experience after the ICO

Set up the platform on your own website
Accepted Currencies:
Payments in fiat and 70+ coins

Why ICO Box?
40 ICO features to choose from

Built-in calculator with actual rates

Bonuses, promo codes, private sales

Unique promo tokens technology

Four-tier referral program
6. Kick.io (top IDO sale platform)
Kick.io is an all-in-one IDO launchpad that helps usher in quality projects to the public. The primary target of the Kick platform is to facilitate easy and transparent presales while guaranteeing allocation to all token investors.
Why Kick.io?
The Kick launchpad is built on the Binance Smart Chain, opening up access to scalable and cheap transaction services. 

It also functions as an incubator for new projects, providing the needed support for them to attain maturity. 

Token issuers can opt-in to choose to conduct private and public sale rounds, with any tokens left unsold in the former being allocated for users in the later round.

This model prevents the likelihood of rug pulling in the ongoing ICO or IDO as the case may be.
Kick.io is a unique launchpad whose process is completely automated through the use of smart contracts. The funds raised via the IDO are sent to PancakeSwap where they are locked in the DEXs smart contracts.
Know about new coins announcement 
Several exchanges, websites, and aggregators publish new coins. Some examples are Coinbase, Gemini, Kraken, CoinGecko, and CoinMarketCap. Twitter is among the platforms where you can search for new coins.
Conclusion

Every investor must develop the right strategies to back any investment in ICOs. The right choice of an ICO listing site is dependent on a number of factors top of which includes regulations in your country, and the technical details/requirements for participating in a particular platform. It is crucial to do your own research about a particular platform, and project, however, you can start off with our top 6 picks of the best trusted ICO platforms. 
Keep in mind, that every investment in an ICO is a high risk. Make sure you check an ICO's roadmap, and the ICO calendar, and always keep an eye on your ICO watch list for any changes. Finally, check all the latest news about your ICO. If you are lucky, you can also get free tokens while a start-up uses airdrop.