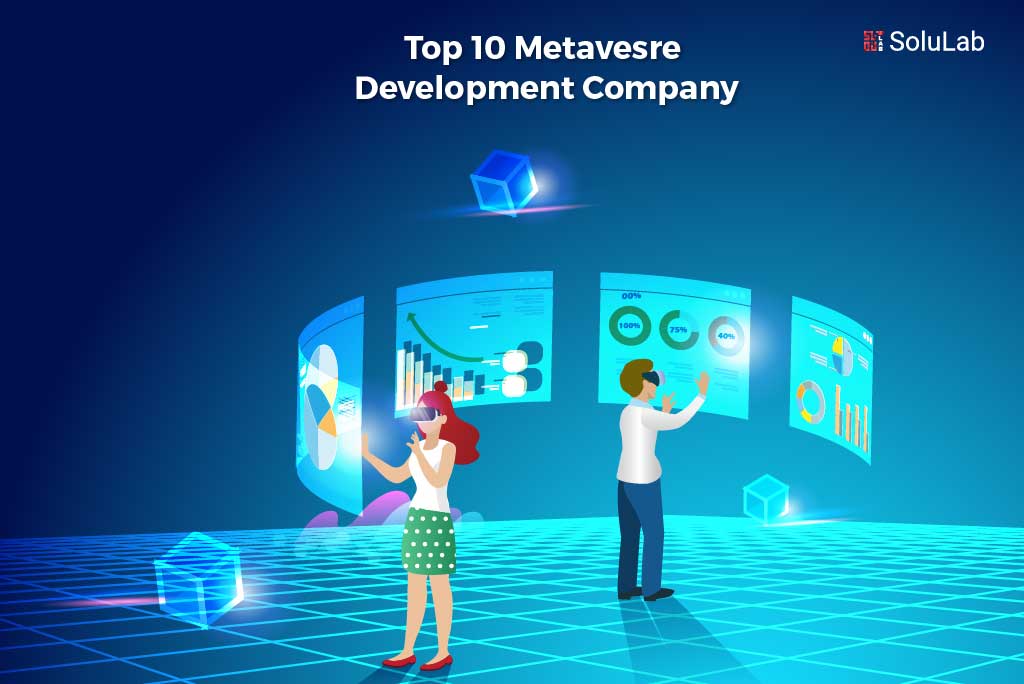 The Metaverse is a virtual environment in which you may connect with others using your digital avatars. It produces a virtual environment that looks and feels like the real world.
Virtual communities have quickly grown in importance as a crucial lifestyle area for locked-down users during COVID-19. The spirit of working on the latest digital developments demonstrates that entrepreneurship is alive and well across the world.
However, the establishment of the metaverse will need extensive coordination among several of the world's most powerful institutions. Such 10 companies are listed below:
SoluLab was founded in 2014 with the goal of providing next-generation IT solutions with a wide range of offshore software development and project management skills.
Custom Metaverse elements-based apps are developed by SoluLab's top-rated blockchain developers using the greatest tech stack. They also provide blockchain-specific Metaverse, dApps & Smart Contracts, 3D Spaces Development, Gaming Metaverse, Metaverse Social Media, Metaverse NFT Marketplaces, and Metaverse 3D Spaces Development.
They are professionals in creating a decentralised gaming, socialising, and commercial environment. They can also help with other aspects of your project, like UI/UX design, frontend and backend programming, and block-chain services.

Capgemini is a multinational company that specializes in consulting, technology, professional services, and outsourcing. Consumers can use Metaverse Development services to construct user-friendly apps with blockchain-specific features like automation, privacy, transparency, and user sovereignty, giving them a better way to connect with the Metaverse platform. In addition, Capgemini assists clients in creating and developing virtual worlds so that businesses may interact with customers. They employ 270K persons in over 50 countries.They serve almost every industry and specialize in AI solutions, cloud services, SAP solutions, app development services, blockchain solutions, and the Metaverse.

Suffescom Solutions Inc. was founded in 2011 to provide advanced IT solutions to their clients with highly experienced experts in building high-quality web3 and metaverse applications. Established as the leading metaverse development company, Suffescom can deliver custom metaverse development services in technologies like blockchain, AR/VR, Web3, and the metaverse. The blockchain experts at Suffescom provide comprehensive knowledge of metaverse custom-based app technologies.  

Infosys has unveiled the Infosys metaverse foundry, which will help companies traverse the unprecedented convergence of technologies such as XR, DLT, 5G, AI, IoT, and others. Which also offers business consultancy, augmented reality (AR), and virtual reality (VR) solutions. Enterprises may use this platform's on-demand flexibility to establish their metaverse environment to react to changing priorities and develop market trends safely and efficiently. Following TCS, Infosys is India's second-largest IT firm. Around the world, the firm operates 82 sales and marketing offices as well as 123 development centers.

Wipro has been aiding its customers in achieving the tremendous potential for development in the digital arena by helping them create and design their Metaverse platform that may add value to their company. Wipro offers Metaverse development services for customers in every sector, helping them to fulfil their objectives.

TCS has a lengthy history in the field of Informational Technology and has just recently begun to make inroads into Metaverse development services. It is one of India's most well-known IT companies as well as one of the most valuable IT services brands in the world. They focus on providing Metaverse work experience to individuals joining the company via virtual platforms. It could be the first step toward a more significant change.
The company offers mobile applications. It also offers the Internet of Things, Metaverse, Cloud Solutions, Blockchain, Enterprise Apps, Automation and AI, and various other services. It first opened its doors in 1968 and presently has 149 sites in 46 countries.

n addition to app development, blockchain, Metaverse, cloud computing, Oracle/Salesforce/SAP/software engineering and supply chain/operations management, Accenture is a Fortune 500 company. Over 492K employees work for the company, which has over 200 facilities in 120 countries and serves clients. 
Accenture provides services for connecting humans to the digital world through metaverse development. For example, Accenture uses Metaverse technology in meetings, learning sessions, and team gatherings to help them improve the recruit experience. Accenture's Metaverse Development Services are available for a wide range of concepts.

Decentraland is a browser-based 3D virtual world platform developed by one of the big companies as a platform for content creators and businesses looking for a new artistic medium or any kind of business opportunity. It enables users to build and sell a wide range of apps and content, as well as virtual land in the Metaverse Technology. Users may use the MANA cryptocurrency, which is based on the Ethereum blockchain, to purchase virtual plots of land on the platform as NFTs. The Decentraland Foundation manages the project, which opens to the public in February 2020. It enables users to build and sell while simultaneously gaining virtual land in the Metaverse, a range of apps and content.

NVIDIA omniverse is a physically realistic, real-time simulation for artists, designers, engineers, and researchers who need to operate in a virtual world. NVIDIA is a global leader in computer graphics hardware, specializing in goods for gamers. They now provide the processing power and deep neural networks needed for today's AI. The platform is being evaluated by professionals from over 500 organizations, including SHoP Architects, South Park, and Lockheed Martin. Omniverse has been downloaded by over 50,000 individual artists since it launched its open beta in December.

Unity Software individual Unity designers are responsible for more than 70% of the top 1,000 mobile games in the world, proving that the program is already a successful platform for developing 3D content. Unity has the potential to provide artists and creators the tools they need to flourish in the metaverse by allowing everyone to contribute to metaverse content development.
Industry in the modern world is ruled by "technology." Every area of life in the contemporary day has been changed by technology.
It's right there in front of you the next time you dream about it. Though firms are spending heavily on metaverse now, it is a technology of the future. Everything is now just a click away in the "meta world," from virtual reality games to virtual reality dating. Interacting with virtual people in virtual settings via virtual reality headsets is steadily becoming more mainstream, from VR games to virtual workspaces. With all of these dominating corporations' aid, the Metaverse will soon become a reality.
Metaverse businesses are technology firms that work to create metaverse platforms all over the world.
Many firms across the world have been racing to produce the greatest metaverse platform since the launch of Metaverse, and the list is expanding every day.