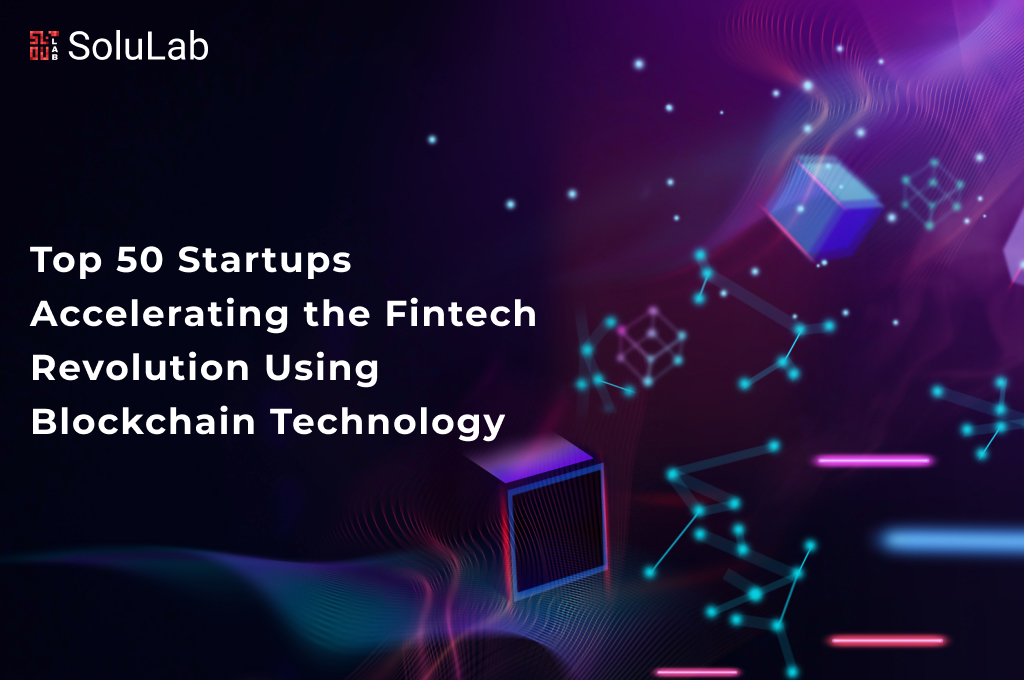 Fintech or financial technology refers to the new and advanced technology that aims to bring about an improvement by automating the delivery as well as the use of financial services. Fintech is utilized to help different companies, consumers, and business owners to better manage all their financial operations as well as processes to achieve an overall improvement. One of the major components of fintech is blockchain. In recent times, several startups have popped up to make the appropriate use of blockchain technology to accelerate the fintech revolution in the best possible manner. So, let us go through some of the top names in the fintech startups list that help revolutionize the finance industry with blockchain technology.
1. Fireblocks

Fireblocks provides financial solutions for cryptocurrencies. It offers solutions such as wallets for crypto money transfers, crypto exchange platforms, crypto trading platforms, asset tokenization, and more. It also provides tools for automated governance and control of crypto transactions.
2. ANote Music

ANote is the European primary and secondary market for music royalties. Through ANote, anyone can now invest in songs and purchase those rights that musicians, record labels, and publishers are offering for sale. By enabling direct investments in catalogs, ANote introduces a new financial instrument uncorrelated with traditional investment opportunities and sets new valuation standards for royalties across the EU.
3. AnChain.AI

AnChain.AI is a blockchain analytics company that specializes in AI-powered platforms.  AnChain.AI provides around-the-clock protection, securing some of the world's largest crypto exchanges, protocols, and DApps worldwide for several millions of dollars in weekly transaction amounts.
Read Also: Best Blockchain Development Company in USA
The Situational Awareness Platform (SAP) proactively protects crypto assets by providing proprietary artificial intelligence, knowledge graphs, and threat intelligence on blockchain transactions.
4. Aragon

Aragon was born to disintermediate the creation and maintenance of companies and other organizational structures. They believe that blockchain and the Internet are changing the incentives structure for companies to exist, and they are building tools for the next generation of companies that will take advantage of these changes.
5. Zabo

Zabo is a cryptocurrency banking platform that allows users to receive their salaries in bitcoin. The operator of an API-based cryptocurrency application designed to connect cryptocurrency accounts to an application in a few lines of code. The company's application offers a real bank account with hardware wallet support that integrates with cryptocurrency, enabling the clients to buy, sell or transfer cryptocurrency.
6. Horizon Blockchain Games Inc.

At Horizon, they're building a New Dimension where Internet economies are fun, accessible, and for the benefit of all participants. Sequence, which consists of i) the first user-friendly smart wallet for crypto, NFTs, Web3 + the metaverse, and ii) a developer platform to make building Web3 applications easy on Ethereum and other EVM chains.
7. Argent

Argent provides a simple and secure smart wallet for Ethereum. It puts the power of crypto into the hands of anyone with a phone. Empowering you to control and prosper from your digital assets and identity. Store, save and send; borrow, earn interest and invest. No-nonsense and non-custodial. Combining beautiful design and bulletproof security. Without borders or boundaries.
8. Phemex

Phemex is building the world's most trustworthy cryptocurrency derivatives trading platform. Phemex leverages a "User Oriented" approach to develop far more powerful features than any existing exchange for traders to easily buy & sell contracts with trust.
9. Aurus – Empowering precious metals

Aurus empowers the traditional precious metals industry by offering blockchain-based products and services that revolutionize both the accessibility and usability of gold, silver, and platinum. People around the world are able to easily buy, store and trade gold, silver, and platinum in a highly fractionable, portable, and accessible way at spot price and low storage and transaction fees.
10. Bakkt

Bakkt builds technology that helps companies across industries unlock crypto and drive loyalty to create delightful, connected experiences for their customers. They unlock the utility of crypto and other assets to help business partners bring delightful new opportunities to their consumers that can drive deeper engagement.
11. Billon

Billon created a DLT protocol and system for national currency payments and document storage at scale, meeting all regulatory requirements and solving challenges for the wide adoption of blockchain technologies. With the protocol designed for high throughput and low cost of maintenance, our mission is to unleash the transformational capabilities of blockchain in the regulated world. 
12. Balancer

Balancer is an automated portfolio manager and liquidity provider turning the concept of an index fund on its head: instead of paying fees to portfolio managers to rebalance your portfolio, you collect fees from traders who rebalance your portfolio by following arbitrage opportunities. This opens up possibilities for dynamic fees and allows for liquidity bootstrapping pools (LBPs) which are excellent for launching a new token and so much more. 
13. Solana Labs

Solana Labs, Inc. ("Solana Labs") is a technology company that builds products, tools, and reference implementations to further expand the Solana ecosystem.  Solana is a global state machine and the world's most performant blockchain. It gives developers the confidence to build for the long term by delivering predictable scaling without compromising security or composability.
14. Coin Metrics

Coin Metrics is the leading provider of crypto financial intelligence, providing network data, market data, index, and network risk solutions to the most prestigious institutions touching crypto assets.  Coin Metrics was founded in 2017 as an open-source project to determine the economic significance of public blockchains. Today, they expand on that original purpose to empower people and institutions to make informed crypto financial decisions.
15. Asensys

Asensys is a new-generation, high-performance system that brings throughput and state to a new, scalable level. Asensys aims to meet the needs of the modern digital economy with its novel blockchain infrastructure that will enable web users to realize the full potential of the internet by providing the foundation upon which decentralized applications can be built. 
16. CHAMPtitles

Through the application of its secure, patent-pending technology, CHAMPtitles ends the reliance on legacy systems to manage U.S. automobile titles. CHAMPtitles partners with each party in the vehicle title ecosystem to reduce their costs in handling titles, turning the burdensome administrative process of issuing a vehicle title into a profitable activity.
17. dForce Network

dForce advocates for building an integrated and interoperable DeFi protocol matrix, covering Lending, Assets, and Trading. Currently deployed on Ethereum, BSC, and Arbitrum.
18. Crypto Finance Group

Crypto Finance AG – a FINMA-regulated financial institution and part of Deutsche Börse Group, offers professional digital asset solutions. This includes one of the first FINMA-approved investment firms with 24/7 brokerage services, custody, infrastructure, and tokenization solutions for financial institutions, as well as the first FINMA-approved manager of collective assets for crypto assets.
19. tZERO Group, Inc.

tZERO Group, Inc. and its broker-dealer subsidiaries (tZERO) provide an innovative liquidity platform for private companies and assets. It offers institutional-grade solutions for issuers looking to digitize their capital table through blockchain technology, and trade on a regulated alternative trading system. tZERO democratizes access to private assets by providing a simple, automated, and efficient trading venue to broker-dealers, institutions, and investors.
20. Taurus SA
Taurus is a global leader in enterprise-grade digital asset infrastructure with roots in Switzerland. Taurus has developed the most advanced and complete digital asset platform in the industry which goes "way beyond" crypto-currency custody. 
21. Pravica

Pravica products are based on the decentralized identities that are secured on the Bitcoin network, this is how your identity is super secured, owned, and controlled by you, and only you. A unified communication suite meets the WEB 3.0 standards and utilizes Blockchain technology to empower users' privacy.
22. NEAR Protocol

NEAR Protocol is a scalable blockchain designed to provide the performance and user experience necessary to bridge the gap to mainstream adoption of decentralized applications. Unlike other next-generation blockchains, this network has been built from the ground up to be the easiest in the world for both developers and their end users while still providing the scalability necessary to serve those users.
23. HUB Security

HUB Security (TLV: HUB) debuts an advanced encrypted computing solution aimed at preventing hostile intrusions at the hardware level while introducing a novel set of data theft prevention solutions. HUB operates in over 30 countries and provides innovative cybersecurity computing appliances as well as a wide range of cybersecurity professional services worldwide.
24. Coinme

Coinme is a leading digital currency exchange on a mission to make digital currency more accessible for everyone. When the world has access, everyone has a fair chance for financial prosperity. The company offers an enterprise-grade API helping to "crypto-enable" legacy financial systems and a vertically integrated suite of consumer products.
25. Lolli

Lolli is the leading bitcoin rewards application that gives shoppers free bitcoin when they shop online at over 1,000+ top brands like Adidas, Microsoft, Ulta, Kroger, & more. Founded in 2018, the company's mission is to make bitcoin more accessible to all. Merchants pay Lolli for driving sales, then Lolli shares that with users, sending cash or bitcoin rewards to their Lolli.com wallets. 
26. Blockdaemon

Blockdaemon is the leading independent blockchain node infrastructure to stake, scale, and deploy nodes with institutional-grade security and monitoring. Supporting 40+ cutting-edge blockchain networks in the cloud and on bare metal servers globally, Blockdaemon is used by exchanges, custodians, crypto platforms, financial institutions, and developers to connect commercial stakeholders to blockchains.
27. LayerX Inc.

LayerX Inc is the developer of a blockchain technology designed to promote the digitization of large corporations and government agencies. LayerX Inc.'s technology provides technical consulting, empirical research, a cryptocurrency mining platform, and report creation based on various cases and the latest trends, enabling businesses to manage a variety of tasks and processes through automation and digitization.
28. Floating Point Group

Floating Point Group is building secure and effortless access to cryptocurrency. They are drastically simplifying the operations necessary for asset managers to deploy cryptocurrency-centric strategies at a meaningful scale. They offer a secure settlement and transfer platform called FlowVault for safer exchange-based trading. 
29. Magic

Magic is a plug-and-play SDK that supports a variety of passwordless login methods, including email magic links, WebAuthn, and social login – Facebook, Google, Twitter, LinkedIn, and Discord. Powered by blockchain technology, Magic helps companies outsource authentication and save on headcount for a dedicated security and fraud team.
30. SynchroLife Limited

GINKAN specializes in the development and management of artificial intelligence and blockchain technology-based services. GINKAN is currently working on "SynchroLife"​, a smart restaurant recommendation platform that uses artificial intelligence to help you find the best restaurants as quickly as possible. 
31. Numerai

A new kind of hedge fund built by a network of data scientists. Numerai manages an institutional grade long/short global equity strategy for the investors in our hedge fund. Numerai transforms and regularizes financial data into machine-learning problems for our global community of data scientists.
32. River Financial

River Financial is a client-first financial institution dedicated to providing financial products and services that enable our clients to harness the transformative possibilities of Bitcoin. While Bitcoin continues to redefine our global financial system, they are committed to guiding each client toward a secure, autonomous financial future.
33. Sparrow

Sparrow offers innovative financial products and solutions for digital assets. Sparrow established an options trading platform that is secure, compliant, and intuitive for individual clients. In addition, They designed bespoke digital asset solutions to support financial institutions and family offices to achieve their growth objectives, while not compromising on financial reporting and compliance requirements.
34. Opyn

Opyn is a fintech company that provides digital financing for businesses. Its platform makes access to credit accessible and quick for companies and simplifies the work of banks. Opyn helps banks to innovate and SMEs to obtain credit in a manner quick and easy.
35. Ziglu

In Ziglu the traditional and digital currency is managed seamlessly in one app. Money is done differently. The app you have been waiting for, with a use-anywhere card for spending (and lots of other services) coming soon. 
36. The Graph

The Graph is building a protocol for building decentralized applications quickly on Ethereum and IPFS using GraphQL. On The Graph, queries are processed on a decentralized network that ensures that data remains open and that dApps can continue to run no matter what. Users don't have to trust teams to operate servers and developers can deploy to the trustworthy public infrastructure they don't have to manage.
37. Certifaction

Certifaction enables you to sign or certify your files with protected confidentiality, stay in control with end-to-end encryption and local processing, and digitize your business with the next generation of designing.
38. RDX Works Ltd

Radix is the only decentralized network where developers will be able to build quickly without the constant threat of exploits and hacks, where every improvement will get rewarded, and where scale will never be a bottleneck.
39. Strip Finance

Strip financing is the repackaging of different types of obligations—debt, preferred stock, common stock, etc. —into one security. The idea is to ease conflicts of interest and agency costs between the holders of the initial components, bond, and stockholders.
40. Instadapp

Instadapp is here to democratize finance through blockchain technology. The premier interface for DeFi Enthusiasts! Create your DeFi Smart Account and access the most popular decentralized protocols and advanced strategies! Maximize your DeFi experience and get the most from your digital assets.
41. GuardianLink

GuardianLink provides a Decentralized protocol for NFT Commerce. It enables blockchain commerce through its Omni Blockchain legitimacy protocols. It allows NFTs to be traded across multiple blockchain infrastructures. It also provides AI-enabled tools for preventing fraud and theft.
42. NAKAD

Nakad is transforming supply chain finance through its tokenization mechanism. This way Anchor's creditworthiness traverses across the supply chain making easy and cheap credit available to MSMEs.
43. Unocoin

Unocoin is India's Best Bitcoin & Crypto Exchange. They make it easy to buy, sell, store, use & accept bitcoin securely in India. Bitcoin: Bitcoin is peer-to-peer electronic cash for the Internet. It is fully decentralized, with no central bank, and requires no trusted third parties to operate. Ethereum: Blockchain-based distributed computing platform featuring smart contract functionality.
44. Trade Finance Global (TFG)

Trade Finance Global (TFG) is the leading B2B fintech in trade finance. TFG's data-led origination platform connects companies with innovative trade and receivables finance solutions from over 300 financial institutions.
45. Veem

Veem helps small businesses save time and optimize cash flow by simplifying the way they send and receive payments domestically and internationally. Veem uncomplicates the end-to-end AP/AR process with seamless integrations to leading accounting software, real-time tracking of payments, and cost-effective, flexible payment options. Now businesses have the power to pay how they prefer and eliminate friction with customers to get paid faster.
46. Axoni

Axoni is a New York-based technology firm that specializes in blockchain infrastructure and whose clients include many of the world's largest financial institutions and capital markets infrastructure companies. Founded in 2013 by a team of distributed ledger technology experts, the company offers blockchain infrastructure, distributed application development, and workflow automation tools.
47. Spring Labs

Spring Labs is redefining how data is exchanged for the new age of data sharing, security, and consumer privacy through decentralization. It allows institutions to directly share information among themselves to verify identities and reduce fraud – all while protecting consumer data.
Read Also: Best Enterprise Blockchain Development Company in USA
The Spring Protocol separates data ownership from data value, allowing competitively-sensitive parties to exchange information directly and in a fundamentally new way.
48. SALT Lending

As cryptocurrency becomes more widely adopted and additional real-world assets become tokenized, Their mission is to offer solutions that make it possible for people to securely hold and borrow against their crypto assets. With SALT, individuals and businesses can secure a fiat or stablecoin loan without having to worry about credit checks. They offer flexible loan terms and accept multiple crypto assets as collateral including cryptocurrencies, stablecoins, and tokenized gold.
49. Anchorage Digital

Anchorage Digital is a regulated crypto platform that provides institutions with integrated financial services and infrastructure solutions. With the first federally chartered crypto bank in the US, Anchorage offers institutions an unparalleled combination of secure custody, regulatory compliance, product breadth, and client service. 
50. Algorand

Algorand is transforming economic models and economies of all kinds. Algorand's high–performing Layer-1 blockchain is unparalleled for bringing fast, frictionless, and inclusive technologies to everyone. Algorand is reshaping every industry–from TradFi and DeFi to new creator economies and beyond. With an extraordinary commitment to interoperability and consistent delivery
Closing Thoughts
After reading through the post, it is clear that the fintech startups have played a massive role in leveraging the potential of blockchain technology to bring about a revolution in the fintech industry. These startups have brought about creative inputs to the industry, making it strong and sturdy. Although fintech is relatively new, its future seems quite bright with the increased rate of adoption over the past few years.