ABOUT
ONZE D'OR LAUSANNE-SPORTS
The sports event portal which helps club members to get notified with monthly lunches. Members can checkout past activities organised by the club. Apart from lunch and activities, guests can view and register the upcoming events organized by club and can check for business options which is offered by club.
BUILD FOR
INDUSTRY

SPORTS CLUB
TECHNOLOGIES

WORDPRESS
COUNTRY

SWITZERLAND
KEY FEATURES
Organise monthly lunch by sending an invitation to their members.

Register for upcoming events for members and visitors.

Browse the Business catalog and Teams.

Check for social feeds from Facebook, Twitter, and Instagram under the social wall.

Check out the Games, Schedules, and Results.

Download the club rules and other documents.

Send a message to admin with the help of Contact us.
COLORS
It has planned to give a playful color to
the design so that it can attract the customers.
Blue is the primary colour.

#37547d

#F9F9F9

#333333

#FFFFFF

#666666
TYPOGRAPHY
Poppins and Fjalla One is a beautiful font family
for minimal design. So it was obvious to use this
font here.
Poppins
A B C D E F G H I J K L M N O P Q R S T U V W X Y Z
a b c d e f g h i j k l m n o p q r s t u v w x y z
0 1 2 3 4 5 6 7 8 9
Fjalla One
A B C D E F G H I J K L M N O P Q R S T U V W X Y Z
a b c d e f g h i j k l m n o p q r s t u v w x y z
0 1 2 3 4 5 6 7 8 9
HOME PAGE DESIGN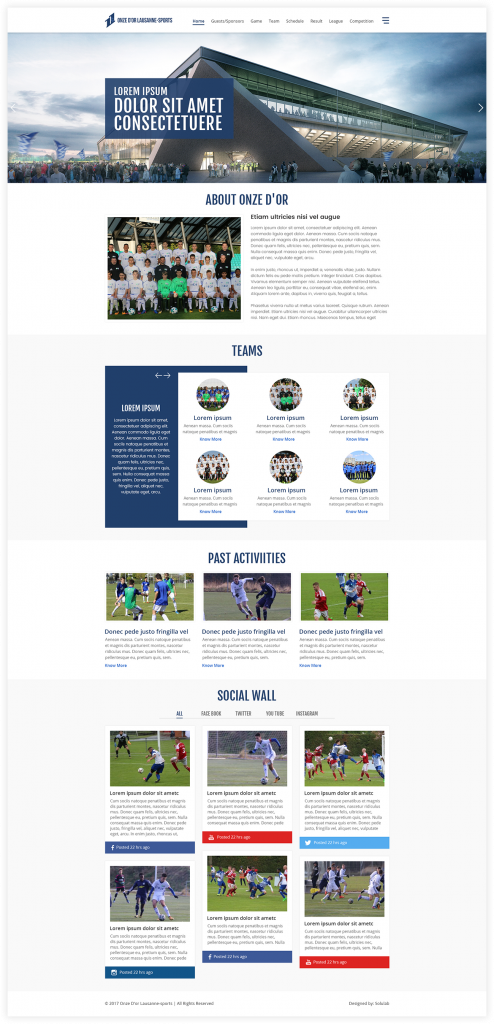 CONCLUSIONS
The Sport Event Portal is developed for ONZE D'OR LAUSANNE-SPORTS Club which allows the user to use the site features like Teams with name and photo of the team. There will be an event page where members and visitors can view upcoming events which allows them to register for basic details. A business page which showcases the products of the game which can be purchased from the store. Registered club members will get the benefit of monthly lunch organized by the club. A club can send multiple invitations to all members of the club or partial members of the club. Lunch details can be found only for invited members only.