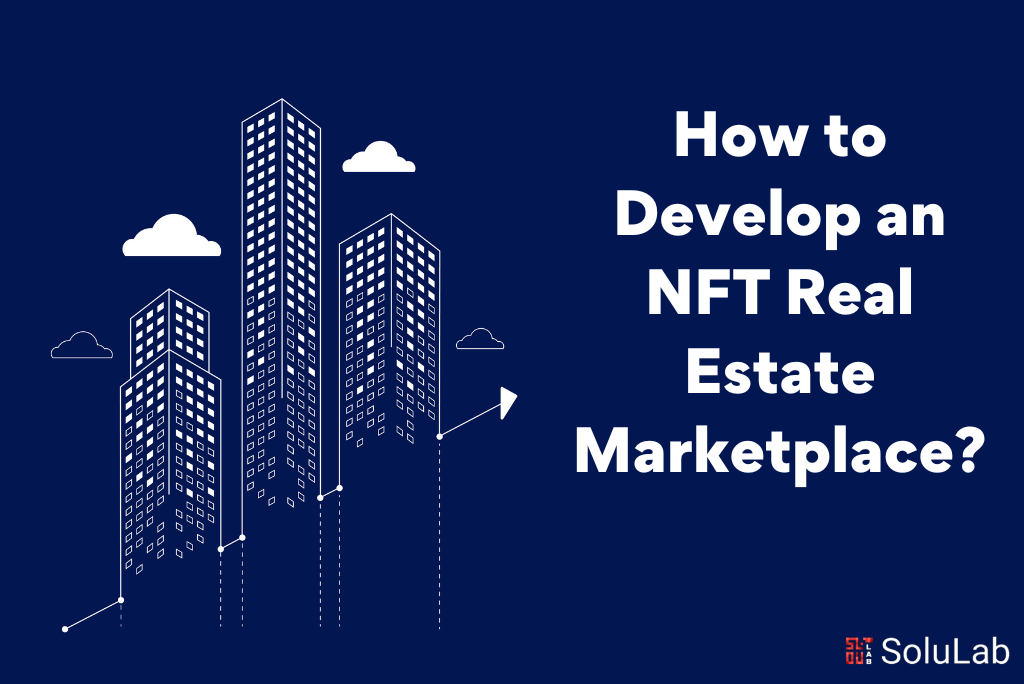 "NFTs can be utilized to purchase any type of physical area, including buildings, air rights, and virtual rights. The horizon is fantastic! Tim Draper, one of the most well-known venture investors in the world and a shareholder of blockchain-based real estate firm Propy, said as much. The "Mars House," which sold for USD 500K, and "Superworld," an AR-based virtual world real estate game, are only two examples of recent breakthroughs for "virtual" real estate NFT sales that support the forecast. The potential of NFTs quickly filtered into the actual nft real estate marketplace.
Read about how overcoming the shortcomings of conventional systems through "tokenizing" tangible properties has revolutionized the real estate sectors while going through nft and real estate nft marketplace.
What Is A Real Estate NFT?
Digital tokens called NFTs are used in real estate to demonstrate property ownership. These unique tokens, which are likewise distributed on a blockchain and include real estate as its underlying asset, are similar to the well-known NFTs for digital art. The NFTs function as an unforgeable signature with in real estate market because they are particularly helpful in demonstrating ownership thanks to their property of uniqueness. They are a great choice for purchasing & selling real estate because of this.
In May 2021, Michael Arrington placed a Ukrainian apartment on the Propy marketplace as an NFT. It was sold for more than $93,000 and became the first real estate NFT. It's interesting to note that in 2017, Michael paid for the flat using Ethereum smart contracts.
A US real estate development company called Prometheus sold two luxurious residences in Portugal using cryptocurrencies, and the ownership was established using NFTs. These instances show the potential of NFTs in the real estate sector that has not yet been fully realized.
NFTs In Real Estate
Here is how the NFT tokenization for real estate will operate. Legal preparation is required before selling real estate as an NFT. The property is then created as NFT, which includes all of the property's descriptive information, including reports, disclosures, pictures, and even video. Whoever owns the NFT has become the owner of the asset, and it serves as ownership proof. The newly created NFT real estate will subsequently be sold in NFT marketplaces like OpenSea, Gemini's Nifty Gateway, and other NFT-based real estate marketplaces after being stored on a blockchain.
With the help of a third-party escrow service as well as a smart contract designed to handle escrow responsibilities, interested buyers can bid on the property and make payments using fiat currency or cryptocurrencies. The NFT is moved to the buyer's wallet after the seller receives the money.
Tech Transformation In Real Estate
With a global worth of approximately $7,196 billion, real estate is an incredibly old business and one of the largest contributors to the global economy. This industry has adapted to technology more slowly than others. mostly because people are reluctant to abandon tried-and-true practices. But in recent years, as investors have seen the advantages, real estate has embraced cutting-edge technologies.
According to a survey by the University of Oxford titled "Technology as well as the Future of Real Estate Investment Management," 53% of real estate companies would be directly investing in technology by 2020. While 56% of Statista respondents had already noticed the impact of technology in real estate, 42% of respondents indicated that they anticipate potential in smart building technologies. Commercial real estate technology, also known as CREtech or RE tech, is referred to as "proptech" or "real estate tech." We have now RE NFT thanks to the use of blockchain in the real estate sector.
By implementing the blockchain ledger, the real estate sector is catching up with technological advancements on a global scale. To accommodate the enormous volume of daily transactions, traditional multiple listing services are being updated to blockchain-based databases. It solves issues including a lack of transparency the volume of paperwork, intermediaries invading, and others that were addressed up front.
Opportunities Possible with Real Estate NFT
Easy Ownership Transfer
The difficulties in ownership transfers are a major issue in the conventional real estate market. A lot of paperwork would need to be submitted, brokers would need to be used, and the load would not be lessened by using traditional payment methods. The NFT real estate transactions, on the other hand, present a simplified mechanism between the seller and the buyer in a matter of minutes without the need for middlemen and with the security of an immutable ownership arrangement.
The security of real estate NFT tokenization is a significant additional benefit. With a recent article on real estate cybercrime, Live Mint claims that "in just one click, cyber criminals fish out all your details like a bank account, customer ID, etc., in such an online transaction." The blockchain's data security & integrity give consumers and sellers greater protection against these types of cyberfrauds.
Co-ownership with Real Estate NFT
Shares of real estate could be owned using fractional NFTs. By holding a portion of the total NFT that symbolizes the real estate, property buyers become co-owners. Once more, sharing a home usually entails a lot of work, time, and trips to the registrar's office. When family members desire to co-own a joint property, fractional NFTs are brilliant.
Simplified loans and rentals
Additionally, NFTs help streamlines the lending and leasing processes for real estate. Mortgages can be obtained through NFTs' shared ownership function. These NFTs can be used by the owner to submit a loan application to an NFT lending platform. Then, they can borrow money by mortgaging their NFT. Real estate is ideal for being a tokenized digital asset due to its very nature. It is immovable and is simple for third parties to validate as collateral using blockchain-based claims.
Read more: The Ultimate Guide to Investing in Tokenized Real Estate
Benefits of NFTs that affect Real Estate Companies 
Increased real estate liquidity and ease of crowdfunding
Real estate NFT tokenization facilitates quicker real estate sales and makes it simpler to determine the number of shares required for a real estate asset. Because NFT real estate on blockchain enables regular property investors to trade like on a stock exchange, the barriers to foreign investment become more manageable. Additionally, it will boost the market liquidity for commercial real estate. Imbrex is a blockchain business that uses Ethereum to manage a vast, rotating property market where sellers and buyers can trade freely. It has adopted the stock market model.
Digitization of Contracts
Over 55% of renters, according to Softermi, are unclear about the security of their lease. In most countries, it also takes a while to sign rental agreements. A smart contract can substitute physical documents using blockchain technology and NFTs that represent real estate properties. E-signatures as well as other features make it more convenient and affordable. The method is equally trustworthy to all parties involved in the transaction. To work on digitizing property contracts validated by blockchain security measures, Chromaway has teamed with Telia, a Swedish telecom major.
Transparent Data Tracking
Blockchain ledger technology makes the entire transaction history easily accessible for analysis by anybody. Better decisions can be made as a result of the regular updating of real-time ownership data among other information.
Reduced fraud in payments
In the past, the real estate industry required extensive documentation and intermediaries. This has caused a lot of shady activities and slow, expensive, tainted payments. The use of blockchain in real estate deals streamlines payments. Additionally, it guarantees that both parties to a transaction have the money necessary to complete it. The storage of all information will enable either side to access the past whenever necessary.
How to create NFT Real Estate Marketplace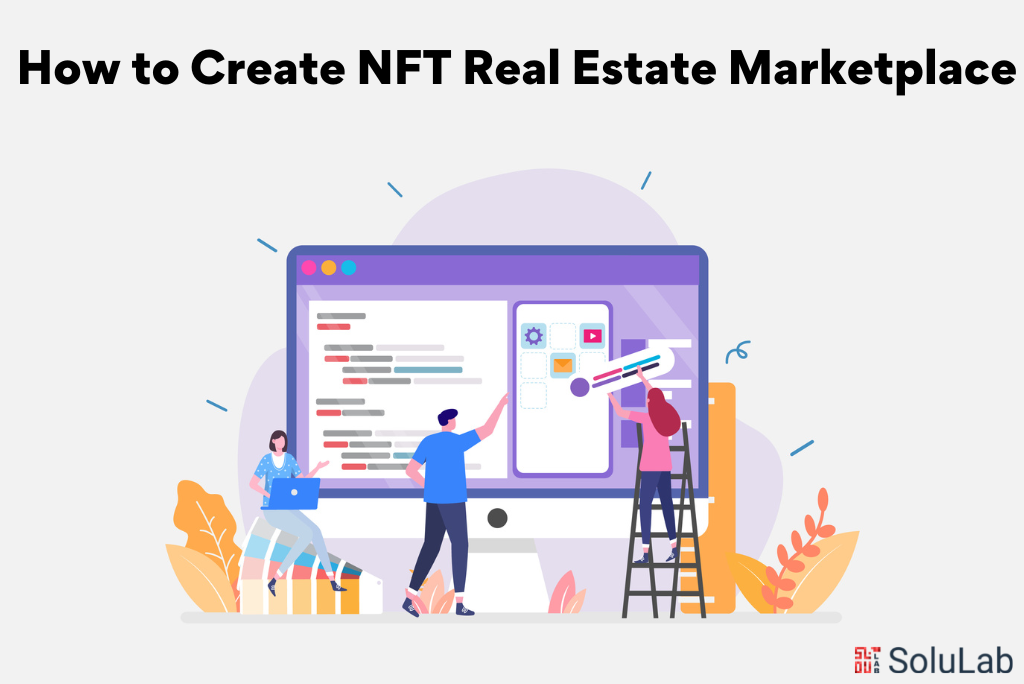 Using an NFT real estate marketplace, customers must be able to browse, buy and sell NFTs. Meanwhile, the admins of the platform must manage the marketplace operation. So the basic architecture of the marketplace for these NFTs can be split into a Customer module and an Admin module.
Real Estate NFT Marketplace Functionalities for Customers
Registration: Sign up and log in
Customers must be able to search for, purchase, and sell NFTs via an NFT real estate marketplace. The platform administrators are responsible for running the marketplace in the meantime. The Customer module and the Admin module make up the core architecture of the market for these NFTs.
Users should have easy alternatives for signing up and registering through a variety of channels. Customers can be identified in a variety of ways, including through emails and social media accounts. The login process for the customer module also should allow users to access their accounts repeatedly.
Additionally, your platform can support NFT auctions. The site should then provide users with the choice to view listed assets, their current bid rates, their durations, and the ability to submit a bid. There may also be a choice to check the pricing details of the top bid made as well as the record of every bid the user has ever made.
Crypto wallet integration
To buy & sell these NFTs, users must be able to connect their crypto wallets to the marketplace.
Customers are probably going to run into issues in the market. Providing customer help all day can improve your platform's reputation for legitimacy and dependability. Access to third-party integrations, the option to speak with a support representative, and more can be added.
Real Estate NFT Marketplace Functionalities for Admins
The platform's administrators must have access to all listed assets, user profiles, and transaction history. They must have the capacity to actively add and delete profiles.
The admin must have access to the information related to each asset displayed on the platform under asset management. They must be able to change or remove them as well. Other features include placing an auction listing, establishing a time limit, placing a private listing for chosen users, and adding information about the owners of these NFTs, which stand in for real estate. User analytics are also necessary for admins to track the effectiveness of a marketplace platform.
Technology Stack
Popular tech stack recommendations include:
Solidity: a high-level, contract-oriented language for putting smart contracts into practice.
PHP: a multipurpose programming language that is particularly well suited for web development.
MySQL: a relational database management system that is employed for a variety of tasks, such as data warehousing, online shopping, and logging software.
Node.js: uses JavaScript to create server-side scripts that run on the server to create dynamic web pages as well as command-line utilities.
Security Measures in Real Estate NFT Marketplace
To prevent users from giving sensitive information to unauthorized parties, the market must incite secrecy. The integrity of the market depends on the accuracy and dependability of its data. The data as well as the platform must be functionally tested by an authorized individual before any modifications are made. Additional general security precautions include:
Guarding against disruption
The Service Level Agreement components such as the measurement of Maximum Tolerable Downtown Time & Recovery Time Objective can be used to enforce and record this.
Detective control
It recognizes when an authorized user makes an unauthorized change or when an unauthorized change is made by an authorized user.
Authentication
Session Identified (ID) monitors the platform's authenticated state in order to guarantee effective user/process authentication. Measures like Initialization and disposal of Global Variables, Hashing or Encryption of Sensitive Data, etc., must be clearly stated in order to prevent the leaking of sensitive data.
Conclusion
In addition to actual real estate, the metaverse's virtual environment is embracing NFTs for the sale of the property. Property claims that the metaverse's nft real estate marketplace can expand to incorporate tangible properties referred to as "blended" NFTs. Expert agents for trading virtual landscapes will be available soon. The number of cybercrimes related to the real estate sector would considerably decline as a result of these blockchain-based NFT settlements.
Additionally, all data, including title reports, inspection reports, disclosures, etc., must be packaged by the NFT miners. Therefore, in the future, when properties are tokenized into NFTs, miners who assisted in the process can earn royalties that are instantly transferred to their digital wallets. Future adoption of these NFTs can be anticipated from both tech-savvy consumers and senior consumers alike due to how easy they are.