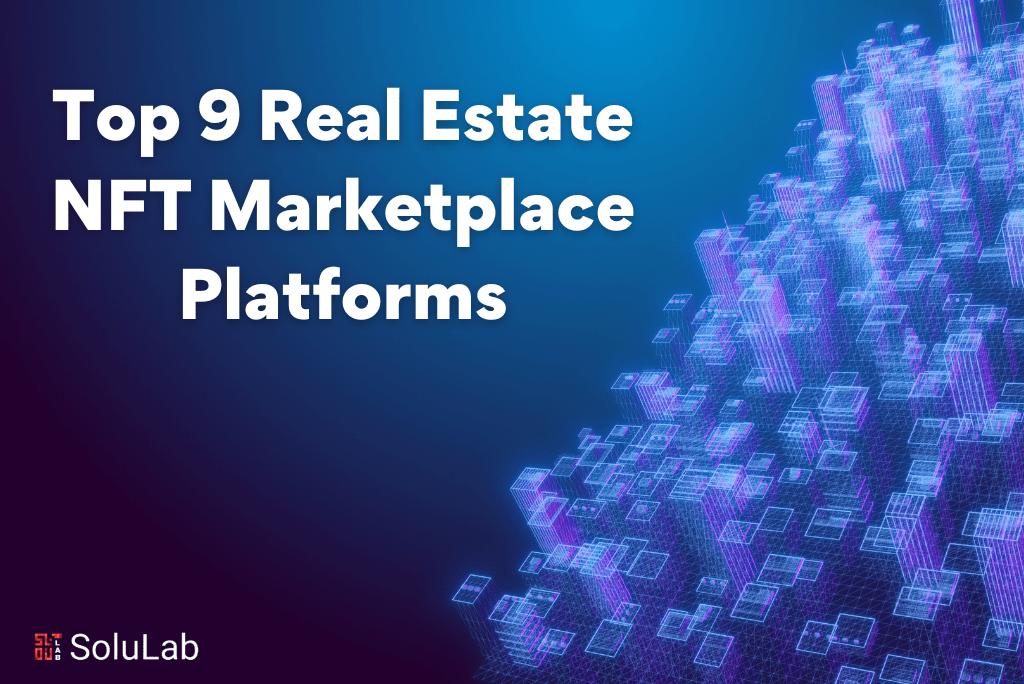 Explore non-fungible token (NFT) real estate firms if you're seeking a novel approach to investing in real estate. These platforms let investors buy and trade property tokens using blockchain technology. Since each token is distinct, it offers a safer investment than conventional real estate.
The top nft real estate marketplace will be covered in this post, along with some tips that might help you better comprehend this new investment possibility.
What are Non-Fungible Tokens or NFTs?
NFTs, or non-fungible tokens, are digital assets having distinct provenance that can only be established through known history here on the Ethereum blockchain. They are frequently employed for tracking & authenticating tangible assets, such as works of art or gaming components.
NFTs are becoming more and more well-liked because they provide a safer option to invest in digital assets inside the metaverse. NFT artwork, music, or other works cannot be reproduced, making them more valuable and far safer investments than conventional assets like equities and bonds, which are simple to counterfeit.
Investment in real estate NFTs has a number of benefits. Some of them are as follows: On the Ethereum blockchain, real estate NFTs are operated. Investments in real estate and transactions as NFTs are distinctive and less likely to be similar to other NFTs.
Advantages of Real Estate NFT Marketplace 
Flexibility 
You have the choice of placing your eggs inside your selected baskets using either an F-NFT or a conventional complete NFT. Additionally, you are free to trade, sell, or purchase property whenever you like. This also enables everyone, regardless of wealth or geography, to invest in real estate.
Do it yourself
There is no requirement that you use a real estate broker. With other investors, you can immediately purchase, sell, & trade any real estate NFTs.
Faster sales transactions. 
The procedure of purchasing NFT properties is quicker and involves less waiting. This is so because real estate NFTs use smart contracts, which automate numerous processes, making it a very effective way to acquire & sell a property.
Anyone can invest 
The benefit of NFTs in real estate is that anyone in the globe can buy an NFT property. The traditional real estate industry, which can be extremely exclusive for those who can afford a particular house, is in opposition to this.
Disadvantages of Real Estate NFT Marketplace 
Although investing in real estate as NFTs, whether it be actual or virtual, can be quite profitable, there are a few drawbacks to consider before making a significant investment. Some of them are as follows:
Volatile
You may not able to recoup the whole cost of purchasing your property when you sell it. You might not get the same profit from your investment as you had hoped for in the event that the value of the property drops.
Directly own the real NFT property
Regrettably, NFTs are not recognised as property titles under existing law. Since actual physical real estate cannot be immediately tokenized, the investor must hold the property through a legal corporation as a workaround.
Current laws 
As NFTs in real estate are still relatively new, many nations still lack the necessary education regarding real estate tokenization. Legal ownership following your digital acquisition of a property like an NFT may still be ambiguous, and institutions must yet find a way to keep up with this new technology to alter how deeds are recorded.
Buying real estate NFTs 
In contrast to real-world NFTs, online real estate NFTs might not be at risk in this regard. You could have to deal with unreported mortgages & unpaid real estate taxes after purchasing the property. When purchasing real estate, if you skip the usual due research, you can encounter more issues than you anticipated.
Read more: What is the Future of Crypto Real Estate?
Top 9 NFT Real Estate Companies
Although NFT real estate firms have only recently entered the market, they are already having a significant impact. The top 12 NFT real estate marketplaces to avoid are listed below:
1. Decentraland
A virtual environment called Decentraland was established in 2015. The primary goal of the game is to construct and amass property in the NFT virtual area known as "land," which can be broken up into pieces. Mana, the cryptocurrency token with this new digital world order, is used to purchase these land plots.
You will have permanent ownership of the land as soon as you register, create your digital wallet, & buy your chunk. You are free to do what you want with your digital environment since you have total control over it. This involves constructing things, making games, or producing art. You can lease or sell your land to the other players if you don't want to utilize it yourself.
2. Polka City
A ground-breaking technology called Polka City enables users to own virtual properties and make money. Due to the contract-based nature of these NFT assets, it is simple for you to create income that is paid out in the native POLC coin.
Starting Polka City is a rather simple process. You can select the investment type that best suits your preferences when you register for our real estate marketplace. Furthermore, no new blockchain wallet is required. Using your current Ethereum wallet, you can start making money at Polka City.
3. SuperWorld
SuperWorld is a marketplace for digital assets where you can make your world and generate money off of it. You can trade, buy, and sell various NFT pieces of land, which in the actual world have an area of about 100m by 100m, using its real estate platform. In your planet, a stadium that size would be appropriate for concertgoers to attend live performances.
You can get going with ease in SuperWorld. All you'll need is a concept for your planet; no coding expertise or familiarity with blockchain technology is required. Here, you'll have the chance to make money off of your property through, to mention a few, analytics, gaming, digital commerce, & e-commerce.
4. Cryptovoxels
It feels like entering a completely different reality when one enters the Cryptovoxels virtual world & metaverse. The NFT platform, which was established in 2018, is a virtual space where you may purchase land and create your own tiny planet anyway you choose. This implies that you can modify your so-called voxel pieces of land to develop a game, produce art, or even launch your own company. You can even sell your land to other competitors on the market if you become weary of it.
The intriguing thing regarding Cryptovoxels is you are able to explore the marketplace without an Ethereum wallet. You can customize your avatar and have a real customer experience with day & night cycles, weather, as well as other factors. You can purchase land on the NFT Platform, OpenSea, once you're ready to do so.
5. Upland
In order to map the real estate market, Upland, a virtual land marketplace, employs real-world locations. As a result, users can exchange their gained lands for genuine US dollars. Through its in-game companies, Upland also enables players to interact with other gamers in order to make money and make new friends.
Inside this new virtual economy, you can make money in real estate by renting out your houses, charging admission fees to guests, or selling your property at a profit. You can also make money at Upland by starting your own business.
6. Somnium Space
Somnium Space is a groundbreaking new platform that was founded in 2017 and released in 2018. It will revolutionize gaming & virtual reality (VR). The business developed an open-source software platform based on the Ethereum Blockchain that enables the purchase and customization of virtual assets like vacant land, parks, and structures.
Users of Somnium Space can now own virtual reality (VR) assets, including avatars and digital commodities. Integrating programmatic advertising plugins that track engagement rates and conversion rates into the VR games, develops a new economy where makers can immediately monetize their work.
7. The Sandbox
is a cutting-edge virtual environment fueled by Ethereum blockchain technology where users may create custom video games from the ground up using commercially available or pre-built building pieces. You must utilize $SAND, the platform's utility token, and money, to purchase real estate and other assets via their marketplace.
Being able to construct virtual experiences like dioramas & games and place items like buildings, cars, or furniture gives purchasing land on Sandbox a lot of options. You have the ability to create Estates on this site if you own land.
8. Omni-PSI
A cutting-edge, ground-breaking new platform called Omni-PSI was developed in collaboration with OMNI Real Estate Group & Passive Income and released last year. It is said to be the first fractional real estate NFT marketplace platform in the world, allowing sellers and buyers of tokenized property to buy fractionalized assets—assets that are parts of properties rather than complete ones. Through their NFT marketplace, Omni-PSI collects money through their sales procedure. They buy the lot & rent it out after they hit a hard cap price particular to the property. Based on the number of shares each fractional NFT owner has, they each receive a portion of the rent that these renters pay.
9. Fraction
Fraction is a brand-new real estate company operating on the Ethereum blockchain that has obtained the necessary Thai SEC authorization. Including its $150 minimum purchase requirements to buy even a portion of an upscale real estate project, the company seeks to increase accessibility for everyone to invest in real estate. You can invest in a range of assets using Fraction's plug-and-play platform, from tiny sums to private funds. This offers the benefit of demonstrating that the platform was created with your wants and objectives in mind.
Bonus: Propy
Propy is yet another shop for all of your real estate needs and is powered by Web3 Technology. They have everything covered, from discovering homes on their thorough list to owning them or even negotiating deals with sellers.
Propy debuted its NFT platform in the US last January 2022, enabling the purchase and sale of real estate as an NFT. The buyer can quickly access the legal paperwork proving ownership of the property by logging real estate transactions on the blockchain. It is important to understand that real-world property ownership is not fractional. They will acquire not only a Florida property but also a US-based company that holds title to the same land.
Conclusion
The methods by which we are able to use NFTs to invest in actual or virtual real estate will change while Ethereum blockchain technology develops. Even if its application in this sector is still very new and experimental, businesses and investors that share the vision already are starting to see NFTs' potential as the real estate investments of the future. Institutions and people that are interested in participating in this developing field should monitor its progress and be ready to get involved when the right time comes.
This is a potential worldwide phenomenon waiting to happen with more time, knowledge, and understanding of what NFTs are, how they really operate, and the risks and laws surrounding both physical and virtual characteristics.