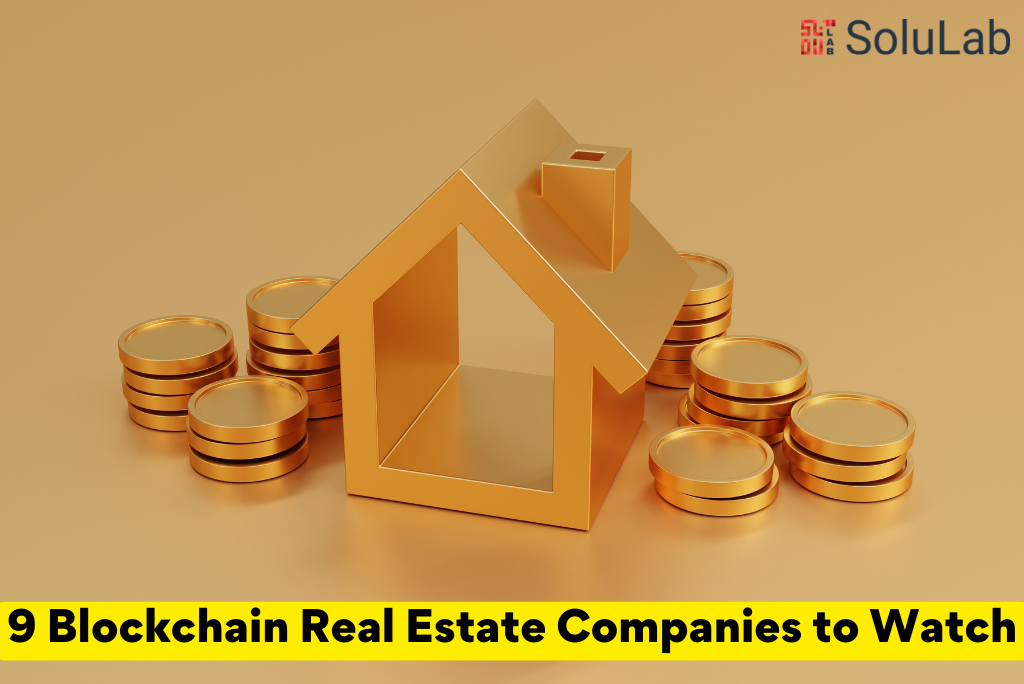 One should always keep an eye out when buying and selling real estate. Real estate transactions can become a nightmare rather than a pleasurable experience due to risks associated with buying and selling real estate, including fraud, human errors in paperwork, sluggish processing times, bureaucracy, and opaque transactions.
The implementation of blockchain technology in the real estate sector is something blockchain real estate startup owners are considering doing to address these problems. We chose nine blockchain real estate companies that are building platforms in the real estate industry and ranked them based on the following factors: availability of a live product/beta/MVP, money raised, stage of the roadmap, and scalability. This will allow us to demonstrate the most prevalent use cases of blockchain in the real estate industry.
Best Blockchain Real Estate Companies
Blockchain companies in real estate are the leading technology since it has a built-in system of trust. Global real estate firms use blockchain's ledger and smart contract features to transparently and effectively make renting, purchasing, investing, and even financing possible.
A unified database of leases and acquisitions is more important than ever because of the enormous daily rate of real estate crypto tokens. Blockchain real estate companies can do that. Brokers and agents would be able to access the whole transaction history of a property if the traditional Multiple Listing Service database was upgraded to a blockchain-based one.
Read also: 15 Blockchain Companies Shaping the Real Estate Industry
Blockchain is being embraced by the expanding property-sharing business in addition to assisting the traditional real estate industry. The 15 blockchain real estate tokenization companies listed below leverage the booming technology to expand their clientele.
1. SoluLab

SoluLab is a blockchain-based platform for real estate transactions that can be integrated with any real estate website. SoluLab includes a Web application with a dashboard and widgets that the buyers and buyer agents can instantly submit offers from any online real estate listing. With multiple blockchain technologies and excellent features like smart contracts, Each transaction participant can get notifications in the offer process and instantly chat with one another via a user-friendly interface according to established protocol.
Trusted by Waterton, The Corcoran Group, Freeman Webb, Global Switch, Lessen, Orchard, Qualia, and many more. Also, the company is one of the Top Blockchain development companies by Goodfirms, Clutch, and Gartner in 2020/2021
SoluLab is a leading Blockchain, AI, & IoT solutions provider company, started by the former VP of Goldman Sachs and former principal software architect of Citrix. It is worth mentioning that Solulab ranked 33rd on Deloitte's 2020 Technology Fast 500™ list.
2. Propy

Having a decentralized title registry, Propy is a global real estate marketplace. To place the global real estate industry on the blockchain, Propy ICO raised $15 million in its PRO Token Sale in September 2017. They worked along with the Ukrainian government in August 2017 to make it possible for foreign investors to purchase real estate using blockchain. To help overseas buyers buy real estate on the blockchain internet, Propy also collaborated with a Chinese real estate services provider.
Propy currently enables users to look for properties in their local language in San Francisco, Dubai, Beijing, New York, Moscow, Los Angeles, Miami, and London. Buyers can learn more about the characteristics and location of each property on its page, as well as make contact with the owner. Customers can use bitcoins to pay for the property.
3. Harbor

This blockchain real estate's goal is to convert difficult-to-trade assets like real estate and private equity into tokenized securities that adhere to Securities and Exchange Commission (SEC) rules. AML (Anti-Money Laundering) and KYC (Know Your Customer) checks are two compliance checks that Harbor assists with when working with investors. To digitalize tangible real estate assets, the network uses Regulated Tokens (R-Tokens). Non-accredited investors are not permitted to purchase R-Tokens from accredited investors. Such a strategy aids in the avoidance of possible fraudulent transactions. Reselling tokenized securities is the blockchain real estate startup's most outstanding characteristic. The corporation can enhance trading with such tokenization. Based on Ethereum's ERC20 technical framework, the R-Token is theoretically tradeable on any cryptocurrency market that accepts such tokens. This summer, Harbor intends to work with a client to develop its first securities token.
4. Mogul

Alex and Joey, the Mogul founders, spent years understanding the intricate real estate investment industry. It became shockingly evident that the system was filled with antiquated procedures after searching the industry, capital stack, and product types. Several prohibitive entrance hurdles were obvious, due to which chaos birthed Mogul. 
Mogul is the blockchain oracle for real estate and will continue to disrupt a sector ripe for revolution by liberalizing real estate investing. The mogul objective is to provide all investors direct access to real estate for $1 and property owners with cost-cutting, equity-unlocking blockchain-based solutions. Polygon, a "layer two" scalability solution for Ethereum, helps them achieve that. Polygon offers the same security and functionality as Ethereum, but transactions are faster and cheaper.
5. BitRent

BitRent is the first blockchain-based real estate platform that brings together investors from all over the world and property developers to raise capital during the early phases of development. Small investments can be made and protected by being registered in the decentralized registry. Along with having its coin, the RNTB token, BitRent also permits real estate transactions through smart contracts. The system operates as follows:
All important construction elements contain RFID tags.

The embedded tags are grouped by BitRent software.

The blockchain is real estate that receives the data from RFID tags.

The construction progress can be followed thanks to smart contracts, which track the signals from RFID tags.

An RNTB token payment transaction is started when a smart contract for each kind of construction task is fulfilled.
6. Blocksquare

Real estate firms can design and offer tokenized real estate investment packages straight on their websites thanks to Blocksquare. The tokenization methodology used by Blocksquare enables the sale of real estate assets to a maximum of 100 customers. Here's how it all goes:
A crucial real estate item is linked to the so-called PropToken smart contracts via the blockchain-based protocol developed by Blocksquare using data from land registry systems.

Each asset's rules and regulations are specified by the PropToken smart contract, which also safely controls ownership.

While the generated rent is paid in BST tokens, PropTokens are provided in return for ETH.

Customers of Blocksquare can use their decentralized exchange at any moment to buy or sell PropTokens.
7. Averspace

Averspace is the first C2C (consumer-to-consumer) one of the leading blockchain companies in real estate in Singapore. It is a platform that connects landlords and property owners directly with purchasers or tenants for transactions involving the purchasing, selling, or renting of real estate without the use of brokers. The operations of Averspace are as follows:
On the platform, the owner lists their property.

The owner can be contacted through online chat if there are any interested tenants or buyers.

An online lease is signed by the owner and the purchaser or tenant.

Digital signatures are used by both parties to sign the contract.

A secure monthly deposit for the property is paid by the tenant.

The owner gives the buyer or tenant possession of the property.
The platform also offers a user-friendly smartphone app. The creators of Averspace also work on Real Estate Doc, a cloud-based enterprise project that provides real estate firms with document management, digital signing, payments, and analytics capabilities.
8. ATLANT

Tokenized ownership and peer-to-peer rents are the two main features of ATLANT, an international blockchain network for real estate. The website for ATLANT describes tokenization within the platform as follows:
ATLANT receives the property information from the owner.

ATLANT checks to see if the property satisfies the listing criteria.

A lawyer or other owner representative verifies that the property is in good condition and is free of debt on the owner's end.

The real estate asset is tokenized via ATLANT, creating a direct correlation between the number of tokens and the overall value of the asset.

ATLANT sets the Property Token Offering (PTO) on its trading platform and creates unique tokens for the property owner. The tokens are available for purchase by investors all over the world, giving them partial ownership of the asset until it is completely funded.

The owner receives the payment equivalent in the chosen coin.
9. BrikBit

The blockchain-based ecosystem BrikBit creates and oversees all activities in the real estate sector. All shareholders within this ecosystem stand to gain from blockchain technology. Depending on the nation and current legal framework, each real estate object will have a unique blockchain with specific laws and features. The following use cases will be covered by BrikBit, even if it is currently in the real estate ICO stage:
Opportunity for real estate investments by construction workers

Possibility for buyers to purchase a home using a mortgage and pay for it over time in small payments

Possibility to crowdfund the costs of property renovation.
How Is Blockchain Technology Changing Real Estate?
More blockchain use in commercial real estate could have a favorable impact on the sector. Real estate companies use blockchain because it is a relatively young technology. But when people become aware of its potential advantages, it can gain popularity. The following are possible blockchain uses in commercial real estate.
Faster, More Secure Transactions
Numerous characteristics of blockchain can result in speedier, more secure transactions. You don't need to wait for financial institutions to file paperwork because every activity is recorded on a public ledger.
Additionally, the use of blockchain in commercial real estate would make it impossible for records to be altered. Consumers currently depend on financial organizations to safeguard their private information. Unfortunately, the extra security measures that banks & other financial organizations take don't guarantee safety. Financial institutions are the target of some of the largest data breaches, probably because fraudsters are aware that they may obtain information there that would aid them in their crimes.
Smart Contracts
By minimizing paperwork and the stages required to purchase property, using blockchains in commercial real estate to expedite processes instantly creates chances to cut expenses.
Smart contracts built on the blockchain are utilized in the process to help automate it. If/then statements that advance real estate blockchain projects at the proper point can be used in blocks of a ledger. For instance, the smart contract might stipulate that the buyer won't get a formal price offer until the property has been thoroughly inspected and assessed by an expert. Once the buyer has chosen an offer, it is then sent to the seller as well as the seller's real estate agent for approval. Blockchain-based smart contracts ensure that all parties keep their promises before the transaction is closed when correctly implemented.
Lower Costs
By minimizing paperwork and the stages required to purchase property, using blockchains in commercial real estate to expedite processes instantly creates chances to cut expenses.
You can buy property tokens on some websites for real estate. You can buy a house or a portion of a property using cryptocurrencies rather than going through a brokerage that levies fees. You can eliminate all the costs and percentages that experts demand when selling or buying property by using blockchain to buy the property directly rather than going via middlemen.
Asset Tokenization
Blockchain technology has the potential to revolutionize how real estate investments are crowdfunded. Currently, ownership of properties funded by crowdfunding is distributed among investors. A real estate company, for instance, might offer 100 shares. Once fully funded, they use the investor's funds to buy or construct an asset that will produce income.
Tracking Asset Ownership
The structure would be slightly changed by asset tokenization to provide investors & developers more flexibility. You could buy a token that is recorded in a public ledger rather than a portion of the real estate. You now have a fully transparent record of when and how much you spent on the token. You have evidence that you made an investment and the tokens are yours, in case your ownership is ever questioned.
Selling Your Real Estate Investment Tokens
Asset tokenization will also make it simpler for you to sell your investment to a third party. Investment agreements currently allow other owners to restrict you from selling your stake without their consent. Even if you are allowed to sell your share without permission, you will still need to complete a tonne of paperwork to transfer your ownership to another investor.
Final Thoughts
Here is our final opinion on the decision to use digital research to study the housing market in 2022. If you've been thinking about engaging in this kind of digital real estate transaction, you need to first comprehend what blockchains are and how they operate. All the data relating to real estate transactions are intended to be stored in these databases. This industry is booming, and the number of blockchain real estate companies using the blockchain to transact in real estate is also growing. The list will continue to grow, but we've included the top nine that offer distinct services to issuers and real estate investors. It is important to keep in mind that blockchain real estate is safe. There is no chance that someone will delete or alter your information because it is saved permanently. If you are interested in purchasing an investment property and, at the same time, making use of blockchain networks, you should consider using Solulab's own white-label real estate tokenization platform.