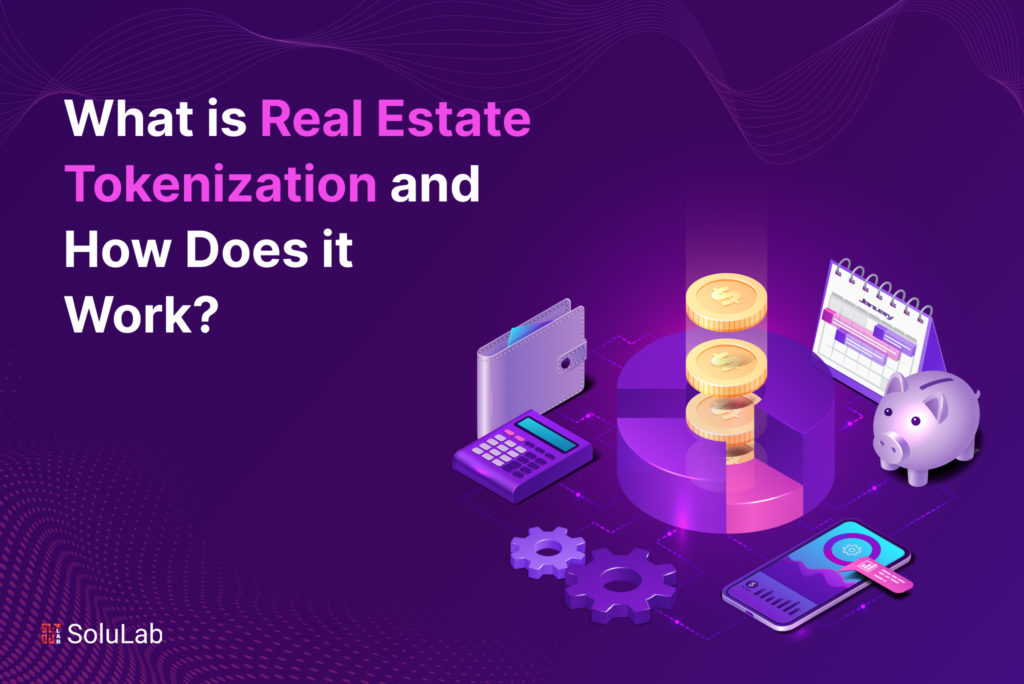 Due in major part to the increase in investment, the real estate market has expanded significantly during the previous ten years. Furthermore, it is predicted that the worldwide real estate market will hit $8,662.2 million by 2026, as per the research "Real Estate Market by Property & Business: Opportunity Analysis & Industry Forecast, 2019-2026." Nevertheless, investing in real estate has traditionally been regarded as a privilege of the wealthy. In terms of liquidity, automation, and regulation, it has likewise lagged behind the times. However, all of these and numerous other related difficulties have been successfully overcome thanks to blockchain technology, in particular real estate tokenization.
One of the main applications of blockchain in real estate has produced outstanding results: tokenizing real estate assets. It offers investors nearly unlimited access to private real estate assets, improved liquidity, and greater transparency, as well as other alluring advantages. It also aids asset and fund owners in raising funds more effectively. Continue reading to learn more about the fundamentals of tokenized real estate as well as its technical and legal considerations. You will learn more about the current real estate tokenization systems as well as the value they offer to investors and issuers.
Real Estate Tokenization Explained
The act of digitizing an asset is referred to as tokenization. It is based on cryptocurrency crowdfunding, during which investors can convert their fiat currency or digital assets into tokens. Want to comprehend the idea of real estate tokenization more fully? View our real estate tokenization video tutorial. It explores a variety of real estate tokenization-related topics, including how to tokenize assets and how to analyze real-world examples.
With the use of specialized blockchain real estate tokenization platforms, the value of the property is turned into digital tokens in the process of property tokenization. These tokens, sometimes known as "security tokens," typically stand in for ownership of a real estate asset. Investors who wish to purchase the token can do so after it is put up for sale on the market and they receive a portion of the property in return. Additionally, these investors are free to sell as many shares as they require or choose. The industry is available to a wider variety of investors due to the process' simplicity and lack of expensive real estate investing procedures.
Check Out Our Press Release: SoluLab's White Label Real Estate Tokenization Platform is all set to start tokenizing the real estate assets instantly
Blockchain in Brief
Blockchain is a technique that makes it difficult to cheat or hack while storing information (electronically in digital format). Blockchain refers to a distributed database that is shared among computer network nodes. In cryptocurrencies, it is termed as bitcoins. It is efficient and simpler to maintain a secure, decentralized record of transactions with the use of blockchain technology. Your real estate tokens are extremely safe and secure because the real estate tokenization platform solely uses blockchain technology.
Advantages of Real Estate Tokenization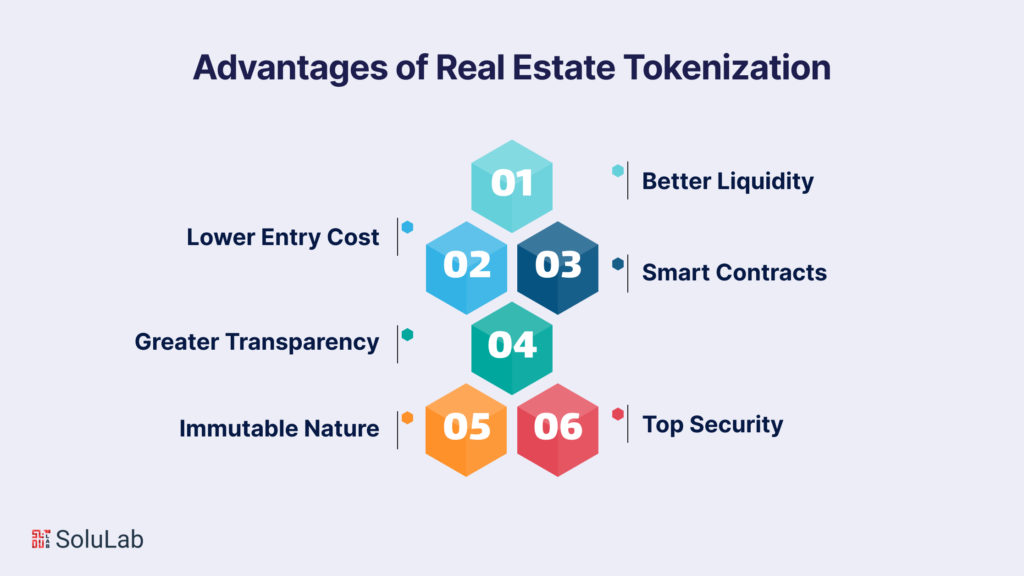 The global real estate industry could undergo a fundamental transformation thanks to tokenization. In comparison to the current investment options, it provides both issuers & investors with a host of significant benefits and creates a potential for more investors to participate in the market. The greatest benefits that tokenized real estate provides are discussed below.
One of the main benefits of tokenized real estate is liquidity, which has the ability to add value where illiquid assets are unable to. Additionally, fractional ownership can significantly improve profits in the industrial real estate sector. This may lead to investments in equity worth hundreds of billions or possibly trillions of dollars.
A security token need not be sold in its entirety. The code underlying the token can be divided as a result of fractionalization, which enables the issuer or holder to sell these partial tokens for less money. As a result, smaller investors will be given the opportunity to participate in the stock market. Richer investors will receive greater options for diversification, meanwhile.
Read Our Blog Post: A Beginner's Guide to Real Estate Tokenization
Blockchain technology is frequently utilized throughout the tokenization process. As a result, normal smart contracts can be used to buy and sell real estate security tokens. Smart contracts' main benefit is that they don't need to be negotiated individually. Their terms can be automatically implemented, which greatly decreases transaction costs as well as the amount of time needed to complete the process.
Every transaction that occurs on the blockchain can be recorded. Every time a single token is involved in a transaction, everyone involved is made aware of it. Investors can therefore view the history, price, and other transaction information about the token at any time.
Blockchain is a distributed ledger, therefore no one or entity can have control over it or enforce their own rules. Furthermore, distributed ledger technology makes use of cutting-edge cryptography methods to give consumers increased security. For access to its blockchain assets, each user has a unique private key. This key is typically shown as a string of random letters and numbers, making it challenging or even impossible for outsiders to guess.
The most noticeable characteristic of blockchain is that it forbids anyone from changing or modifying the contents of a transaction after it has been recorded & confirmed. When investors want to be sure that the information about the transaction hasn't been fabricated, this is helpful.

Drawbacks from Real Estate Tokenization
The blockchain network is well secure. However, there are gaps in smart contracts that need to be closed. Hackers attempt to steal money via smart contracts by breaking into the programming on a regular basis. Money is not secure if somehow the smart contract has undergone a thorough examination. A simple hack or system flaw might strip real estate investors of their investments. In the worst situation, it will be difficult to reclaim these assets once they are lost.

For the operation & management of STOs to be regulated, approved platforms are required for the tokenization of real estate assets. The procedure of obtaining a license is rather complicated. You must go through several stages of trial, error & repeated testing before you get to the licensing level so that they will be successful.

Many employees of regulatory agencies and real estate professionals are unaware of how blockchain technology functions and resolves the problems the industry is now experiencing. These factors create a bad regulatory environment and obstacles for all stakeholders. Investor confidence is lowered by regulatory uncertainty, which has a negative impact on growth.

Many tax regimes do not have explicit cryptocurrency tax regulations, which causes concern among stakeholders. Despite the fact that the benefits of tokenization are widely recognized, a suitable taxation system has yet to be established. Because there is no unified tax system in existence, everyone is concerned.
How to Tokenize Real Estate Through the Process?
The creation of a well-thought-out roadmap for both legal & technical processes is necessary for real estate tokenization. Below, we'll examine the particulars of each procedure.
The Legal Process of Real Estate Tokenization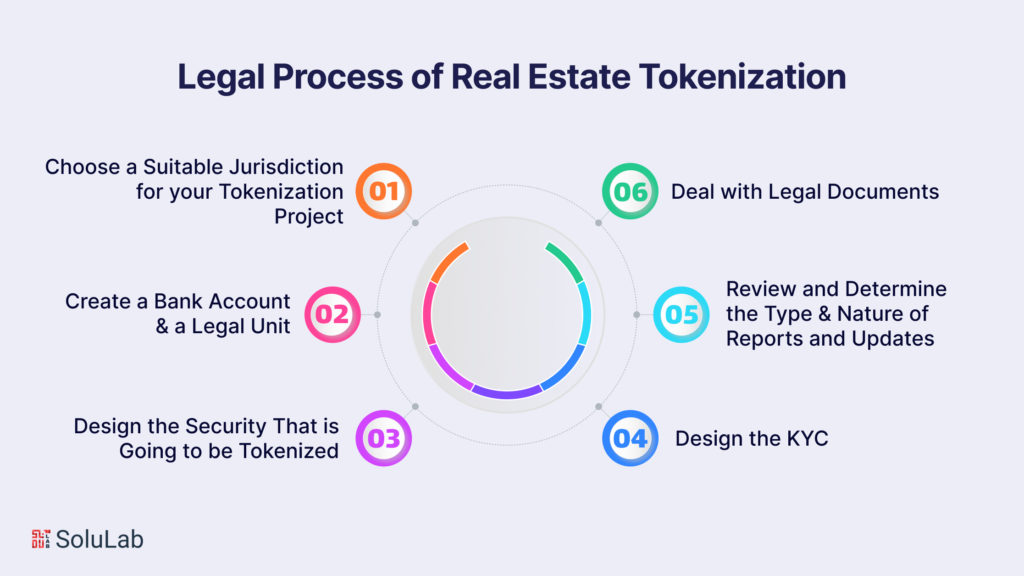 The steps of the legal procedure are as follows:
Choose a Suitable Jurisdiction for Your Tokenization Project
Standard securities law, which is supported by many nations, applies to all tokenization projects. However, due to unique regulations surrounding notarized transfers & paper-based ownership certificates, not all nations are in favor of the complete digitalization of securities, such as bonds and shares. There are also other nations that haven't come to an agreement on regulations yet. Keeping the aforementioned in mind, you should speak with lawyers who can assist you in keeping track of various legislative updates and advancements as well as provide suggestions regarding the countries that are best suitable for your real estate tokenization project.
Create a Bank Account & a Legal Unit
After analyzing all the data and selecting a jurisdiction, you can move on to establishing a bank account as well as a legal entity known as the SPV, or Special Purpose Vehicle. An SPV is thought of as a legal entity created for a specific commercial goal, such as managing real estate. It may be referred to as a trust, corporation, limited liability company (LLC), or limited partnership.
Design the Security that is Going to be Tokenized
This can be a share in tokenized real estate companies that manage and own the property in the real estate industry, but it can also be a tokenized loan, a profit-sharing right, etc.
Read Also: 9 Blockchain Real Estate Companies to Watch in 2023
You should try your best to build the KYC — Know Your Customer — process to enable the seamless onboarding of your prospective investors. It's critical to comprehend the details investors must offer in order to register their ID & address. In addition, make sure the investor submits the required data when completing the registration process.
Review and Determine the Type & Nature of Reports and Updates
This is necessary in order to transfer them to CSDs, public transfer agencies, and other organizations. From the platform, they can be produced as customized reports.
Deal with Legal Documents
Working with legal paperwork comes last but certainly not least. This paperwork can range from a private placement or public offering memorandum to an SEC Form D and much more, depending on the type of asset. The technical level can be reached once all legal procedures have been completed satisfactorily.
The Technical Process of Real Estate Tokenization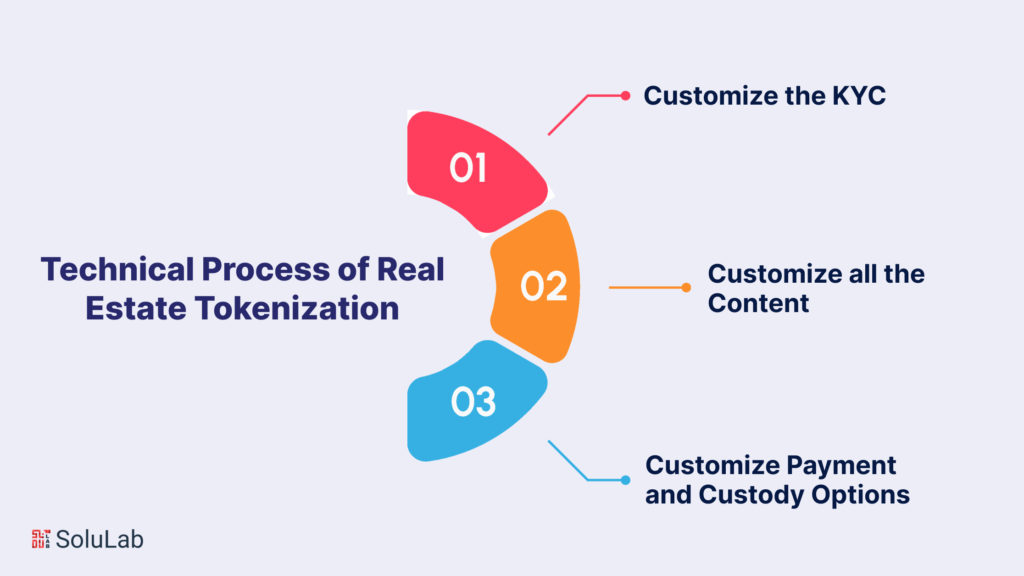 Let's now examine the technical procedure. But let's be clear right away that complete automation should be your main focus for the entire process.
You can modify the KYC and the contract flow based on the information you've obtained during the legal procedure. Part of the process involves automating your contract flow, so decide which contracts—such as subscription forms, purchase receipts, as well as share agreements—must be utilized for investors' registration and the subsequent token purchase.
Customize all the Content
At this point, the process of customizing still needs to be completed. To present the property in the best light, you will be in charge of personalizing all the content, including high-quality images and other details.
Read Our Blog Post: Top 10 Asset Tokenization Platforms in 2023
Customize Payment and Custody Options
After completing this stage, you can customize the payment (bank transfer, card, and cryptocurrency payments) and custody choices. Installing and customizing the server software is strongly advised. You should even make sure that the issuer administrators receive the necessary training to use it. After completing the above-mentioned steps, your STO campaign can be officially launched. As you'll see, there are many crucial factors to consider in both the technological and legal processes. In order to avoid missing any important steps, you should ask our professionals for assistance.
Real Estate Tokenization Role in the Future
Tokenization offers a practical and affordable way to invest in real estate assets, but because it is a relatively new venture, regulators have not yet established a clear set of regulations. Which regulatory frameworks will be used depends on the type of asset being tokenized.
Real estate tokenization has the potential to revolutionize real estate investment by increasing liquidity in a predominately illiquid asset class, lowering entry barriers for retail investors, and lowering transaction costs. However, market participants currently face challenges related to clear market regulation, reconciliation with land title registries, and the requirement for centralized reporting of transactions.
Real estate professionals, including those in the legal, financial, and real estate fields, should be consulted if investors or owners of real property are interested in profiting from the trend of real estate tokenization.

Conclusion
The tremendous capability of blockchain-enabled real estate tokenization platforms for addressing the current market difficulties is still not fully understood by the real estate sector. However, it is already clear that tokenization has had a significant positive impact on the sector, most notably in terms of better liquidity, transparency, security, inclusiveness, as well as management. In addition to real estate, tokenization is a go-to technique for many other sectors that require disruption and change. It will put them on a different course and provide them the opportunity to make long overdue and much-needed adjustments to their workflows. Solulab has assisted numerous firms in identifying their unique paths to success. Utilizing our sophisticated STO platform, you may digitize any kind of asset and create the ecosystem required to launch your own security token offering campaign. Be daring and knock on our door whenever you need assistance. We'll be happy to point you in the direction of the exciting new tokenized real estate companies.
SoluLab offers comprehensive real estate tokenization services to guide individuals and businesses through the evolving landscape of property investment. SoluLab's team of experts is dedicated to assisting property owners in raising capital through tokenization and aiding investors in diversifying their portfolios. They believe that real estate tokenization is the future of investment and provide customized white label real estate tokenization solutions, supporting multiple blockchains. With SoluLab, clients can establish a digital presence in the crypto trading realm by launching their own white label real estate tokenization platform, enabling them to list commercial or residential property tokens and set prices according to their preferences. To embark on this transformative journey, contact SoluLab today.
FAQs
1. What are the types of tokenization?
There are multiple types of tokenization available as Vaultless tokenization, Vault tokenization, NLP tokenization, NFT tokenization, Governance tokenization, and Utility tokenization.
2. What is real estate tokenization?
When real estate adopts a blockchain-based fractional ownership structure, it is said to have undergone real estate tokenization.
3. How does real estate tokenization work?
Real estate is transformed through real estate tokenization into a token that can be transferred and owned digitally and is saved on a blockchain. These digital tokens stand in for a small portion of the real estate's ownership stake.
4. Where is tokenization used?
Tokenization is frequently used to safeguard sensitive data managed by a payment processor, such as bank account information, credit card data, and other sensitive data.