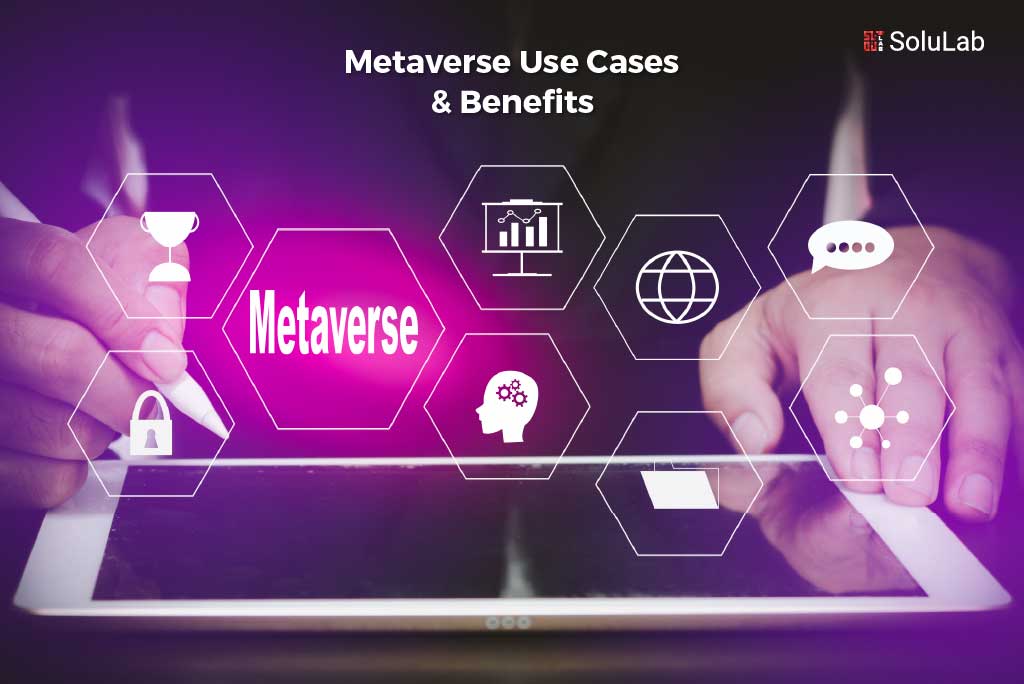 The only thing constant in technology is change. With several iterations on a regular basis, technology continues to undergo transformation to provide awesome opportunities to users. Starting from the use of static websites to navigating experiences web 2.0, we are all witness to the prowess of the evolution of the digital world. Metaverse happens to be the next in the chain of evolution. The initial concept of the Metaverse was first laid down in the year 1992 by Neal Stephenson in a science-fiction novel. Several technology experts worldwide have been putting in a lot of effort and unique, creative, and innovative ideas into redesigning the term Metaverse.
The concept of Metaverse existed for over a decade, but it gained a lot of popularity when big names like Facebook, Microsoft, and others invested in Metaverse and related projects. Moreover, the COVID 19 pandemic accelerated the popularity of Metaverse, where people were bound to follow social distancing and quarantine norms. Avoidance of in-person interactions, implementation of remote working policies, and adoption of digital modes of conduction of business helped the emergence of Metaverse at a good pace. People want to know more about Metaverse and Metaverse use cases.
It is quite difficult to come up with an exact definition of Metaverse since different opinions exist about the same. To state the definition in the simplest of terms, it would be ideal to say that Metaverse is a three-dimensional web powered by VR or virtual reality and AR or augmented reality. Here is a bit more detail about the characteristics of the Metaverse.
It is persistent, which means that the Metaverse exists irrespective of the physical presence of users.

Metaverse is self-sustaining in nature, meaning that the users are able to earn within the Metaverse with which they can pay for their utility.

It is infinite since it supports innumerable contemporary users as well as virtual reality worlds.

It is interoperable in nature which helps users to move their virtual items from one Metaverse to another.

Metaverse provides users with real-time or live experiences to relish them at their best.
The concept of Metaverse should be clear now, and hence let's proceed further with learning Metaverse use cases and benefits.
Metaverse Use Cases – A Future to Embrace
Metaverse finds a wide range of applications in various industry verticals. Let us take a deeper insight into the Metaverse use cases for a better understanding.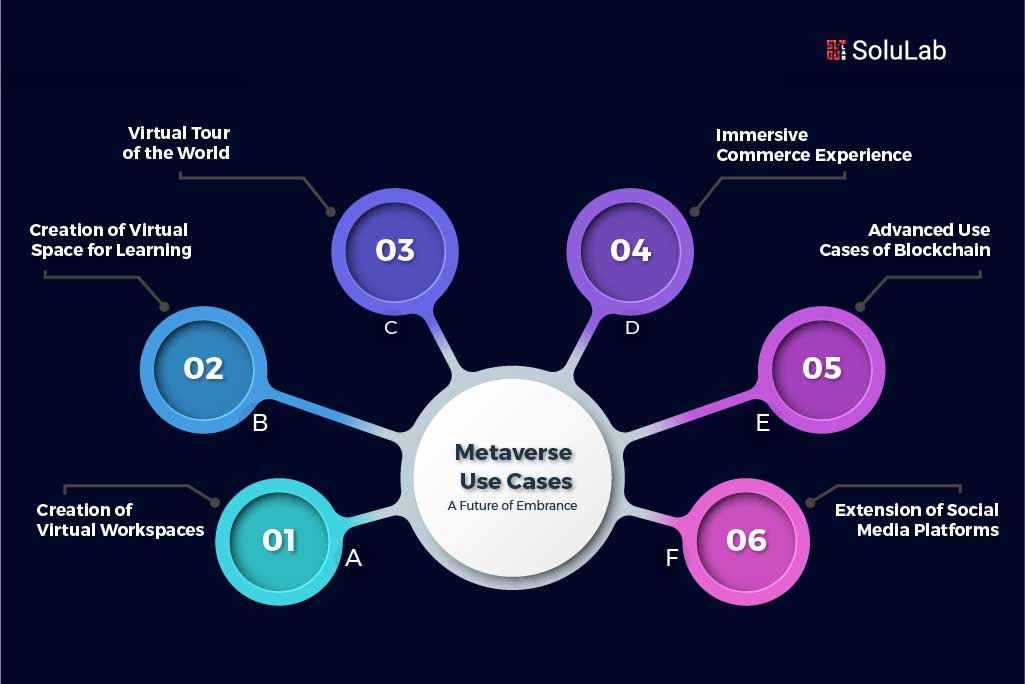 Creation of Virtual Workspaces
The COVID 19 pandemic has rapidly increased virtual communication, and platforms allowing video conferencing facilities have gained a lot of popularity. However, with the onset of Metaverse, it is all set to take virtual communication to a completely new level. It aims to do so by enabling a virtual environment in which the employees will be able to interact with each other in a way that will make them feel like everyone is present in the same room, thereby helping to create a virtual workspace. In addition to this, it allows employees to communicate with each other in a different manner instead of just looking at the system's screen all the time. Moreover, with Metaverse, the virtual work environment will not only be more engaging but also more efficient in terms of the productivity of the employees.
Creation of Virtual Space for Learning
The pandemic has very badly affected the education sector, which is known to every one of us. Social distancing measures had shut down schools, and remote learning was implemented, which happened to be an entirely new experience for the students as well as the teachers. In this regard, Metaverse can play a significant role in bridging the technological gap by offering a joined-up experience online. 
Moreover, Metaverse not only helps in the creation of a fantastic virtual space for learning but also readily enhances the teaching as well as learning experiences. It can also help enhance the learning experience of science subjects by allowing students to see simulations and get practical experience of various procedures via virtual immersion.
Virtual Tour of the World
A considerable volume of people love traveling to different places around the world. However, the fact is that it is not practically possible to travel to each of the places. It is precisely the situation that Metaverse can come to the rescue by permitting people to travel to various places of the world where they are not able to travel physically. In addition to this, Metaverse allows enjoying the first-person experience, which is possible by appropriately making use of the power of Metaverse, AR, and VR. It is expected that in the time to come, there will be a collaboration of Metaverse with artificial intelligence or AI, computer vision, and different other technologies to provide a social experience of virtual travel with friends from the comfort of one's home.
Immersive Commerce Experience
Virtual businesses and markets happen to be another of the major Metaverse use cases. It is expected that in the time to come, there will be the transformation of in-store shopping experiences into virtual experiences. In the virtual shopping experience, users can enjoy shopping with family members and friends without actually visiting the store physically. Metaverse can further extend the social shopping experience where users can enjoy live shopping, which will undoubtedly be an entirely different level of shopping experience with live interactions. Different companies have already started using the technology with a combination of augmented reality, virtual reality, machine learning, artificial intelligence, and other algorithms to offer the next level of shopping experience to users.
Advanced Use Cases of Blockchain
Blockchain technology happens to be quite vital for the purpose of mass adoption of the Metaverse throughout main industries. With the help of Metaverse, organizations will be able to design much more exciting as well as realistic NFT marketplaces. In these Metaverse NFT marketplaces, users are able to freely interact with each other, have a look at the desired or preferred NFTs, and make better as well as informed buying decisions. 
Metaverse has been promoting a new blockchain of NFT games where the players can easily acquire different collectibles within the games and trade the same with other players. It is possible because Metaverse offers a shared realm of virtual space. The game developers building games based on blockchain make use of Metaverse to build these next-generation online games, which will certainly change the overall concept of online gaming.
Extension of Social Media Platforms
Metaverse is not just about introducing a three-dimensional space to be watched on computers or mobiles and listening to the voices. A Metaverse social media platform will help provide a much more immersive experience to the social media users by inducing a special feeling of presence among them. An appropriate blend of AR and VR helps enable a digital experience that is much more realistic as compared to the current abilities of the social media universe. Therefore, the implementation of Metaverse will certainly help social media platforms to expand and extend significantly.
In addition to the Metaverse use cases mentioned above, there can be a number of other applications of Metaverse too. It is expected that Metaverse will evolve in the time to come, which will certainly make it more usable and find other different applications.
Understanding the Benefits of Metaverse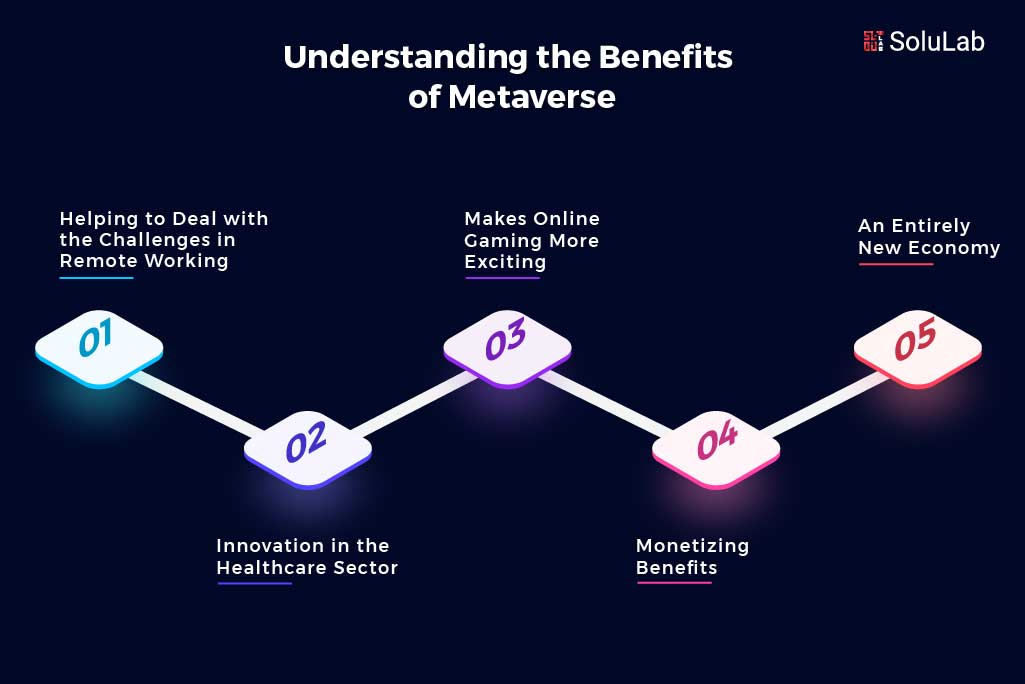 After we are clear with the different Metaverse use cases, it is important to understand the benefits offered by Metaverse. Here is a small list that provides a better understanding of the advantages.
Helping to Deal with the Challenges in Remote Working
Metaverse has the ability to appropriately deal with the challenges in remote working. Metaverse offers a virtual environment where managers can meet employees in a realistic way, interact with them, take a look at their body language, and go for a real-like in-person interaction. In addition to this, employers are also able to get appropriate resolution of remote working problems such as time theft by tracking employees in the virtual office.
Innovation in the Healthcare Sector
Metaverse provides favorable prospects to enable interaction between healthcare experts and patients regardless of geographical barriers. Metaverse's virtual worlds can play a vital role in helping healthcare service providers to interact and communicate with patients in real-time environments. Moreover, the simulations of virtual reality in the Metaverse can provide much more comprehensive as well as engaging learning experiences for medical students.

Makes Online Gaming More Exciting
Metaverse proves to be extremely beneficial in making online gaming much more exciting for users. The games based on Metaverse are decentralized in nature and come with an integrated economic model that supports play-to-earn gaming. These games allow players to buy, sell, as well as trade assets within the game in the form of non-fungible tokens. Moreover, the idea of avatars in Metaverse gaming exploring the huge virtual space happens to be extremely attractive for the players. To state in simpler terms, it would be appropriate to say that the decentralization benefits of the Metaverse blockchain can bring about a revolution in the entire online gaming world.
There are a number of development enthusiasts looking forward to using the Metaverse ecosystem for the purpose of developing their projects specific to the business. On the other hand, there are some who are looking forward to income-generating opportunities. The best part is that Metaverse has the capability to meet the needs of both groups. Metaverse's open-source nature permits everyone to develop a relevant project on the ecosystem. Hence, users can join the ecosystem to create and trade non-fungible tokens for earning purposes.
Another prominent benefit of Metaverse will be the facility of a creator economy. Metaverse plays a significant role in facilitating the trading of assets between users throughout the various spaces. For instance, one can sell a non-fungible token or NFT built in a Metaverse game on a separate platform in the Metaverse. The economic potential of Metaverse blockchain use cases like non-fungible tokens, decentralized finance, and blockchain games have the potential to give rise to an entirely new economy of their own.
Metaverse is certainly booming at present, with a considerable volume of businesses looking forward to implementing this new technology and enjoying its benefits. Metaverse is still in its development phase and is evolving on a regular basis. Moreover, the fullest potential of the technology has not yet been fully realized. However, with the increased rate of adoption of Metaverse in different industries, it seems that the time is not very far from Metaverse being the mainstream.
-Contact Us-
The World is Upgrading to Blockchain. Don't get confused and take the wrong base technology for your project. Get Free Consultation Now.