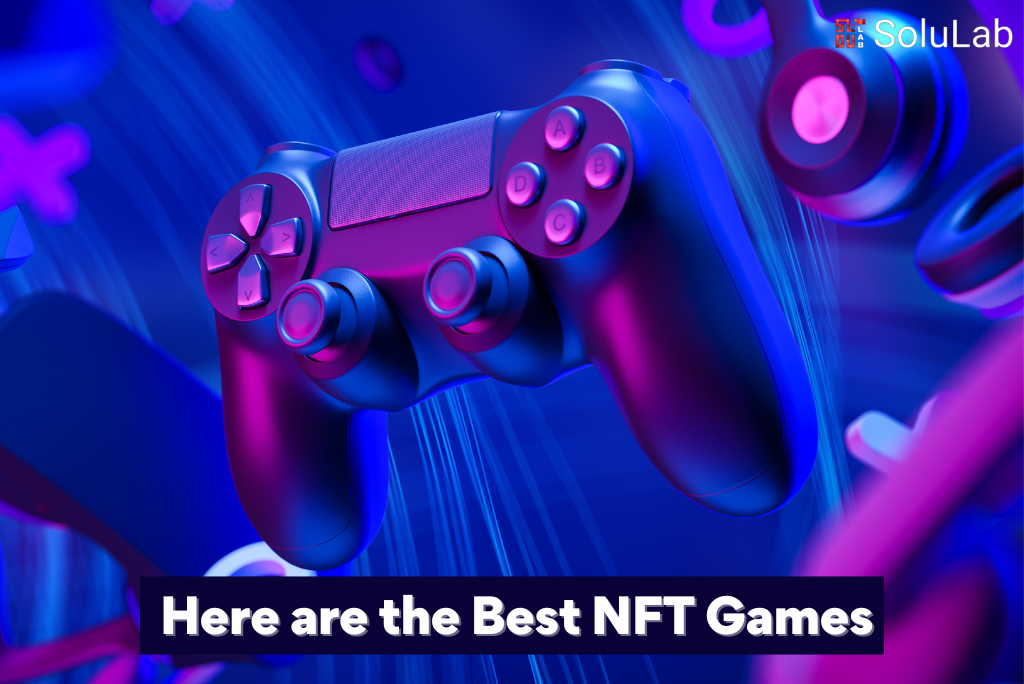 The best NFT games are in a variety of genres. They include an eclectic mix of styles and genres, including monster-breeding sims, card battle games, freight simulation and epic role-playing adventures.
These aren't all play-to-earn, but they enable players to own portions of the games through blockchain technology and the complexities of cryptocurrencies.
NFT games differ from typical gaming experiences, as items bought or earned can be sold or traded within and across games for fiat money. The NFTs themselves are used as part-ownership within a game.
Most NFT games feature an internal marketplace to buy and sell items on a blockchain, meaning holders can trade them on the best NFT marketplaces outside the game.
What are NFT games?
NFT games have developed from their beginnings and now offer play-to-earn (P2E) models. As it's become known, Game-Fi mixes the worlds of finance and gaming, providing players with opportunities to earn income as they play.
Players no longer need to only rely on winning, searching or breeding a scarce collectable worth thousands of euros or dollars. Players can now decide to try multiple gaming models in various themes aside from owning collectables.
How do NFT games work?
NFT games are different from merely holding crypto-collectables in an NFT wallet. An NFT game will use NFTs in its governance, mechanisms, rules and player interactions. For instance, a game could represent an avatar or unique object. These digital items can be swapped or traded with other players for profit. A newer, play-to-earn model allows NFT holders to generate income from NFT games.
To create, swap and implement NFTs within a game, blockchain developers create smart contracts that determine the rules for how the NFTs are used. Smart contracts themselves are self-executing pieces of code stored securely on a blockchain.
What are play-to-earn NFT games?
P2E NFT games allow users to generate income through playing. Usually, players are rewarded with game tokens and NFTs, earning more the longer they play.
The token method is typically the more stable of the two, as players can earn tokens steadily as players play the game, whilst NFT drops are more chance-based.
P2E has been incredibly popular with players in low-income countries as an additional way to earn extra income.
For example, Axie Infinity is highly popular in the Philippines, where players have begun to live off its P2E model. Many players make between $100 to $1,000 per month (or even more), depending on the market price and time invested.
Read more: 9 Strategies You Can Use to Promote NFT Games
What are in-game NFTs?
In-game NFTs offer additional ways to generate more income by playing NFT games.
Rather than earning a fungible ERC-20 token like SLP in Axie Infinity, players earn NFTs representing collectable items. This type of gameplay is the traditional way of boosting income with NFT games. Items will vary based on their cosmetics, rarity, or utility found within the game.
CryptoKitties is one instance of an NFT game that relies solely on in-game NFT collectibility. Earning a steady income is more reliant on the element of chance. Most newer NFT games offer a combination of both in-game and P2E NFTs.
How do NFT games make money?
The number of money players earn playing an NFT game depends on the individual game's mechanics and market demand. The money players make derives from other users who value the NFTs or cryptocurrencies earned within the game.
With NFT games, value is derived from the NFT, token's collectability, or in-game utility. These two factors also lead to speculation.
Can I lose money playing NFT games?
Maybe say that foremost, people should play games for the fun and experience, and if looked through this lens, then you can never lose money, rather invest it for experiences.
However, it's possible to lose money playing NFT games if you look at them speculatively. (In other words, playing them only to earn tokens you hope to go up in value OR buy assets to later sell or rent them to others). The precise amounts depend on the game type you're playing, its mechanics, and the value of the NFTs being handled.
Losing money doesn't necessarily mean you're being scammed. As NFTs are speculative and their value depends on what people place on them, losses depend on market forces. Like any crypto investment, only spend what you can realistically afford to lose.
Can I lose my NFTs?
With the value some NFTs are worth, it's a common fear to lose them whilst playing a game or interacting with the blockchain. Whether you've purchased your NFTs or earned them in-game, you must ensure you keep them secure. In short, it's possible to lose your NFTs if you aren't careful. However, your chances of losing them are minimal if you follow the best practices we'll outline later.
There are a few ways you could lose your NFT:
You attempt to transfer it from one wallet to another that doesn't support the NFT's token standard.

You are sadly the victim of a fraud or scam and sent your NFT to a scammer.

You give malicious smart contract permission to access your wallet, and it steals your NFT.

You lose it as part of the game's rules.
Best NFT games from our community
NFT games allow players to take ownership of their in-game assets. They combine traditional gaming designs with blockchain technology, making it possible to earn real money whilst playing.
Our research found that the best NFT games available in the market today are those listed below:
World of Freight (WOF)
Racing game with ground, water, air & space-type vehicles. All NFTs passively generate $WOF tokens that are usable for customising & upgrading the vehicles. The community is also building a real-world supply chain blockchain, Supplain.
TryHards
Tryhards is a competitive, immersive, and fun game. Their mission is to keep players engaged in a fair and balanced way. They believe new players must be able to join and compete with veteran players. But at the same time, enjoying excellent benefits for obtaining higher-tier characters and weapons.
Fear 
Fear is a project founded by twin brothers who have operated a game media company for 20 years in the industry, acting as a game publisher, advertiser and developer.
Frogland 
The Notorious Frogs of Frogland are a hand-drawn series of 10,000 generative NFTs. Each frog is entitled to a LillyPAD, or Personal Access Domain, with Frogland, the central most founding district of the metaverse.
MetaLordz 
Fight to the death in intense, real-time, ranked PvP tournaments or learn the ropes in practice mode. Master skills, strategies and consumables to dominate in an expansive world to explore, full of quests & mysteries, personalities & perils.
Delta Flare 
DeltaFlare is incorporating concepts from some of your favourite games and bringing them to you in a fun, safe, and profitable delivery. Improved token drop rate techniques, collaborative gameplay, tiered earning rates, and in-game purchases come together in a hack-n-slash storyline.
GOAT Society 
The GOAT Society is a collection of 10,000 Unique NFTS meant to unite the different communities and fans of the real-life GOATS (Greatest Of All Times). The collection includes 9,000 generative goats and 1,000 unique hand-drawn GOATS, each stored as an ERC-721 token on the Ethereum blockchain.
Meta Comedy Club 
The Meta Comedy Club is on its way to becoming the entertainment Mecca of the Metaverse. The Meta Comedy Club have finished construction on the world. They will drop sneak peeks of the club and all its facilities shortly!
Flipcity NFT 
Modeled after old floppy disk games of yesteryear and browser games of the early 2000s, players will accumulate and allocate resources to scale their position within the city, all whilst attacking other players and defending their empires. Look no further if you've ever wanted to lead your penguin [mob] family to notoriety and riches.
Mempo
The Mempo NFT is a key to roaming Mempo City and the games. There will be exclusive areas within the Mempoverse that you can access. Ownership is the only way to earn Mempo Coins and collect unique NFTs.
Moonie 
The Moonieverse is a vast and mysterious landscape filled with engaging opportunities for exploration. The Moonies are starting their journey by going to the Moon, hosting price races between your favourite cryptocurrencies to get there. The first race will be between BTC, ETH and DOGE.
Blog Credits: Medium