You must have the whole picture.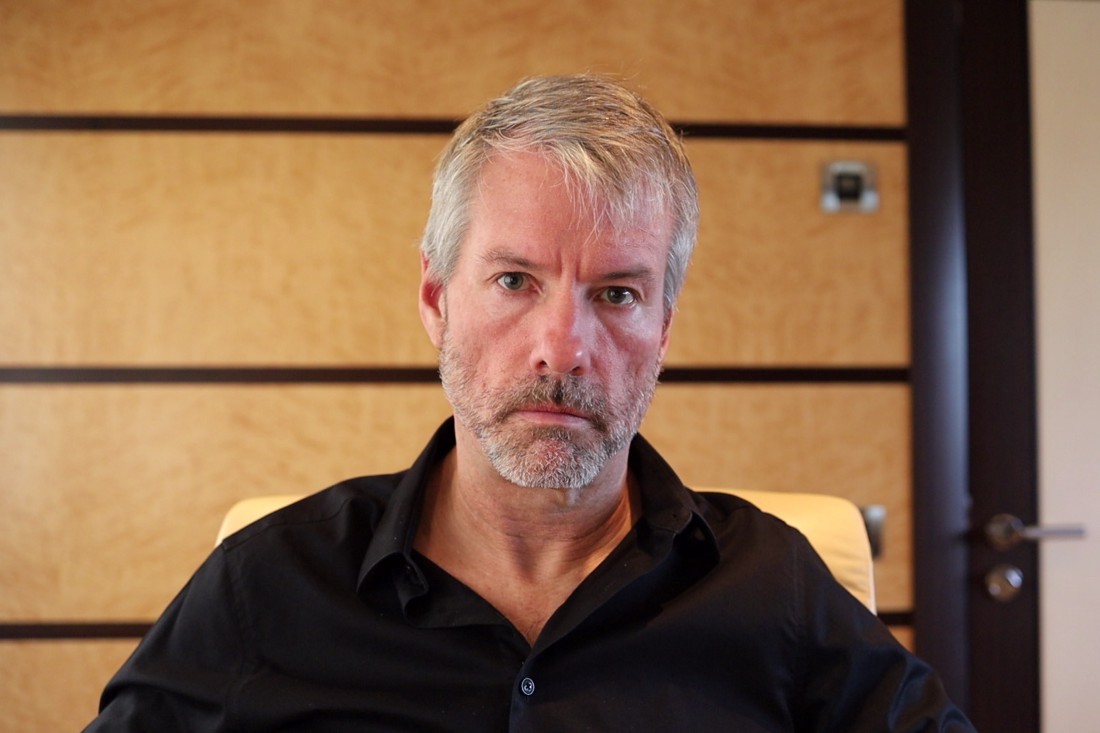 Who is Michael Saylor?
A businessman and inventor who is as quirky as he is a genius.
He bleeds Bitcoin.
The technology mogul and MicroStrategy Chairman is a named inventor on 40+ patents and famously won a $10 million contract with McDonald's to develop applications to analyse the efficiency of their promotions.
His company has been around since 1989, and they haven't been short of controversy.
In 2000 MicroStrategy's stock had tumbled 62% in a single day after the U.S. Securities and Exchange Commission (SEC) brought and settled accounting charges against Saylor and two other company executives.
As a result of republishing the correct financial figures, the company's stock plummeted in value, and Saylor's net worth fell by $6 billion.
Saylor paid the SEC $350,000 in penalties but never fessed up to any wrongdoing. He had to pay a further disgorgement of $8.3 million.
This is where extra money is clawed back from the business's future profits.
In 2022 things have got worse. The Attorney General for the District of Columbia is suing Saylor for alleged tax fraud.
They accused him of illegally avoiding $25 million in taxes by pretending he lived in another state.
MicroStrategy is also accused of collaborating with Saylor to facilitate his tax evasion by lying about his address.
Saylor's response was;
"I respectfully disagree with the position of the District of Columbia and look forward to a fair resolution in the courts."
You can't argue with the man's response.
He's also human; as a human, you're allowed to make mistakes over a 35-year career.
Despite being marred with some controversy, mainly around what looks to be tax reporting, Saylor is the prodigal son.
Especially when it comes to Bitcoin.
You can also read : Top 20 E-Commerce And Retail Startups Using Blockchain
The Bitcoin maximalists love him because he's a man of people and speaks straight out of the book of blockchain faith like a radicalised church pastor.
For all of his detractors, Saylor has provided free education to over 1 million students through his non-profit organisation, Saylor Academy, where he serves as a trustee.
Saylor also has a penchant for taking on governments and financial institutions without giving a single sh*t.
Nothing sticks to him.
He's intensely engrossed in building the future of Bitcoin and wants the world to have the same self-sovereign access, and the people admire him for it.
In his recent statement on Michael.com, he emphatically dismantled the White Houses Executive order, a report directly aimed at Bitcoin's perceived environmental impacts.
The report suggested the Government would ban Proof-of-work Cryptocurrency mining.
Saylor's explanation and reply could be the most important in Bitcoins History.
What did the White House say?
The Department of Energy and the Environmental Protection Agency, working on behalf of the U.S. Government, have said they are tracking the environmental impacts of digital assets and will provide local authorities with tools and resources to mitigate ecological harms.
Clear as mud, right?
They went on further to say;
"Powering crypto-assets can take a large amount of electricity — which can emit greenhouse gases, strain electricity grids, and harm some local communities with noise and water pollution.
Opportunities exist to align the development of digital assets with transitioning to a net-zero emissions economy and improving environmental justice."
The Whitehouse report subtly referenced the negative environmental impacts of the Proof-Of-Work model. Bitcoin now dominates 95% of the market after the Ethereum merge changed its Blockchain to a Proof-of-stake model.
Surprisingly President Joe Biden is an advocate for the future of Cryptocurrency. Or so he says, but he also took swipes at Bitcoin.
"Cryptocurrencies can be important for the future of the U.S. economy, and not just for the rich investors but middle and working class."
Biden had his reservations around the sheer perceived energy cost baked into Proof-of-work digital currencies like Bitcoin, which offer miners block rewards for mining Bitcoin.
The White House said if measures to make mining greener don't work, energy-intensive crypto mining, namely Bitcoin mining, could be banned altogether.
Not good.
"Should these measures prove ineffective at reducing impacts, the Administration should explore executive actions, and Congress might consider legislation to limit or eliminate the use of high energy intensity consensus mechanisms for crypto-asset mining,"
Saylor's Reply Was Emphatic
It highlighted how out-of-touch governments are when they generically aim with their environmental gun loaded with wokeness.
Saylor said the White House's Cryptocurrency Climate and energy report is full of misinformation and was generated with the sole purpose of undermining Bitcoin solely for political and financial reasons.
He went on to address the environmental claims in an open letter penned.
To Journalists, Investors, Regulators, & Anyone Else Interested in Bitcoin & the Environment,
"Bitcoin mining is the most efficient, cleanest industrial use of electricity, and is improving its energy efficiency at the fastest rate across any major industry."
"Our metrics show ~59.5% of energy for bitcoin mining comes from sustainable sources, and energy efficiency improved 46% YoY. No other industry comes close."
"The bitcoin network keeps getting more energy efficient because of the relentless improvement in the semiconductors that power the bitcoin mining centres, combined with the halving of bitcoin mining rewards every four years built into the protocol."
"This results in a consistent 18–36% improvement year after year in energy efficiency. More details on this are included in the BMC Presentation."
The claims Michael Saylor has made can be fully verified on the Bitcoin Mining Council website and beg the question.
You can also read : What Could Blockchain Do for Healthcare?
What are governments using as the Mendoza line to measure the environment?
Like any quirky genius would, Saylor, later in a Youtube interview, used child-like analogies to explain things in simple English.
"Bitcoin is bad for the environment in the same way Oranges, meat, buildings and cars are bad for the environment.
They all use energy. In fact, hospitals use energy.
If I went to you and said I'm going to eliminate your hospital and replace it with an imaginary one which will lower the cost of health care.
And we'll fix your avatar up, and whenever your avatar has an imaginary heart attack, we'll give it imaginary surgery and then you'll go home imaginary happy.
You could do it, but it's ridiculous.
Saylor says that if you compare Bitcoin to other significant industries, let's compare all the factors.
He sees Bitcoin as a tool for economic empowerment for 8 Billion People, and that type of financial instrument should be treated on a level playing field with other major industries.
Bitcoin is lightyears ahead of any other industry and making ongoing improvements.
Here's the actual data.
According to the Bitcoin Mining Council, Global Bitcoin Mining is around the same energy usage as our holiday Christmas lights and less than half the energy usage of mining Gold.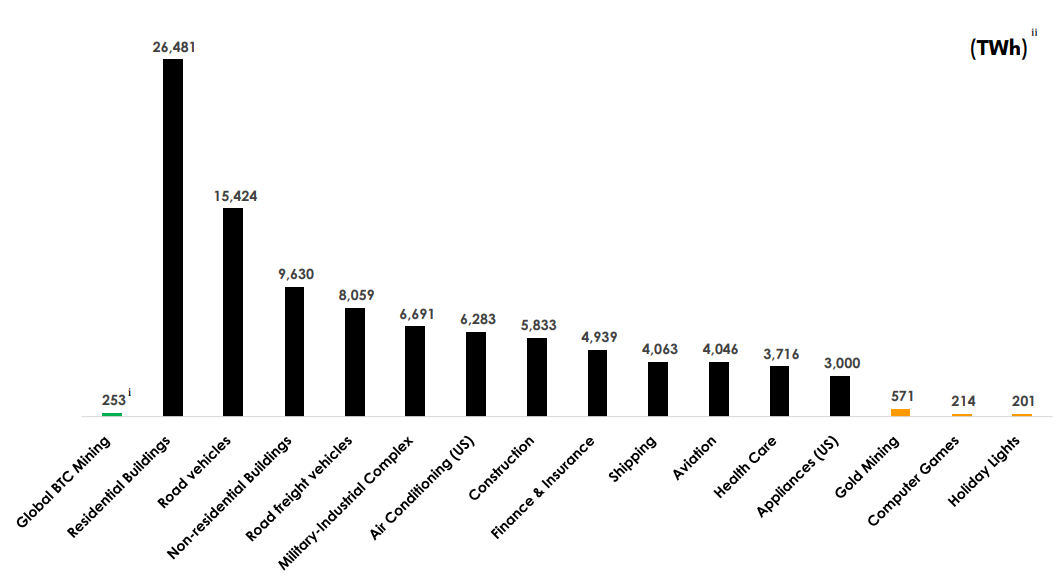 Source — Bitcoin Mining Council
The real question is, is this technology of global economic empowerment worth the energy costs we're spending on it?
My answer is an emphatic yes.
And we need more people like Saylor to challenge the mainstream narrative.
Credit : Medium