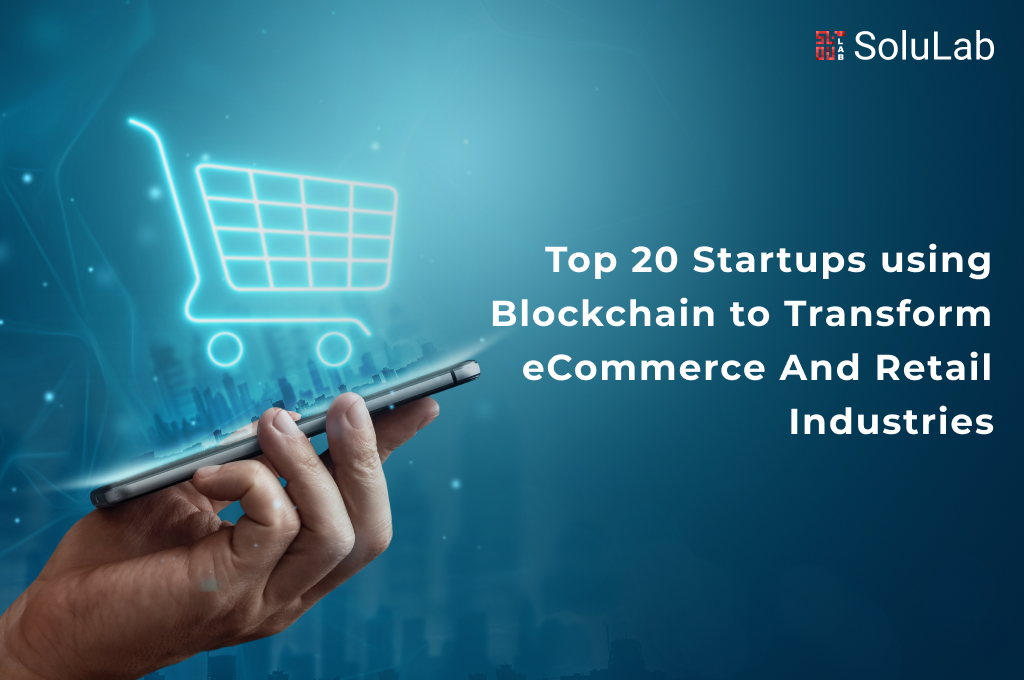 Introduction
eCommerce and Retail are the two most busy and systematic industries where money and customer flow through complex streamlining and funnels. Likewise, maintaining stringent and organized strategies and methods to keep these two industries alive and fully productive is important, using Blockchain. 
However, modern-day industry revolutions and digital intervention in these two industries have impacted a lot. The current eCommerce and Retail industry wants harsh requirements of automation, advanced security systems, and privacy with an overall simplification of the ecosystem. 
Satisfying these industry demands is possible with blockchain technology. Smart Contracts and Hyperledger systems are two examples of blockchain technology capable of automating and enhancing simplicity. 
Although blockchain system implementation is costly and suitable for industry leaders, emerging startups develop advanced blockchain-backed eCommerce facilities. We've gathered 20 startups using blockchain to transform and reshape the eCommerce and Retail industry. 
1.  Fluz

Fluz is not just another cash-back app; we're making it possible for friendship and influence to create real income opportunities for everyone. Members use Fluz to earn cash back on their everyday shopping. But unlike other rewards programs, Fluz harnesses social networks to earn cash back for an ever-expanding web of connections; whenever you, your friends, or even their friends make a purchase, you keep earning. And they earn, too.
2.  ShopIN

ShopIN is pioneering a new category in retail and redefining e-commerce by giving everyone the ability to become curators. We empower retailers to turn their retail business into open commerce networks – O-Commerce. ShopIN is now in collaboration with big retailers worldwide to lead the next technological and data evolution in retail and commerce. 
3.  BitPay

The first and most experienced company in bitcoin payments, BitPay builds powerful tools for spending, accepting, and building with bitcoin. The company has offices in North America, Europe, and South America and has raised over $70 million from top investors including Index Ventures, Aquiline Technology Growth, Menlo Ventures, Founders Fund, and Sir Richard Branson.
4.  Portion

Portion is the 21st Century Auction House for Rare, High-End NFT Art, Music, and Collectibles. We connect artists and collectors through blockchain technology to easily sell, invest and own art and collectibles with verified authenticity and tracked provenance. From taking 0% of artists' work to offering 11% royalties on secondary sales, supporting creators is Its mission.
5.  Buying.com

Buying.com The reliable powerful On-Demand System designed with you in mind! Schedule a driver anytime, Track your orders, reduce your delivery costs, and drive orders to your business. Complete tracking and monitoring of drivers with live feed with three-way communication for every order. Delivery has never been easier. Handles all your Ubereats – GrubHub – DoorDash – Buying.com – Slice – Postmates and Internal orders all in one powerful management platform. Along with 24/7 live support.
6.  Monetha

Monetha is a free mobile application with a mission—to reward users for their data. Data is the new gold, but you don't see much of it land in your pocket. Until now. With Monetha, you can build and control your digital profile and share it with your favorite online shops in exchange for great benefits! 💰The app is available on iOS and Android.
7.  AORA

AORA is a leader in cognitive AI – codifying law, internal policy, and regulation to transform legal professional services and compliance. AORA analyzes case facts and systematically applies the relevant legislation, policy, guidance, and case law, producing reports and fully explainable opinions to assist in the work of practitioners. 
8.  Colu

Citizens earn local coins for taking action in their city. Actions as simple as shopping local, recycling, or cycling. Once earned, coins can be redeemed at participating local businesses. Colu was founded in 2014 and has raised $35M USD from major VCs. Colu's app is being used by hundreds of thousands of users and businesses around the world.
9.  Rate

RateS is an Indonesia-focused membership-based social commerce platform that enables small businesses and individuals to start their online businesses via social channels. By using technology to modernize sourcing, distribution, and credit, RateS helps resellers solve inefficiencies they face in sourcing, supply chain, inventory, and working capital, allowing them to sell better online and offline. 
Read Also: Top 20 Supply Chain Startups That Are Using Blockchain Technology
By leveraging its network of resellers and agents, RateS is creating a social distribution channel for rural Indonesia.
10.  Zeex

Zeex is in pole position to unlock the huge potential of cryptocurrency adoption for day-to-day shopping. It empowers consumers to securely and easily buy and sell a rich array of services and products directly with businesses using blockchain technology. Zeex is part of the Zeek Group, Europe's leading marketplace for buying and selling corporate currencies (physical and digital gift cards) 
11.  Retail.Global

Retail.Global is a blockchain-enabled global commerce platform uniting players in the local and international eCommerce landscapes. The Moscow-based company wants to unite experts and companies on a single platform so that the facets of eCommerce can be consolidated. Their vision includes the implementation of analytics and future modeling to provide tips and blueprints for local and international producers.
12.  Ubcoin Market

The Ubcoin Market is a Moscow-based project that is the next step for Ubank, a popular mobile payment system in Eastern Europe. An 'eBay-like, peer-to-peer marketplace based on cryptocurrency', users can purchase and sell items on the platform using accepted digital tokens. There are no fees or commissions, and each transaction is protected by a peer-to-peer smart contract. 
13.  Elly

GoCrypto is the global facilitator of crypto payments. The GoCrypto team is on a mission to connect merchants, crypto users, crypto wallets, and other participants in the crypto space to spread crypto adoption through our state-of-the-art payment network and white label solutions. Merchants can integrate the GoCrypto payment network and start accepting crypto payments. Customers can pay for their purchases with one of the three supported crypto wallets: Binance Pay, Bitcoin.com Wallet, and Elly Wallet (supporting over 50 cryptocurrencies). 
14.  Purse

Purse The platform claims that, by shopping with Bitcoin and Bitcoin Cash on the Purse platform, users can save more than 15% on purchases from Amazon – sounds like a hell of a deal. Users set their desired discount percentage, and individuals who own Amazon gift cards exchange them for the user's Bitcoin or Bitcoin Cash at a discounted rate. When shoppers elect higher discount percentages, the cost comes in terms of delivery speed.
15.  Crowdz

Crowdz is a Fintech company focused on helping SMBs improve their cash flow. They focus on rethinking invoices, cash flow, and trade finance by replacing outdated manual practices with the financial service industry's first invoice marketplace built specifically for small and mid-sized businesses. . Their 24/7 global invoice exchange and invoice financing marketplace makes sending, paying, and selling invoices a lot easier for SMEs. 

16.  CoinGecko

CoinGecko is a cryptocurrency ranking website that provides a 360-degree overview of the standing of digital currencies. The cryptocurrency ranking is quantitatively and qualitatively evaluated based on public data collected from the internet. Metrics considered include market capitalization, liquidity, developer activity, community, and public interest.
17.  OB1

OB1 is a blockchain-powered mobile application using OpenBazaar to allow users to buy and sell more easily. With Bitcoin as the medium of exchange, OB1's beta version is a decentralized marketplace with the goal of allowing anybody, anywhere in the world, to transact with one another using blockchain technology. As the OpenBazaar marketplace continues to develop, so should the OB1 platform.
18.  Ink Protocol

Ink Protocol is a decentralized reputation and payment system for peer-to-peer marketplaces using a new general-purpose cryptocurrency called XNK. Ink Protocol is a product of Listia Inc.
Read Also: Top 25 Agritech Startups Using Blockchain to Revolutionize the Agricultural Industry
Ink ​Protocol helps ​users safely ​send ​and ​receive ​payments ​in ​P2P ​marketplaces ​while ​earning ​a public ​reputation ​for ​every completed ​transaction. ​It ​greatly enhances ​the ​buying/selling ​process ​with ​decentralized reputation ​and ​feedback ​ratings, ​decentralized ​escrow ​for ​secure ​payments, ​third-party ​dispute resolution, ​and ​very ​low ​transaction ​costs.
19.  OpenSea

OpenSea is the first and largest peer-to-peer marketplace for non-fungible tokens or NFTs. Applications for NFTs include collectibles, gaming items, domain names, digital art, and many other items backed by a blockchain.  OpenSea is an open, inclusive web3 platform, where individuals can come to explore NFTs and connect with each other to purchase and sell NFTs. 
20.  TraDove Inc.

TraDove connects business partners with its business social networking platform. We shorten the cycle for corporate buyers and sellers to find each other, make B2B more transparent and trustworthy, and provide company-to-company precision advertising using AI, blockchain, and social network technology. Our trusted blockchain technology eliminates the payment complexity associated with international transactions.
Conclusion
These 20 eCommerce and Retail industry startups are using blockchain technology to revolutionize the whole industry procession. Moreover, these startups are contributing to setting up the future of the blockchain-based eCommerce and Retail industry by inspiring new market players to use blockchain technologies.