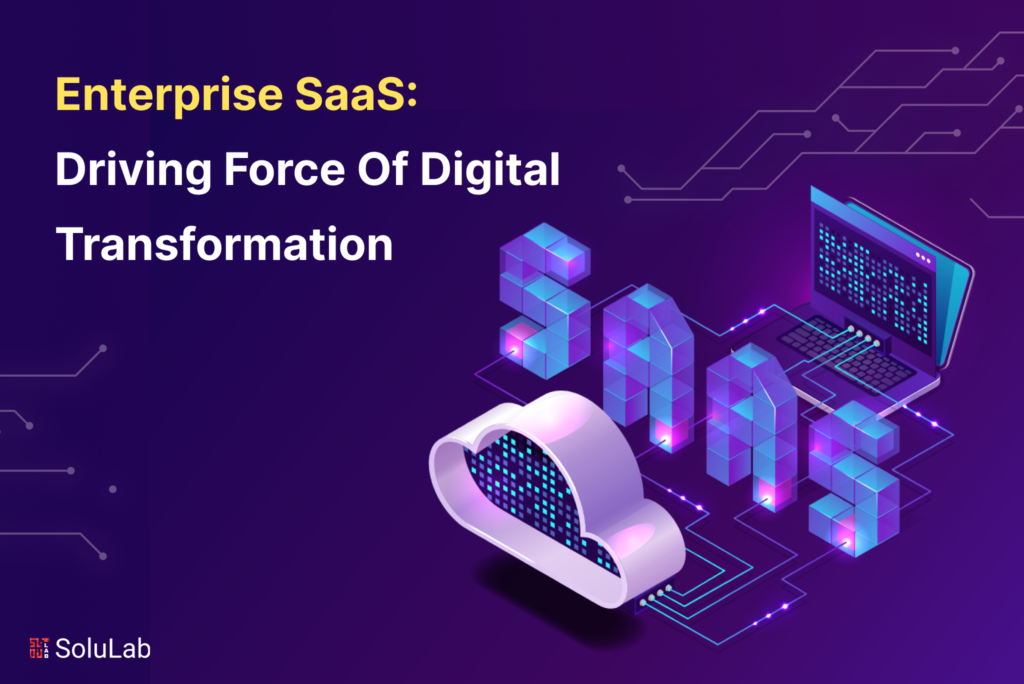 Enterprise SaaS changed the way software was used in everyday life. It introduced a method of accessing software with a single click from anywhere in the world, regardless of users' system configuration, thereby eliminating the long-standing practice of downloading and installing packaged software for any use case.
That's right, software delivery and access have evolved so much in three decades that we can't predict what tomorrow will bring. We may soon be able to use VR/AR headsets to get a direct virtual representation of software, and laptops and PCs may become obsolete.
But that's yet to happen, so we should probably stick to cloud-centric enterprise SaaS, which is actively contributing to digital transformation.
And to better understand its direction in digital transformation, this article will help you know everything about SaaS, from its types to its benefits and how it's transforming the digital world, as well as why it's considered a driving force of digital transformation.
What is SaaS (Software As a Service)
SaaS, also known as "software on demand" or "web-hosted software," is a method of sharing software over any platform operating on the internet (mostly cloud) as a service.
In a bit more complex terminology, SaaS is a software licensing and delivery service in which particular software is licensed on a subscription basis and hosted centrally for those who have access.
For instance, if your company uses any cloud platform, say Google Drive, to store its content, then those files are made centrally available to each and every one of you.
You can consider this very example as a SaaS product.
These SaaS software applications run on a SaaS service provider's server, where the provider is responsible for all hardware, middleware, service, and security implementation.
There are other similar platforms with different goals, such as PaaS (platform as a service), which is used for the creation of software, and IaaS (infrastructure as a service), which delivers cloud computing infrastructure as a server.
Read Our Blog Post: Best Custom Software Development Companies in the USA
What are Two Varieties of SaaS
SaaS has been divided into two categories based on audience, niche, and service type.
Horizontal SaaS is made for large enterprises and businesses that manage large workflows internationally and cater to a broad range of customers from various industry verticals to effectively and efficiently run business operations.
Microsoft, HubSpot, and Salesforce are among those cloud services that employ horizontal SaaS for their large-scale operations.
The advantage of horizontal SaaS is that it provides scalability at all levels, allowing companies like Microsoft to expand their services and embody various SaaS methods on only a single cloud platform.

As the name suggests, vertical is more inclined towards a specific vertical or niche, for instance, supply chain, trade, finances, and insurance. This specific SaaS model creates solutions as per the industry's needs and requirements for better and more efficient operations among all its bodies.
SaaS vs. traditional Software (Packaged software)
Packaged software is a technology of the past that could be installed by either downloading online or purchasing a disc image for offline installation. Both had issues, and enterprise SaaS came as a solution to all this.
Here are some notable differences between SaaS and packaged software.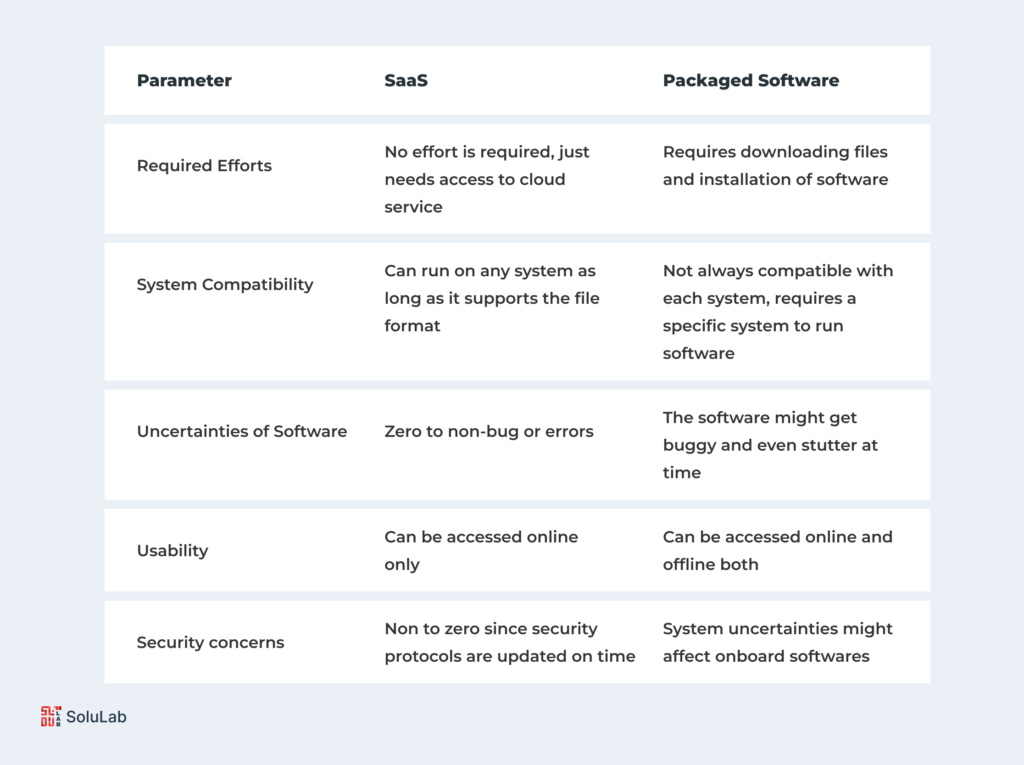 What is SaaS Vs Enterprise 
Enterprise SaaS is a whole new concept that combines traditional enterprise and SaaS in a single paradigm.
Before they were a single service, their offerings were separate and dedicated to specific needs.
SaaS is a cloud platform provider that gives companies the freedom to deploy their software for customer use. They offer these cloud services at cheaper rates, making it convenient for both large-scale and small businesses to make their solution available over the cloud.
Check This Blog Post: Creating the Next Decentralized Application: A Step-by-Step Blockchain Development Guide
On the other hand, an enterprise is a large body containing thousands of employees, and business professionals operating worldwide. They generate billions in revenue and manage their supply chain and operations using versatile and cutting-edge software applications.
These enterprises use their preferred solution to amplify their potential and generate large chunks of profit. This very solution is known as B2B enterprise software.
The combined effort of an enterprise solution and SaaS provides the potential required to run a large-scale organization using cloud services.
Market Insights and Statistics
The rising demand for enterprise SaaS has surged to a new height, and to clarify its adaptation, we have to take a look at its market and statistics.
According to Grand Review Research, enterprise SaaS generated $57.3 billion and $66.3 billion in revenue only in the US in 2019 and 2020, respectively. Also, these estimates are expected to generate hundreds of billions of dollars in revenue with a CAGR of 11.2% by the end of 2028.
It is indeed the demand for SaaS services that is causing the rise of enterprise SaaS for better software services.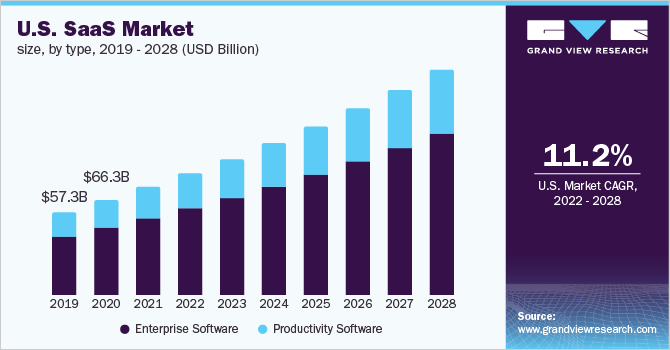 Image Credit: Grand View Research
Similar effects can be seen on the global scale, where enterprise SaaS dominated the global market with over 70% of the revenue market share in 2021. 
And it all happened because of the rising trend of cloud software deployment and the demand for productivity software among small to large business organizations.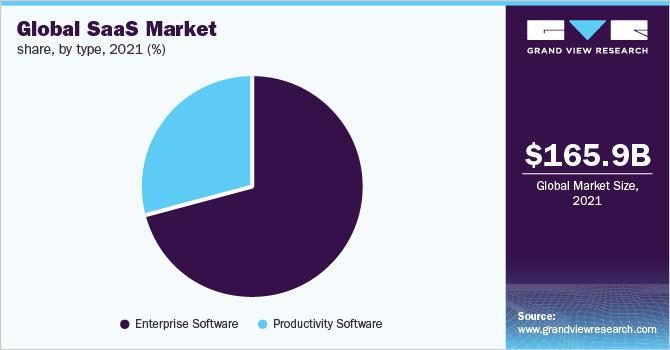 Image Credit: Grand View Research
Considering these stats, it's easy to say enterprise SaaS will generate a massive revenue of around $344.8 billion by the end of 2028.
Why Your Business Needs Enterprise SaaS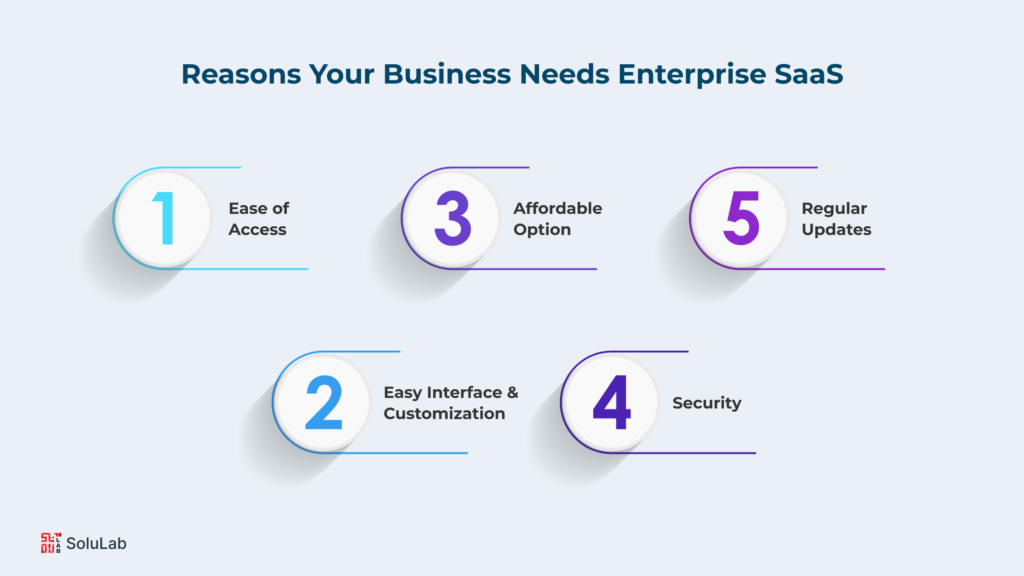 SaaS facilitates convenience in any business operation. Here's how;
The SaaS platform is easily accessible from any location for a user who is authorized to use software on the cloud. He can use specific software for any business operation with a few clicks, without having to worry about stutters that seem to occur with packaged software.
SaaS is inexpensive; it does not require additional payment; and users and clients pay only for the software they use, as opposed to packaged software, which requires additional payment to activate a specific service.
Read Blog Post: Boost Your ROI Using Machine Learning: A Step-by-Step Guide
The SaaS provider handles all the necessary tasks of maintenance, upgrade, and system configuration of all hardware, middleware, cloud services, and cloud security, which means a user doesn't have to worry about the issues in the system and can work with the latest build.
Easy Interface & Customization
The Enterprise SaaS operates on the cloud, and it does not depend on system compatibility as most of the devices are capable of accessing the internet and cloud services. This means the interface doesn't need to be configured, as nowadays everyone knows how to use a digital device with a simple interface.
However, SaaS also includes a customization option, allowing users to see things differently on any cloud platform in order to tailor things to their preferences.
cloud services are secured with end-to-end protection, and since only authorized users are permitted to access a particular software the security of SaaS enterprise software is never compromised.
Read Also: Role of Zero-Knowledge Proof in Blockchain and its Application
How Enterprise SaaS is Transforming the Digital World
SaaS is the most convenient way for businesses to take part in the digital revolution. 
SaaS plays a key role in digital transformation as it possesses the capabilities to operate over the cloud. This increases the chances of the adoption of digital technologies such as AI, big data, ML, and IoT within its ecosystems for automated and intelligent task execution.
When you pair SaaS enterprise software with digital solutions, you get to calibrate each area according to your preferences. 
You can take the help of huge datasets and build a processing unit with computing technology to automate everyday business operations such as document editing and viewing using SaaS-based computer-aided design (CAD), automatically sharing files from one end to the other using a SaaS-based product management lifecycle, and assisting consumers with a SaaS-based augmented reality.
With such agility, you can redefine your core and the strategies you employ with each move to attain new goals.
Again, by using digital technologies, you can harness the true potential of enterprise SaaS software for a competitive edge, improved service outcomes, and faster product uptime.
Considerations for SaaS Implementations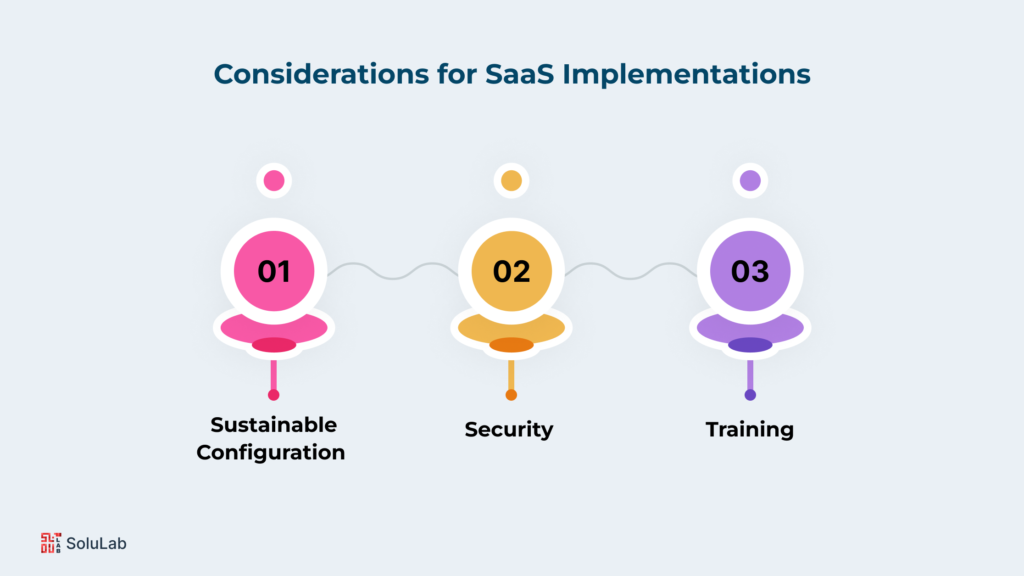 SaaS implementations do require some considerations just to ensure the SaaS product operates well from all ends.
Sustainable Configuration
SaaS implementation needs to be configured for a sustainable workflow since SaaS supports a multi-level architecture to balance the load among its elements and meet the demand for SaaS offerings. 
The right configuration also ensures that even if any updates to the SaaS system change its overall functioning, the architecture doesn't meet any deadlocks.
Security is among the important things to consider when implementing SaaS on a cloud service, as there is always the possibility of a data breach or any malicious activities on the cloud. 
As a result, a SaaS company should take precautions and implement necessary security patches and updates to data privacy, user identities, and SaaS solution compliance checks.
Know More: Generative AI and Human Creativity: Where the Line is to be Drawn?
The users need to be trained, as a lack of knowledge of SaaS solutions may delay the user's adoption of SaaS products, which may again affect revenue generation.
Which SaaS to Choose for Your Digital Transformation
Although SaaS originally began as a vertical type for a specific niche or industry, large enterprises considered its agile services a beneficial approach and rapidly began to migrate their services to SaaS.
If you are a small business or a medium-sized organization whose needs align with specific industry requirements to improve efficiency and streamline operations among your organization's bodies, then the vertical solution is the way to go.
However, if you are an enterprise whose business is spread across the world with a huge number of resources and management capabilities, then the horizontal model is something you should consider as it is versatile for all of your large-scale operations. 

Conclusion
Enterprise SaaS is indeed a driving force of digital transformation, as it facilitates a technique to access software products directly from a cloud service at a reasonable price. 
However, SaaS is now taking a huge leap to digitally transform enterprises with the help of emerging technologies such as big data, cloud computing, AI, and machine learning.
With such technologies boosting its capabilities, SaaS will become an intelligent platform that could help organizations harness the true potential of enterprise SaaS software to streamline business operations, data-driven processes, and resource management.
In the realm of digital transformation, Enterprise SaaS emerges as a powerful catalyst, reshaping the way businesses operate and innovate. At SoluLab, a leading Enterprise SaaS product application development company, we harness cutting-edge technology and deep industry expertise to deliver transformative solutions. Our commitment to driving innovation, efficiency, and agility empowers businesses to stay ahead in the ever-evolving digital landscape. Partner with SoluLab to unlock the full potential of Enterprise SaaS and revolutionize your journey towards digital excellence.
FAQs
1. What is Enterprise SaaS?
Enterprise SaaS, or Software as a Service, is a cloud-based software delivery model where businesses access and use software applications over the Internet. It offers scalability, cost-efficiency, and easy accessibility.
2. How does Enterprise SaaS drive digital transformation?
Enterprise SaaS empowers businesses to adopt advanced technologies, streamline operations, enhance collaboration, and provide flexibility in adapting to evolving market demands, thereby driving digital transformation.
3. What are the key benefits of using Enterprise SaaS solutions?
Key benefits include cost savings, automatic updates, scalability, data security, and improved collaboration, leading to enhanced productivity and competitiveness.
4. Is Enterprise SaaS suitable for all types of businesses?
Yes, Enterprise SaaS solutions can be customized to suit the needs of various industries and business sizes, making it a versatile choice for digital transformation.
5. How do I choose the right Enterprise SaaS product application development company?
Look for a company with a proven track record, industry expertise, a commitment to innovation, and a portfolio that aligns with your business goals.
6. What challenges should I anticipate when implementing Enterprise SaaS?
Common challenges include data security concerns, integration with existing systems, and ensuring that the chosen SaaS solution aligns with your specific business requirements.