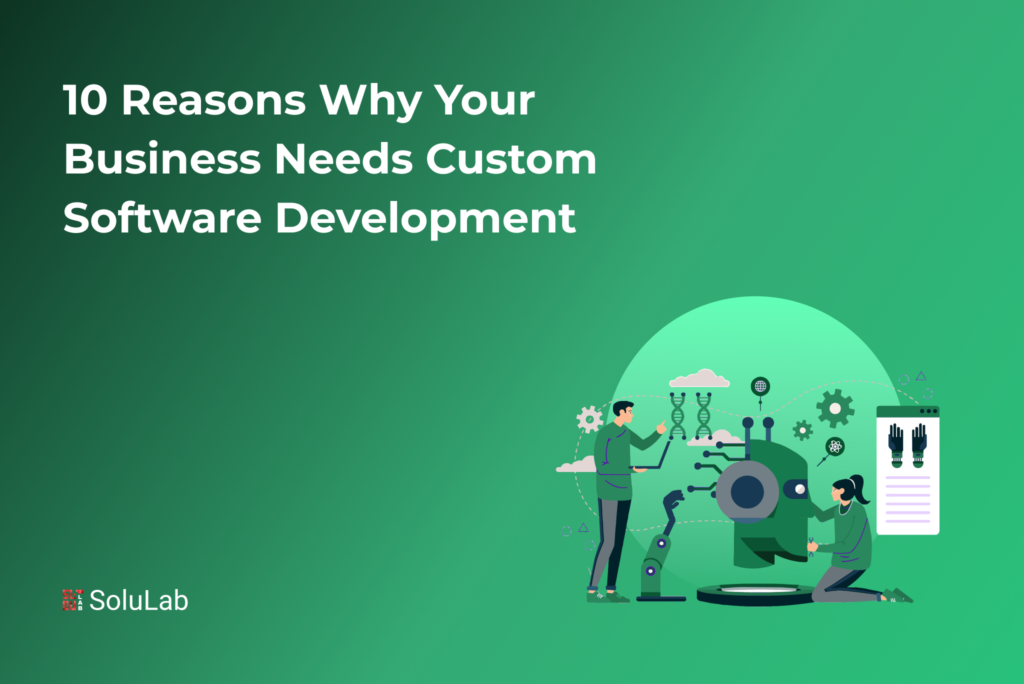 Developers must adapt the program to meet the expectations of each group of users, each of whom has a unique set of requirements. The only way to provide the customization, scalability, and convenience that customers and organizations need from on-demand software is through custom software development.
Custom software development is the procedure of conceiving software to meet the unique requirements of an organization's users. It generally differs from commercial off-the-shelf software (COTS) because it has additional criteria focused on addressing the user, typically absent from COTS-based solutions.
This article focuses on various advantages that a custom software development company can offer to a firm. Thus helping improve their workflow and customer satisfaction.
Ten Reasons Your Business Needs Custom Software
Typical software is designed to perform basic functions that are necessarily not specific to a particular type of business. It may need to be equipped to meet the unique requirements of any particular industry or organization. If you're considering custom software development, below are a few reasons it may be the right choice.
1. Innovation
The creation of custom software for businesses may be a potent innovation tool. Custom software may assist firms in innovating and staying ahead of the competition by automating operations, optimizing processes, improving customer experiences, discovering areas for improvement, complying with laws, and accessing new markets.
The success of enterprises has been significantly influenced by custom software development. Netflix's recommendation engine, which aids customers in finding new films and TV series, was created using bespoke software. Customized software powered Amazon's logistics network, enabling speedy and effective product delivery. Uber's ride-hailing service is powered by customized software, allowing it to upend the taxi business and dominate the transportation sector.
Check Out Our Blog: What is Custom Software Development?
2. Brand Awareness
The creation of custom software may be a decisive marketing strategy. You can utilize bespoke software to make your label stand out from the competition by giving consumers an exceptional and memorable experience, making it simple to share their experiences with others, and leveraging the software to promote your brand through advertising and marketing campaigns.
Here are some instances when bespoke software development has aided companies in raising their brands: 
Nike developed an interactive experience that lets users build their own sneakers using special software. Due to this event's extensive social media sharing, Nike's brand recognition increased. 

Starbucks developed a smartphone app that lets users order and pay for coffee in advance using special software. Millions have downloaded this app, which has helped Starbucks establish its brand presence.

For each consumer, Amazon customizes the purchasing experience using proprietary technologies. Because of personalization, customers are more satisfied and loyal, which promotes brand recognition.
3. Personalization
By customizing the user experience, personalization may raise engagement, increase customer happiness, and increase revenue. Users' hobbies, demographics, and past purchases may all be collected using custom software. The user experience can then be tailored using this data by making recommendations for goods or services that the user will likely find appealing. 
Additionally, content customization may tailor the material user's view by showing them blog entries or news stories pertinent to their interests. For example, a customized user experience can be offered by letting users choose how the software looks and feels.

4. Lower Integration Cost
Custom software development can lower integration costs by integrating seamlessly with existing systems and applications, being flexible and adaptable, and using open-source technologies. 
These can save time and money on integration projects, as there is no need to modify or replace existing systems. Additionally, custom software can be developed using open-source technologies, saving money on licensing fees and making it easier to find and hire custom software developers with the skills to construct and strengthen the software.
5. Low-code Development
Developers make Lego blocks possible, reducing the need for complicated codes in software development. This makes it easier to customize software as you want. A company could need to design a customized application that communicates with its current CRM system, has a unique user interface distinct from the user interfaces provided by low-code development platforms, or requires security measures not supplied by low-code development platforms. These interconnections, the specialized user interface, and the security mechanisms all need the creation of custom software.
Low-code development platforms might not have pre-built interfaces for this particular CRM system. Therefore, organizations could use bespoke software development to construct the integration.
Read Our Blog Post: Top Custom Software Development Companies in 2023
6. Flexibility
Custom software development may be a worthwhile investment for companies of all sizes. Bespoke software development can be the best option for you if you're searching for a means to increase the adaptability of your company. Because it is made to meet particular requirements, custom software development may assist firms in becoming more adaptable. 
In contrast to off-the-shelf software, which is frequently devised to encounter the necessities of a broad range of businesses and may not be readily tailored to the individual requirements of a specific industry, the software can be easily adapted to changes in the business environment.
Custom software may be scaled up or down as a business's demands change. This might be a significant advantage for firms that are expanding quickly or dealing with demand changes. Custom software solutions are easily adaptable to new technological advancements or industry demands. By doing this, firms may stay one step ahead of the competition and save money by not having to replace outmoded software.
7. Improved Compliance
Although developing custom software can be difficult and time-consuming, it can be a worthwhile investment for companies trying to increase compliance. Businesses may obtain the best solution for their needs by partnering with an experienced software development firm. 
By automating operations, optimizing workflows, offering insights into compliance risks and challenges, and producing reports to monitor compliance activities and progress, custom software development may help firms enhance compliance. Employees may focus on other duties and guarantee compliance standards are routinely met by automating repetitive processes.
Process simplification can boost productivity and lower mistake rates. Businesses may detect compliance risks and manage them before they become problems by receiving insights on compliance risks and issues. Companies can show compliance by reporting to authorities and stakeholders.
Read Our Latest Blog: 10 Ways Custom Software Development Can Transform Your Business
8. Security
Businesses may identify and manage security threats unique to their operations with the assistance of custom software developers. Strong authentication and authorization rules, encryption to safeguard sensitive data, and security monitoring and auditing are periodic instances of what may be done in this regard.
Software purchased off the market is frequently developed with security as an afterthought, leaving it open to attack. Customized software may be created with safety in mind from the outset and updated regularly, and staff members can receive security training. These services can assist companies in lowering the possibility of security flaws being used against them.
The updating of software may be automated, and staff can receive security awareness training from custom software developers. Through this training, Employees may better understand the security risks posed by software use and the methods for defending against attacks. It is crucial to regularly update software with the most delinquent safety updates, as pristine vulnerabilities are always being discovered.
9. Improved Decision Making
A variety of factors influence decision-making, including custom software development. It can first provide companies access to real-time data and insights. Making informed judgments on enhancing operations may be done using this data to recognize trends, pinpoint issues, and identify trends. 
Second, by automating routine processes and procedures, bespoke software frees up staff members to concentrate on more strategic work. As a result, firms may see an improvement in production and efficiency that gives them a competitive advantage. 
Third, using specialized software may enhance departmental and employee communication and collaboration. Ensuring everyone is informed and on the same page helps firms make better decisions.
Read Also: Top 10 Custom Software Development Services To Opt-in 2023
10. Boost Employee Morale
Employees are more effective and productive when they have access to specialized software that is created just for their jobs. This can result in a sense of pleasure and achievement, which might raise spirits. 
Improved communication:

Custom software may aid in enhancing communications inside organizations as well as between businesses and their clients. This might result in a clearer knowledge of each other's obligations, lowering tension and boosting morale.
Increased work satisfaction

: Employees are more likely to be pleased with their employment when they utilize simple software that improves their performance. As a result, morale may rise, and attitudes may improve.
Stress levels can be decreased when staff members have access to software that automates jobs and streamlines procedures. As a result, the workplace may become more enjoyable, and employees may have increased confidence.
Choosing the Best Custom Software Development Company
Businesses of all sizes can benefit from investing in custom software, but it's crucial to be sure it's the best option for your particular requirements.
Following are some recommendations for picking a business that develops bespoke software: 
Consult with other companies in your field for advice. Before choosing a company, do interviews with many of them. 

Check to see if the firm has expertise in creating software for your sector. Learn everything there is to know about the project's scope and schedule. 

Obtain a formal agreement that specifies the project's parameters, budget, and timetable. 

Conclusion
In conclusion, your company requires bespoke software development for various reasons. Custom software may assist you in enhancing security, lowering costs, increasing flexibility, enhancing decision-making, enhancing compliance, enhancing brand recognition, enhancing staff morale, and enhancing efficiency and productivity. Be sure to thoroughly analyze the expenses and advantages if you're considering developing bespoke software for your company. 
Custom software development involves the customization and maintenance of software to cater to specific users, functions, or organizations. SoluLab's team of experts utilizes cutting-edge technologies to create custom software solutions that are both scalable and functional. They offer comprehensive assistance throughout the entire software development process, from ideation to full deployment, ensuring all aspects of modern software development are addressed to meet the client's specific requirements. For professional custom software development services, contact SoluLab today.
FAQs
1. How much does custom software development cost in the US?
Custom software development might cost anything from $120,000 to $220,000.The complexity of the program, the size of the development team, and the level of expertise of the development business are some of the variables that affect the price of developing bespoke software. Custom software creation often costs more than off-the-shelf software, but it can offer a variety of advantages that make the cost worthwhile.
2. What are the different stages of custom software development?
The many phases of developing bespoke software include:
Requirements gathering: Information on the business demands that the software is meant to meet is gathered during the requirements stage.
Design: During this phase, a thorough blueprint for the software's architecture, features, and user interface must be created.
Development: This stage includes writing the software's code and testing it to make sure it complies with the specifications.
Deployment: Installing the program and making it accessible to users are both steps in the deployment process.
Maintenance: Fixing issues and incorporating new features into the program is part of the maintenance phase.
3. What particular kinds of customized software are utilized by companies?
Several instances of unique software used by companies include:
Enterprise resource planning (ERP) software:

ERP software assists companies in managing their finances, inventories, production, and other processes.

Customer relationship management (CRM) software:

CRM software assists firms in managing all aspects of their client contacts, including sales, marketing, and customer support.

Human resources (HR) software:

HR software assists companies in managing their workforce, including payroll, benefits, and training.

Project management software:

Using project management software, firms may better plan, monitor, and control their projects.
4. What advantages do firms get from deploying custom software?
Several advantages of custom software development for enterprises include:
Efficiency gain: Tasks and procedures may be automated using custom software, which can save a lot of time and money.
Increased productivity: Employees may operate more effectively and efficiently with the aid of custom software.
Better customer service: By automating processes like order processing and customer assistance, bespoke software may offer better customer service.
Increased competitive advantage: By offering special features and capabilities that are unavailable from off-the-shelf software, custom software may be utilized to obtain a competitive edge.