White Label NFT Marketplace
An exclusive, customizable NFT marketplace called "white label" was created to list & exchange digital assets in the shape of NFTs. Any digital asset, including artwork, films, photos, metaverse, and other digital collectibles, may be one of the NFTs listed. In other words, the Whitelabel NFT marketplace serves as a ready-to-use NFT marketplace for the exchange of goods and services. The platform could be modified to meet the specific needs of each client's business. Users swap NFTs for cryptocurrencies in the marketplace after creators offer their NFTs in an auction as well as open bids based on their demands. To increase traffic and establish a name for their marketplace, clients can develop a white label NFT marketplace based on their business needs.
In the cryptocurrency industry, white-label NFT Marketplace Development has emerged as the go-to method for making millions of dollars. Because there are financial advantages to developing a white label NFT Marketplace, entrepreneurs choose to opt for its creation.
White Label NFT Marketplace Development
NFT market for white labels Most development can be obtained in two ways:
(i) NFT Marketplace development from scratch.
(ii) Opt for a multi-tested White-label NFT marketplace.
To deliver a fully functional white-label NFT marketplace, developers can work on the developed NFT marketplace platform in accordance with the needs of their clients. The majority of the White Label NFT marketplaces are constructed on well-known blockchain networks, including Ethereum, Binance Smart Chain, Solana, Cardano, Polygon, as well as other blockchain networks that are currently popular.
Investors favor the white-label NFT marketplace since it is completely customizable and offers advantages like minimal development costs and short development times:
UI development

Smart Contract development

Storage Setup

Integrating backend & frontend

On Testnet

Deployment
UI development: The developers create the greatest user interface for the Marketplace with the most appealing theme to highlight its features. By creating an appealing user interface that offers the finest platform information, they will initially increase traffic to the marketplace.
Read more: How to Create your own NFT Marketplace: Step-by-Step Guide
Smart Contract development: 
Since the NFT marketplaces are decentralized platforms, no admin or third party is in charge of keeping an eye on them. But these markets must be watched over to prevent spam and deceptive transactions, to ensure that smart contracts are implemented and that all market operations are controlled by these smart contracts.
Storage Setup: 
Additionally, the NFTs offered on the marketplace must be stored along with the platform's transaction information, user information, and user data. To store the NFTs, developers create IPFS storage, and to store user data, they create DB.
Integrating backend & frontend: 
Developers link the frontend UI with the backend functionalities by setting up buttons as well as other elements when the frontend and backend development processes are complete. Once clients approve the UI design, developers begin the integration phase.
On Testnet: 
When the platform is finished being constructed, the developers launch the entire white-label NFT marketplace on the testnet to find any flaws and fix them. Experts work on the testnet till the market is flawless.
Deployment:
When the platform is completely functional, developers install the white-label NFT marketplace on the client's server, which is then made live so that anyone in the world may access it and trade NFTs for cryptocurrencies.
Highlighted Features of White Label NFT Marketplace Development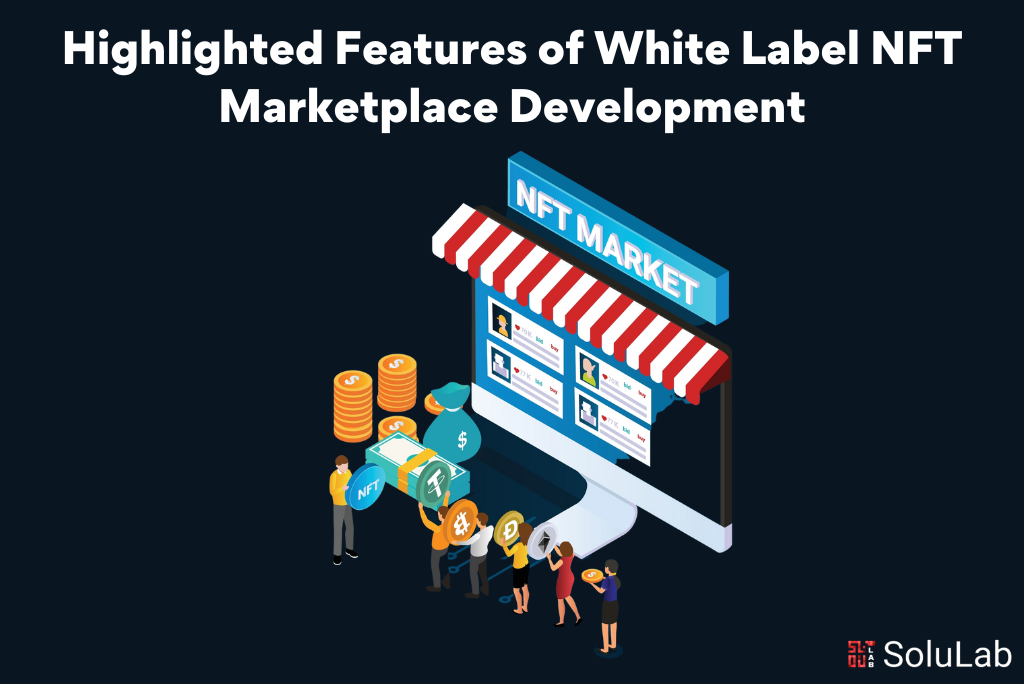 Storefront 
With the initial impression of your marketplace, the passing users turn into active users. Creating the most user-friendly, eye-catching storefront with all the features would increase traffic to your marketplace.
Auction 
Putting the NFT up for auction & selling it for the highest bid is the key feature that most users prefer. This would keep your current users for a very long time and bring in new users for NFTs up for sale.
Security 
The most important one is when the market needs to win users' faith. Building a safe market using DDOS, CSRF, SSRF, as well as other features to stop intrusive hack assaults will win your trust and ensure that the market is free from cyberattacks.
Dashboard 
A very informative dashboard for both administrators and users. Users will be able to access all of the NFTs' details, including their transaction history, via the listings and transactions for each individual NFT.
Benefits of White Label NFT Marketplace Development
Effective data 
You would gain from creating a white-label NFT marketplace if you had access to user history and data on each NFT.
Smart contract audited 
The marketplace's smart contracts are audited, and all of the problems and weaknesses are resolved there.
Quick deployment 
Because developing and correcting issues takes less time, the marketplace could be launched faster.
Scalability 
Even with 50,000+ active users, the created white-label NFT marketplace can function properly and without any interruptions.
Why should someone launch a White Label NFT Marketplace?
Entrepreneurs and businessmen thinking to start a business in the crypto sphere can think of launching a white-label NFT marketplace. As the youngsters show interest in cryptos and NFTs, all the digital assets will be as NFTs in the future. Most prefer NFT marketplace to develop an NFT Marketplace from scratch because of the time and cost involved in developing an NFT marketplace.
Conclusion
You only need to select the best provider because everything is handled by the white label NFT market. This suggests that you must search for them if you want a trustworthy and high-quality NFT marketplace. You must select the top seller out of the many that are offered. If you find the perfect partner, launching your white-label NFT marketplace will open the door to a new chapter in your professional life.
Future predictions indicate that the whitelabel NFT marketplace proposition will prosper and become a hegemonic force in the digital sphere. It has become a profitable business opportunity for everyone to launch their own white-label NFT marketplace. There are many development companies dedicated to providing white-label solutions, but some development companies provide superior white-label services that are intended to generate substantial economic momentum.