Revolutionize Your Business with Web3 Solutions – USA's Leading Development Company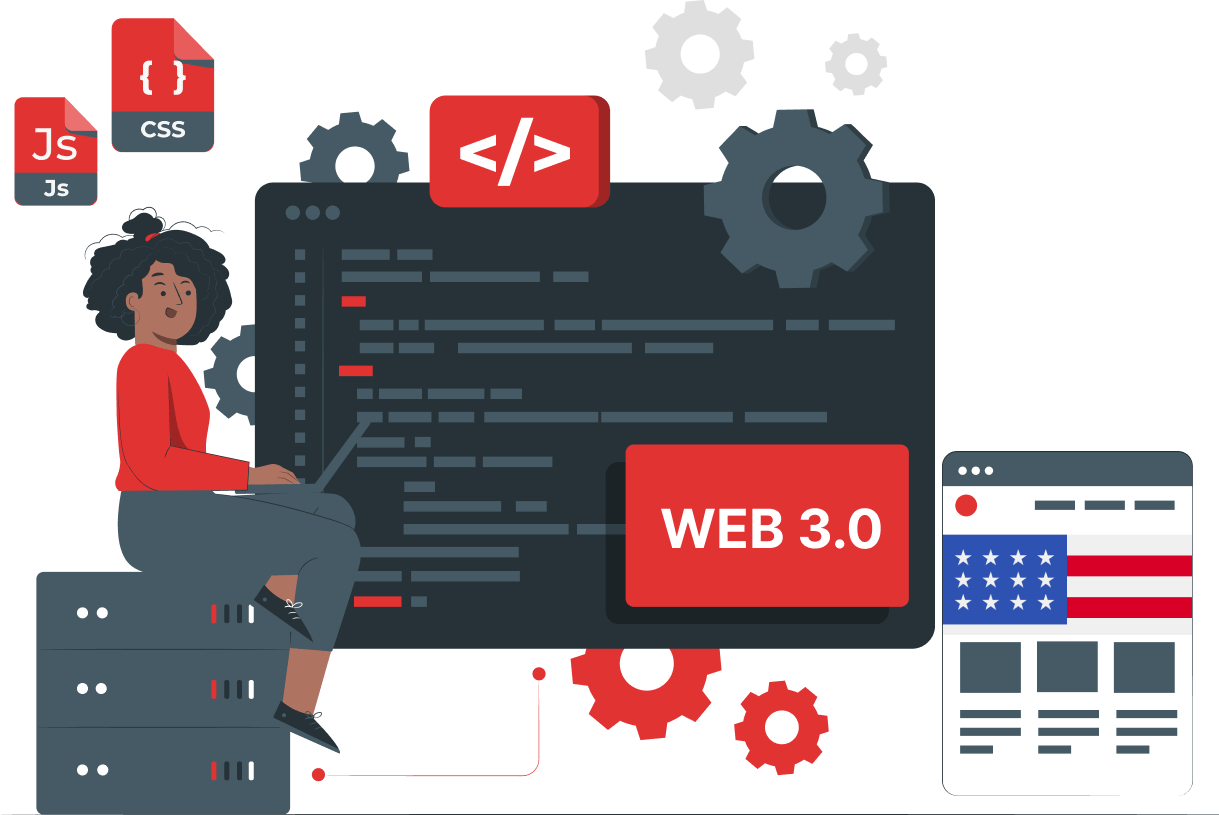 Imagine a world where your business operates with unparalleled efficiency, security, and transparency. A world where your customers are empowered with unparalleled access and control over their data. Welcome to the future of the Internet with Web3 solutions! As the USA's leading web3 development company, we specialize in leveraging blockchain technology's full potential to transform how businesses operate. With our expertise in web3, we can help you unlock the benefits of decentralization, smart contracts, and tokenization, enabling you to streamline operations, enhance security, and foster trust among your customers. Join us on this revolutionary journey and revolutionize your business with our innovative web3 solutions!
Reason Why SoluLab is the Perfect Partner for Your Business
As the USA's leading web3 development company, we are the best choice for businesses looking to revolutionize their operations with blockchain technology. With our deep expertise in web3 solutions, we are uniquely positioned to help businesses in the USA stay at the forefront of this rapidly evolving industry. With our in-depth knowledge of the US market and regulations, we are uniquely positioned to provide tailored web3 solutions that comply with local laws and regulations.
Here's what you will be offered:
9+ years of industry experience
Proficient team of experts
Client-centric approach
Cost-effective solutions
Satisfaction guaranteed
Our Web 3 Development Services
Our Web3 Development Services are designed to provide end-to-end solutions for building decentralized applications that operate on Web3 technologies. With our expertise in blockchain, smart contracts, and decentralized finance protocols, we deliver innovative and customized solutions that enable our clients to stay ahead of the curve in the fast-evolving world of Web3.
Web3 Platform Development

Our team of expert developers helps create a decentralized and token-based platform which spins around the concepts of blockchain technology.

Web3 Integration Services

We create user-centric platforms along with the integration of modern and advanced features to the existing platforms that readily boost performance as well as the security of data.

Web3 Application Development

Easily launch your decentralized application from scratch with our premium quality web3 application development services and benefit your business.

Web3 Real Estate Platform Development

Ignite the performance of real estate platforms and enhance their demand as well as accessibility with our professional web3 real estate platform development solutions.

Web3 Games Development

Offer a superior gaming experience to the players by availing of our web3 development solutions crafted especially for building next-gen games with in-game perks and blockchain security.

Web3 eCommerce Services

Our team helps transform your eCommerce brand statement by providing an overwhelming user experience with tailor-made web3 eCommerce development solutions.

Web3 NFTs

Avail of our web3 development solutions to permit users to gain more control of trading, buying, selling, and minting digital assets by deploying ERC 721 token backed by the Ethereum technology.

Web3 Social Media

Use our web3 application development services for social media to reward the app users with crypto in a post-to-earn offer which happens to be the next step in the evolution of the creator's economy.

Web3 Enterprise Solutions

We focus on comprehending all enterprise requirements to develop web solutions that conform to the experience of end-users in the web3 space.

Exchange Development

We offer specialized web3 wallet creation services to give you a safe web3 crypto wallet in line with your company demands, whether you need a multichain web3 wallet or a blockchain-specific wallet.

DeFi Development

We provide businesses with end-to-end DeFi development and consulting services. We have a reliable faction of developers to create specialized DeFi solutions, such as dApps, layered solutions, automated market makers (AMM), non-custodial wallets, cross-chain DeFi exchanges, etc.

Smart Contract Development

Our web3 smart contract developer specializes in building extremely secure smart contracts to strengthen decentralized apps. Profit from our web3 smart contract development expertise to enter the DeFi market.
Customized Web3 Solutions
Our team of skilled developers crafts personalized Web3 solutions that facilitate efficient data and digital asset management, monetize online activities, guarantee secure communication and transactions, empower users with virtual property ownership, and deliver a wide range of additional functionalities.
Our Web3 Projects
With our proficiency in blockchain, decentralized protocols, and smart contract development, we offer innovative and customized solutions that cater to your specific business needs. Our projects span across various industries, from finance to gaming, utilizing the potential of Web3 technologies.
Our Web3 Development Technology Stack
Your Leading Web3 Development Partner in USA
SoluLab is a leading Web3 Development firm in USA that helps clients across various industries to enter the Web3 space. Our team of experienced web3 developers are skilled in top blockchain technologies and can create tailored business solutions according to client requirements.
Our Web3 Development Industries
Our software developers have extensive knowledge of the technology and expertise leading the industry to create web3 applications that are scalable and adaptable for the industries we serve.
Finance and Banking

Regarding security, transparency, and improved record-keeping, web3 application development services offer several advantages. We provide the ideal solution for financial requirements like client onboarding, fraud protection, and anti-money laundering.

Healthcare Technology

Thanks to web3 technology, pharmaceutical companies can track pharmaceuticals throughout the supply chain. This makes it harder for thefts to occur and makes it easier to quickly find inconsistencies.

Education

Instructive organizations can safeguard their understudies' information with the assistance of SoluLab's web3 improvement benefits and counseling. They can control not only their credentials, awards, certificates, and academic identity.

Insurance

We use web3 technology to reduce fraud and make it easier for various parties to share reliable, traceable real-time data.

Retail

The use of our technology can greatly enhance the cargo traceability as well as the necessary transportation paperwork (such as waybills or landing bills), thereby reducing fraud, delays, corruption, and the associated costs.

Logistics

To encourage the development of shared mobility, it is necessary for two people to be able to communicate directly without the use of a third party. Our web-based solutions enable these connected automobiles or devices to communicate with one another.

Entertainment

We offer solutions that increase the likelihood of fundraising, tracking files, upholding authenticity, engaging users, and other activities.

Travel & Tourism

Businesses and other organizations can use our decentralized cloud solutions powered by web3 to securely share additional resources with others in exchange for advantageous rewards.

Real Estate

By engaging our developers to improve energy usage in commercial and industrial buildings, you can advance and streamline your footprint and process by utilizing our specialized solutions for energy distribution.
Our execution Process
Documentation

The project's conceptualization is the pilot task that chooses its development course. Hence we conceive a roadmap to streamline the current and upcoming strategies while providing an overview of your project's requirements, priorities, and potential difficulties.

Design

Our designers curate professional, high-quality custom product designs. Experts create the expanded data's layout simultaneously as they drill down to address all user scenarios and edge circumstances.

Development

Based on the approved design, our team of product engineers, including seasoned professionals, completes the programming for your Web3 project during development, preparing it for the initial to release phases.

Testing

After completing each shard, we run a parallel stream of activities with tests on the staging domain and test network. We remove the vulnerabilities and perform Optimization after testing various components of your product.

Implementation

We facilitate cooperation in compliance and lawful enterprises to factor in forming your web3 solution. Our developers implement the custom and optimized Web3 solution from the test network to the platform, making your Web3 solutions live and unrestricted.

Maintenance

We put a Web3 solution in place and give the go-ahead for modifications. To ensure that our solutions impact your companies, we continue to offer our Web3 development services and support even after the product has been deployed.
Client Testimonials
"I am glad that I selected SoluLab as our web 3.0 development partner, who helped our project to be a great success. I would suggest everyone who needs to hire web 3.0 developers to reach out to SoluLab."

Michelle D
Head of Global Marketing & Communication, MultiVAC
"I am awestruck with the service I received from the team of SoluLab. The team was just fantastic to work with, and they cleared every doubt that I had. Outstanding Work!"

Rahul