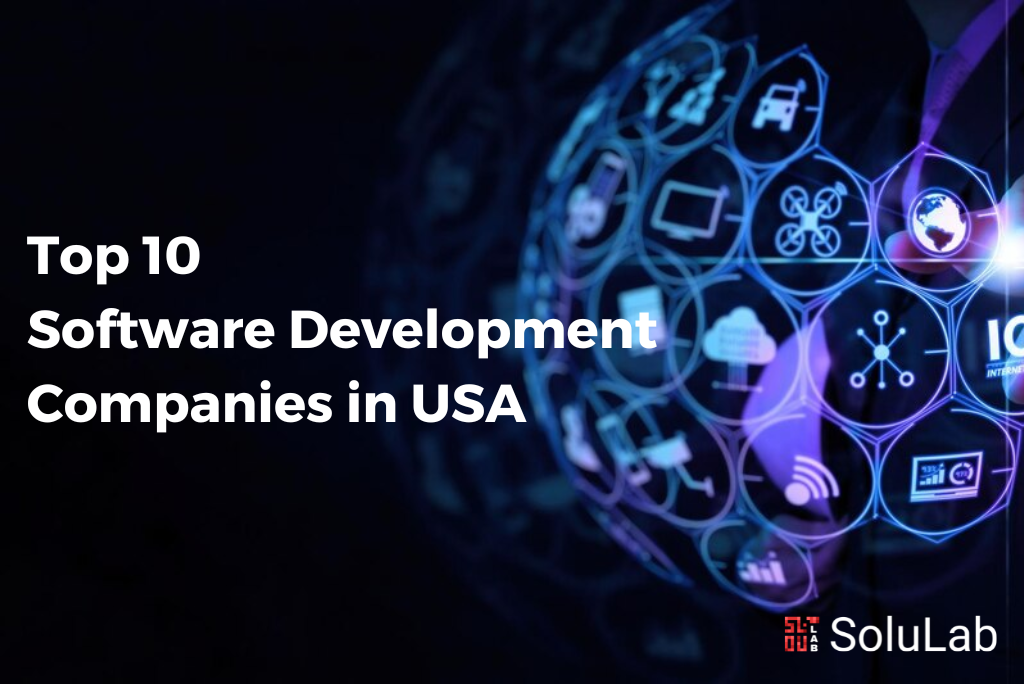 If you have landed on this article it's because you are in search of top software development companies in USA.
Software development companies are the ones who take a stance on the rigorous process of designing, building, testing, and deploying software by following certain standards. And it comes as no surprise that if you are eagerly willing to bring your innovative ideas into the real world, you have to rely on the best software development companies in USA.
However, the problem over here is choosing the right companion.
With hundreds of software companies operating in the USA, it's hard to decide which IT firm to choose as your development partner.
This leaves you with two choices,
 Rely on your connections

 Do the research by yourself and find the ideal companion
In case you want to know, both approaches have their downsides.
For instance, if you choose the first one, it's guaranteed your connections will be a bit biased about companies, and if you choose the other one, you have to invest a lot of time to find the one that caters to your project requirements, but it's worthwhile and recommended.
Given the volatile market conditions following COVID, we strongly advise against relying on biased opinions and instead researching companies by yourself for the sake of quality software development.
Some may argue that it is time-consuming. Yes, it is, but if you follow the resources in this article, it won't be that agonizing.
We have compiled a list of the top 10 software development companies in USA to help you narrow down your choices for your development needs. 
The Criterions
It's hard to know which company stands out as the best development companion, which is why we have used a few criteria to evaluate a company, like pricing, maturity in delivering software solutions, post-deployment support, and the type of development.
This will help us narrow down the choices so you can only focus on the right companion.
Experience
The experience or maturity of a company is a prime factor to consider.
The greater the years of experience, the chances of quality development increase. Moreover, a mature company has the added advantage of managing projects flawlessly, and their coordination with clients tends to be strong.
However, there is a catch; as we all know most experienced firms are aligned to their roots and can hardly get flexible in terms of any product development. That's the only downside of a reputable software development company.
The smaller firms nonetheless are flexible since they focus more on customer satisfaction by improvising on their policies just to gain traction in the market.
Portfolio
How could you possibly assume that a company does a good job developing software? The answer is by looking at its customer reviews, feedback, and overall rating.
These parameters help you gain deep insights into what types of projects the company has delivered, the appreciation from their clients regarding the project, and whether the company is ideal for your product development.
Pricing
Pricing is another important criterion that we have followed, since not all the clients can afford high prices, especially startups that operate on a small budget for building their MVP (Minimum Viable Product) to convince angel investors and get funded.
It's unlikely that you will find cheaper options in the USA since the minimum wage offered to a developer goes above $80  per hour.
Still, we have managed to come up with reliable companies that don't compromise on quality and manage to develop software at a reasonable price.
Support
Software development is never easy; it's common to run into dead ends and even some complex system failures. In such a case, you need some support to back you up and give you real-time updates on the status of your project's trajectory and whether it's following the planned course.
This is why technical support exists, it gives you the freedom of contacting your companion whenever there is an issue in your software development phases. We have only included companies with satisfactory support systems that offer seamless 24×7 support.
Technology
Software development has come a long way, it has been rapidly transforming different industry verticals since 1949, when the first programming language, "Assembly," came into existence.
Nowadays, you have thousands of programming languages, frameworks, and IDEs for different technological solutions. Having an idea of what technology and type of development we require, staggeringly shortens our choices.
This is why we have considered companies that offer a multitude of agile solutions in different software verticals, such as in
Emerging Technologies
Blockchain

Crypto

NFT

Metaverse

Machine Learning

AI

IoT

Data Science

Cloud Computing

AR/VR Development

DevOps
And, 
General Technologies
Software Development

Web Development

Cyber Security

Front end Development

Backend Development

Full Stack Development

API Development

Mobile Application Development

Game Development

Embedded System Development
So basically we have covered almost 100% of types of software development domains, which guarantees you do not have to look for additional resources for a specific type of development.
Meet The Competitors
1. SoluLab

In our opinion, SoluLab sits on the sweet spot of being the #1 software development company in USA. 
SoluLab is primarily a cutting-edge solution provider with a clear and straightforward goal to digitally transform every client organization with the help of emerging technologies like blockchain, NFT, crypto, IoT, ML/AI, and the metaverse.
SoluLab has a proven track record of delivering quality solutions ahead of deadlines, and its operations go beyond America and cover international clients around the world.
SoluLab is also known for its cost-saving model, which reduces the cost of development by 50%. If you are looking for reasonably priced software development, then SoluLab is the best option.
Expertise: blockchain, AR/VR metaverse, crypto, IoT, NFT, smart contracts, AI/ML, SaaS, mobile and web apps, DevOps, and more.
Hourly Rates: $25 to $49
Awards and Recognitions: Top Blockchain Development Company 2019,  GoodFirms top App and Blockchain Development Companies US.
Serving Industries: Health Care, Supply Chain, Education, Real Estate, E-commerce, Finance, Entertainment, Legal, Government, Oil and Gas, and more.
Headquarters: CA, Los Angeles, USA
Clients: Spherium Finance, AnRKeyX, Clean Browser, Versafit, InstaClass, Deals En Route
2. Exaud

Exaud is a technical consultancy and software development firm that aims to build and serve precise software solutions.
Founded in 2012, Exaud has a rich heritage of developing innovative software products and providing Fortune 500 companies with best-in-class software services.
The one thing that makes Exaud unique is its contribution to the automotive industry. Their software has been employed by many automobile companies, such as Nissan, Ford, and others.
Expertise: mobile application, IoT, embedded software solutions, wearables apps
Hourly Rates: $50+
Awards and Recognitions: AppFutura top app development company, NORTE 2020 Portugal
Serving Industries: Health Care, Automotive, Manufacturing, Media and Digital Education, Retail and Logistics, and Hi-Tech.
Headquarters: Houston, Texas, USA
Clients: Nissan, Essent, Samsung, Presto, Blaupunkt
3. Eleks

Established in 1991, Eleks is among the top outsourcing companies that help enterprises elevate their value through custom software development. 
Eleks provide a wide range of software development services such as custom software development, product design, QA, research and development, etc.
They help enterprises build a perfect development team, adapt to digital transformations, and unify their digital ecosystem.
Expertise: blockchain, AR/VR, IoT, AI/ML, mobile and web app development, UX consulting, Cloud migration, PoC development, DevOps, and more.
Hourly Rates: $25 to $49
Awards and Recognitions: IAOP Global Outsourcing 100, Computing AI and ML learning awards 2022, Winter AI and ML team of the year. 
Serving Industries: Logistics, Fintech, Retail, Insurance, Automotive, Healthcare, Agriculture, Energy, Media & Entertainment, Government
Headquarters: Michigan Ave, Chicago, USA
Clients: Aramax, GRTgaz, Blackboard, Acino, Reactoo
4. Cubix

Founded in 2008, Cubix is an award-winning app development company with expertise in the development, customization, and integration of complex systems, business intelligence analytics, and modernized mobile app development. 
Apart from its core mobile development, Cubix also provides digital services such as blockchain, IoT, AI, ML, and SaaS.
Expertise: Blockchain, AR/VR, IoT, AI/ML, Native mobile app development, Mobile game development, SaaS, Testing and QA,  E-learning, and more.
Hourly Rates: $25 to $49
Awards and Recognitions: Appfutura top app development company Washington DC, Goodfirms top mobile app development company
Serving Industries: E-commerce, Game, Retail, Restaurant, Finance, Healthcare, Real-Estate, Transport, Education, Grocery
Headquarters: Rosemary Ave, Florida, USA
Clients: Suzuki, Canon, Unilever, Sapient, Walmart
5. Magento IT Solutions

Magento is an e-commerce development company well known for its digital e-commerce solutions. Its expertise lies in developing market-leading end-to-end B2B, B2C, B2B2B, and D2C marketplace solutions.
Magento has been favored by many Fortune 500 companies for eCommerce solutions and consultation for manufacturing, distribution, wholesale, and retail to unify digitalization.
Also Read: Top 10 Software Development Companies in Los Angeles
Though Magento specializes in e-commerce, it does offer in-general software development services such as mobile and app development, DevOps, etc.

Expertise: Digital e-commerce development, Consultation, mobile, and web app development, Digital Marketing
Hourly Rates: $50 to $99
Awards and Recognitions: Goodfirms top e-commerce development company
Serving Industries: Furniture & Home Decor, Fashion & Bridal, Gems & Jewelry, Health & Beauty, Computer & Electronics, Automotive, Floristry, Grocery & Wholesale, Stones & Tiles
Headquarters: New York, USA
Clients: Daikin, Soji Cleaners, Nova Consulting, World of Stones
6. Iflexion

Iflexion, established in 1999, is a prominent software development company with the aim of optimizing client organizations with its calibrated custom software solutions.
Iflexion's primary expertise lies in full-cycle web and mobile development of any complexity.
However, in addition to this, it even takes on the role of providing e-commerce, big data, business intelligence, AR, computer vision, and e-learning development services.
Expertise: Web & Enterprise Portals, Social Networking Solutions, Omnichannel eCommerce, Big Data & Business Intelligence, Media Content Distribution, Business Process Automation, Elearning & Online Training, Consumer & Enterprise Mobility, Cloud Solution
Hourly Rates: $25 to $49
Awards and Recognitions: Clutch top web development company
Serving Industries: Healthcare and Pharma, Building and Construction, IT, Real-Estate, Telecom, Education, Banking, and Finance
Headquarters: Denver, Colorado, USA
Clients: Adidas, Philips, Toyota, Paypal, Expedia
7. Dev.Pro

Dev.Pro is a popular software development partner that helps innovative enterprises amplify their growth with its agile software development services.
Dev.Pro mostly offers a wide range of digital and emerging technology solutions such as cloud development, blockchain, digital e-commerce, DevOps, and a handful of general software services such as UI/UX design, testing, QA, system integration, and analytics.
Expertise: blockchain, digital e-commerce, cloud development, QA, automation, and testing, digital services, enterprise software development, UI/UX, system integration
Hourly Rates: $40+
Serving Industries: Healthcare, Hospitality, Digital eCommerce, Enterprise, Finance, IT
Headquarters: LA, Nevada, USA
Clients: Inveniam, SalesLoft, Securrency, Heartland
8. Kanda Software

Kanda is a full-service development, digital transformation, and QA partner with expertise in SaaS, mobile application development, and other on-premises solutions.
Kanda provides a multitude of services like cloud engineering, custom software development, mobile solutions, enterprise application integration, QA, and DevOps to companies ranging from startups and small businesses to Fortune 500 companies and tech giants.
Expertise: Custom software development, Digital transformation services, Software product development,  Cloud consulting and engineering services,  Cloud migration, Mobile application development, QA and testing services, Application maintenance & support big data services DevOps services
Hourly Rates: $50+
Awards and Recognitions: Clutch top web development company
Serving Industries: Healthcare, Marketing, Finance and Banking, Education and Elearning, IT, Real-Estate, Travel, and Hospitality
Headquarters: Newton, MA, USA
Clients:  Janssen, Verizon Media, OneSky Group, Rue Gilt Groupe, Imprivata
9. Orangesoft

Founded in 2011, Orangesoft is among the best software companies that adhere to modern ways of development. For this reason, Orangesoft has a sound reputation when it comes to mobile and web application development.
Similar to other listed companies, Orangesoft promises to provide full-cycle development services across every development spectrum. 
Expertise: Mobile (iOS and Android) application development, Web development, UI/UX design, MVP app development for startups, Business Analysis, Quality assurance, Project management, Staff augmentation
Hourly Rates: $50+
Awards and Recognitions: Business of Apps top App development company in 2022, Appfutura top app development company
Serving Industries: Healthcare, Marketing, Finance and Banking, Education and Elearning, IT
Headquarters: San Francisco, CA, USA
Clients:   Hamleys, Sport.com, CoachNow, Adidas, Yukon
10. Digital Silk

As the name suggests, Digital Silk aids businesses with digital transformation. In fact, it aims to provide a superior digital experience to its clients using next-gen AI, ML, and IoT technologies.
Digital Silk guarantees more exposure with branding and digital strategies, design and web development, result-driven digital marketing, full-service e-commerce development, and more.
Expertise: digital strategies, design and web development, result-driven digital marketing, full-service e-commerce development, digital transformation services
Hourly Rates: $50-$99
Serving Industries: Consumer products and services, IT, Manufacturing, E-commerce
Headquarters: New York, USA
Clients:  IBM, doForms, NFL, NYU, P&G, Amazon, HP,  AT&T
Conclusion
There you have it, the top 10 software development companies in the USA for different types of development. 
Each shortlisted company here has some unique benefits, work attitude, and modernized techniques to enhance your product development and expand your reach in the international market. 
So whether you are a startup or a tech behemoth, you can pick any of the companies and begin your development within a short period of time.