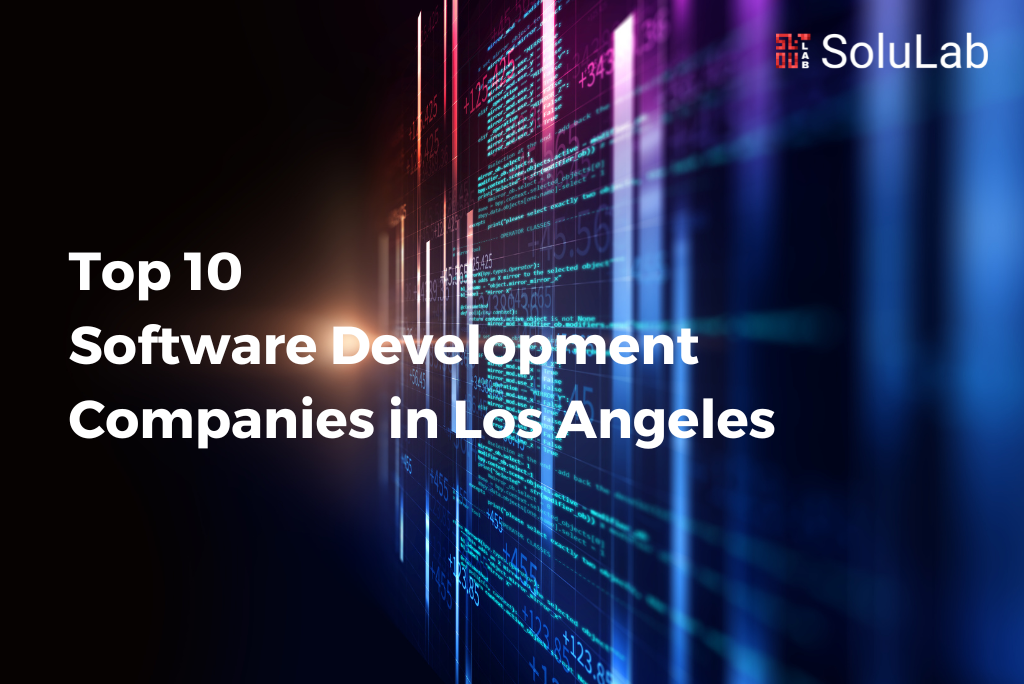 It's not easy to keep up with the digital revolution. You may have a project idea for transforming the digital world, but if it's not paired with the right software development company, then it's of no use.
That being said, choosing the right software development company is never easy, especially when there are hundreds of companies operating in your city. 
At this point, you may think twice before joining hands with any IT firm. 
This is why we have come up with this article, where we have put our opinions on the best software development companies in Los Angeles and how you can further narrow them down using a few parameters.
1. SoluLab

Let's start with the mightiest company that is actively gaining attention from every corner of the world. SoluLab aids in digital transformation using cutting-edge technologies such as blockchain, metaverse, crypto, NFT, IoT, AI, ML, data science, and others.
Co-Founded by two innovative minds(a former Goldman Sachs VP and a former Citrix principal software architect), SoluLab follows the modern way of developing solutions from multiple spectra. This includes custom software development, web, and mobile app development, SaaS, DevOps, and others.
With over 8+ years of experience, SoluLab manages to provide flexibility and different engagement models to clients for the utmost agility in each development.
Currently, SoluLab has served over 500 worldwide customers with 15000+ projects, covering almost all industries- government, supply chain, healthcare, education, logistics, gas and oil, retail, transportation, finance, entertainment, real estate, and e-commerce.
SoluLab follows a very nice and easy 6-step execution process where they first assess necessary requirements and project scope, build strategies and designs, develop products, perform standardized quality checks, and deploy the application for client use.
2. Endertech

Another firm that makes the list of the top 10 software development companies in Los Angeles is Endertech. 
Founded in 2000, Endertech follows its founder's dual mission of serving mankind with web technology and helping web professionals find fulfilling work. 
It initially began as a web development company and over the years managed to gain expertise in other development domains such as e-commerce, cloud services, software development, and content generation and research.
Moreover, Endertech has quite a reputation in the market as the top B2B company in California and has been receiving awards year after year. 
Endertech puts its first priority on customers, which is why they assist clients throughout the development phases and provide a post-deployment support facility.
Having served for more than 21 years, Endertech has helped a multitude of businesses from a broad spectrum of verticals, including, business services, e-commerce, and consumer products and services.
3. Wildebeest

Wildebeest is among the best software development companies in California. It was co-founded in 2014 for product and custom software development based on the principle: "software is the medium to achieve agility in business and daily life."
To this day Wildebeest has served hundreds of clients from every corner of the world, such as Google, PepsiCo, Toyota, Microsoft, Disney, Netflix, Hulu, etc. 
Wildebeest aids businesses with general software development services like front-end, back-end, web and app development, quality assurance, and a handful of digital services based on emerging technologies like AR, VR, and others.
In addition to this, Wildebeest has served different industries like advertising and marketing, consumer products and services, and automotive.
4. AE Studio

AE Studio has the most dedicated team of designers, software engineers, data scientists, and elite professionals. It was founded in 2016 with the aim of developing software solutions that increase human agency.
AE Studio takes an entirely different approach to build software solutions that are friction-free, function as an extension of people, discourage multi-tasking, increase transcription fluency, change parameters when it's beneficial, and focus more on long-term customer relations than short economic gain.
When it comes to software development services, AE Studio's inclination goes toward data science, machine learning, predictive analysis, product design, and a few emerging technologies like blockchain.
The best part is that AE Studio provides a futuristic development service known as BCI (Brain Computer Interface) to transfer required signals and data from the brain to devices like smartphones, IoT devices, computers, and robots.
5. Saritasa

Saritasa is a prominent player in full-cycle mobile, web, software, AR, VR, and IoT development services. 
It takes the project and analyzes its core objectives to come up with a strategy to resolve and meet all the requirements in the shortest period of time. Moreover, it goes a step further and suggests clients' key parameters that can drive agility in their solution.
Saritasa has achieved a level of sound reputation in the market and has received plenty of awards and recognition as the top software development company.
The industry focus of Saritasa is broad, and they have been serving the medical, pharma, restaurant, education, retail, health, fitness, real estate, logistics, LMS, and manufacturing sectors for quite a long time.
6. Utility

Utility adheres to its philosophy of providing elegant solutions built on proven methodologies. Their main focus is helping enterprises amplify their growth with top-notch mobile and web app development.
Apart from primary expertise, Utility has forged itself in providing game and UI/UX  development of any complexity. 
Moreover, Utility takes a slightly different approach to delivering quality solutions, where they first research necessary requirements and project scope, build strategies and designs, develop products, deploy the application, and optimize its growth for the client's ideal use.
To provide the clients with an optimal experience Utility relies on its manifesto, which consists of five pillars; trust and transparency, partnership, quality, no drama, and positivity.
7. Sidebench

Founded in 2012, Sidebench is an award-winning technical consultancy in Los Angeles with a diverse group of critical thinkers and digital strategists. 
It follows its motto, "Let's co-invent the future together," and aims to transform the DNA of entire industries to create a lasting impact that goes beyond the product. 
Sidebench helps businesses get agility in HIPAA-compliant products, UI/UX design, mobile and web apps, and system integration across the medical, finance, and consumer products verticals.
Operating as an IT firm for over 10 years, Sidebench has managed to serve some of the best companies, like Microsoft Corporation, Instagram, Red Bull, Facebook, Sony, NBCUniversal, and others.
8. Beyondsoft Consulting Inc.
If you are looking for a big data solution provider in Los Angeles, then BeyondSoft is the ideal destination. 
For more than 20 years, Beyondsoft has been a prominent player in providing high-quality IT services, including, cloud, big data, analytics, custom software development, test automation, digital transformation, and engineering services.
Beyondsoft has a diversely talented team of experts who like to take on challenges and push the limits of technology to help businesses with their pressing challenges. 
They consider customers to be their first priority and provide excellent, professional services and deliver a product that goes beyond clients' expectations.
Beyondsoft in the last two decades has helped some of the popular firms such as HP, Team Health, DBS, AIG, GE, Nokia Siemens, and Microsoft from different industries like finance, IT, and automotive.
9. Rootstrap 

Rootstrap believes in providing outcome-driven development to client organizations so they can achieve greater corporate heights. They aim to provide best-in-class innovative software products by combining a creative approach, technical expertise, and process-driven development.
Rootstrap's primary expertise lies in full-cycle web and mobile development, QA automation, and a handful of digital services such as AR, VR native app development, AI, blockchain, crypto, data science, DevOps, and machine learning.
Whether a client wants to build a product from scratch, wants to be rescued from any technical difficulties, or needs some extra workforce for a particular technology, Rootstrap does everything to elevate their product's agility and business.
The industry focus of Rootstrap is broad, and they have been serving media and entertainment, healthcare, education, e-commerce, business services, technology, and finance for a decade now.
10. Sunrise Integration

Sunrise Integration is among the top custom software development firms in California. It aims to craft quality software and workflow solutions tailored to client-specific needs. Whether the client is a startup or a corporate behemoth, they provide each company with best-in-class services.
Sunrise Integration helps businesses with custom software development, web design and development, API integration, shipping, and 3PL software, SaaS, ERP, and CRM integration, payment and merchant integration, managed infrastructure services, and data migration and integration.
Since 1999, it has been serving different industry verticals, including e-commerce, retail, and manufacturing.
Still Confused? Let's Narrow Down Your Choices
If you are a new firm or a startup, it's likely that you are unaware of the tactics used to evaluate an IT company, which increases the chances of selecting the wrong partner.
This is why we have listed these parameters here so you can understand what they are, how they help in assessing IT companies, and accordingly use that info to effectively narrow down your ideal companion.
The Technology
Knowing what type of technological solution you need dramatically shortens your choices.
For instance, if you want your solution to be decentralized and secured with cryptographic hashes, you may want to go with a blockchain-powered solution since it brings total anonymity to the transactions and can't be governed or manipulated by any central party.
And if you require a standard mobile app similar to Facebook or Instagram then you can pick the service of native or hybrid mobile app development.
Experience
Experience or maturity decides the fate of your quality software development.
The more experienced companies have an edge over the newbie IT firms in terms of coordination with clients and their ability to quickly move ahead with an effective solution. This means experienced companies are very likely to give you the product ahead of any deadlines.
Portfolio
The key to knowing if a company does a good job developing software? Is by looking at its customer reviews, feedback, and overall rating.
These parameters help you learn about what types of projects the company has delivered, the appreciation from their customers regarding the project, and whether the company is capable of your product development.
Support 
The moment you assign your development to a firm, it's common that it will face complex system failures at a few checkpoints of the SDLC. In such a scenario, you need to get a bit involved and look at whether your partner is taking good care of your developmental phases to resolve issues.
This is why support is important, it lets you contact your companion regarding any issue that arises during and after the project's deployment.
Pricing
90% of the clients rely on this parameter to decide whether to choose one or the other, and it's a wise choice since not all client organizations can afford high prices, especially if you are a small business owner or a startup founder. In such a case, you have to pick the most affordable company available.
If you are a tech behemoth who doesn't care about high prices and has a decent budget to meet the high prices, you can choose the companion you think is good for you. 
Also Read: Top 10 Software Development Companies in USA
However, if you want affordable or reasonably priced development then choose the one that meets the above parameters and still manages to offer cost-effective solutions.
Conclusion
This is it, the top 10 software development companies in Los Angeles for your product development.
Each company provides both the same and unique services, a different execution approach, and some values that they follow to give the best product. In our opinion, the companies listed above are ideal for all of your software projects.
On top of that, the listed parameters will help you, even more, to narrow down the choices even further so that, in the end, you choose the right partner.