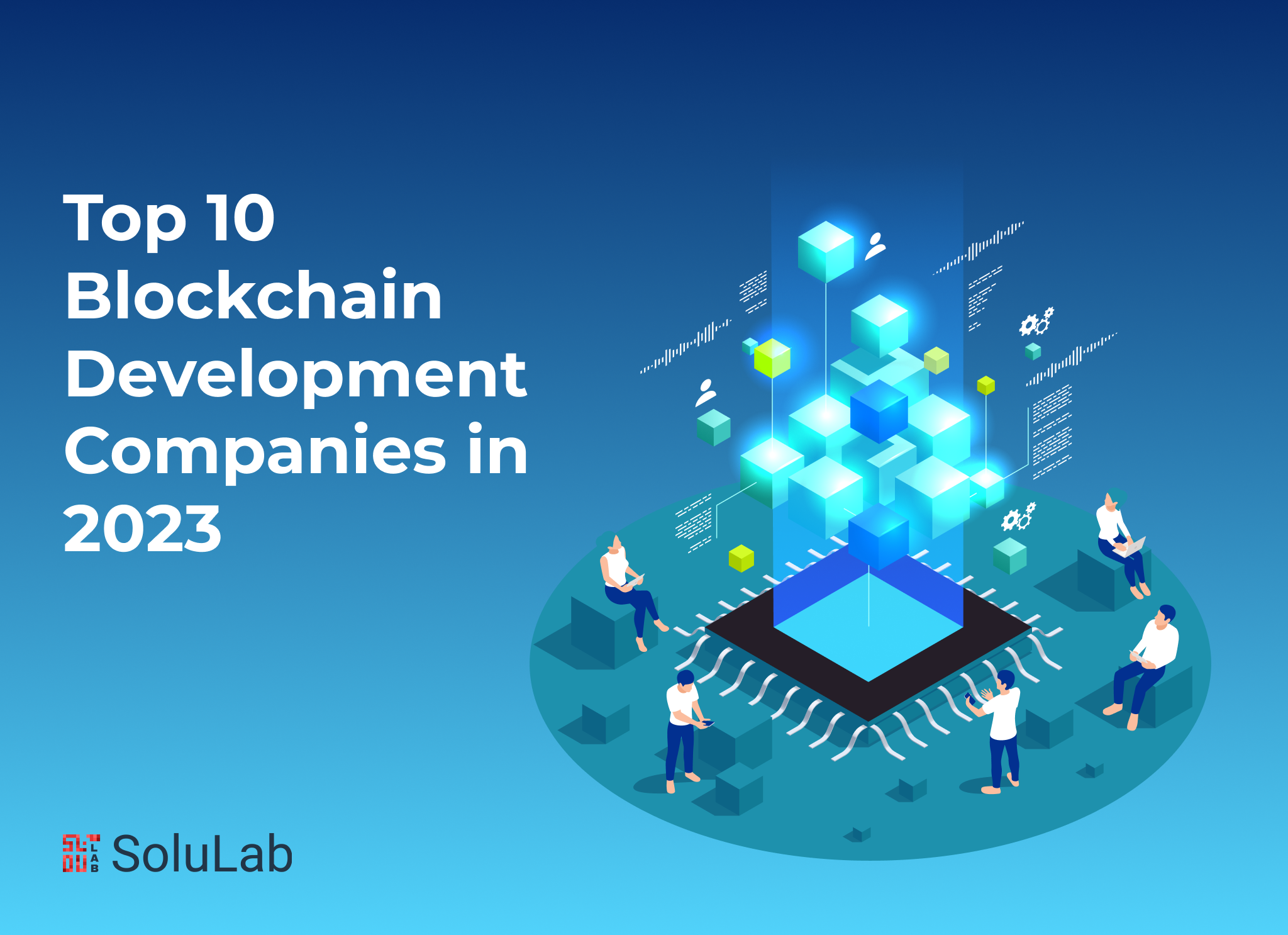 Blockchain is a transformational technology with benefits on all fronts. It's an immutable ledger spread across a network of computers that securely shares decentralized data. This network has transaction details in shared blocks connected to unique identifiers in cryptographic hashes. 
It possesses unique characteristics such as pseudo-anonymity, transparency, and security, giving sectors an edge to improve their business operations. Because of this, blockchain adoption is rising and seems inevitable. 
Reports state the immutable ledger technology will generate about 19 billion in revenue by 2024 and contribute to the global economy with $ 1.76 trillion by the end of 2030. Considering these potentials, industry leaders from different verticals want to adopt blockchain technology to enhance business processes through its rising trust, tracking, and tracing levels. 
This is when they seek out blockchain development firms to hire top blockchain experts or outsource blockchain development to get business-specific blockchain-powered solutions from scratch or by white labeling.
However, the IT market is an ocean of companies offering blockchain services, and it's becoming painful for growth-hungry seekers to narrow down their choice and hire a blockchain development company that aligns with their business goals.
If you want a capable blockchain firm but facing the same difficulties, then this article grants your wish, listing the top 10 blockchain development companies evaluated based on specific parameters. So without any further ado, Let's get things going.
Criteria for Selection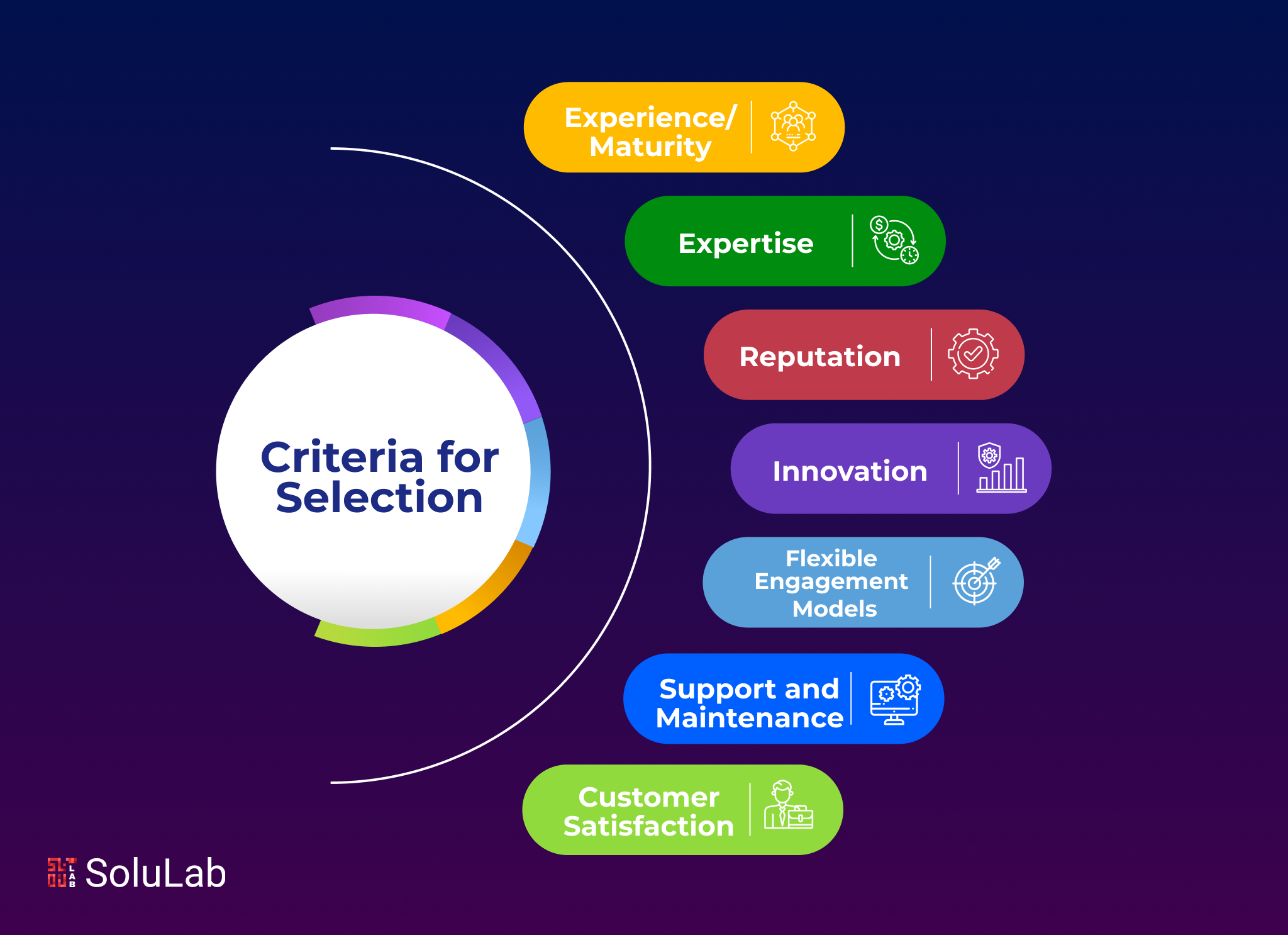 There are hundreds of blockchain companies worldwide, but as a client, you may not want to assess each to conclude. Rather you may seek assistance from websites such as Clutch or Goodfirms to get the right company. 
Though they list companies according to their rating, they might not fall on your go-to list as your requirements may differ. For instance, you may require team augmentation or different models for a specific time frame. 
As a vendor that provides blockchain services, we know how clients struggle to explain their needs and what results they expect from the project. For this reason, we have compiled a list of criteria to help you narrow down your choices, and it goes like this.
Number of Years in the Industry:
Companies with high experience are generally large-scale companies. The greater the experience, the chances of getting a robust blockchain solution increase. On top of it, having been in the domain for years, mature blockchain firms manage projects flawlessly with seamless coordination.
However, it's a double-edged sword.
Let us elaborate on the above sentence. It's always good to have an experienced blockchain firm that knows how to handle the chores of the project from start to finish, but it comes at a price. 
Experienced blockchain firms have one disadvantage of not being flexible due to their large-scale operations and willingness to stick to the roots. This results in them being hardly flexible in each phase of product development. 
On the other hand, smaller firms with decent experience can guarantee clients the flexibility they need to shape projects just as they envisioned. This is why we have listed companies that are experienced as well as have demonstrated their flexibility in delivering brand-specific solutions.
Previous Successful Projects/Portfolio:
The portfolio provides info on clients' previous projects, which is the best way to gather information on the company's overall capabilities. Moreover, it also gives a glimpse of what industry the client has served and other details like the type of project, its goal, value delivered, etc.
Knowledge Of Blockchain Technology
Blockchain technology is still in its infancy, comprising concepts such as cryptography, cryptonymous, consensus, immutability, and decentralization. Over the years, new blockchains have emerged that are effective for specific business needs, such as private, public, hybrid, and consortium, with various blockchain protocols like Hyperledger Fabric, Corda, and Ethereum.
A blockchain development company should have a sound knowledge of technology's nuances, core principles, and technicalities to identify the right stack, plan development phases, and deliver products as expected. 
Expertise In Developing Blockchain Solutions
This parameter reveals many things about a blockchain vendor. Because it gives an idea of how the company combines technology with the right intellectuals, processes, and business parameters. Expertise doesn't just mean the company's level of accuracy to gear technology but rather combining these technical aspects with human intelligence to strategically build exceptional products.
An expert blockchain development firm combines a high level of hardship, experience, expertise, and technological mastery with agile practices, modern development methods, and good management to successfully plan areas of design, development, testing, and deployment phases and produce cutting-edge blockchains and blockchain-powered solutions.
Online Reviews And Ratings
90% of clients' decision-making is based on what others say about a particular vendor, and this method always hits the mark because clients choose the vendor who has received nothing but good words.
Online ratings and reviews are part of that method which gives insights into how a client benefited from the vendor's services and the journey during their collaboration. These also educate the client on vendors' specific areas such as management, experience, delivery, and others to have a broadened perspective. 
Industry Recognition And Awards
A company that has proved its capabilities in the market with awards and recognition is always good to have as a blockchain development partner. It shows how much the vendor is devoted to enhancing areas of its IT departments, educating teams on best practices, adapting technical capabilities, and learning new tools and technologies to improve service delivery, maximizing productivity, and crafting modern-day solutions that compete with the market.
The awards also represent a strong leadership of the blockchain vendor, which means that it knows the trends and chores of the domains and has a strategy for all development needs. 
Development Of Innovative Blockchain Solutions
Blockchain is a fresh technology, and there are plenty of things to experiment with; this means the vendor can be creative and develop solutions that distinguish your product from the competition. If a vendor often innovates in the domain, it's the right firm to pick.
This is because if the vendor keeps innovating, you are bound to receive those functionalities in your products, ultimately making your product a state-of-the-art build.
Use Of Cutting-Edge Technology
Grabbing a vendor that has the expertise and uses a strategic approach is always a cherry on top. However, choosing a vendor that utilizes the latest grade cutting-edge technology to deliver competitive solutions is a must. This is because the world is moving faster, and to catch up or lead the market; clients should consider ways to deliver modern solutions that solve modern-day issues.
This is only possible with a company that uses cutting-edge blockchain technologies such as the latest generation blockchain 4.0, blockchain with IoT, and generative AI to grant a leap to businesses in different sectors. 
Flexible Engagement Models
Technological agility, experience, and expertise are among the things clients consider when hiring a blockchain firm, and they usually forget the basic parameter, the engagement model.
The fate of blockchain products depends on this parameter, as clients may require a model that aligns with their time zone or needs. That being said, having no option on engagement models can trigger poor communication and poor updates on product development phases, which again would cause the product to be a disaster since the client hardly got to suggest any modifications.
Regardless of a product's quality, it will require a few updates and maintenance to keep it functioning in the long run. At this time, if the vendor doesn't do a good job, then the product will stop functioning properly or see a bitter end. This is why a vendor with a good track record of support and maintenance becomes a comforting choice.
Quality Of Customer Service
Customer service is important in understanding vendors' service delivery. This is all about a positive work attitude and devotion to the client's success. The compromises on this parameter may put clients in tough situations after agreeing and signing the contract. Hence it's always better to walk with a vendor who has a client-centric approach.
Client Retention Rate
If the vendor delivers everything as expected without any compromises, the client will return for more products increasing a vendor's client retention rate. The more the retention rate, the higher the chances of getting quality service and robust blockchain solutions. 
Meet the Top 10 Blockchain Development Companies
SoluLab sits in the sweet spot as a leading blockchain development company specializing in decentralized and digital spectra. It nails the modern demands of clients with the right configuration, technical experts, consultants, and agile technologies. Having been in the game of decentralized technologies for about nine years, it has grown ever since to pair and deliver these technologies through general software applications such as mobile and web apps.
The company was co-founded in 2014 to connect the global talent pool with needy companies. The whole idea centers around pairing quality engineers that deliver products with the same calibration as silicon valley professionals, and it became SoluLab's unique mindset.
From decentralized, digital, low code, no code, and generative AI to general IT software, SoluLab conquers all thrones of software spectra. However, blockchain excites these elites because they carry the passion of transforming industries with its unique characteristics.
Key Blockchain Services: 
Blockchain Network Development

Smart Contract Development and Audit

Crypto (ICO, IEO, STO, Wallet, Exchange Platform) Development

NFT(Tokens, Games, Marketplace) Development

Blockchain (Game Development, Ethereum Token, Web 3.0, dApps, Enterprise, DeFi) Development
Strengths 
Experience and Flexibility

Strong leadership

Skilled professionals

Great attention to detail

Good Management and Planning
Advantages 
A skilled pre-vetted global talent pool

High success rate

Easy hiring 

Flexible engagement models

Bang for the buck services

Easy technical and workforce scalability
Company Location:  Los Angeles, CA, USA
Average Hourly Rate: $25-$49
Industry Focus: Healthcare, Logistics, Oil and Gas, Retail, eCommerce, IT, Transportation, Education. Finance, Media, and Entertainment.
Awards and Recognition: Clutch top blockchain developers, Goodfirms top blockchain development company 
Key Clients: Zebpay, Alacrity, Doctrace, AnRKeYX, Finance SPHERIUM
2. LeewayHertz
On the second spot, we have LeewayHertz, a leading blockchain specialist who pioneers blockchain product development with a wealth of expertise in technologies such as Hyperledger, EVM, Cosmos, and Substrate. Founded in 2007, the company is well versed in end-to-end blockchain development practices and has provided its top-of-the-line blockchain solutions to all-sized businesses for seamless operations.
LeewayHertz focuses on equipping tech-savvy startups, SMBs, and enterprises with future-ready AI, blockchain, and Web3 technology to stay ahead of the competition. Having been in the game for 15 years, the company has emerged among the best blockchain and digital solution providers with a stellar record of delivering agile solutions to international clients.
Key Blockchain Services: 
NFT Development

Smart Contract Development

DApps Development

Blockchain Consulting

Blockchain Supply Chain Development

Custom Blockchain App Development

Metaverse Development

Decentralized Exchange

Tokenization

Wallet Development
Strengths 
Years of experience and expertise 

Innovation at its core

Experienced blockchain professionals

Good management and planning
Advantages 
Innovative blockchain services

Robust blockchain engineering

Dedicated teams for blockchain development
Company Location:  San Francisco, CA, USA
Average Hourly Rate: $50-$99
Industry Focus: Healthcare, Media,  eCommerce, Finance, Supply Chain, Lending
3. ELEKS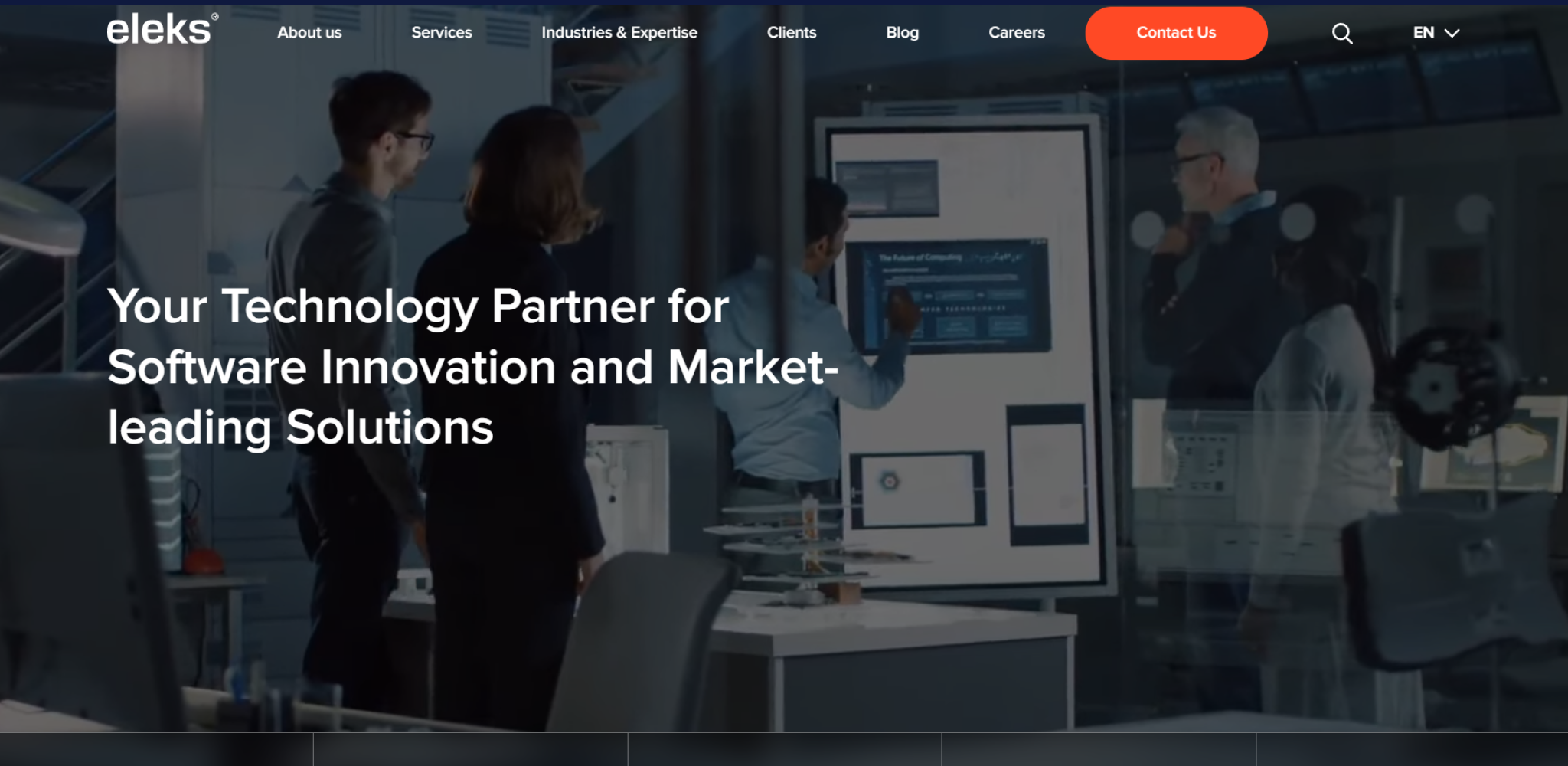 ELEKS is among the top 100 outsourcing agencies around the world. The company elevates clients' value through digital, decentralized, and general software services. It also follows a client-centric approach to understanding the customer's value proposition, embodying that value and vision with an impassioned attitude to try and deliver the best.
ELEKS was co-founded in 1991 originally to develop a product for electrical grid maintenance systems. Over time, it gained traction in the IT domain and got recognized as a leading IT agency. The company mainly provides advisory, engineering, and optimization services to transform global clients' business models with tailored solutions.
Having been in the industry for 30 years, ELEKS has established its corporate offices worldwide and employs over a few thousand software professionals.
Key Blockchain Services: 
NFT Development

Smart Contract Development

DApps

Private Blockchains 

Blockchain-Based Marketplaces

Blockchain Security
Strengths 
Global presence in 18 countries

Strong dedication to success

Passion for engineering
Advantages 
A large number of teams 

Robust blockchain engineering

Flexible engagement models
Company Location:  Tallinn, Estonia
Average Hourly Rate: $50-$99
Industry Focus: Logistics, Fintech, Retail, Insurance, Automotive, Healthcare, Agriculture, Energy, Media & Entertainment, Government
4. INC4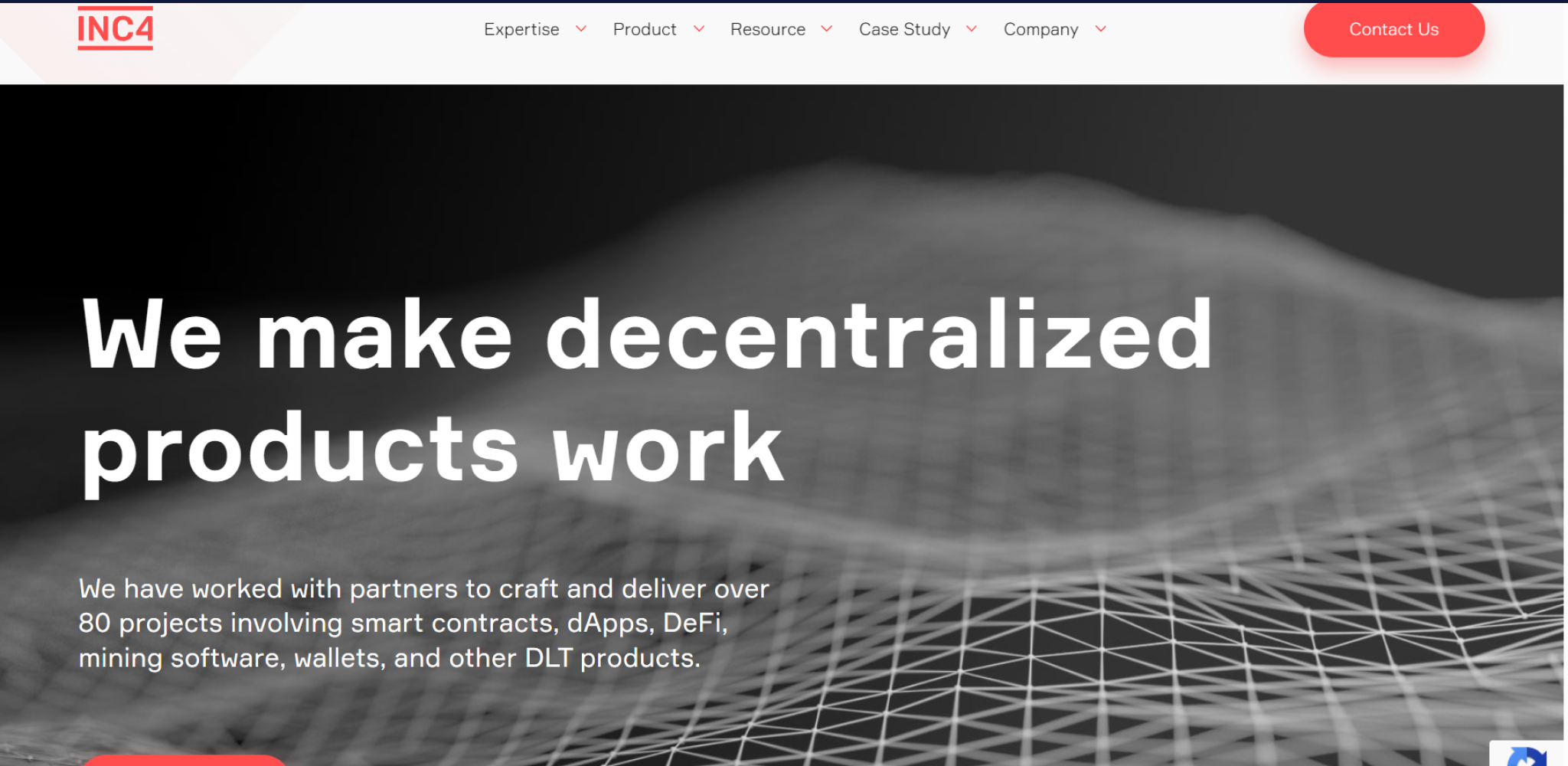 At the fourth spot, we have INC4, a top blockchain company in Ukraine that emphasizes shortening the distance between ideas and technologies. The professionals at INC4 take a unique approach to justify the quality of blockchain services.
The company was founded in 2013 when Bitcoin was a sensation. Since then, for a decade, INC4 has gained popularity as a leading blockchain provider and has contributed to enhancing its client's service delivery through exceptional blockchain solutions.
INC4 focuses primarily on blockchain technology and provides product development, team extension, and audit and consulting services to its global clients. It has a stellar record and a diverse portfolio of projects that demonstrate its mastery of blockchain spectra.
Key Blockchain Services: 
Blockchain development

Tokenization

DeFi

NFT

Monitoring software development

Blockchain consulting

DApps

Mining pool software

Custom GPU miner

Crypto wallets
Strengths 
Out-of-the-box development approaches

Positive work attitude

Team augmentation models

Scalable capacity
Advantages 
Effectively communication and collaboration

Blockchain-focused attitude

Diverse project portfolio with vast amounts of experience
Company Location:  Kyiv, Ukraine
Average Hourly Rate: $25-$50
Industry Focus: Financial Services, Business Services, IT
Key Clients: Open Forest Protocol, Minerall, JetHash, Nextadnet, PembRock, SmartyAds, AirDAO, Finance
Awards and Recognition: Clutch 2021 top blockchain development company
Read Also: 9 Blockchain Real Estate Companies to Watch
5. Cubix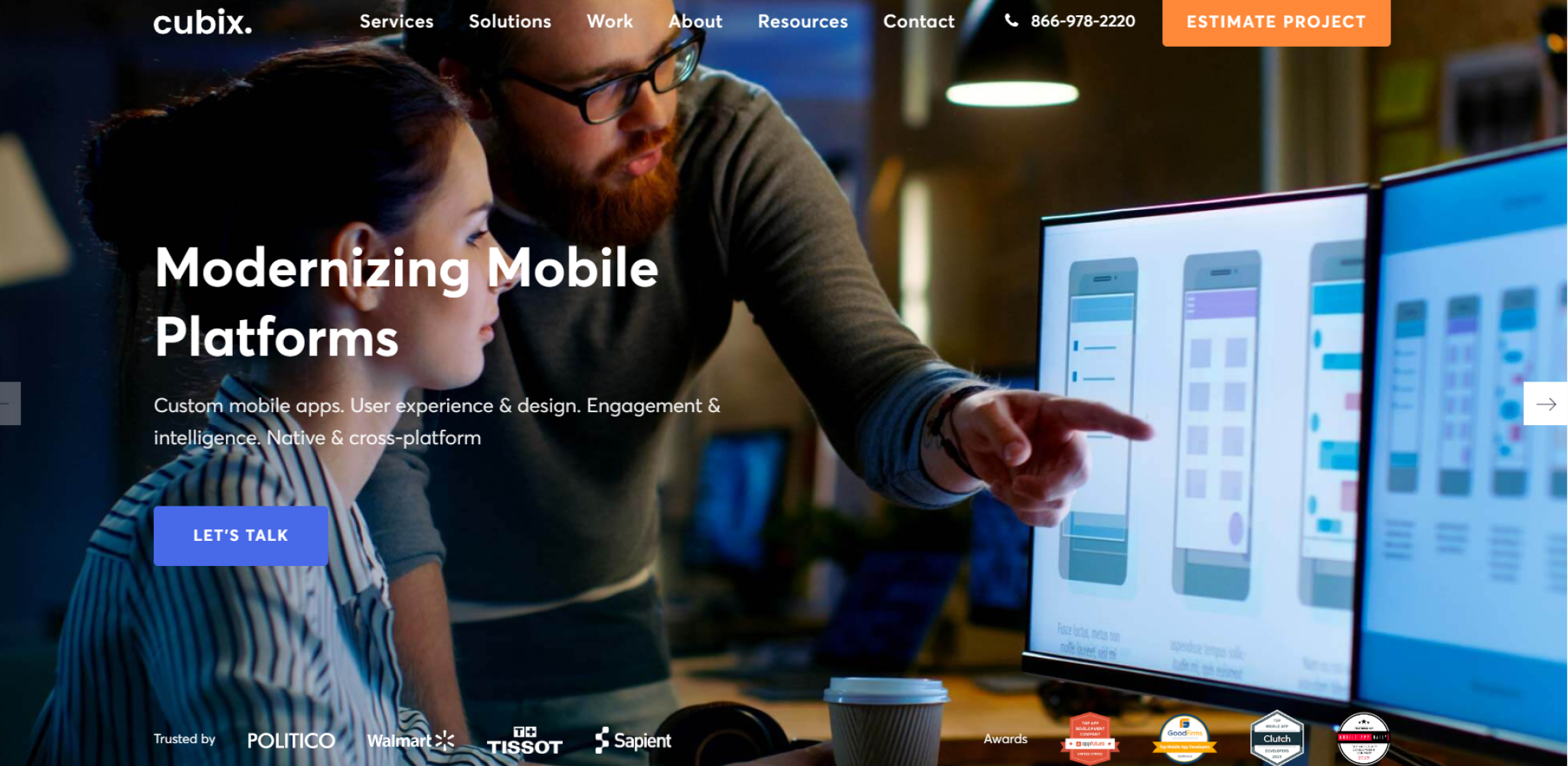 Cubix is among the top blockchain companies in the US, which aims to deliver simple and seamless blockchain solutions nurtured by innovative practices. The company sets itself apart with a unique approach to evaluating project needs and their potential to add value to meet these requirements based on the firm's size.
The company was founded in 2008 and has almost 14 years of experience serving custom software solutions, including general, digital, emerging, and decentralized IT services. Whether it's a mobile app, web, or custom blockchain platform, Cubix pairs all these applications with real-time, accurate, and insight-rich data-driven solutions for better analysis and awareness of domain parameters.
The company has a stellar record of integrating blockchain within clients' platforms to grant greater efficiency, pseudo-anonymity, and transparency in business operations.
Key Blockchain Services: 
Supply Chain Blockchain Development

Enterprise Blockchain Development

Blockchain Consulting

Co Model Development

Smart Contract Development

E-Wallet

Blockchain Cloud Services
Strengths 
Wide range of blockchain services

Data-driven product development

Scalable capacity and flexibility
Advantages 
Cost-effective pricing

Enterprise-grade quality development

Custom blockchain development
Company Location:  FL, USA
Average Hourly Rate: $25-$50
Industry Focus: Fintech, Security, Commerce, Banking, Logistics
Awards and Recognition: ITFirms 2021 top blockchain development companies

6. Capital Numbers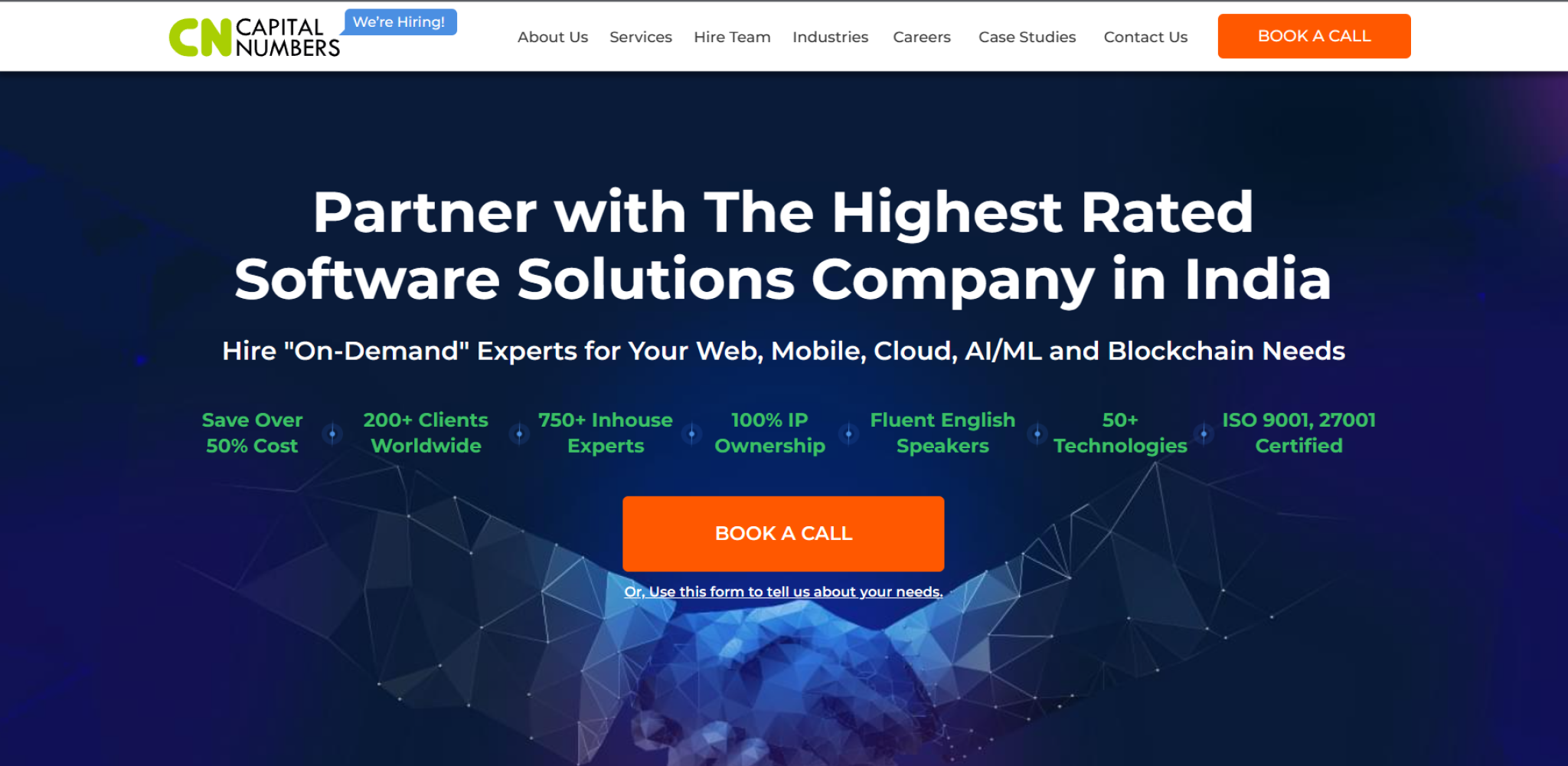 Capital Numbers is an award-winning software agency that offers end-to-end software solutions to all sized businesses, including startups, SMBs, enterprises, and digital agencies. On top of it, the company serves blockchain solutions in combination with agile practices and modern technologies to safeguard clients' software applications.
It was founded by three professionals in 2012 to create a software development vendor which solves real-world business problems. And it does so by providing general, digital, and decentralized software services.
Capital Numbers has a stellar portfolio with diverse projects from various industries. Moreover,  the firm has achieved over 23 awards in the last ten years, with 150+ ratings on Clutch, Goodfirms, and Google.
Key Blockchain Services: 
Cryptocurrency Development

NFT Marketplace Development

ICO and IEO Development

Hyperledger Solutions

Decentralized App (dApp) Development

End-to-end Blockchain Development

Blockchain Consultation

Crypto Wallets Development

Smart Contract Development

Centralized / Decentralized Exchange Development

Defi Solution Development

Dedicated Blockchain Development

POC Development
Strengths 
Developers with world-class coding standards

75% of the company has senior and mid-senior blockchain professionals

Zero overheads
Advantages 
50% Cost-reduction

Full control over product development

Experienced augmented teams
Company Location:  San Francisco, USA
Average Hourly Rate: $25-$50
Industry Focus: Fintech, Retail, Healthtech,  Edtech
Awards and Recognition: ITFirms 2021 top blockchain development companies
7. Idealogic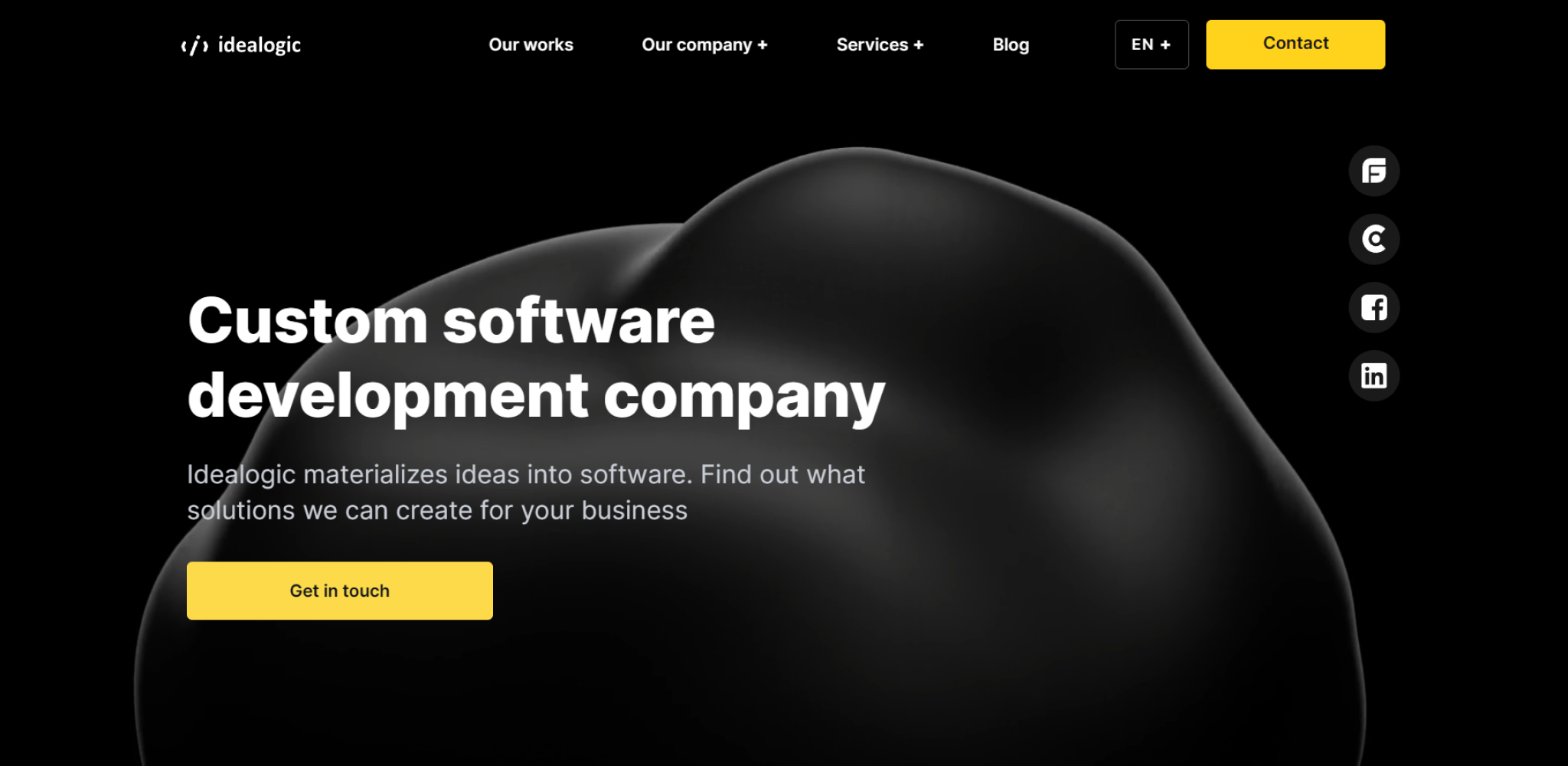 Idealogic is an ideal technology partner which helps start-ups and serial entrepreneurs bring ideas to life. The company is devoted to enhancing client experiences through its IT services, comprising mobile and web app development,  design, testing, and blockchain.
Idealogic was founded in 2016 to enable emerging startups with a prompt, reliable, and stable software development partner who could take on the chores of modern digital services with innovative and agile practices without compromising quality.
The company has established a sound image in the market by winning plenty of awards from Clutch and Goodfirms.
Key Blockchain Services:
Crypto Exchange Platforms

Defi Platforms

e-Wallets
Strengths 
Hand-picked blockchain professionals

High delivery standards

Dedicated team model
Advantages 
Agile engineering

Flexible engagement models

Innovative blockchain services
Company Location:  Wroclaw, Poland
Average Hourly Rate: $25-$50
Industry Focus: Fintech, e-commerce, business services, gaming
Key Clients: Glue, Resolve, Planetcoin
Awards and Recognition: Goodfirms' top blockchain development companies
8. imapp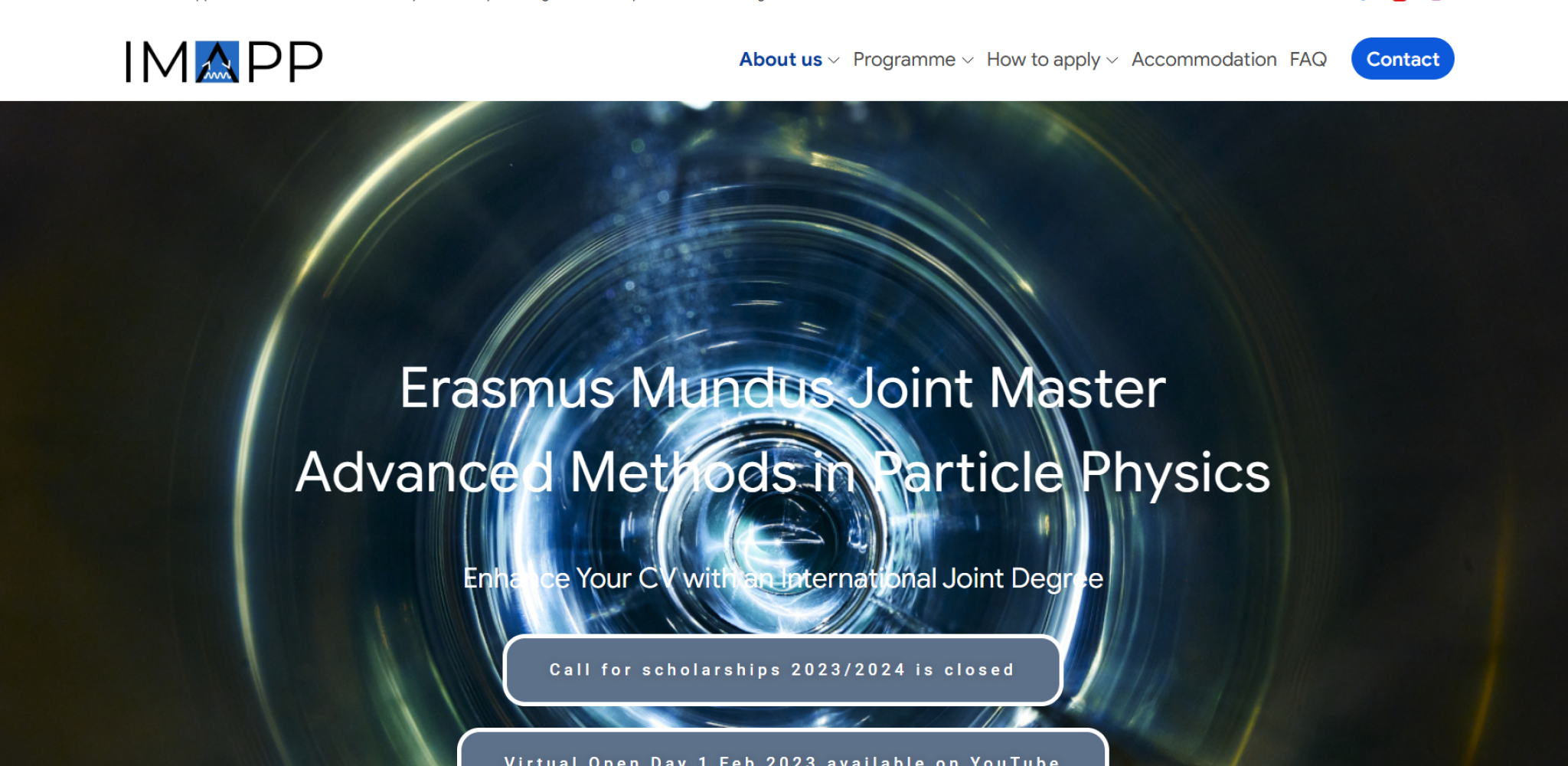 Imapp is a software house specializing in end-to-end software development. The company aims to deliver cutting-edge decentralized services with blockchain to keep clients' products secure, pseudo-anonymous, efficient, and transparent.
Since its establishment in 2013, the company has delivered great blockchain-based software using Ethereum, Polkadot, ImmutableX, and others to world-leading decentralized companies like Ethereum, omg.network, Polskei, Golem.
Imapp also guarantees to provide a full spectrum of support and professional services to all sized companies in their blockchain journey that range from conceptual work on tokenomics, blockchain integration, and solution discovery consultancy to identify and suggest the best blockchain infra to system architecture design, dApps and smart contract development, audits, and implementation.
Key Blockchain Services:
Proof of Concept design

Private and permissioned blockchain development

Public blockchain integration

Distributed applications (DApps) design and development
Smart Contracts development

Integrating Blockchain into legacy infrastructure

Hybrid centralized systems development with blockchain components

Blockchain solutions for video games
Migrating to blockchain infrastructure

Public blockchain networks integration

Blockchain technology consulting

Smart Contracts audit

Design and implementation of custom NFTs
Strengths 
Highly experienced blockchain teams

Hand-picked blockchain professionals

Cutting-edge delivery standards
Advantages 
Collaboration with world-leading blockchain companies such as Ethereum 

Wide range of blockchain and decentralized services

Innovativeness at its core
Company Location:  Warszawa, Poland
Average Hourly Rate: $25-$50
Industry Focus: IT, Media, Gaming
Key Clients: Ethereum Foundation, OMG, Golem
9. Cheesecake Labs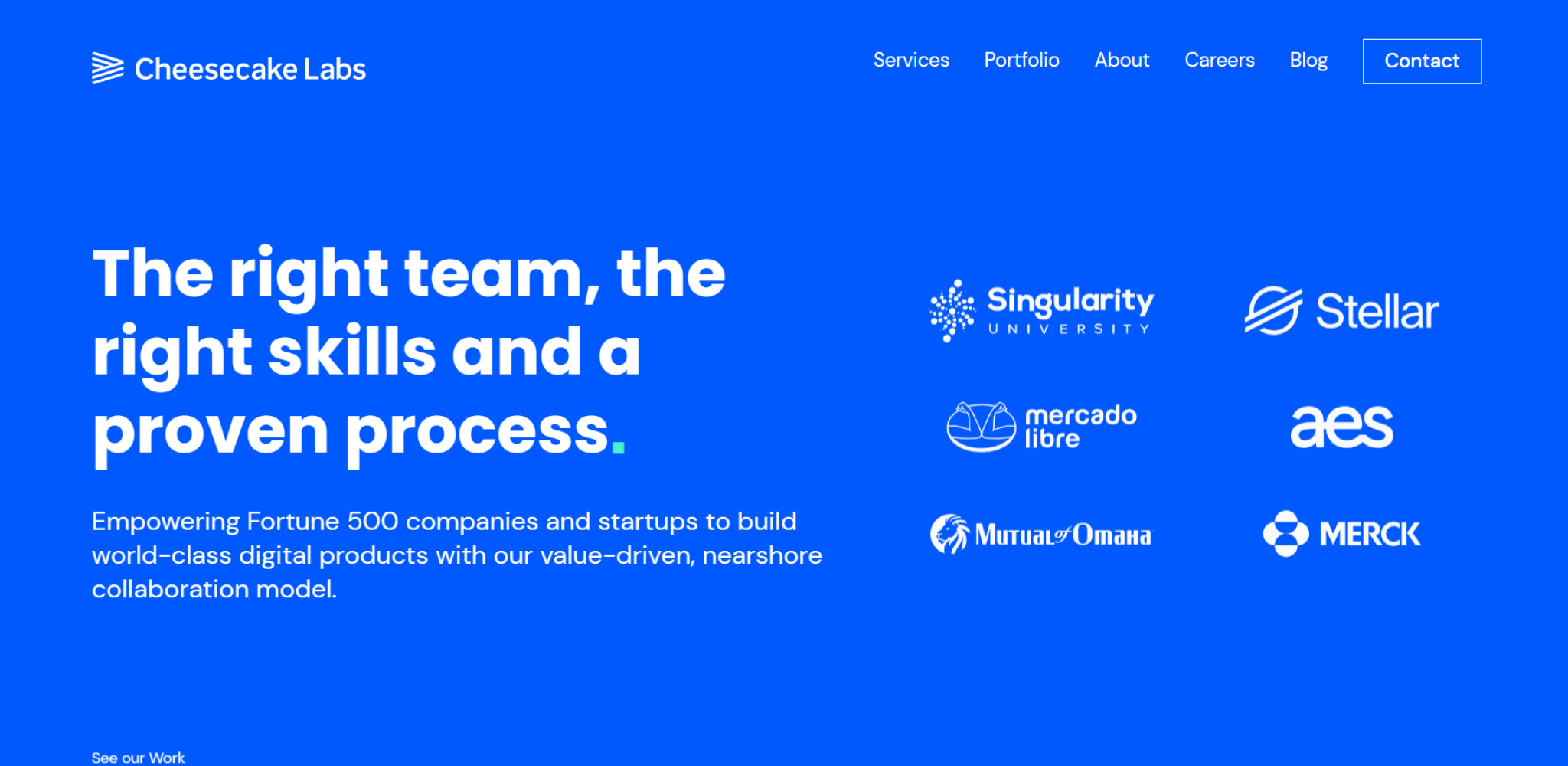 Founded in 2013, Cheesecake Labs is a leading software development company that delivers cutting-edge digital products with data-driven nearshoring models. The company keeps clients as the center and delivers products that align with clients' vision and goals to facilitate brand image.
When it comes to blockchain, the company takes things forward by introducing unique functionalities and features with a touch of innovation. It implies cutting-edge tech and the latest trends to build sophisticated blockchain tech.
With such agility, Cheesecake Labs has served plenty of world-renowned brands such as Uber, Mercado Libre, and others with its reliable and agile custom software and blockchain solutions to guarantee success.
Key Blockchain Services
: 
Blockchain development 

Web3

NFT

Smart contracts
Strengths 
Developers with world-class coding standards

High delivery standards

Staff Augmentation
Advantages 
Reliable blockchain services 

Strong team integration 

Innovative blockchain services
Company Location:  San Francisco, CA, USA
Average Hourly Rate: $50-$99
Industry Focus: Fintech, e-commerce, real estate, automotive, consumer products and services
Key Clients: Uber, Mercado Libre
Read Also: What is Immutable Ledger in Blockchain and Its Benefits

10. Antier Solutions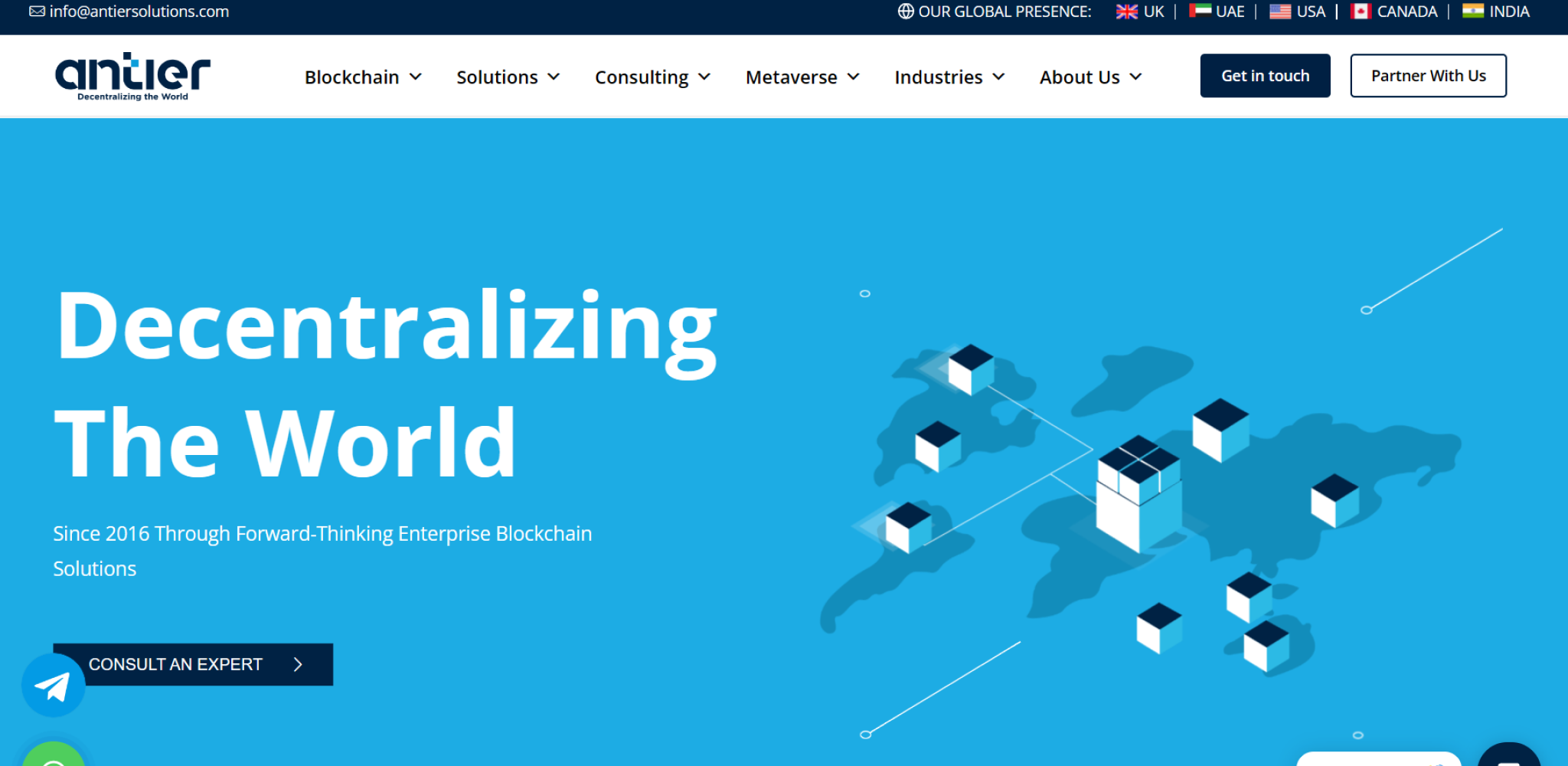 Founded in 2005, Antier Solutions is among the top blockchain development companies that help businesses adopt the latest decentralized technologies to stay ahead of the change. 
The company conducts thorough research on architecture, designs with a thinking-driven approach, and unmatched strategy, consulting, technology, and operations solutions to create an innovative roadmap and help businesses transition from outdated technology platforms to blockchain-powered systems.
The company has a great track record of serving hundreds of companies with its decentralized solutions and a diverse portfolio covering clients from various industries.
Key Blockchain Services: 
Protocol Development

Blockchain Frameworks

Layer 1 & Layer 2 Solutions

Enterprise Blockchain

Smart Contract

Asset Tokenization

Crypto Asset Management

Securitization (STO)

P2P Lending
Strengths 
Experience and Flexibility

Strong leadership

Skilled professionals
Advantages 
Flexible engagement models

Bang for the buck services

Easy technical and workforce scalability
Company Location:  Palm Springs, CA, USA
Average Hourly Rate: $25-$50
Industry Focus: IT, Advertising, Fintech, e-commerce, real estate, automotive, consumer products and services

Final Words
There you have it; the top ten blockchain development companies for all your decentralized demands. You can choose any company to avail of blockchain services; however, it's recommended that you first evaluate your requirements; the project vision and goal, its budget, scope, required tech stack, and skilled resources to choose the ideal partner from the above companies to get the best results.
Even so, if you are not aware of what you require, you can estimate your budget and accordingly have a quick conversation with the relevant companies to gain insights on what you need, how the company will deliver, the processes it follows, the legal terms and team size and other crucial parameters.
FAQs
What are the business applications of blockchain?
Blockchain has gone mainstream because of its acceptance as a revolutionary technology. It benefits businesses on all levels and enhances their overall business operations. Here are some of the business applications that blockchain has,
P2P transactions

Simultaneous record keeping, validation

Reengineering business processes

Automation 

Cost cutting
What are the blockchain development trends of 2023?
Though blockchain is still in its infancy, technology is evolving rapidly, causing new trends to emerge that will likely shape business processes of various sectors. Here are some of the 2023 blockchain development trends that will storm industries.
Expanded enterprise blockchain adoption

The blend of blockchain with generative AI

Blockchain with IoT devices

Integration of blockchain network with the rule of law

Robust cyber-security
What is the fastest-growing blockchain network?
Cardano, SushiSwap, and Ethereum are among the fastest-growing blockchain networks.
Which company is best for blockchain development?
SoluLab is the best blockchain company to hire blockchain developers or get business-specific blockchain solutions or any other decentralized platform. The vendor offers plenty of benefits such as budget-oriented development, a free trial of two weeks, great consultation, pre-vetted developers, simple and easy hiring, and above all best in class innovative blockchain solutions.