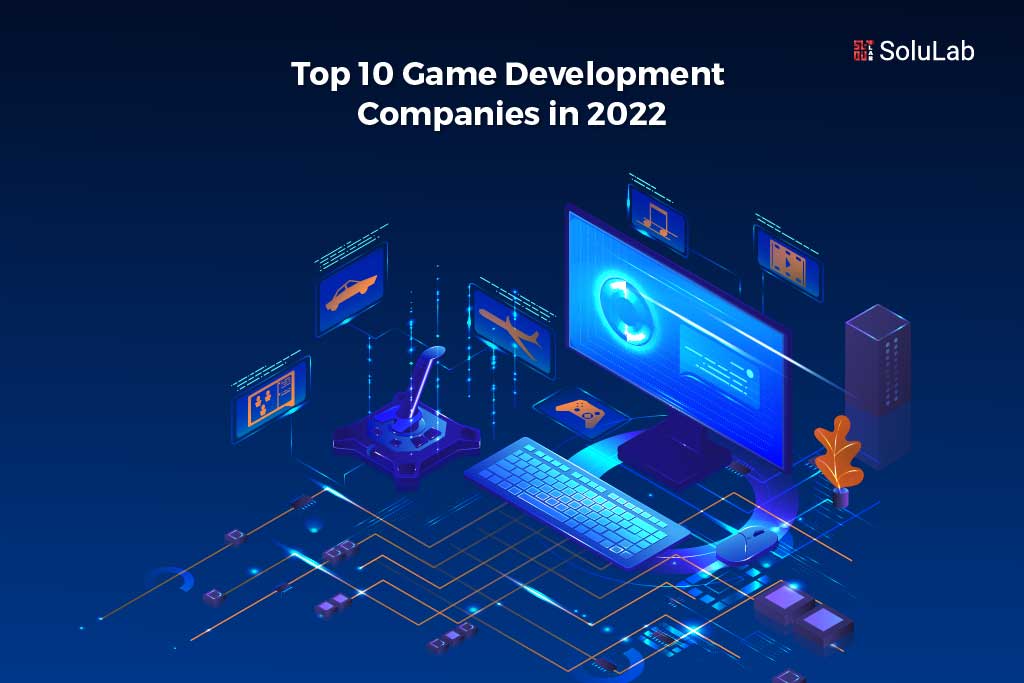 The gaming industry has been the most in-demand business forecast for the last year, and it is only expected to grow rapidly. The App Stores are saturated with mobile gaming applications, so businesses need to be full-service game development companies or studios to set themselves apart.
Is generating games with interesting features and fast processing time a priority for you, and you're looking for the top game developers? A comprehensive team of artists, programmers, audio developers, designers, and animators is available when you outsource to a game firm.
We have compiled this list to assist you in selecting the most qualified game design companies. See why these top 10 game development companies are the best in the business at making games. 

SoluLab Inc. was founded by a former vice president of Goldman Sachs and a former lead software architect of Citrix. The company assists businesses, startups, and entrepreneurs in making their visions a reality by providing full-stack, 360-degree strategies. 
SoluLab has collaborated with Fortune 500 companies and high-growth startups such as Walt Disney, Goldman Sachs, Mercedes-Benz, the University of Cambridge, Georgia Tech, and others. The firm creates simulations and solutions at the corporate level for use in various sectors, including the military, government, healthcare, and industrial sectors. 
SoluLab is a top game development company that provides services from scratch to provide an outstanding experience to every gamer. It is involved in the development of all kinds of games, including Blockchain Game Development, Metaverse Game Development, Web3, iOS, Android, Unity, Unreal Game Development, etc. 
NineHertz

The NineHertz is a well-known game production company that employs more than 225 game engineers and designers that have been accredited and are capable of producing high-quality gaming solutions for customers. It provides resource-based, T&M, and fixed-cost game production approaches in conjunction with other options.
It can produce first-rate, innovative, and robust programming solutions to facilitate quick company change. An iterative, customer-focused, and agile development methodology is used while creating the games. Development is broken up into "sprints," during which the team focuses on producing certain features of the greatest possible quality.
Ludo games, Video Games, Mobile Games, HTML5 games, 2D Games, Unity Games, Casino Games, 3D games, Console Games, NFT games, AR games, iOS games, Android games, and other game development are some of the primary services provided by NineHertz.
Juego Studio 

The game-centric technology and design solutions firm Juego Studios has expanded into new areas, including NFT, Blockchain, the Metaverse, virtual reality, and augmented reality.
High-quality games and apps for iOS, Android, mobile, PC, Mac, console, Windows, browsers, and Facebook are developed by Juego Studios. 
Unity 3D Game Development, Unreal Game Development, Blockchain Development, and PlayCanvas Development are just a few of the cutting-edge game engines and game development frameworks it employs to provide high-quality games consistently.
Read More: Top 10 Metaverse Development Companies
Everything from scripting to testing, coding to art and design, support and maintenance, and everything in between is included in Juego Studios' full-service solutions for creating games and apps. The firm employs popular frameworks and languages, including Angular JS, HTML5, Cocos2d-x, Unreal, and Unity3D.
Queppelin

Queppelin's comprehensive solutions will uncover the Metaverse for your company and prepare it to take part in it both now and in the future.
It has12 years of expertise developing augmented and virtual reality apps, creating immersive experiences for advertisers, and incorporating artificial intelligence into these platforms for long-term viability, thereby forming a metaverse.
Queppelin assists companies in using the potential of Augmented and Virtual Reality to deliver goods and services in ways that have never been possible.
It has also released a comprehensive platform in Australia, where anyone may make their AR solutions using markers, no markers, or teleportation.
Queppelin has spent the past three years working on the project with a team of thirty or more full-time programmers.
It has worked with several well-known companies, such as Google, Facebook, Micared (Japan), Emirates NBD, Snapdeal, Oxigen mobile wallet, Nokia, Samsung, KDDI, and Micared (USA).
Aaryavarta Technologies 

Aaryavarta Technologies is a top-tier software design agency focusing on creating creative and cutting-edge applications (games, apps, AR/VR solutions, and more). Hybrid app development and the use of the Unity3D and Unreal engines are among its specialties. The company provides gaming outsourcing services in USA, Germany, India, UAE, and UK.
The firm has a dedicated staff of professionals that work efficiently to create engaging video games. Aaryavarta utilizes PhoneGap for cross-platform app development in addition to Kotlin-Android Studio, Angular JS, Swift-Xcode, and Node JS while creating websites and mobile applications.
The team uses game engines including Unreal, Cocos2dx, Corona, libgdx, etc. They are also committed to the creation of apps and high-quality mobile games for a variety of devices.
Kevuru Games
A production firm that is both inventive and experienced. It specializes in game and application development for businesses that specialize in creating both IT and video games.
For more than a decade, it has collaborated with the game industry's biggest names, providing concept art for Epic Games' Fortnite and 3D characters for Lucasfilm's Star Wars: Tales from the Galaxy's Edge, among many other projects.
Read More: Top 10 Play to Earn Tokens by Market Capitalization
It focuses on creating high-quality 2D and 3D visuals for games across several platforms and developing and porting games and apps to multiple social networks and mobile platforms (iOS, Android, and Windows Mobile).
Chetu

Chetu is a company that pursues the creation of mobile and web-based applications, with over 2,800 professional software developers. To provide enterprise-grade solutions, the company combines its technical competence, unique subject experience, and a desire for perfection.
With Chetu's mobile game development tools, you can create avant-garde, immersive games that can be enjoyed by players anywhere around the globe. It delivers engineering native, online, hybrid gaming platforms, AR & VR game solutions, and tablet and mobile device apps.
Developers working on the company's video games software are experts in areas including full-motion animation, modeling, and rendering in both 2D and 3D.
The organization's professionals are proficient in utilizing CRYENGINE, Unity 3D/5.0, Maya, Houdini, Riot Engine, JavaScript, HTML5, C/C++, Unreal Engine, and more to model/render animations.
Ubisoft

Ubisoft is a French company based in Paris that excels in video games, mobile apps, and other forms of digital multimedia. Its well-known brands include Just Dance, the Tom Clancy series, Assassin's Creed, Watch Dogs, Rayman, and Far Cry.
Ubisoft's broad global workforce of over 21,000 individuals and 59 studios allows the business to provide delight to gamers of all backgrounds and cultures throughout the world.
Ubisoft uses AI in many aspects of the company to help build more realistic environments. With 35 years of scientific advancements, it has created inventive artificial intelligence for games, giving non-playable characters knowledge of and responses to player actions and interactions with the system.
Ubisoft's R&D teams use the newest Machine Learning methods to develop the greatest tools for its creators, construct more convincing worlds, and enhance game player experience by lowering online toxicity for safer gaming experiences.
Epic Games

An American company that produces a variety of video games and produces and publishes software. Its headquarters are located in Cary, North Carolina. Epic Games creates games and licenses its proprietary game engine technology to other companies who make games.
Epic Games' video games, including the Gears of War and Infinity Blade series, as well as Fortnite and the Unreal, are powered by the Unreal Engine, which Epic Games also makes accessible for purchase.
The Unreal Engine is the world's most sophisticated real-time 3D development engine, enabling users to bring their ideas to life and create unforgettable real-time experiences.
Game developers are given the power to develop high-fidelity, immersive experiences for use on personal computers, gaming consoles, mobile devices, and virtual reality hardware.
iTechArt

iTechArt is the go-to partner for new and rapidly expanding information technology companies looking for trustworthy game developers, artists, creative talent, and state-of-the-art technologies. It is a major software development business offering AI-powered solutions that bring improved scalability, efficiency, and profits.
iTechArt's specialist gaming teams are equipped with over 2700 brilliant minds, which enables them to go to great lengths to invent game scenarios, construct level designs, provide post-launch QA and testing assistance, and code anything.
Conclusion
The gaming market has to be seen as the primary force that will shape the future of game creation. The business world is getting ready to leap to a more advanced level, one that will be dominated by advanced technology and top researchers capable of conceiving, creating, and carrying out unique services and products.
The more names you see or hear of game development companies, the more difficult it might be to locate a reputable one. It is decided with the assistance of several criteria, one of which is your needs. 
Here, you have found some of the most prominent names in the gaming industry. You will be able to make a good decision if you keep in mind both the criteria and the expectations that you have.