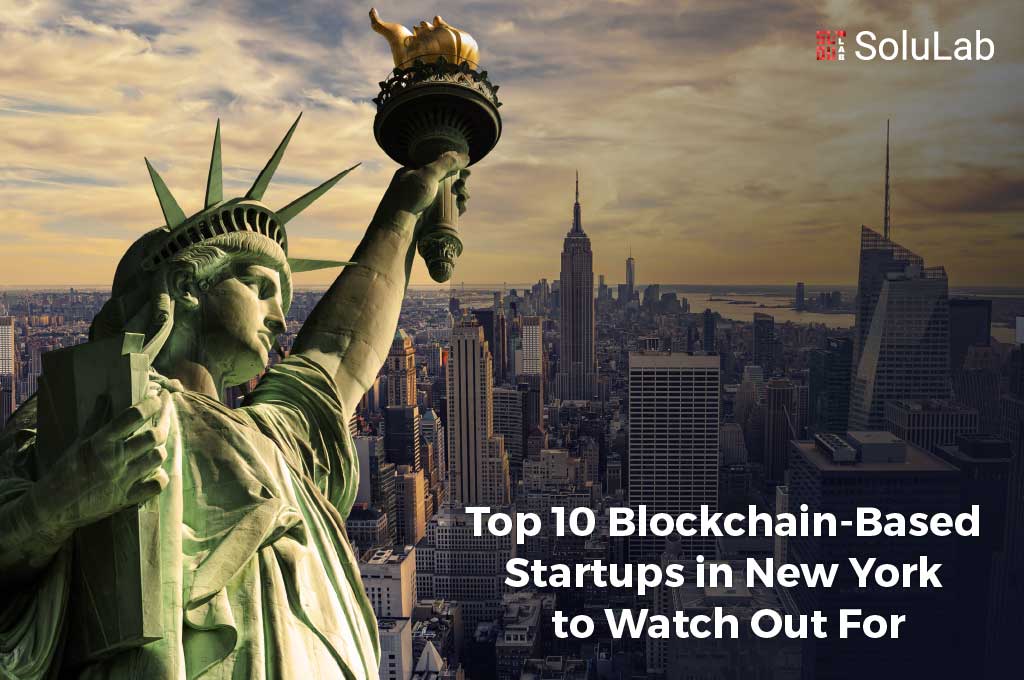 Blockchain technology has taken the world by storm over the past few years. We have seen a massive rate of adoption of blockchain in various business sectors. The popularity of blockchain is major due to the wide array of benefits it offers. It is exactly the reason why businesses belonging to different industry verticals are looking forward to integrating blockchain technology into their business processes to leverage the potential of this emerging technology to the fullest in the best possible manner for their benefit.  
The rise in the adoption of blockchain technology has readily increased the demand for blockchain development and associated services. The increasing demand for blockchain-related services has resulted in the emergence of a number of startups that specialize in offering these services. Over the past few years, we have seen a consistent rise in the number of blockchain-based startups. Therefore, to have a clearer idea about the blockchain services market, here we have listed the top 10 blockchain-based startups in New York that you need to watch out for. 
1.  Hiro Systems

Hiro Systems is one of the top blockchain-based startups in New York that specializes in building tools for developers for Stacks, which happens to be the network enabling smart contracts and apps for Bitcoin. The company was founded in the year 2015 with present employee strength of 40 happens to be the core entity within the Stacks Ecosystem, which is a collection of independent entities, developers as well as community members who work together with the common intention of building a user-owned internet on Bitcoin.
2.  Aptos 

Aptos is another startup in New York focusing on delivering the safest as well as most scalable Layer 1 blockchain in the world. Within just a year of existence and a mere employee strength of 35, the startup has earned a name for itself in the world of blockchain. The team of Aptos consists of highly experienced members comprising of the original creators, designers, researchers, and builders of Diem, which happens to be the first blockchain that was developed to serve this purpose.
3.  Rift Finance 

Rift Finance is another of the top blockchain-based startups in New York, founded in the year 2021 with only six employees. However, their services happen to be top-notch. The company helps decentralized autonomous organizations or DAOs to attain sustainable liquidity in decentralized exchanges without making use of any harmful alternatives. Rift happens to be a decentralized protocol that plays a significant role in restructuring incentives to bring about an improvement in liquidity across DeFi.
4.  GBI
GBI is another addition to the list of top 10 blockchain-based startups in New York, with a total employee strength of 50. It is one of the rapidly growing fintech companies, focusing on the development of groundbreaking technology at the intersection of alternative assets, including cryptocurrencies as well as precious metals. The core platform of GBI permits the clients to buy, sell, and store digital currencies & precious metals within their existing accounts as well as trading systems.
5.  Pinata

Pinata is a well-known startup in the field of blockchain, cloud, and web 3.0, helping build the future of web 3.0 by empowering creators to share their content in the way they prefer. The focus is on building the most accessible NFT platform for creators to conveniently manage, share, as well as monetize their media. Within just four years since its inception and an employee strength of 38, Pinata has gained a lot of popularity in the world of blockchain. 
6.  AlphaPoint

AlphaPoint happens to be a fintech startup company powering the exchange of digital assets worldwide. It allows customers to tokenize their assets and launch marketplaces with the help of its secure, scalable, and customizable digital asset platform facilitated by its white label exchange & asset tokenization technology.
7.  Jibrel 

Jibrel is a startup blockchain development company based out of New York. Since its inception in the year 2017, the company has been offering specialized financial technology products for Tier 1 Banks, non-banking financial institutions, as well as governments, and regulators. The company, with its employee strength of 18, focuses on leveraging the latest innovations in smart contracts and distributed ledger technology to develop decentralized financial networks. 
8.  OpenCrowd Inc.

OpenCrowd Inc. is another premium blockchain-based startup in New York crafting high-end digital products for clients making the best use of blockchain technology. The company has a small team of proficient experts who are capable of delivering top-notch solutions to clients. 
9.  Horizen Labs 

Another of the top ten blockchain-based startups to watch out for is Horizen Labs. The company takes pride in being a leading expert in building web 3.0. Horizen Labs aims to provide the most efficient pathway to build a highly secure as well as scalable blockchain. Founded in the year 2019, the company has earned a name in the blockchain industry, offering premium blockchain development services. 
10.  Starlight
 
The final name in the top ten list of blockchain-based startups in New York is Starlight. The company plays a significant role in helping different companies belonging to different industries appropriately manage their digital or crypto assets. Starlight offers everything required by a business to operate in the crypto economy, starting from setting up crypto wallets to buying crypto and tracking expenses.
Read Also: Top 10 Startups that are Revolutionizing Healthcare Industry Using Blockchain Technology
Closing Thoughts
The emergence of blockchain technology has clearly increased the demand for blockchain-based services. However, it becomes immensely important to make the right choice in this regard to get the best of services and make the best use of blockchain technology in businesses. Therefore, it is recommended that business owners should carefully analyze the credibility of the blockchain development companies and service providers prior to selection. Referring to the above list of top 10 blockchain-based startups in New York can help make a well-informed choice.