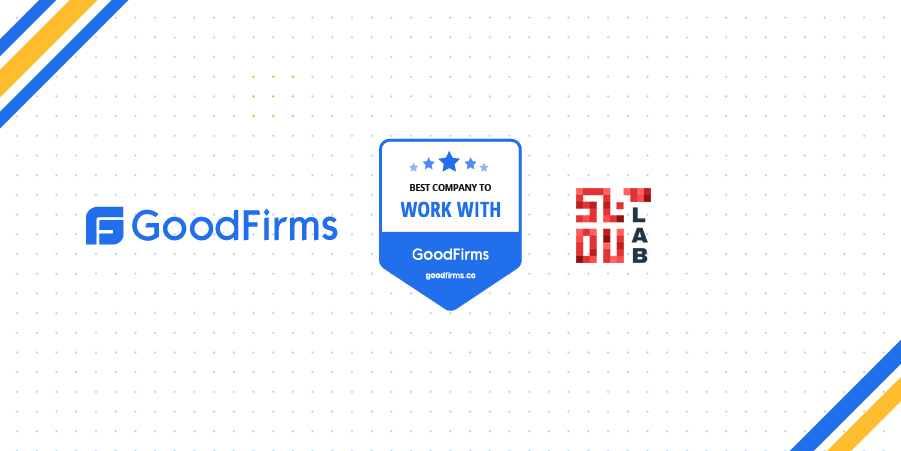 Ever-growing market competition demands businesses to think beyond simple websites and mobile applications and implement cutting-edge technology solutions, including augmented reality (AR), virtual reality (VR), blockchain, internet of things (IoT), and more that offer exceptional user experiences and many more benefits, helping them stand out from others. Businesses are thus looking for the top mobile application development companies with expertise in wearable app development, website development, blockchain, Metaverse, AR, VR, IoT, NFT marketplace, crypto launchpads, and real estate tokenization to gain a competitive advantage and achieve uninterrupted growth.
GoodFirms has recognized SoluLab for its outstanding skills and versatile experience that put the Company as one of the top market influencers through the Leaders Matrix program, and was identified as the "Best Company to Work With." With multiple offices in the USA, Canada, Australia, and India, SoluLab offers end-to-end digital solutions to businesses worldwide, with leading capabilities in web development, white label nft marketplace, white label real estate tokenization, white label ICO platform, mobile app development, blockchain development, smart contracts development, native app development, cross-platform app development, wearable app development, progressive web apps, AR/VR, IoT, machine learning, DevOps, SaaS development & maintenance, and many more IT services.
For the year 2023, GoodFirms named SoluLab as the "Best Company to Work With."
If you are looking for the top application development companies experienced in wearable application development, SoluLab is the one-stop solution for all your business needs, recognized by GoodFirms Leaders Matrix. Right from its inception in 2014, SoluLab has been leveraging its exceptional talent, professionalism, and global experience to create value for its clients, helping them grow their businesses beyond limitations. The company takes pride in having delivered 1500+ projects and earning numerous happy clients across the globe. GoodFirms recently recognized SoluLab as the "Best Company to Work With" in 2023.
SoluLab – Vision, Strength & Scope
As an experienced application development partner, SoluLab has the aptitude and diligence to understand the diverse needs of businesses worldwide and create tailored solutions to help them grow. The company has a vast customer base across varied industries, including education, health & fitness, entertainment & media, transportation & logistics, travel & tourism, retail, e-commerce, and energy. SoluLab follows a customer-oriented development approach and maintains an industry-competitive 97% customer success score with excellent reviews from its clients.
One of the notable works of SoluLab was a mobile app development project for a client to build an on-demand liquor delivery app. The client was impressed with their work and highlighted that the product SoluLab developed is the best liquor store locator and a rare source to find alcohol and not just a stereotypical on-demand delivery mobile app.
Further, SoluLab developed a social video platform for a musical app. The client was very happy with SoluLab's excellent work, which earned them highly effective engagement. They highly recommended SoluLab and rated them a full 5/5 for this project. SoluLab has many such client reviews to its credit.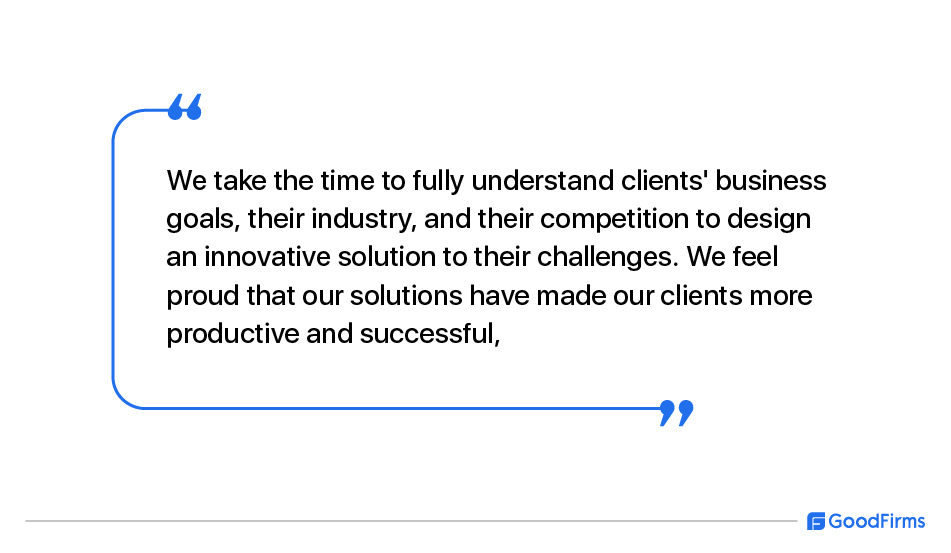 A few reviews of SoluLab: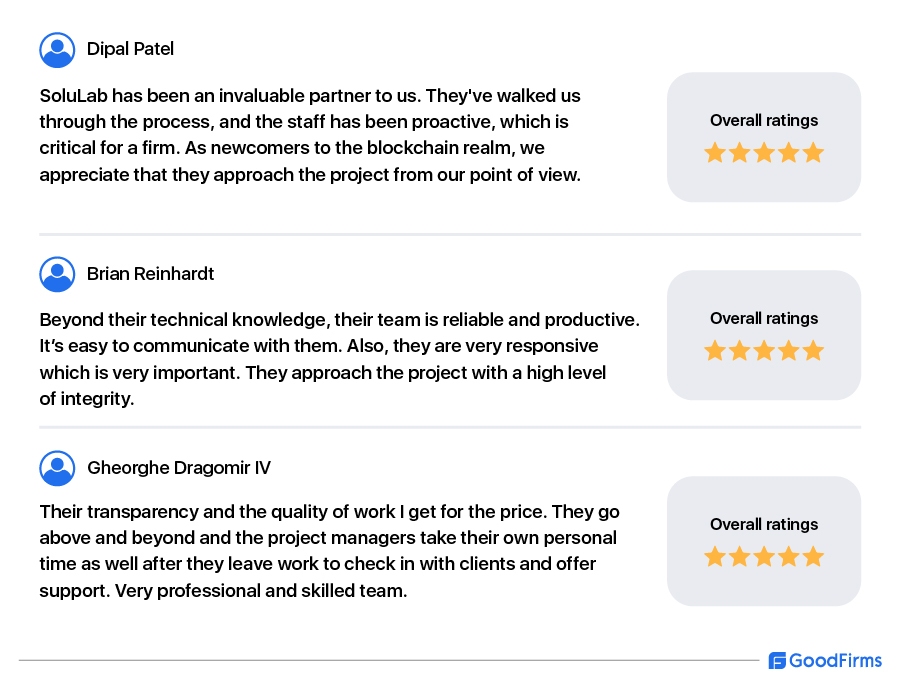 Why is SoluLab the Best Company to Work With?
Amidst immense market competition, a company needs talent, agility, constant learning, out-of-box thinking, transparency, and rationality to stand out and gain a higher edge among other application development providers. With a perfect amalgam of these traits, SoluLab offers worldclass digital solutions and IT services that empower its clients to meet the dynamic market needs at affordable prices.
"We believe SoluLab's positioning in GoodFirms' Leaders Matrix report reflects the company's exceptional potential in offering best-in-class solutions to businesses through website development, mobile app development, broad-spectrum blockchain development, and many more services, helping them digitalize, rejuvenate, grow seamlessly, and lead the race," said GoodFirms.
SoluLab had to undergo a rigorous assessment under the GoodFirms Leaders Matrix program. The evaluation covered the service landscape, verified client reviews, experience in the domain, market, competitive positioning, and much more. Such analysis helped surface in-depth strategic information about SoluLab's capabilities, competitive differentiation, and market position.

About the "Best Company to Work With" Badge
"Best Company To Work With" is an exclusive program run by GoodFirms where the Leaders Matrix companies are recognized with a Badge, an exclusive article about the Company, and a supporting PR. Such recognition stands as a support to developing trust and authenticity within the B2B community. It also allows the participating companies to improve their ranking – rank higher in the Leaders Matrix categories, receives inbound backlinks from GoodFirms LeadersRoundtable podcast campaign, and get a certified Badge saying, "Best Company to Work With."
About GoodFirms
GoodFirms is a B2B research, review, and listing platform helping businesses accelerate their digital journey and to maximize the value of modern technology. The company connects service providers with service seekers through a comprehensive and thoroughly researched fact-based list of the best services and solutions. Recognized as the most reliable source for the B2B market, GoodFirms has world-class experience with partners across the globe.