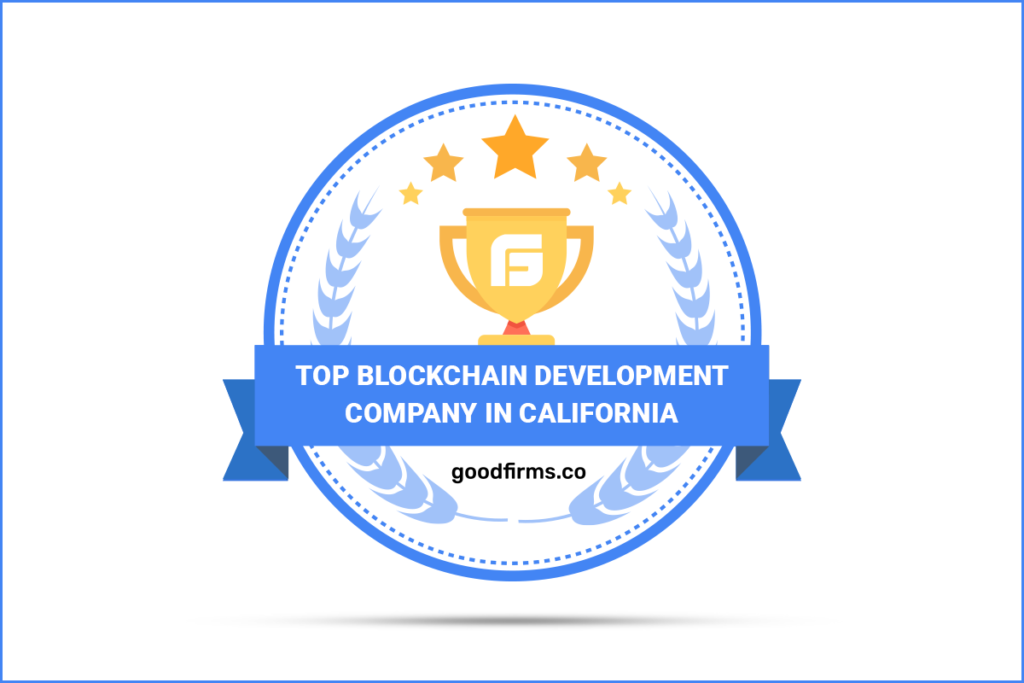 Today, Blockchain development is one of the fastest-growing technologies in the era of information technology. The requirement for blockchain developers is increasing, especially with the rise in decentralization-based financial services and the critical integration of blockchain technology into various industries.
Cutting-edge technologies such as blockchain, Web3, Meraverse, artificial intelligence (AI), ChatGPT development, custom software development, and the Internet of Things (IoT) are becoming essential for businesses to implement in this competitive environment. When it comes to providing such emerging technologies-based IT solutions, SoluLab comes into the picture!
Let's discover what SoluLab offers and how it works in blockchain development and other cutting-edge technologies!
From Idea Generation to Implementation
SoluLab was founded in 2014 by two friends, Chintan Thakkar, and Rajat Lala, enthusiastic entrepreneurs in providing high-tech solutions globally, with headquarters in Los Angeles, California. Their other offices are in the United States and India.
The company's vision is to supply cutting-edge technology solutions that bring opportunities to aspiring and inspiring professionals seeking knowledge-sharing and innovative environments in the organization.
They have completed blockchain and many other latest emerging technology-based projects with sheer persistence and unmatched professionalism. This has helped them to achieve a prominent position in the list of the top blockchain development companies in California on the GoodFirms – a trusted reviews & ratings platform.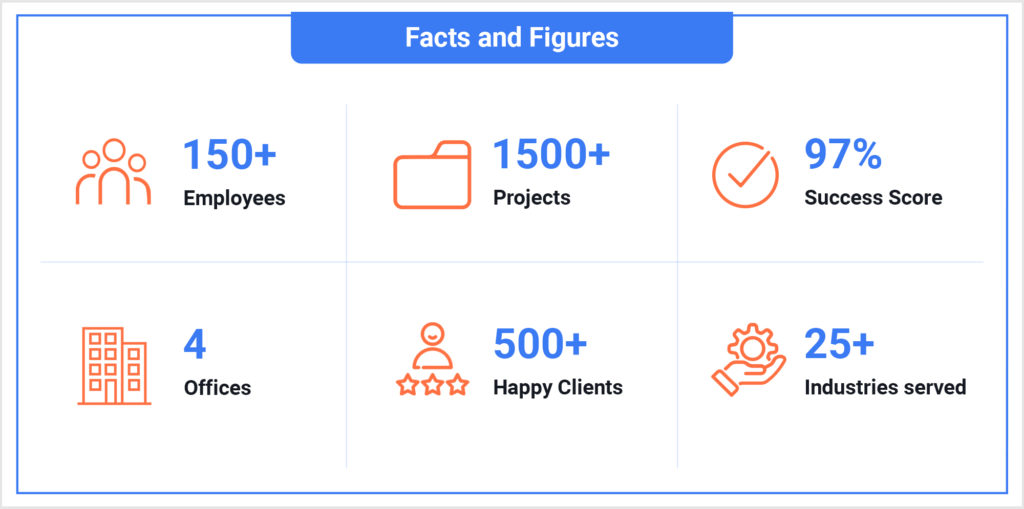 SoluLab is an ISO 9001:2015 and CMMI level 3 certified company. The company serves diversified clients with more than 50M active users of their created applications. They partner with Fortune 500 companies to growth-driven startups, including Walt Disney, Goldman Sachs, Mercedez Benz, the University of Cambridge, and Georgia Tech.
SoluLab Offers Software Solutions Based On Trending Technologies
Generative AI Development, ChatGPT Development, Blockchain, Web3, AI, IoT, and custom software development are the trending technologies that are capturing the attention of many big brands, transforming their business platform into more digitally advanced systems.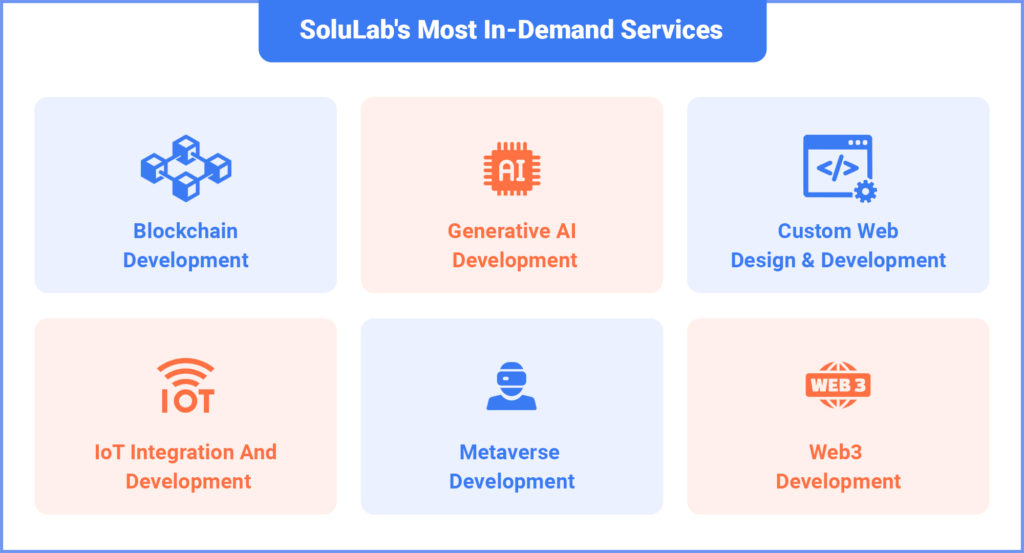 Blockchain Development
Today, blockchain technology has become an integral part of startups, large enterprises, and businesses globally. This trending technology offers secure, decentralized, and immutable app solutions that transform businesses into more efficient and effective automotive versions of their products.
SoluLab's blockchain experts ensure that the traceability and security of applications are improved by creating customized blockchain app development solutions.
A broad range of blockchain solutions by SoluLab:
Blockchain Technology Consulting
Blockchain Protocol Development
Enterprise Blockchain Development
dApps Development
NFT Marketplace Development
Blockchain-Powered Metaverse Development
Smart Contracts Development
Smart Contracts Audit
Cryptocurrency Exchange
Cryptocurrency Wallets
Blockchain & NFT Games
Decentralized Finance
Cryptocurrencies & Tokenisation
DAO Development
Web3 Application Development
Read Our Blog Post: Top Blockchain Technology Companies in 2023
Generative AI Development
The company provides various digital solutions using generative artificial intelligence development. Generative AI models are inspired by many trending technologies like ChatGPT, DALL-E, and Midjurney, implemented by generative AI experts with years of experience and extensive knowledge in AI-powered solutions.
SoluLab's mission is to increase customer satisfaction and bring value to their businesses with AI-based software solutions.
Check Out Our PR Article: SoluLab Launches Generative AI Consulting and Development Services
Custom Web Design & Development
They possess experienced and skilled professional web developers who create custom software solutions based on various technologies, including PHP development, WordPress, Ruby On Rails, Node.js, Angular JS, Python, and Mean Stack.
The team focuses on creating innovative design and development that helps clients distinguish from their competitors globally.
Check Out Our Press Release: Building a Competitive Edge with SoluLab's Custom Software Development Services
IoT Integration And Development
The company's Internet of Things (IoT) development service helps improve their clients' business ROI by implementing automotive business processes with Hi-end IoT applications. This technology works well in terms of providing full-stack IoT business solutions.
Most essential IoT solutions offered by SoluLab:
Smart Heating
Smart Gardening
Video Doorbells
Personal Assistants
Read Also: Top IoT Development Companies 2023
Metaverse Development
SoluLab's Metaverse development team helps their clients with comprehensive consulting that helps them reach their full potential with sustainable solutions. They have experience working with various industries and capabilities to provide the most in-demand eCommerce shopping solutions using Metaverse-based virtual reality and augmented reality technologies that deliver an extraordinary experience to consumers.
SoluLab's Metaverse Solutions:
Metaverse Consulting
Metaverse Gaming
Metaverse Marketplaces
Social Metaverse
Metaverse eCommerce
Real Estate Metaverse
Metaverse NFTs
Decentralized Spaces
Metaverse DeFi
Three-Dimensional Spaces
Metaverse Integration Services
Metaverse Application Development
Web3 Development
Web3 is a new concept to the Internet world that is decentralized, secure, and transparent, unlike Web2 which few tech companies govern the Internet. Today, the current version is Web2, and Web3 has become a benchmark of digital business security by offering a reliable policy allowing users to control their data and digital assets.
SoluLab's Web3 experts are determined to create a bright future for the internet community by providing solutions based on Web3 ethos. The team has years of experience in customized Web3 development solutions that provide users with more secure communication and safe transitions that help make the world a better place.
The company provides various Web3 solutions:
Web3 Platform Development
Web3 Integration Services
Web3 Application Development
Web3 Real Estate Platform Development
Web3 Games Development
Web3 eCommerce Services
Web3 NFTs
Web3 Social Media
Web3 Enterprise Solutions
Exchange Development
DeFi Development
Smart Contract Development
The below-mentioned client reviews elucidate Solulab's top-notch blockchain development services and excellent customer service.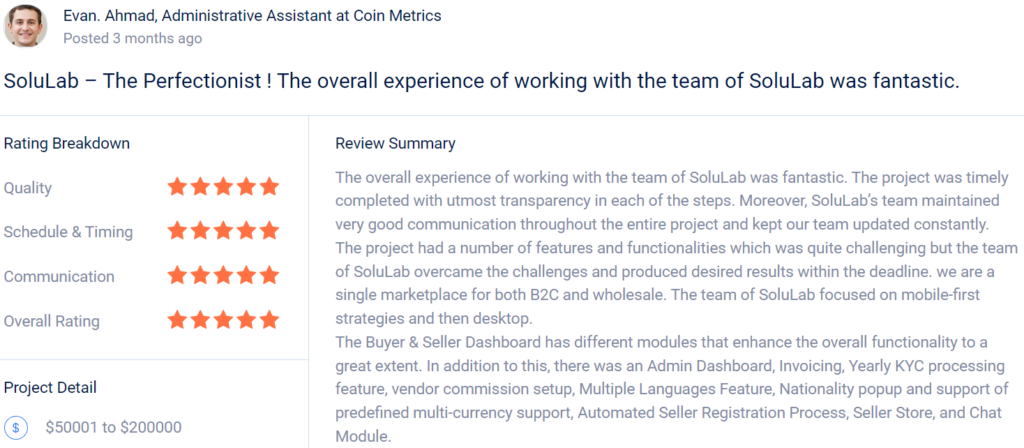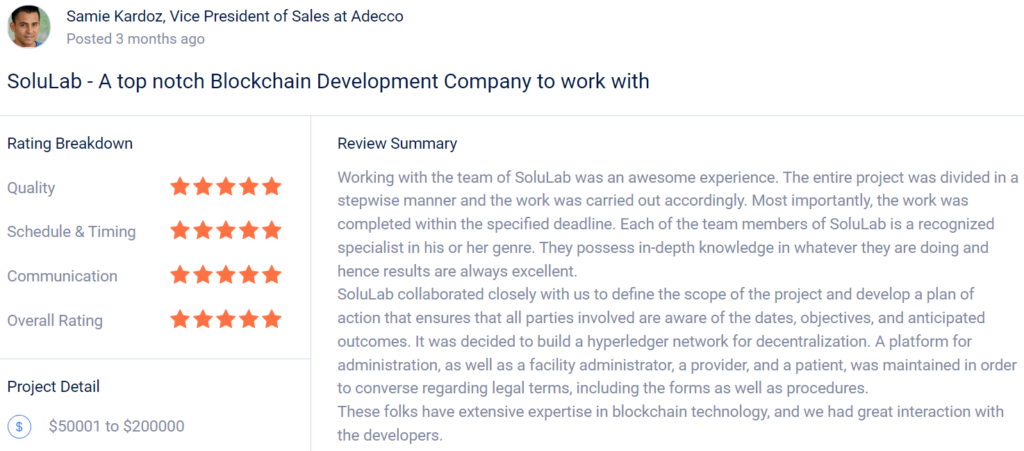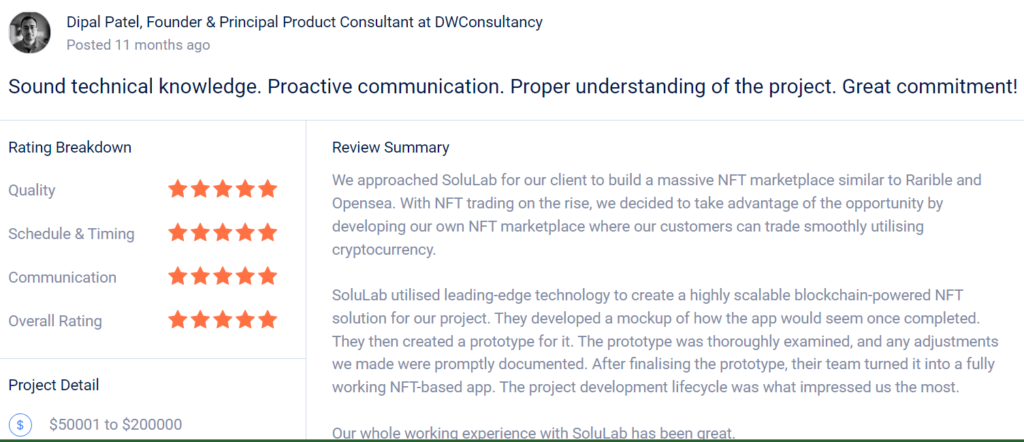 Click for more reviews.
Why Does GoodFirms Think SoluLab is the Most Reliable and Professional Blockchain Solutions Provider?
SoluLab specializes in many cutting-edge technologies, and blockchain development is one of their most in-demand services that offer a wide range of blockchain solutions that helps businesses globally. They have helped various startups and large enterprises with more efficiency and productivity of their businesses by providing result-orientated blockchain services.
The company's motto is to make businesses valuable with maximum return on investment through a comprehensive approach towards blockchain development with transparency and unmatched professionalism.
This technology bridges the gap between a decentralized network and a fully independent digital application, eliminating the need for any dedicated authority or central server. SoluLab's professionals believe that using their best-in-class customized blockchain solutions helps their client's businesses grow faster.
Check Out the Article: SoluLab Honored By GoodFirms as the Winner of the Trusted Choice Award 2023
Blockchain network that SoluLab support:
Ethereum
Polygon
Cardano
Avalanche
Near
Optimum
Chronos
Telos EVM
Binance
Solana
EOS
Fantom
MoonBeam
Aurora
XinFin
xDai/Gnosis
Awards & Recognition Achieved By SoluLab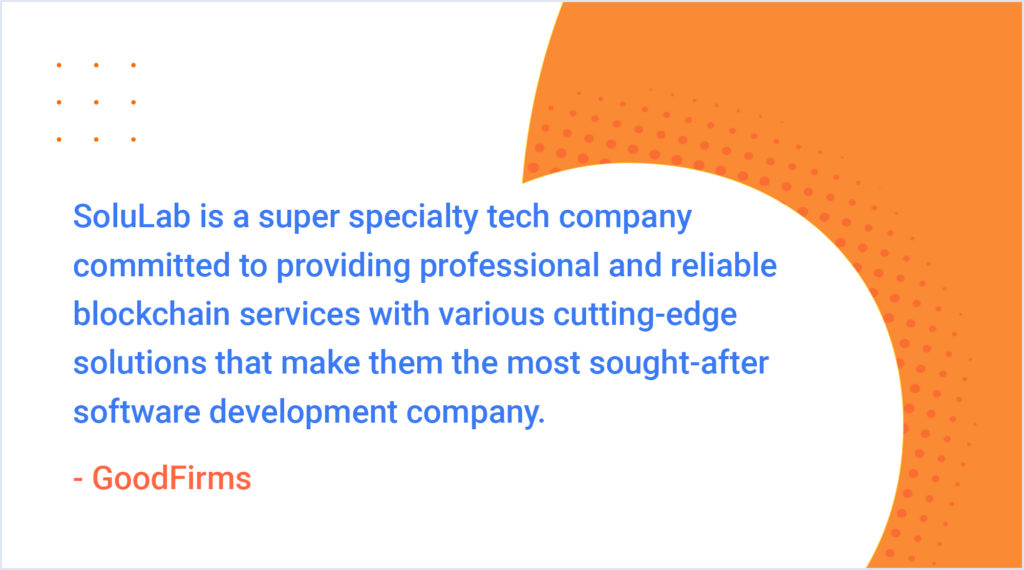 Conclusion
The power of technology is growing daily due to its incredible contribution to providing great ease in business that can create more opportunities for small to medium enterprises and large organizations to develop and grow rapidly and firmly. SoluLab is one of the IT companies which has proved that cutting-edge technologies are the future of the most sustainable world economy and inspire people to take advantage of its unmatched support in business globally.
About GoodFirms
GoodFirms is a trusted B2B research, review, and listing platform helping businesses accelerate their digital journey and maximize modern technology's value. The company connects service providers with service seekers through a comprehensive and thoroughly researched fact-based list of the best services and solutions. Recognized as the most reliable source for the B2B market, GoodFirms has world-class experience with partners across the globe.