Mobile industry has been growing ever since its invention and furthermore since the invention and incorporation of internet usage via mobile applications. This led to the rise of smartphones and with time today something known as progressive web apps is one the rise. Some of you, might know what it is and some of you might not have heard about it. But, today, they are changing the mobile industry as we know and many every progressive web app development company has realized its potential.
Progressive Web App (PWA) Framework: Are They Potential To Be A Game-changer?
Some of the best-known progressive web app examples are Netflix, Google Docs, Trello, etc. Progressive web apps look similar to native apps and has the ability to operate offline in a local system too. Unlike the limitations of a native app, progressive web apps provide unrestricted access and flexibility to the user. There is no requirement or need for app store to get access to the web application.
Progressive web apps provide users with the new ways of operating an application. Further, progressive web apps also provide features that enhance user experience.  Also, this can be noticed highly in Netflix, where users can interact with the given features and customize the watch list of movies or series according to their preference.
Progressive Web Apps: What is it?
Similar to typical websites, these are web applications that load and operate like a web page. The inbuilt functions of a progressive web apps can work offline too. Similar to mobile applications, they also send and receive push notification and in-web app notifications. It uses the modern technology and techniques to provide a native-app like user experience is one way to put it.
Features such as syncing, push notification and caching are enhanced by progressive web applications.
Progressive Web Apps: Makes Sense That It Has Potential For The Future
According to Free Code Camp, an individual spends an average of 80% of their total time on applications that include both mobile and web applications. Most people prefer the chrome browser to access web applications that meet their needs.
The time taken and the cost incurred in developing a mobile application is higher than developing a web application. This is one of the major reasons why, progressive web applications show potential progress and may positively disrupt the future of mobile technology and internet industry as we know.
The maintenance cost of progressive web applications is lower than the maintenance cost of a mobile applications because of the minimal requirement in server and database maintenance cost.
Progressive web apps: Why is it considered as the next big digital revolution?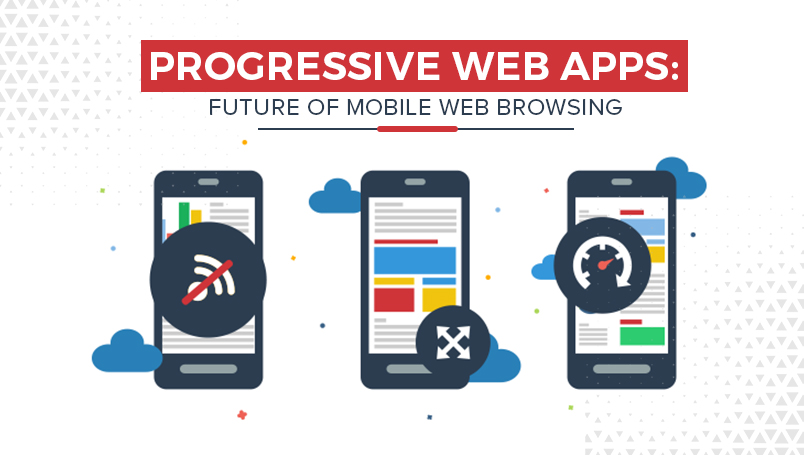 Progressive web apps are reliable
With pre-caching ability, these apps can create cache of important resources efficiently and keep them secured. This eliminates the network dependency, that traditionally delayed operations and increased the operative time. With network dependency eliminated, user experience is enhanced and they get instant access to features of the progressive web application.
Progressive web apps are fast
According to a study conducted by Google, 53% of the users around the world, exit a website if it takes more than 3 seconds to load or provide response.
With progressive web apps, there is no delay in loading and response time. They enhance the performance of the web applications and this in turn allows business entities to retain customers and users.
Progressive web apps are engaging
Progressive web app development provide users with full-screen user experience and this allows users to satisfyingly have an enhanced user interface. This is accomplished by using manifested files of web application, which is actually a JSON file. It enhances the browser interaction with the web application. This keeps users attracted and engaged on using progressive web apps.
Progressive web app development: benefits of using them
Compatible with multiple platforms
Mobile applications built for android mobiles will only run in android devices. Mobile applications built for iOS mobiles will run only run in Apple devices. Progressive web apps can run in multiple platforms with one-time build. There is no requirement of separate development for each platform. This also saves a lot of time and cost.
Reduced download size is a gift to users
One of the biggest reasons why users hesitate or do not download a mobile application is because of its download size. Some mobile apps are even in Giga bytes and users simply do not have unlimited storage. Progressive web apps are mostly only 100 kilo bytes in size and users do not have to worry anymore about the size of download.
Important features of progressive web apps
Some of the interesting and attractive features of progressive web app development are:
home screen installation,

media recording,

inter-app communication,

ambient lighted interface,

task scheduling

proximity sensors, etc.
These features enhance the interoperability, user experience, increase performance, provide easy accessibility and ease of storage.
Conclusion: Future of progressive web app development
Google as always is in the phase of taking technology to the next level by trying to integrate progressive web apps and android instant apps (AIA). Google is confident on accomplishing it as soon as possible. If this is achieved then native apps and progressive web apps can work along with each other providing borderless access and unimaginable possibilities in enhancing the user experience.
Users can download progressive web apps without any prior permission or any requirement of access from app store. It will also allow users to discover and find applications by using a search engine or simple links. With progressive web apps, developers can easily convert a website into a PWA. With all the above information said, it is evident that progressive web apps show promising features for the future.
Let us know what are your views on progressive web apps and if you think they are the next big digital revolution.