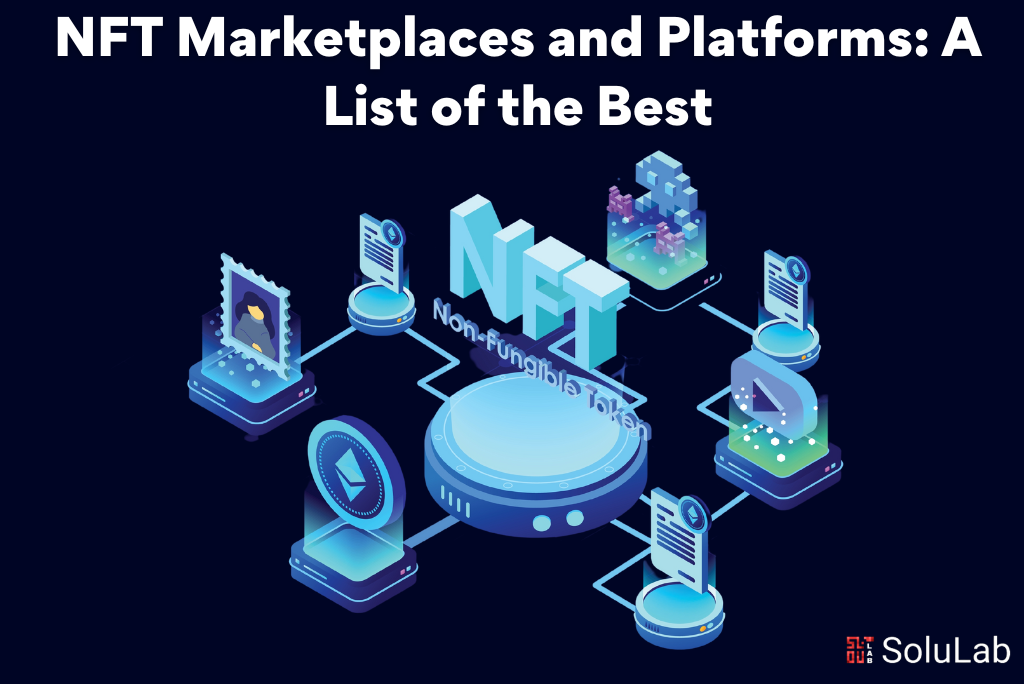 The best NFT Marketplaces can mean the difference between selling a brand-new work of art and discovering a brand-new project to collect. Additionally, NFT markets provide more than just places to buy & sell digital art; they also serve as a gateway to a community of ardent creators and collectors.
To choose the ideal NFT marketplace for you, you must take into account the fees you will pay, the type of art that is offered (does it fit your style? ), the blockchain, and even the cryptocurrency that will be utilized. There are plenty to choose from, and our guide to NFT cryptocurrency can be useful. The majority of NFT marketplaces utilize Ethereum, however, some are choosing newer blockchains because of their lower gas fees (which you must pay to generate your NFT) & better carbon footprint.
The top and most intriguing NFT marketplaces list for buying and selling digital art are listed below. One of these marketplaces should meet your needs, if you're buying, selling, or even just inquisitive about NFT. Even if you don't currently have any plans to use an NFT marketplace, it's still a good idea for everyone working in the creative sector to be familiar with what they are and also how they operate. Read on for our list of the top NFT marketplaces if you're ready.
A list of the Best NFT Marketplaces
01. OpenSea

OpenSea is among the most established and popular NFT markets. Secured its place in the most NFT Marketplace lists, Additionally, it is one of the most diverse, featuring every NFT, including works of art, music, photographs, and sports collectibles. Consider OpenSea to be the Amazon of NFT markets. It carries everything. Its support for more than 150 cryptocurrency payment tokens demonstrates this. OpenSea is simple to use; after creating a free account, you can begin minting, selling, and browsing right away.
Additionally, OpenSea now advertises that with cross-blockchain interoperability, it is a gas-free NFT marketplace. You won't have to pay transaction fees because the market now accepts the Polygon cryptocurrency. According to OpenSea, this implies that for the first time, artists may "completely make their way into cryptocurrency."
02. Magic Eden

Magic Eden is quickly turning out to be one of the favorite new NFT markets. Since the NFT Crash, the use of Ethereum for trading & minting NFTs have gradually decreased; the network is still enormous, but use is waning as a result of high gas costs.
Solana, a more recent blockchain that is less expensive and more environmentally friendly, has taken its place. It experienced a sharp increase at the end of May when, as per CryptoSlam, sales of Solana NFT increased by 436% in just one day compared to the prior time.
There is no better NFT market than Magic Eden, a dedicated Solana platform if you want to enter into Solana NFTs. If you require a specific wallet, we'd propose Phantom. There are numerous new collections as well as well-established NFT collections like Trippin' Ape Tribe. The main drawback is that in order to start a collection or even an NFT, you must apply for a listing.
 03. Nifty Gateway

Nifty Gateway is possibly the NFT market where the most eye-catching, high-dollar NFT sales occur. It is the location of the sales of two of the most expensive NFTs to date: Beeple's CROSSROAD & Pak's The Merge, which sold in December 2021 for US$91.8 million and it remains the most expensive NFT in the world as of this writing.
The site receives a lot of support on Twitter and attracts famous NFTs. But don't be deterred by that. A few features of Nifty Gateway stand out. First, it uses "open editions," in which an infinite number of copies are produced for a short time and sold at a basic price. No more NFTs are ever issued after the timer expires. As a result, there is a significant market for secondary sales and scarcity. Second, Nifty allows collectors to acquire NFTs using Fiat (money issued by the government), thus payments can be made with credit cards rather than cryptocurrencies. That makes it more approachable for brand-new customers who are unfamiliar with cryptocurrency wallets.
Read more: Top NFT Marketplace Development Companies in 2023
04. Rarible

Rarible is an NFT marketplace designed to sell both single pieces of art and collections? It attracts sports, gaming, and media brands as well as artists releasing collections of works. Rarible is community-owned and promotes decentralization. It uses its own token, RARI, and the platform's users take part in moderation and get to vote on any platform upgrades. Rarible has partnered with some big brands to secure artists' work and create unique NFTs, including Adobe.
Rarible makes use of the Flow & Tezos blockchains in addition to Ethereum. You can share your search possibilities with OpenSea when you mint your NFT and decide which token to use. The choice of blockchain is an intriguing issue. The most popular cryptocurrency for NFT minting is Ethereum, although it has a significant carbon footprint & gas cost. Although Tezos gas prices are reasonable (around $0.50), it is designed for artists publishing compilations. Since Flow employs "lazy minting," creators pay almost no fees, and its proof-of-stake blockchain has a much smaller carbon impact than Ethereum's.
05. Coinbase NFT
Coinbase NFT is among the newest available, having only completed its full debut in April. Since its trading platform and app are among the most user-friendly and safe, Coinbase has been at the center of the cryptocurrency explosion for some time. Despite this, there have been issues with the website; releasing its NFT marketplace right when the NFT crash occurred was unfortunate.
Coinbase NFT currently has all it needs to be a major success; it can be easily linked to the Coinbase trading app as well as the Coinbase crypto wallet, it has one of the best user interfaces available, and several exclusive NFT projects are going live on the market. a cinematic trilogy about the Bored Ape Yacht Club.
06. Binance NFT

Binance NFT is growing to be one of the biggest NFT markets available. It also has a blockchain of its own to support it. These factors make Binance NFT one of the most reliable contender in NFT marketplaces list.
Due to its size and scope, this sector can provide exclusive collaborations and events that others may wish they could attend. Accessing the market is made considerably simpler if you have Binance tokens (BNB), and you can bid with ETH, BNB, and BUSD. If you want to sell, you can put up ETH or BSC NFTs.
07. SuperRare

SuperRare gives the NFT area more of a gallery atmosphere. It's an NFT marketplace where the value of art is placed first, prioritizing artistic reputation over meme-friendly art. SuperRare doesn't contain a lot of celebrity NFTs. According to reports, it only accepts 1 percent of the total of the artists that apply. While this may sound elitist, it implies that if you are selected, you will be included in a collection of carefully chosen and fascinating artworks.
The strategy gives SuperRare the appearance of a high-end gallery, as well as a rule allowing its artists to mint is among their originals—no Editions here—further enhances that impression. Because of this, the pieces are rarer, as the name implies. Among the best NFT marketplaces for serious artwork and artists is SuperRare.
08. Async Art

Async Art is an NFT market that specializes in "programmable art." Each piece of art is composed of a Master & Layers; the Master is the complete NFT, whilst the Layers are individual components that can be changed. Everything has been "Tokenized," which allows other artists to control various layers & contribute to the evolution of the artwork. Digital art's cutting edge is programmable art. It's a type of NFT art that can't be shared on more conventional gallery sites like SuperRare since it allows several authors to change an artwork over time. Blueprints were also released by Async Art.
09. MakersPlace

MakersPlace is another intriguing NFT market for art that is more serious. Established artists, galleries, and organizations, such as Damien Hirst, Christie's, and comic book great Robert Liefeld, are among those giving NFTs of their work here.
On MakersPlace, artists digitally sign their works, and this signature is recorded on the blockchain. Buyers receive full ownership of the artwork and only a tiny number of original editions are produced, providing a sense of exclusivity. If the artwork is downloaded and copied, it will not be genuine or bear the artist's digital signature.
10. KnownOrigin

KnownOrigin is one of the initial markets for NFT. It focuses on providing rare & collectible artworks in timed releases, or "drops," which let artists choose how many copies are made available. Due to scarcity, prices may increase. The exclusivity is further increased by the requirement that artists apply and undergo screening.
You might want to think about the costs and environmental footprint when bidding since this market uses Ethereum to mint its currency. Additionally, KnownOrigin encourages teamwork on NFTs and works hard to support community messages and provide guidance on drops and sales, including making secondary sales obvious in a separate marketplace. Seth Tillett's collection of photographs by Jean Michel Basquiat is one example dropped on KnownOrigin.
11. Mintable

Mintable is a brand-new player in the NFT industry is supported by billionaire Mark Cuban & wants to provide a wide range of materials while being simple to use.
In actuality, this implies that you may produce an NFT from almost any digital item, including an image, gif, video, music, a text document, and more, and upload it to your platform store. It's simple to do and doesn't require much understanding of blockchains, crypto wallets, or NFTs. While Immutable X allows for free gas fees, Mintable also supports Ethereum as a standard. Even more, convenience is provided by Mintable University, a free online tool that offers practical video training to improve NFTs.
12. Foundation

Foundation was operated as an exclusive club for artists; it started as a community-curated platform maintained by a small group of artists. But as of late, everyone is welcome inside. Even though it has only been in operation for a year, its developers have already collected $163,263.94 in total. You require an invite from an active artist to join Foundation, and each artist is limited to using one invite.
The artist receives 85% of the value when they sell an NFT on Foundation, and secondary sales generate 10%. Although this is less than other NFT marketplaces, NFTs on Foundation are often more expensive and retain their value. Compared to what you might discover in some other markets, creators tend to be more sincere and genuinely artistic.
Conclusion
The aforesaid information allows us to draw a conclusion and see that NFTs are the present and the future of the digital world. Since investing in them will be viewed as a smart move, keep a watch on the trading activity and try to rule the NFT world. Make your way to the aforementioned NFT marketplaces list to start investing in digital assets, works of art, and collectibles. Before choosing, be sure to choose the market that best meets your buying & storage needs based on the type of NFT you want to buy and the cryptocurrency you want to use for transactions.
Additionally, keep in mind that this is a young industry and is therefore very speculative. Occasionally, a select few NFTs will skyrocket in value, but there is no assurance. Remember that the value of digital collectibles and the arts work similarly to the value of physical collectibles and the arts: Value is based on a variety of subjective criteria, including uniqueness and the reputation of the person who made it. Consider your overall financial strategy, net worth, & investing time horizon while making purchases.