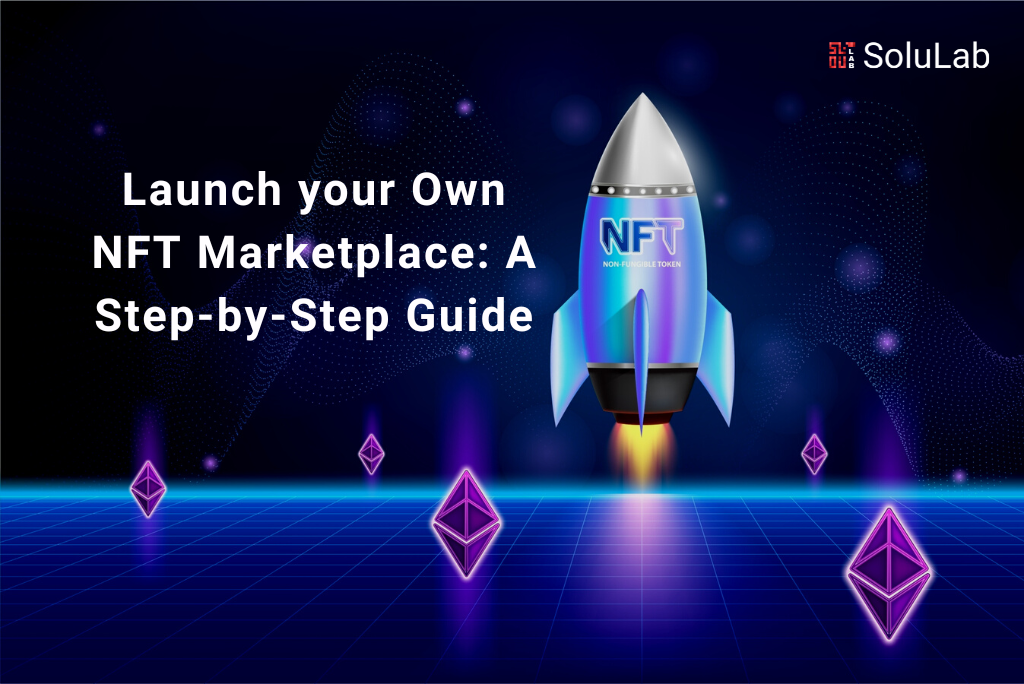 Today, the NFT sector is a means of conveying yourself through digital art but is a promising financial instrument. NFT artists earn remarkable amounts of money, and buyers receive one-of-a-kind items for resale or collection. However, purchasing and selling NFTs without an intermediary is unthinkable. NFT marketplaces come in handy here.
Explore the NFT Marketplace and its functioning
NFTs, unlike Bitcoins and other fungible tokens, cannot be marketed directly. Instead, you'll need to use an outlet called NFT marketplace.
NFT marketplaces are virtual or online retail malls where users may buy and trade NFTs.
Users may sign up for an account, add digital artworks or other materials, and sell or buy.
Tokens or digital assets can be easily auctioned, purchased, and sold at a fixed price here. You will need crypto wallets to store and exchange NFT tokens on the NFT platform.
NFT Marketplace: Benefits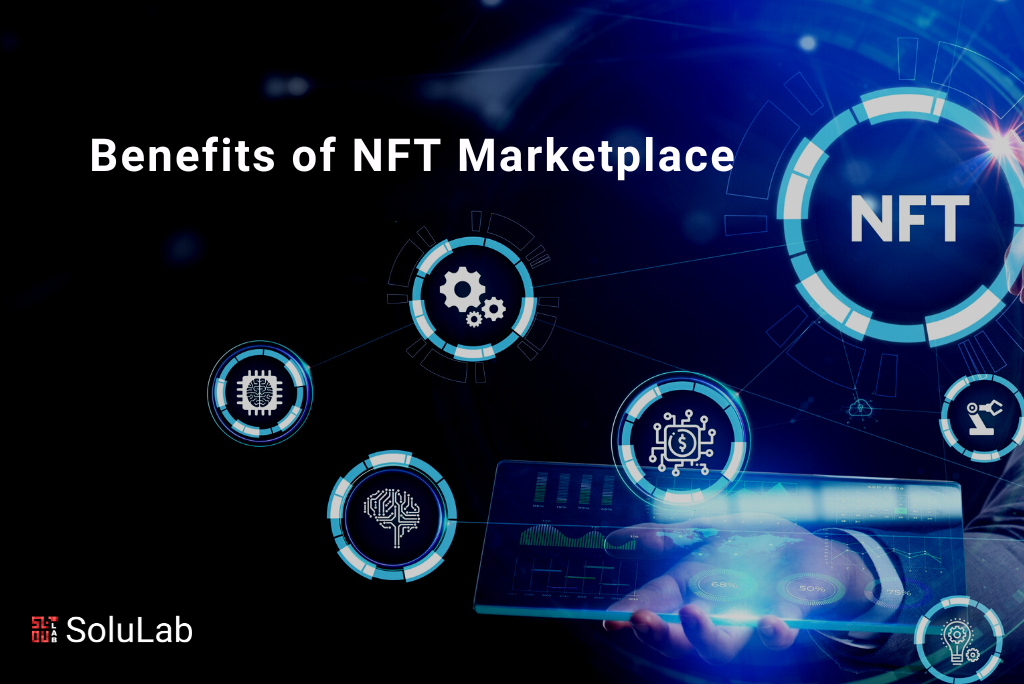 The proliferation of NFT marketplaces is changing the face of online transactions by providing a more transparent, secure, and profitable means of trading assets.
Key advantages of NFT markets are outlined below, highlighting why they are the superior method of the online transaction and the best option for you.
The blockchain secures all transactions in the NFT marketplace.
You may gain the benefits of highly secure transactions, which prevent you from transactional loss and ensure no one can rob or defraud your digital assets.
Furthermore, your assets will not be eliminated, distorted, or misplaced because the blockchain network is immutable.
The NFT marketplace not only provides built-in validation as evidence of ownership but also makes it possible to purchase and possess real, one-of-a-kind items.
You can also tokenize your assets and sell them on the NFT marketplace.
Creating a decentralized platform is the key to developing an NFT marketplace. Consumers may engage in asset trading without the intervention of other parties like financial institutions, authorities, etc. This is made achievable by blockchain technology.
How to Establish an NFT Marketplace?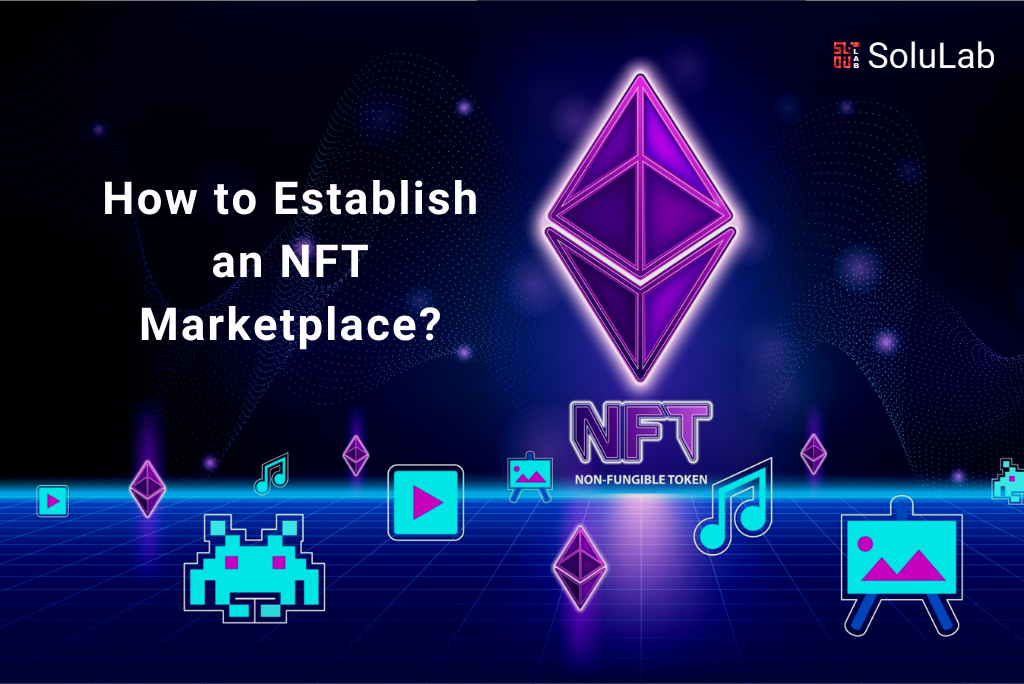 If you are thinking about assembling an NFT marketplace for your business, you must take the following steps:
1. Consolidate on Your Niche
To begin, your custom NFT marketplace design must be appropriate for your chosen niche.
It might be influenced by digital artwork, video game stuff or even music.
Note that optimizing the structure of your NFT platform to match the demands of your unique target group will allow you to generate more visitors and build your client base.
2. Select the appropriate Blockchain Network
Everyone is aware that a blockchain is a decentralized ledger that records all NFT transactions.
The NFT platforms or markets are where NFT developers sell their NFTs and get royalties. In NFT markets, all trades are recorded on the corresponding blockchains.
Blockchain networks that are robust, secure, scalable, and interoperable are required for NFT marketplaces. As a result, the first step in NFT marketplace development is to select an appropriate blockchain network.
Blockchain networks like Ethereum, Polkadot, Stellar, Tezos, and others are among the most sought-after. Ethereum, however, would be the best choice!
Before making your choice of blockchain, consider the following factors.
The cost of transaction and NFT development

Smart contract robustness

Blockchain security

Transaction speed
3. Create an Easy-to-Use User Interface
An engaging, intuitive, and simple interface is essential for your NFT marketplace. This is necessary to ensure that NFT trading is secure and free of glitches and bugs.
Furthermore, a good UI can help your white-label NFT marketplace make a good first impression.
Along with an intuitive user interface, you can include signposts and tutorials to assist first-time users.
4. Create IPFS and Database Storage
The next step is to create an immutable and secure database.
This database is in charge of storing all sensitive and private data from the user and admin profiles.
The database also contains data on their NFTs. The Interplanetary File System, or IPFS, stores and shares data in distributed files and database systems.
IPFS enables NFTs to represent data of any format and size securely, distributed, and long-lastingly.
5. Integrate Additional Third-Party Services
A successful NFT marketplace must integrate payment gateways, cryptocurrency wallets, social media, and email services.
Check whether these are the only tools you require or if your platform requires additional integration. Everything is dependent on your company's requirements.
6. Create Smart Contracts
At this point, you should create smart contracts that will automatically initiate transactions and mint NFTs when sales conditions are met.
Smart contracts are required for a variety of reasons. For starters, they are backed by dependability and trustworthiness.
Your smart contract must be compatible with the functions that your NFT marketplace intends to perform.
7. Testing and deployment
Bugs and failures on a platform tend to damage the user experience. As a consequence, testing is a critical component in ensuring a positive user experience.
You can test various parameters now that your NFT platform is ready for use. You can, for example, use quality testers to test the usability, functionality, and other aspects of your NFT marketplace.
A thoroughly tested product is ready for release, with no expected or unexpected real-time discrepancies or loopholes.
Pick the Most Cutting-Edge, Premium Options
Ensure that your NFT platform has the most beneficial properties and that they are all present and optimized.
Unique features can set your NFT marketplace apart from similar platforms and increase its value in the industry. Therefore, you need to carefully analyze the features you want to integrate into your NFT marketplace development.
Read also: What are some White-Label NFT Marketplace Solutions?
Identify the exact functionalities that your project needs. Include not just the required parts but also optional ones like 3D visualization, interoperability, a social media engagement element, and so on.
Conclusion
The value of NFTs is being recognized more and more. They have proven adaptable and effective, capable of galvanizing and defining the fate of almost any industry. It's reasonable to conclude that NFTs will be around for a very long time, if not forever, and that we haven't even begun to scratch the surface of their incredible capabilities.