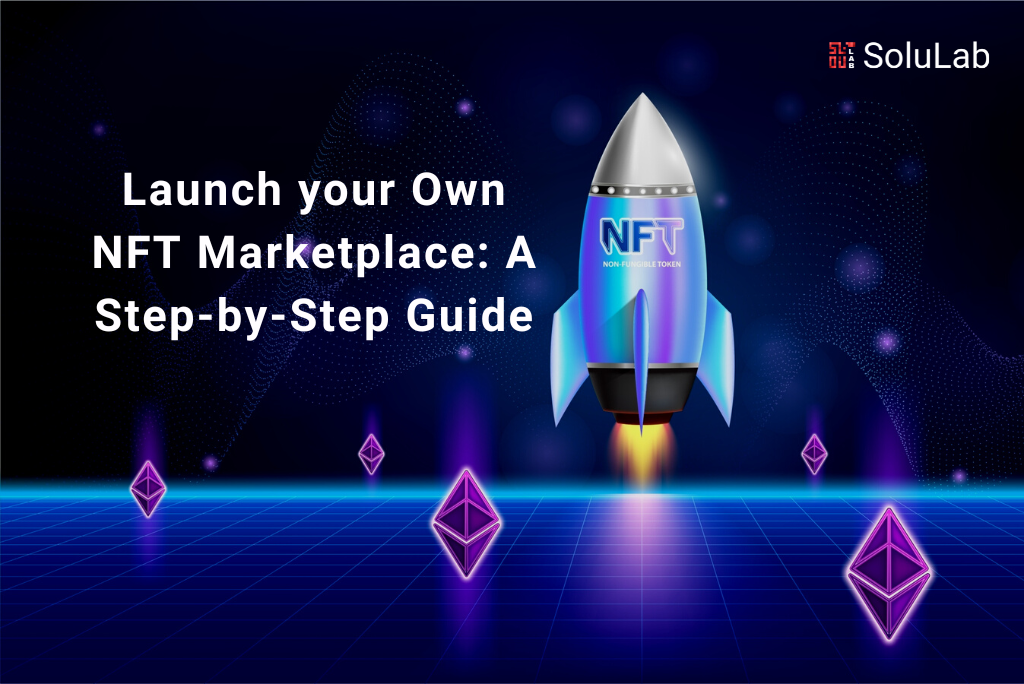 Non-fungible tokens have gained popularity and are now used in many different fields. In light of this, it is advisable to begin planning the launch of your own NFT marketplace to be one step (or even farther) ahead.
Almost nobody left in the world hasn't heard of the non-fungible tokens by this point. In a wide range of businesses and domains, including digital art, entertainment, fashion, sports, gaming, journalism, and real estate, this blockchain-powered phenomenon has reinvented what is possible.
The DappRadar Industry Report claims that in 2021, trading volume for non-fungible tokens increased dramatically and reached roughly $23 billion. Additionally, the term NFT was chosen by Collins Dictionary as its word of the year for 2021, beating out other terms associated with the digital revolution and pandemics like crypto, metaverse, hybrid working, etc. However, it's not just NFTs that are taking center stage. Additionally, NFT marketplaces are becoming more and more well-known every day.
If you begin researching the fundamentals of NFT marketplace launch development once you've decided to ride the NFT wave, you will have an advantage over others. In this post, we'll see how to develop your own nft marketplace, how to do it, the steps involved in the development process, and the qualities that a good NFT marketplace should have.
Let's begin building!
Explore the NFT Marketplace and its functioning
NFTs cannot be directly marketed, in contrast to Bitcoin and other fungible tokens. You must utilize the NFT marketplace as a substitute. The buying and trading of NFTs take place in virtual or online malls known as NFT marketplaces. Signing up for an account allows users to add digital artwork and other items, sell them, and buy them. Here, it is simple to auction, buy, and sell tokens or digital assets for a specified price. To store and exchange NFT tokens on the NFT network, you'll need cryptocurrency wallets.
Learning the foundational tenets of NFT marketplace functioning
The conditions of the sale between a buyer and seller are generally defined using smart contracts, which are the foundation of all NFT marketplace platforms. A self-executing digital contract recorded on the blockchain network contains these terms pre-programmed. Only once those conditions have been satisfied is the transaction deemed to be lawful.
Additionally, smart contracts make it possible to access all pertinent information about an NFT, enabling the buyer to learn more about the NFT's provenance and trading history.
Read also: How to Create your Own NFT Marketplace with Zero Code?
Users must connect their crypto wallets to access an NFT marketplace. These online tools keep track of the whereabouts of owner files on the blockchain. A crypto wallet can also be used to store, send, and receive digital assets, among other things. It is crucial to remember that a cryptocurrency wallet needs to work with and support the blockchain that the NFT platform is based on. Nowadays, you can either select from a wide range of already-existing cryptocurrency wallets, such as MetaMask and Trust Wallet, or you can build your own from the start that is tailored to your NFT platform.
What types of NFT marketplace are out there?
The two main categories of NFT platforms are augmented and streamlined.
Streamlined NFT marketplaces 
Support a variety of NFTs and provide more basic, generic services to merchants. In essence, this kind of NFT platform allows users the choice to select the most practical form of payment, be it fiat or cryptocurrency. Streamlined NFT platforms enable the holding of both auctions and fixed-price sales for a variety of non-fungible tokens. They are frequently likened to traditional eCommerce platforms like eBay and Amazon. OpenSea and Rarible are two of the most notable instances of simplified marketplaces.
Augmented NFT platforms 
On the other side, focus on providing specialized services to a certain class of non-fungible tokens to meet the demands and requirements of more focused, smaller niches. They are regarded as exclusive and typically levy transaction costs that are greater than the more efficient NFT marketplace launch.
Benefits of NFT Marketplace
By offering a more transparent, secure, and profitable way to trade assets, the growth of NFT markets is altering the face of online commerce. The key benefits of NFT markets are detailed here, emphasizing why they are the greatest choice for you and the best online transaction technique.
All transactions in the NFT market are secure thanks to the blockchain. High-security transactions may be advantageous to you because they shield you from transactional loss and guarantee that no one can steal or scam your digital assets. Furthermore, the blockchain network's immutability ensures that your assets won't be destroyed, altered, or lost.
The NFT marketplace not only enables the purchase and possession of genuine, one-of-a-kind objects but also offers built-in validation as proof of ownership. Your assets can also be tokenized and sold on the NFT market.
The foundation for constructing an NFT marketplace is establishing a decentralized platform. Without the involvement of other parties like financial institutions, regulators, etc., consumers can trade assets. With the use of blockchain technology, this is possible.
How to Establish an NFT Marketplace?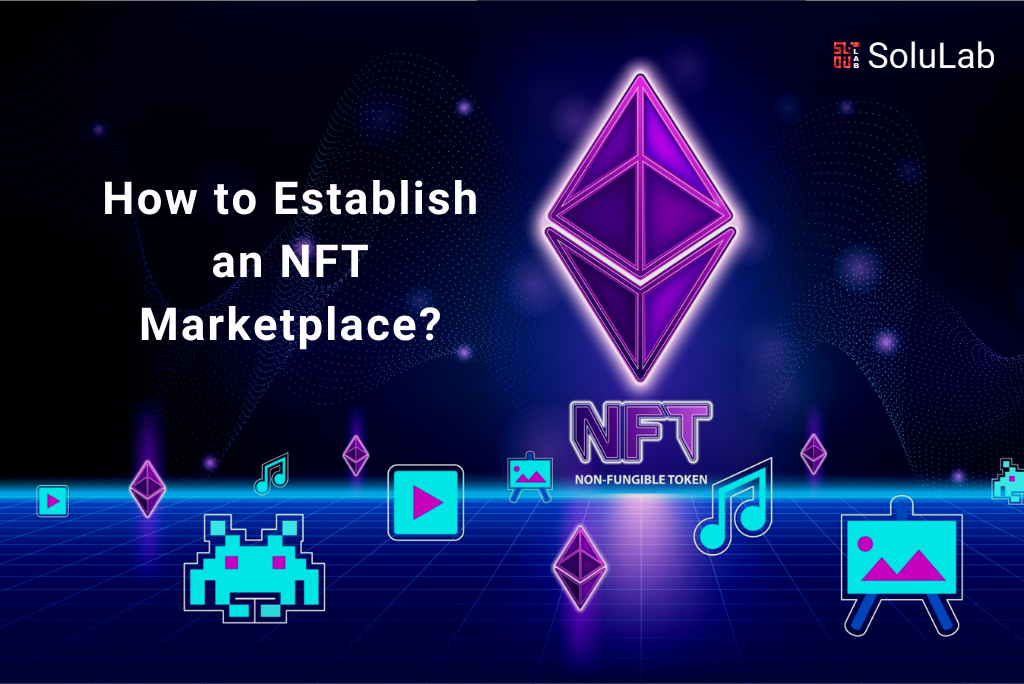 After thoroughly examining each component of an NFT platform, it is essential to focus on the development process in particular and learn what processes are involved. We'll outline the major phases and give further details about each of them below.
Step one: Execute ideation and market research
Want to launch your own  NFT marketplace? You must identify your target market. To do this, you must choose which market your NFT platform will serve, such as music, video clips, artwork, sports collectibles, memorabilia, etc. Keep in mind that your trading platform should be distinct from others and appealing to the particular audience that will utilize it. If you need assistance conceptualizing and creating your own nft marketplace, consult a qualified team who can guide you toward the optimal course of action.
Step two: Ensure high-quality UI/UX design
The UI/UX component of your platform will surely affect both the first and, metaphorically speaking, second impression on your users, even if it is important to adhere to the "don't judge a book by its cover" maxim. An NFT marketplace should be simple to use and visually appealing. Make sure that everyone can easily comprehend how to utilize your platform by making sure that it is designed understandably.
Step three: Get down to the development
You can begin development after you've accepted the design concept. You need to provide the tech stack and frameworks at this point. The choice of the blockchain on which your product will be built is a crucial step in this process. There are several different blockchain platforms available today that can be used as the foundation for an NFT market. Determine which will be the most viable alternative by estimating the capabilities of each.
You will also need to take care of smart contract development at this time. Hiring skilled smart contract developers that can assist you in deploying flawless, high-quality smart contracts that will contribute to the smooth operation of your NFT marketplace is highly advised.
Step four: Carry out testing and deployment
This step's goal is to quickly identify any defects and emerging problems that could impair the platform's performance. All platform components will need to be thoroughly tested concerning their software to guarantee that everything functions as intended. Your NFT platform can be made available after the quality assurance procedure is finished.
Step five: Provide post-launch support
Don't overlook post-launch assistance after your project has been launched. As often as you can, try to enhance and refresh your NFT platform with fresh, cutting-edge features. Importantly, fix any problems and inefficiencies right away. You'll assure consumer loyalty and satisfaction by doing this.
How to secure an NFT marketplace
One of the key components of the development of the NFT market is ensuring maximum security. You should be able to offer adequate and effective protection from any malicious activities and threats given that your platform will be in charge of keeping customers' private keys together with their digital assets.
Unfortunately, no market is safe against fraud and hacking. There are numerous instances like the recent huge attack on OpenSea, in which the exploiter withdrew cryptocurrency valued at $800,000.
Read also: How to Build an NFT Marketplace from Scratch
You may reduce the risk of fraud and forgery by integrating two-factor authentication (2FA) with other cybersecurity measures on your marketplace platform. To increase the overall security of your NFT platform, you could use additional security measures like SSL striping and DDoS.
Pick the Most Cutting-Edge, Premium Options
Make sure your NFT platform has the best features, that they are all there, and that they are all optimized. Your NFT marketplace's value in the market can rise thanks to distinctive features that can differentiate it from competing platforms. As a result, you must carefully consider the features you intend to include in the construction of your NFT marketplace.
Determine the precise functionalities your project requires. Include not just the necessary components but also the extras, such as a social media interaction component, 3D visualization, and interoperability.
Conclusion
Today, there is a growing acceptance of the possibilities of non-fungible tokens. They have shown themselves to be adaptable and effective, able to inspire and determine the future of practically any business. We haven't even begun to scratch the surface of NFTs' remarkable superpowers, therefore it is reasonable to say that they will be with us for a very long time, possibly forever. The necessity for and interest in the creation of more NFT platforms to expedite transactions and unite NFT evangelists will also be sparked by the NFTs' increasing popularity.
Numerous factors need to be considered while developing an NFT platform, including the target market, key features, development stages, marketplace security, the details and potential of the underlying blockchain technology, etc.
Read also: A Simple Guide to Making an NFT Marketplace App Like OpenSea
Get in touch with our team of skilled for creating your own NFT marketplace developers if you want your entry into the trendy NFT field to be simple. We will work with you to assess your project idea, provide advice on the best tech stack, and construct a strong, secure, and feature-rich NFT platform that will provide you the freedom to exploit numerous possibilities and maintain an edge in the NFT space. Send us a message so we can begin working on your project right away!
FAQs 
1. How does an NFT marketplace work?
In addition to housing NFT assets, an NFT marketplace combines a user-friendly front end with extremely potent back-end components that support the underlying blockchain technology.
2. What does it cost to develop an NFT marketplace? 
You will need to invest between $33,000 and $40,000 to create an NFT market.
3. What is the timeframe for developing an NFT marketplace? 
The complexity of the application, the features included, the platforms, the technology stack, etc. are a few aspects that affect how long it will take to construct an NFt marketplace. All of this should be finished in around 4-6 months.
4. What are the ways in which NFT marketplaces make money?
When users (B2B or B2C) trade NFT, or Non-Fungible Tokens, worth millions of dollars, NFT marketplaces profit. Every sale or purchase made on the marketplace is subject to a fee or commission; as a result, this is how they make money.