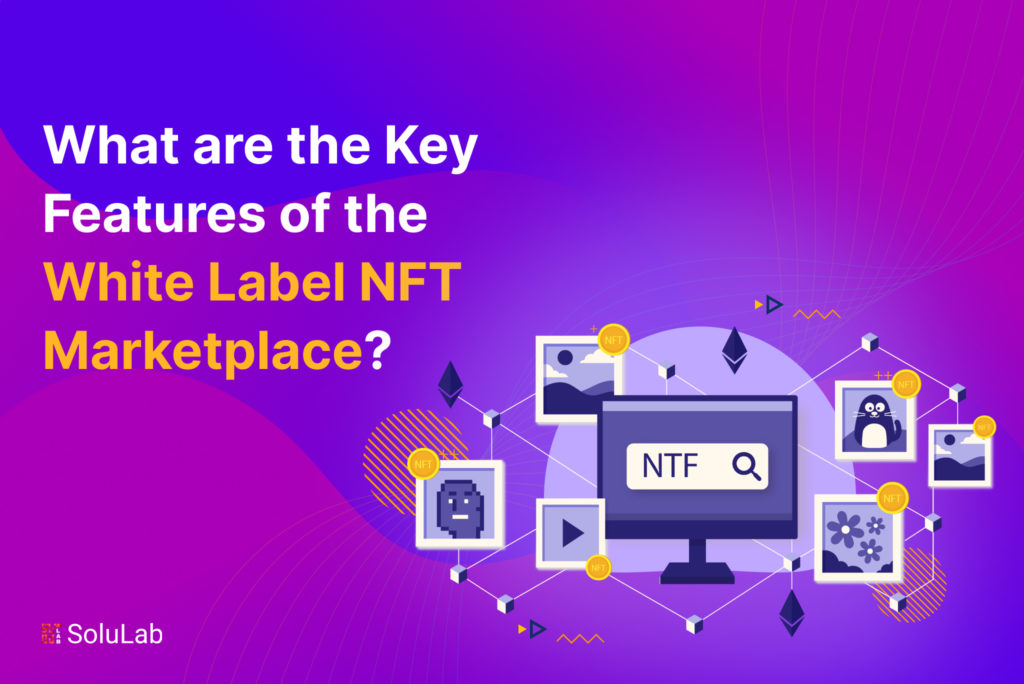 You must select the best provider because the white-label NFT market handles everything. You must look for them if you want a trustworthy and high-quality NFT marketplace. There are several sellers available, and you must pick the top one. Launching your white-label NFT marketplace opens the door to a new chapter in your professional life if you find the perfect partner.
The white-label NFT marketplace is a tested, ready-to-deploy platform for buying, selling, and bidding NFTs in the form of digital collectibles. Thanks to cutting-edge blockchain technology, you may trade NFTs with ease using the White-label NFT marketplace.
What is the White-label NFT Marketplace?
The exclusive and customized white-labeled NFT marketplace was created to list and trade digital assets in the form of NFTs. Any digital asset, including artwork, films, pictures, the metaverse, and other digital treasures, may be one of the NFTs listed. In other words, the Whitelabel NFT marketplace serves as a ready-to-use NFT marketplace for exchanging goods and services. The platform can be modified to meet the specific needs of each client's business. After developers offer their NFTs in an auction or open bid based on their desires, users exchange NFTs for cryptocurrencies in the market. To increase traffic and establish a name for their marketplace, clients can customize a white-label NFT marketplace based on their business needs.
In the cryptocurrency industry, white-label NFT Marketplace Development has emerged as the go-to method for making millions of dollars. Because there are financial advantages to developing a white-label NFT Marketplace, entrepreneurs opt for its creation.
Read Also: How will White-Label NFT Marketplace Development Benefit your Business?
Key Features of the White-Label NFT Marketplace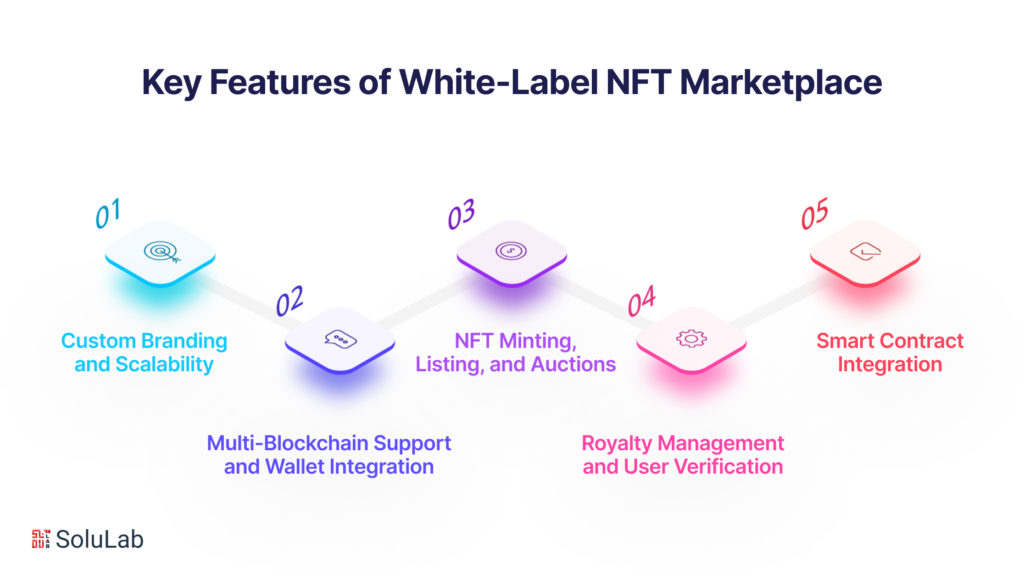 A White Label NFT Marketplace is a better option than a custom NFT platform development because of its benefits and features. Launching a white-label NFT marketplace is less expensive and takes longer than building an NFT marketplace from scratch. Establishing a Whitelabel NFT Marketplace will let the platform owners rapidly and profitably run a successful NFT business.
1. Suitability for a Wallet
It is a fully operational white-label solution. It will be equipped with all the necessary capabilities and characteristics. The simplicity of a marketplace and digital wallet benefits users.
Users of your marketplace can connect their current digital wallets with your trading platform even if they have already registered for one.
2. Affordable in Many Different Ways
You won't need as much time as you think to start a business and create the supporting application. First of all, creating an app from scratch takes a long time. Due to the numerous layers of complexity involved, developing the NFT market will be expensive.
Read Also: Benefits Of An NFT Marketplace On Cardano
It costs money to integrate APIs and functions. However, the price may vary depending on your marketplace's API and services.
However, the white-label approach provides advantages because you may employ the offered solution immediately. It follows that starting from scratch is not essential.
3. Integrated Security Measures
To prevent any security breaches, your marketplace should have multiple layers of security protection. Data integrity is of the utmost importance. Thus the marketplace will provide a wide range of security features, including 2FA, encryption, and firewall integration, in addition to KYC verification.
4. Multi-Currency Support
Allow investors to choose whether or not they want to trade NFTs on your platform. As a result, the ready-made, also known as a white-label marketplace, supports several currencies rather than just one or two. In the end, investors shouldn't be discouraged from selecting from a range of currencies, including cryptocurrencies and fiat currencies, by your marketplace platform.
5. The Rapid Development of Technology
Building your NFT market from scratch will take a lot of time. The construction of a typical white-label NFT marketplace platform takes three months. Nonetheless, it depends on the platform's complexity and special features, it could take more than 12 months or longer. On the other hand, even with complex capabilities, building a white-label NFT marketplace will always take much less time.
6. Having Qualities that are Exceptional and Unusual
Any marketplace platform will have a unique set of characteristics that set it apart and make it appealing. Even though you could do it on your own, in the case of a solution it saves time. Additionally, as most of the NFT marketplace is open source, you can add customized features to suit your unique requirements.

Establish a White-label Marketplace NFT
Your NFT marketplace is about to go live. That is a wise decision. But exactly how? Numerous firms around the world are struggling with this issue. The two simplest ways to start are to start from scratch or to launch a white-label NFT marketplace. There are numerous ways to launch your Whitelabel NFT marketplace.
One of the best NFT marketplace growth strategies is the first one because it enables you to create a special marketplace from the beginning. It can rank among the leading NFT marketplaces in the cryptocurrency industry if all goes according to plan. However, take into account the cost of building one. 
Additionally, it will require a large workforce, further complicating financial matters. Because a white-label NFT platform requires less price than a current marketplace, it is advised to choose one.
Read Our Blog: What are some White-Label NFT Marketplace Solutions?
Top 9 White-label NFT Marketplace Solutions
Selecting a solution provider to work with on the development of your NFT marketplace is difficult nowadays. We'll pick the best 5 white label NFT marketplace services based on our criteria to help you throughout the process.
1. NFT Kred – White label NFT Marketplace
NFT Kred is very much on the top of our list of the top-ranked white label NFT marketplace solutions right now as it is 100% white label and has no transaction costs it has a high price tag.
The platform has a lot more features, is secure, and has a support crew that can answer any issues you may have. With its subscription service for medium-sized projects, which charges $10k per month, for example, You could develop up to 50 white-label NFT hubs, sell NFTs on both your NFT hub and OpenSea, and customize your store with the built-in theme customizer or with custom CSS.
Overall, if you feel that the price of NFT Kred won't put a major dent in your budget, it is about as good a solution as there is for NFT projects (for example, high-budget NFT gaming projects)
2. Opensea Clone
The first NFT market built on the Ethereum blockchain network is Opensea Clone. A very well NFT platform currently is Opensea, which also has the most active users and is the first NFT marketplace to exceed the billion-dollar mark. Business owners and investors initially use an Opensea clone to create and promote a white-label NFT Marketplace. In response to the popularity of the Opensea NFT marketplace platform, several cryptopreneurs have developed their own NFT marketplaces. 
3. Curios – Web3 tools for Businesses and all creators 
Curios is one name that has recently come up, and fortunately, for good reason. They already power 8,366 NFT marketplaces, owing to their robust API and feature set.
The platform provides a broad range of customization options and the ability to build bespoke pages using CSS. For buyers who have not yet made a cryptocurrency wallet, Curios supports custodial wallets, which buyers can use to buy NFTs without possessing any prior knowledge of cryptocurrency. You could even create your own email marketing flow using custom email templates.
4. Rarible Clone
Rarible is one of the NFT markets that works effectively and has a large user base. Rarible is one of the top NFT markets with a large audience under its wing. A blockchain network called Ethereum serves as the basis for the Rarible platform. With the introduction of crypto cats, Rarible entered the cryptocurrency market in 2017. Rarible Clone refers to the most exclusive NFT trading platform with a wide variety of domains and much more. Rarible surpasses Opensea as the most well-known White Label NFT Marketplace due to its extensive user base.
5. Niftify – Create and Operate your NFT Business in a few minutes.             
Niftify, recently launched on September 5 following the early access phase, is rapidly gaining attention due to its acceptable feature set and simple onboarding process. When you use the platform for the first time, you'll be impressed with the variety of templates available to you and its engaging UI/UX; however, the focus is heavily on the 'sufficient' part of their features offering because this is where they fall short of their competitors.
Moreover, compared to NFTICALLY and NFTify, their community is rather smaller and has fewer active users, which could be problematic when you're first started out.
Read Also: The Complete Guide to White-Label NFT Marketplace
6. Foundation Clone
Foundation Clone script called a White Label NFT Auction MarketPlace comes with features that are precisely identical to those of the Foundation platform. Using Foundation Clone Script, NFT lovers can make and sell digital artworks as NFTs on a particular platform. A customizable NFT marketplace, the Foundation white label script needs to carry out trading and the formation of NFT over the Ethereum Blockchain Network. It can be used to create a community-operated NFT marketplace identical to the Foundation.
7. Solanart Clone
The Solanart clone script provides the same functions as the Solanart NFT Marketplace, which is used to exchange Solana for digital assets called NFTs. The main reason Solanart was established was to support artists and creators by giving them the best place to sell their work. Built on the Solana blockchain network, the Solanart marketplace is a fully functional marketplace. Solanart helps makers and artists in monetizing their NFTs as digital assets.
8. Solsea Clone
Built on the Solana blockchain, the Solsea Clone Script creates a marketplace with all the end-to-end functionalities of the Solsea NFT Marketplace. You can modify our white-label, fully customizable Solsea NFT Marketplace to your company's needs. Due to the Solana blockchain network on which it is built, the Solsea marketplace operates faster than most markets.
9. Nifty Gateway Clone
Nifty Gateway Clone is a platform specifically designed for creators and artists. The Ethereum blockchain network serves to power the NFT market. The marketplace has caught the eye of the artist community from all over the world as it assists them in finding the audience and was specifically created for the arts. Launch a Nifty gateway clone on different blockchain networks and add your name to the NFT group.
White Label Marketplace NFT Development
Users all over the world have begun to focus on other things. White-label NFT systems are currently taking over as they are easy to use, quick to utilize, and affordable. The white-label NFT market includes metamask integration, wallet integration, customization, and other API integrations with trade charts for highlighting price volatility and integration with recent NFT trends.
Read more: How to Build an NFT Marketplace on Ethereum Blockchain?
 White-label NFT platforms can be combined with popular auction sites and built using various technologies which include Binance smart chain, Polygon, Ethereum, and others. This is because it is so user-friendly and customizable. Additionally, the White Label NFT Development platform has an advantage thanks to the following features.
Users can quickly undertake the NFT marketplace using the White Label NFT marketplace solution.
Users can customize and set up the White Label NFT Development Platform however they want.
High-Quality Security Options
A white-label NFT marketplace has been specifically built with reliable security features, unlike a regular NFT marketplace.
Possibility of an Intuitive Program
The interactive UX or UI can be modified to meet the demands of the white-label NFT business of the user.
The platform gets linked to many NFT wallets to maintain and trade NFTs.
The NFT market is flexible because the platform can be customized as per the user's requirements. 
Benefits of the White Label NFT Platform in Business
You can establish your own NFT marketplace platform with bespoke features and functions to make NFT trading simple with the help of White Label NFT Marketplace.
Establish a Brand Identity
Users select branded products because they believe in the brands. Therefore, offering competent services promotes brand equity by strengthening brand recognition and is essential for validating and appreciating a brand.
Building brand recognition and awareness are essential to an organization's success. You may increase your brand's and identity's customer awareness with marketing and advertising. We offer mobile- and SEO-friendly building services for NFT marketplaces. These factors influence your reputation and level of service.

Conclusion 
In conclusion, In the rapidly evolving landscape of blockchain and digital assets, understanding the intricacies of White-Label NFT Marketplaces is crucial for both businesses and creators alike. These platforms are reshaping the way we perceive and interact with digital ownership, providing a gateway to tokenize unique content and assets, from digital art to collectibles and beyond. By delving deeper into the key features of White-Label NFT Marketplaces, you gain the knowledge needed to navigate this exciting new frontier. So, whether you're an artist looking to monetize your digital creations or a business seeking to tap into the NFT market's potential, stay informed, and keep exploring the endless possibilities that this technology offers.
Exploring the key features of a White-Label NFT Marketplace opens the door to a world of limitless possibilities in the realm of digital assets and collectibles. As this innovative technology continues to evolve, it empowers businesses and individuals to create, trade, and tokenize unique digital assets, unlocking new avenues for creativity and financial growth. Embracing the potential of a White-Label NFT Marketplace development can be a game-changer for those looking to stay at the forefront of the digital revolution.
If you're ready to embark on this exciting journey and want to harness the power of a White-Label NFT Marketplace, look no further than SoluLab. With their expertise in blockchain and NFT development, SoluLab is your trusted partner in turning your vision into reality. Contact SoluLab today and let their team of experts guide you through the exciting world of White-Label NFT Marketplaces, helping you build a future that's uniquely yours.
FAQs 
1. How does a White-Label NFT Marketplace benefit business growth?
The white-label NFT marketplace comprises a secure NFT wallet that trades and stores NFTs. White-label NFT marketplaces help organizations by permitting them to access an integrated wallet and saving companies valuable time and money by eliminating the requirement to add innovative attributes to the existing platform.
2. What is the best way to make money from a White-Label NFT Marketplace?
The primary purpose for creating a powerful brand is to monetize the white-label NFT marketplace. To accomplish this, you can begin with numerous monetization options using a white-label solution. In addition, you can levy a commission on your marketplace on every NFT purchase and sale.
3. How long does it take to launch a White-Label NFT Marketplace Platform?
Establishing a typical white-label NFT marketplace online platform takes approximately three months. Nevertheless, it depends on the platform's special features and complexity, and it could take up to one year or longer. 
4. Why should you opt for White-Label NFT marketplace Development?
One of the primary reasons you must opt for NFT marketplace development is that it presents users with extensive transparency and openness. All transactions are documented on the blockchain, which makes them readily accessible and effortless to verify. It assists purchasers in making informed choices about which assets they should buy.