Sweepstakes are an efficient marketing channel which helps develop your business, generate more leads, promote your brand and increase sales.
Sweepstakes has a number of benefits compared to other marketing methods. In addition, it's easy and inexpensive to run. Just one single promotion can result in getting new customers, increase of sales, increase followers on social media like Twitter, Facebook, Pinterest, etc and better brand exposure and awareness.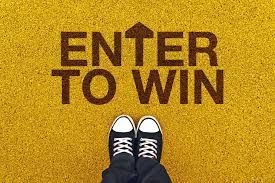 According to Hubspot, "approximately 33% of contest entrants agree to receive information from brands allowing you to remarket to those customers to land the sale"
Below is the list of objectives that implications of sweepstakes can achieve
Boost visitors on the website:
Sweepstakes can go viral easily. Therefore, you can design it to attract new potential customers to your store.
Generate referrals:
If you already have a strong client base, you may use sweepstakes to get them to refer to your website to their friends. And,  these friends will refer to other friends and in this way, the website will attract more visitors and will help increase awareness of the website.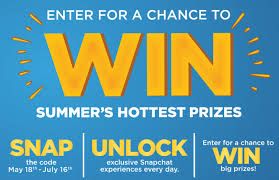 Grow your email list:
Now you might be wondering, "How exactly does that help my business?"Often, e-commerce websites that run sweepstakes will ask entrants to share their details with the website.
For example: "Enter with your email address" or "Follow us on Instagram to win." Below is the photo of Amazon sweepstakes.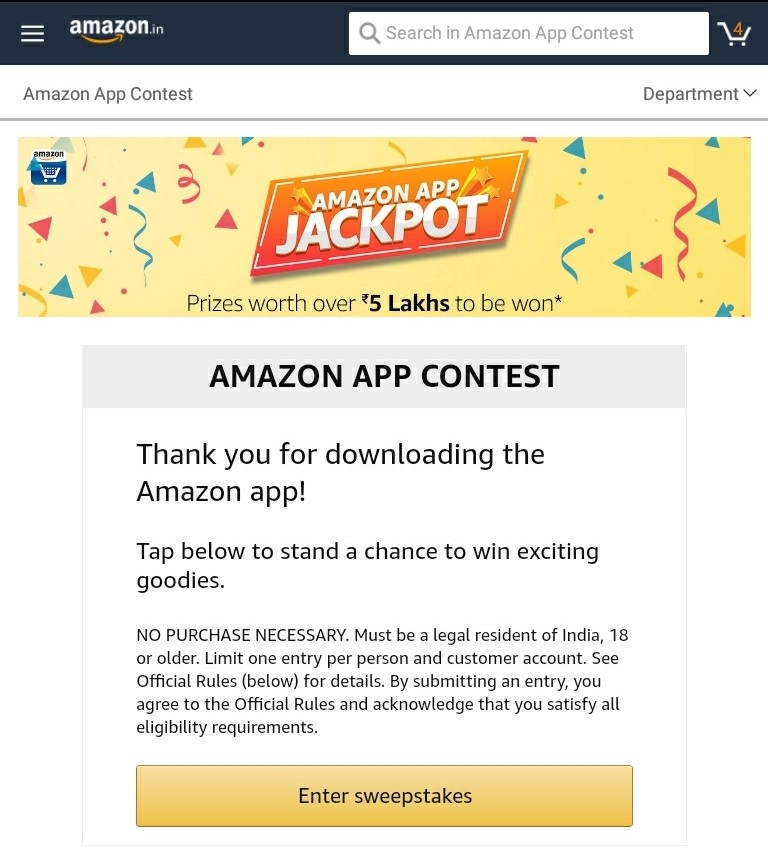 Increase awareness of your store:
If you have a new website, you can use sweepstakes to help make more potential customers aware of your website.
Providing Incentives:
Sweepstakes are viral. Customers talk about them all the time and share them with their friends and colleagues. However, you can encourage them to share it even more by providing incentives. Just by providing small incentives, you can increase a lot of potential customers  
Further, offer them additional entries by liking, tweeting or inviting friends to sweepstakes. You could even offer them a guaranteed gift (a discount for instance) for inviting a number of friends,  to join in or post about the sweepstakes to social media.
Overview of case study
Case study 1
:
Unique Hotels Facebook campaign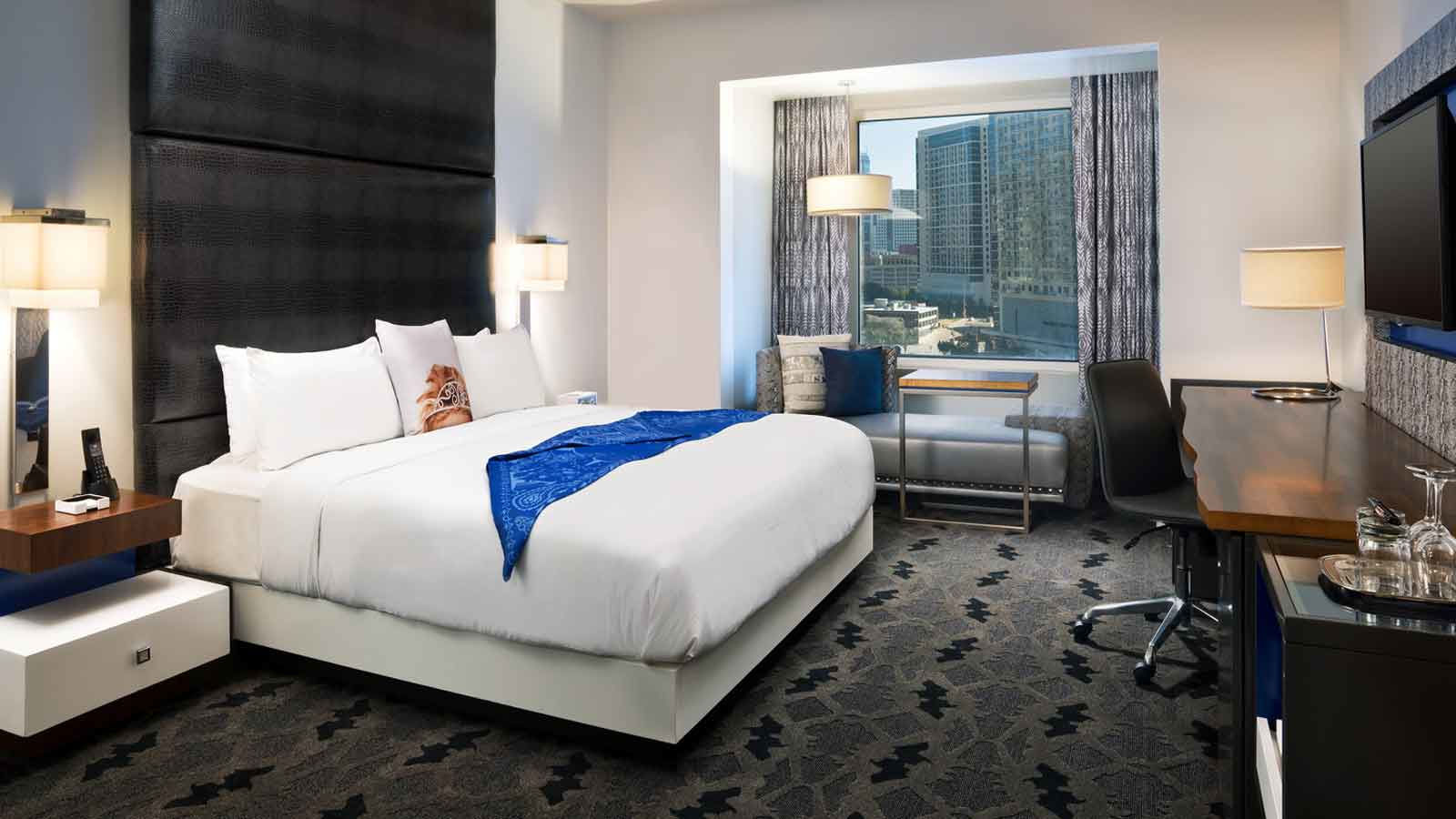 Unique Hotels is a small group lifestyle hotels located mainly in Tallinn, Estonia and Manor house just outside the city. Each is located in historical buildings and surroundings that have been updated to include modern conveniences. And, each has a different character and level of service.
Objectives:
By using social media campaign, create brand awareness and encouraging content to share between users.

Generate leads and bookings by attracting visitors to the Unique Hotels websites with special offers.

Increase the Unique Hotels probable customers with offers, campaigns, and engaging content.

Develop a new community channel for customer interaction, give updates, and generate news.
Solution:
Run month-long sweepstakes campaigns on Facebook.

The viral aspect of the campaign is more sharing,  the extra points, and greater the chances of winning in both the weekly and main prize (luxury all-inclusive weekend in Vihula Manor) draws.

To encourage sharing even further they incorporated three ways to collect additional points and increase one's chances of winning – the initial 'Like', sharing badges with friends and subscribing to the Unique Hotels newsletter.
Results:
After the successful completion of  the campaign, the Unique Hotel fan base went from 414 to 12,349

User engagement (any clicks on any stories) went from 2,108 to 30,944

Traffic to all of the Unique Hotels websites for November and December was 115% that of the previous two month's figures (September and October).

The Unique Hotels mailing list skyrocketed from 600 subscribers, predominantly Estonian speaking, at the beginning of the campaign, to approximately 3,000 Estonian, English and Russian subscribers
Case study 2:

Noritz
Noritz manufactures tankless water heaters for both home and commercial use. They're sold through various distribution channels that primarily include installers and dealers. They expressed a desire to establish a way to increase brand exposure and gain the ability to directly communicate with end users to help increase the probability of a dealer/installer sale.
To satisfy that need a 12 month (with monthly prizes) sweepstakes campaign was initiated to attract new prospects, increase brand awareness, grow subscriber list and drive traffic to dealer locator tool. To drive traffic to the sweepstakes mini-site Google AdWords was used with geo-targeted pay-per-click adds.
Results:
45% registration rate

28% referral rate

Substantial increase in the subscriber list

High use of dealer locator tool
The result was pretty impressive considering only Google Adwords was used.