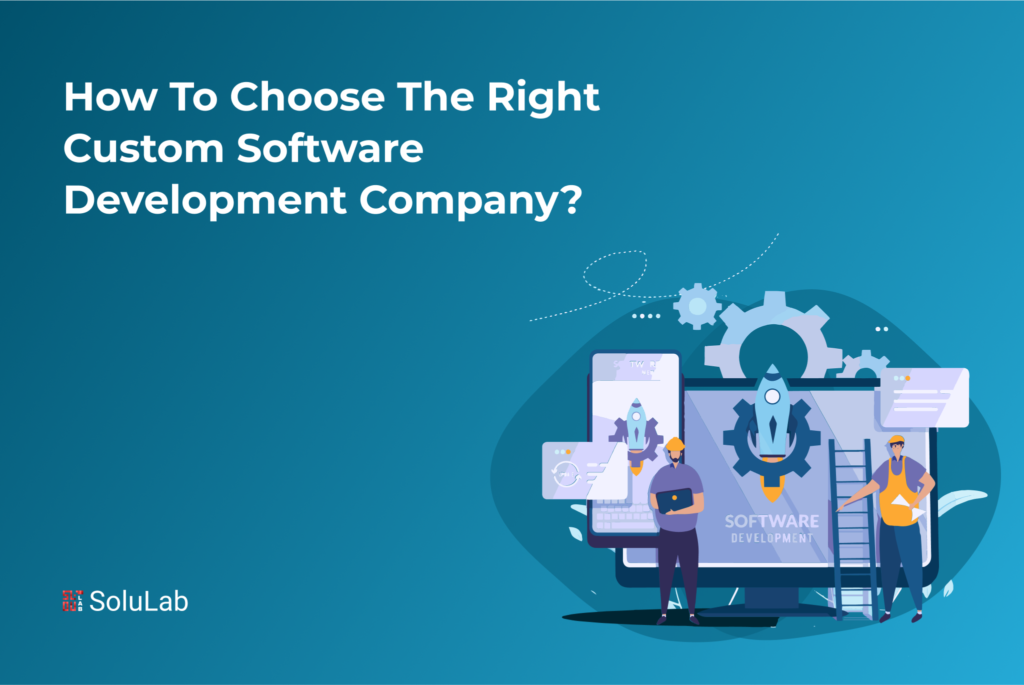 Organizations rely heavily on custom software to succeed in today's digital world. It offers individualized services to boost productivity, performance, and expansion. 
Finding a reliable software development firm may be difficult for organizations due to a lack of qualified developers and the possibility of fraud.
There are hundreds of custom software development firms out there, but it doesn't mean they're all created equal in terms of quality of service.  If you aren't cautious in your choice, a custom software development company might be the single largest stumbling block in your software development project.
In the search for outsourcing services, only some companies will do. Most custom software development services are "Follower" providers, meaning they solely provide product development and delivery services and no advisory support.
Read Also: What is Custom Software Development?
A business that doesn't want to settle on the quality of its work would rather work with a provider who can run the project with the help of an Advisor or Trusted Partner.
In this article, we'll talk about how to choose a software development company that can make your ideas come to life.
The Importance of Custom Software for Businesses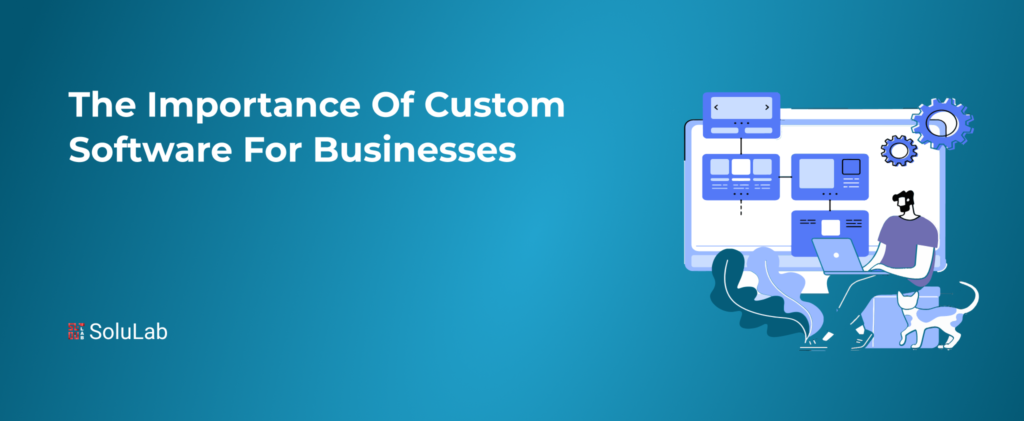 Choosing the right custom software development firm is of paramount significance. A suitable collaborator won't only be aware of your project's requirements and objectives but will also be able to guide you through the ever-changing landscape of technology.
The right business will guarantee the success of your project and optimize your return on investment by combining technical knowledge with industry experience.
Business operations may be optimized, specific problems can be solved, and operational excellence can be attained with the help of custom software. Companies may improve output, simplify processes, and differentiate themselves with the help of custom solutions. 
Custom software gives organizations the flexibility to improve operations and get where they want to go, whether via the automation of repetitive work, integrating different systems, or enhancing the customer experience.
Establish the Goals of the Project
To find the best custom software development company, you need to know exactly what you need before you start looking. By doing so, you'll be better able to convey your vision, and the software development business will be better able to deliver a solution that meets your unique requirements. When outlining the specifications for your project, keep the following in mind:
1. Determine your audience
Identifying your target audience is essential when developing a custom software application. The development process may be streamlined and the final product improved by first learning about the intended users' demographics, key issues, and preferences. If you have an existing user base or customer data, analyze it to identify patterns, demographics, and usage patterns. This can provide valuable information about your current audience and their needs. Take into account any industry or domain-specific factors that may influence your audience. Different industries may have unique requirements or regulations that impact software usage. Consider the knowledge level, technical expertise, and specific workflows within the industry.
2. List the project's goals and aims
First, you should zero in on the software's principal goal and the issues it intends to address. Define specific, attainable, and time-bound targets to help you gauge the project's performance. Review the goals with key stakeholders to ensure that they accurately represent the project's objectives and desired outcomes. Seek feedback and validation from stakeholders to confirm that the goals are aligned with their expectations. Clearly communicate the project's goals and aims to all stakeholders involved. This ensures that everyone understands the intended outcomes and can work towards achieving them collectively. Regularly reinforce the goals throughout the project lifecycle to maintain focus and alignment.
3. Project scope should be determined
List the main capabilities and characteristics you want your custom software to have. Think about the system's complexity, how well it works with other methods, and what improvements may be made in the future. Continuously monitor the project's progress and compare it against the defined scope. Track any deviations or potential scope creep. Regularly assess the impact of proposed changes on the project's objectives and adjust the scope as necessary. Document any changes to the scope and obtain sign-off from relevant stakeholders. This ensures that everyone is aware of the agreed-upon scope and any modifications. Maintain a record of all approved scope changes for future reference.

Search for Software Development Firms
You have specified the goals you must achieve to finish the project. It's time to start thinking about which software development firms to contact.
Finding a software development company is easy because of the abundance of available information.
The results of a Google search for "best custom software development company" won't be very useful. Search for platforms that list software development firms. Some websites have lists of IT companies.
Select from the top custom software development companies in 2023. Research software rating and review sites. Location, minimum project size, hourly rate, specialty, and more. You should learn more about the firm by exploring its website.
While you won't discover all you need on corporate websites, you can get a head start before contacting anybody. Put a business on your "long list" when you locate one that seems like a good match.
Project KPIs and Budgets
Setting a budget before reaching out to a custom software development agency is important.
Include code quality and coding standards as key performance indicators (KPIs) they must meet for the project. Since the greatest and most successful software development businesses often collaborate with customers from around the globe, it's in everyone's best interest to include a detailed description of all software development price structures and engagement models right from the start of the contract.
Once you've received quotations from the firms you've narrowed it down to, you may choose the one that meets your needs the most. Better still, you may compare prices by requesting quotes from many development companies.
How to Choose the Best Custom Software Development Company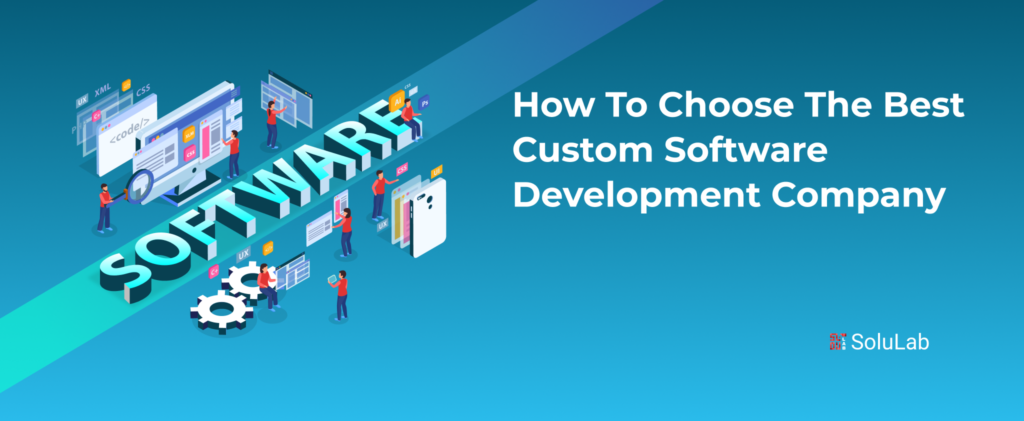 When business leaders seek to outsource software development, they should keep a watch on the following skill sets:
1. Technical Abilities
Companies interested in outsourcing their IT should avoid working with software development firms that provide services for more than one kind of technical architecture. 
Unless the leaders have already done extensive study and settled on a technical preference, the discovery phase should include careful consideration of all relevant reviews when selecting the technology that will underpin the project. When evaluating a company's technological prowess, keep in mind the following:
Confirm the firm's technological infrastructure
The technology stack of a custom software development firm is the set of languages, frameworks, and other tools that it employs in the software development process. Ensure the business you choose has expertise with the technology involved in your project before hiring them. They may not be the best choice if their IT stack isn't cutting-edge and in line with best practices.
Discuss techniques for managing projects
The accomplishment of any custom software project relies heavily on competent project management. Inquire about custom software developers about which project management methods they prefer. Ensure the organization is adaptable and flexible to use the best approach for your job.
Look at past projects and case studies
Examining case studies and completed projects might provide light on a company's technical competence. This will tell you a lot about their problem-solving abilities, originality, and capacity to give you top-notch unique software solutions. 
Check Out Our Latest Blog: 10 Reasons Why Your Business Needs Custom Software Development
2. Put an Emphasis on Effective Communication
If you're hiring software engineers to create an app, double-check that they can effectively communicate your vision.  The success of your project and the faithful realization of your dream hinge on your ability to work together effectively and communicate your expectations to one another. Some criteria for assessing conversations are as follows:
Determine the company's responsiveness by tracking how soon they answer your questions and how easily you can get the data you need. 
You and the development team will be working closely together. Therefore it's important to think about communication barriers like language and culture. Check that everyone working for the organization has a solid grasp of the language and can speak clearly and fluently. 
Ask the custom software development developers about the methods and tools they use for project management to ensure that projects stay on track and that communication flows smoothly. 
3. Maintenance and Updates Following Deployment
The success of your bespoke software depends on the quality of the after-launch support and maintenance you get. Find out whether the firm offers any maintenance or tweaking services after the product has been released. 
To keep your software running smoothly and up-to-date, your custom software development services provider should give explicit support and maintenance plans.
Talk with the software firm about the after-project support services they offer. Get a written guarantee that they'll assist with software installation, updates, setup, personalization, and backups. 
4. Focus on Prompt Delivery
Choosing a software development company that can deliver on time is crucial for every company. The business you go with must respect the deadlines you set. Pick a company specializing in customized software with a history of meeting deadlines. The more time you and your team have to try out the program, the more proficient your staff will become at using it.
Create a clear set of goals and deadlines for your project. You can reduce planning and construction time if you have a clear idea of what you want to create. Start with a simple needs list with mockups, illustrations, and processes.
Doing this task may save the development teams the trouble of conceptualizing something from scratch. You want the team to grasp your vision, but they will likely provide you with inflated costs and schedules.
Read Our Blog: Top 10 Custom Software Development Services To Opt-in 2023
5. Solutions for Tomorrow
The custom software development industry is always changing, so working with a business that keeps updated is important. As a result, you may be certain that your software solution will be ready for the future without requiring expensive changes shortly.
Look for developers who have strong problem-solving and analytical skills. They should be able to analyze complex problems, propose innovative solutions, and make informed decisions during the development process. Assess their ability to think critically and troubleshoot issues effectively. Evaluate the outsourcing provider's ability to adapt to changing project requirements and environments. They should be flexible in accommodating scope changes, addressing emerging needs, and working collaboratively to deliver the desired outcomes.
6. Analyze Different Costing Structures
You must first understand and compare pricing structures to choose the best custom software development company for your project. You will be better able to manage your finances and get the most out of your funds if the prices are easy to figure out and consistent.
The following should be taken into account when comparing various pricing models:
Fixed-price and hourly rates are the two major pricing structures that custom software development businesses commonly provide. An hourly rate model costs you according to the time dedicated to your project, while a fixed-price model has an agreed-upon cost for the whole job. 
Verify that the custom software development business you choose gives a comprehensive and clear price structure, which includes all potential extra costs and charges. 
When choosing a custom software development services company, it's important to think about your budget, but it's also important to focus on quality. In the long run, it might be cheaper to invest in high-quality software.
7. Inquire About Their Safety Procedures
Security must be a top concern if the IT organization values its reputation. Confidential data will inevitably be shared when partnering with the best software development firm. 
You should inquire about the company's procedures and policies to protect your concept, product, solutions, and confidential documents.
Inquiring about the safety measures a product development partner takes is crucial for an organization committing significant resources.
Read Our Latest Blog: 10 Ways Custom Software Development Can Transform Your Business
8. Assess Team and Company Structure
It's crucial to learn about the organizational makeup of the firm and the dynamics of the development team. To succeed in a team environment, you must understand how a firm is structured, who does what, and how everyone collaborates.
It's best to avoid custom software development firms that don't have a well-defined organizational structure for their teams. When everyone knows their place in the company, things run more smoothly. Mainly, you want to prevent your team from incurring extra costs due to inefficiency.
9. Focus on User UX/UI
While many software firms focus on design, others concentrate on the underlying technology that might make an organization's goal possible. However, when choosing between the two options, the burdens are often left to be addressed later.
A person who enjoys design, for instance, creates irresistible encounters and ensures the success of their business. Consequently, companies searching for a trustworthy software partner should ensure the custom software development team knows the value of User Experience (UX) and employs competent Usability Analysts and UX designers. 
You can better picture how the product or app will function in your hands if the UX/UI specialist is brought in early to prepare product prototypes.
10. Quality Control
Maximum sustainability is achieved with a focus on product enhancement. Instead of expanding in isolation, iterative improvement strategies like agile development and DevOps provide a continuous feedback loop to ensure that the final product is of the highest quality possible and meets the target audience's needs.
Having a software development partner with strong testing skills provides high-quality, confident product releases regularly.
Test automation, functional testing, System Integration Testing, and Regression testing should all be top priorities for the team, as should having the necessary tools and processes for testing administration.
11. Certifications, Training, and Other Forms of Accreditation
For software development, companies who are prepared to invest heavily in their employees' ongoing professional development will want to verify the promises and track records of any prospective partners. 
They should need certificates as a business practice, which might be best awarded to software development firms and individual developers that maintain high standards and continually improve their workers' skill sets. Accreditations or lists from reputable organizations may be as helpful as awards, internet ratings, and reviews in providing objective information.

Avoid These Common Errors When Searching for Software Development Services
We hope this article has helped you choose and hire a top-notch software development company. Before we end, however, we'd like to bring out a few common pitfalls that companies often fall into.
Clear Vision and Consistency: Making vague or ambiguous statements about what is needed to complete the project or advance the company's goals is a common blunder. Having a clear vision for your product or being consistent with your demands might lead to misunderstandings and other unpleasant effects.
Legitimacy and Compatibility: Inadequate research may have serious consequences. Verify the software company's legitimacy by learning more about its history and speaking with some of its current and previous customers. Interview them thoroughly to see whether their skills and experience match your needs. Inadequate research might have a negative impact on your overall endeavor.
Effective Communication Skills: Avoid employing someone who has trouble expressing their thoughts clearly and fluently, even if they have strong technical skills. This is because you need to keep talking to the team members working on your project; else, discontent will build up and the work will suffer.
Value Over Cost: Never make a decision based on the amount of money at stake. Picking the lowest bidder may seem like a good idea at the time, but it may cost you a lot more in the long run when you have to pay for all the shortcuts they took.
Conclusion
The success of your project relies heavily on your choice of custom software development firm. If you follow the detailed outline in this blog post, you can make a suitable decision for your project.
There are subtle differences between each software development firm. The success of any custom software development project hinges on your ability to assemble a team that is a suitable fit for it. It's important to consider the team's cultural backgrounds, project management abilities, and technical expertise.
Make sure you look at everything from every angle. Don't feel bad about scrapping the whole list and starting again if none of the suggestions work. Though time-consuming, researching potential software development partners thoroughly will reduce stress and improve the final output to hire dedicated developers for your next project.