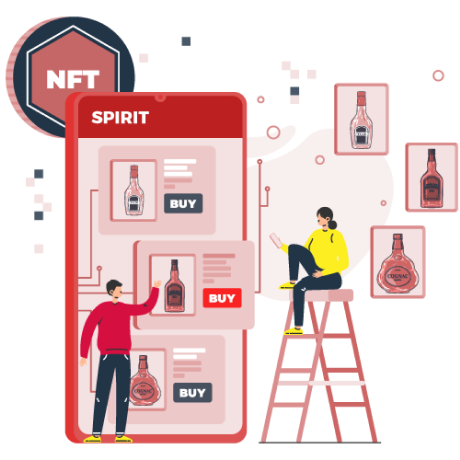 Liquid Craft is a blockchain-based NFT marketplace of fine spirits, wine, and beer aimed at bringing global producers and buyers to a single point of interaction.

Combining the security of blockchain-based marketplaces with the stability and value of the premium liquor market, Liquid Craft looks to transform the craft liquor space.

Liquid Craft eliminates the intermediary involvement, incentivizes sellers, and reduces trading costs by providing a high-speed, secure platform for buying, selling, and investing in spirits.

Liquid Craft partners with craft liquor suppliers to tokenize and exchange one-of-a-kind creations by minting them as NFTs on the groundbreaking platform Liquid Craft marketplace. 
To build a novelty NFT marketplace that streamlines the craft liquor experience while is easy to use for all age groups using peer-to-peer trading and smart contract.

The digitization of liquor and the high-end verification of authenticity for both products and consumers to make a tamper-proof ecosystem for liquor trading.

The integration of various roles such as manufacturers, brokers, buyers, collectors, and traders presented several obstacles. Each required its own panel, including a separate admin panel.

Craft liquor suppliers often are regionally based with a reduced ability to market to international audiences. Liquid craft aims for a global liquidity platform proliferating quickly and accessible to the masses.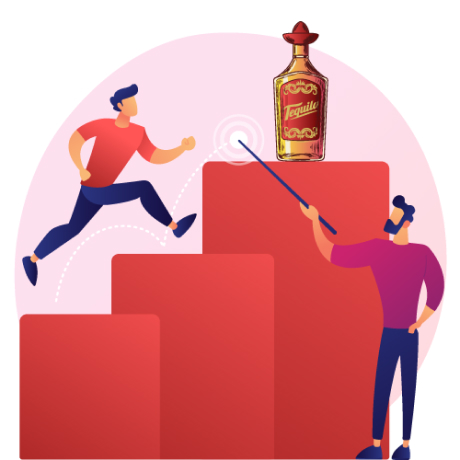 Our Solution
Efficient Ecosystem

Liquid Craft improves workflows and reduces costs with automated processes and blockchain-native data accessibility.

Agile Customization

Simplify and configure the design, issuance, and distribution of liquor assets and securities across the NFT marketplace.

Decentralized Networks

Lets manufacturers, collectors, and traders grow faster, safeguard privacy, and eliminate the intermediates by activating decentralized networks.

Peer-to-peer Trading

The current market catered to customers and suppliers but not individuals who want to trade. Unlock liquidity with secure peer-to-peer liquor asset transfers, and enable frictionless trade with integrated over-the-counter trading.

User-Focused UX/UI

Interface directly with users and enable them to purchase assets, view their portfolios, initiate asset transfers, inspect individual assets, and manage shareholder rights all from a single dashboard.

Unified QA Cycles

Liquid Craft provides a diverse user base, ranging from distributing products to linking them with manufacturers, all on a unified platform. We prioritised extensive QA tests and the absence of any holes in the ecosystem.
Project Features
The seasoned experts of SoluLab collaborated closely with the Liquid Craft team to properly analyze the project's scope. Then we devised a strategy to build a highly secured and scalable NFT ecosystem to ease the trade of various sorts of liquors all across the globe.

Liquid Craft enabled easy interaction between members within the same role and different roles to facilitate easy peer-peer trading of craft liquors, thereby inspiring creativity and celebrating the distinctiveness of the craft liquor market globally.

Our expert developers used industry-leading blockchain technology to develop a functional NFT marketplace for facilitating the easy tokenization and trading of craft liquors. The documentation was excellent, followed by prototype and framework development.
Our veterans at SoluLab began by identifying the project's overall scope and then separating the roles in the NFT marketplace. The primary purpose was to make the working process more smooth, efficient, and speedy by integrating both the crypto-space and liquor craft market.

The following stage was to create project documentation meticulously to save time and money while maximizing ROI. SoluLab handled prototype and development while keeping the UI and UX aspects in mind to provide fantastic user experiences.
We created the framework with optimal performance, functionality, reliability, efficiency, and operation. The last step was to perform testing and execution to ensure no mistakes remained. By resolving all issues, we made the NFT marketplace LIVE for usage.

A groundbreaking NFT marketplace that is specific for the artistic and unique liquor industry offering a wide range of one-of-kind creations across the globe that is feature-rich with advanced features like peer-to-peer trading and digitization of the trade.
Client Testimonial
"I had heard a lot about SoluLab when it comes to the blockchain but never thought they could do wonders while integrating the beverage industry with binance smart chain – blockchain. The overall experience was positive"

Zach Weakland
CEO & Founder, Liquid Craft Investing, LLC
Latest Blogs
Kajol Wadhwani
Explore the future of smart contracts in blockchain development, trends, and how SoluLab can elevate your business in dApps.
Neeraj Raisinghani
Discover how AI is reshaping careers and industries, unraveling the future of work in transformative ways.
Kajol Wadhwani
Navigate seamless cloud migration with key insights. Explore key points for a successful transition in this informative guide.
Tell Us About Your Project