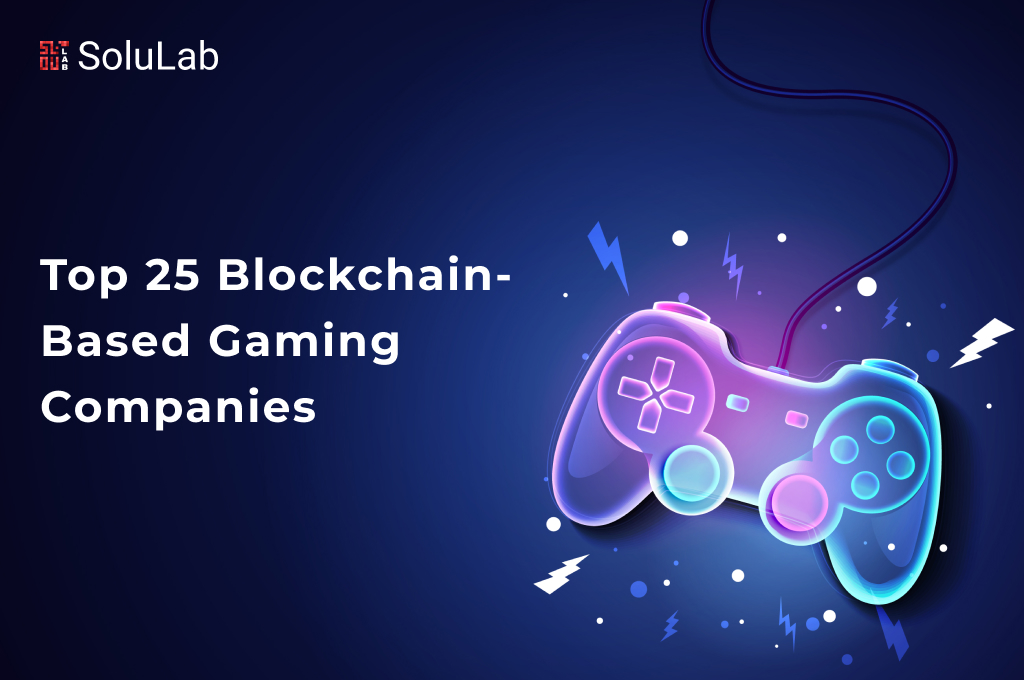 Blockchain games have been on the rise over the past few years. The popularity of these games has been soaring in recent times and has entered the mainstream gaming industry. Blockchain gaming plays a significant role in making sure that all the interactions and transactions between different parties are completely verified as well as legitimate. This, in turn, plays a vital role in the prevention of fraud, which happens to be one of the major challenges in today's games and gaming platforms. It is exactly the reason why blockchain game development and blockchain gaming services have been in high demand.
To fulfill the high demand, we have seen the inception of several blockchain gaming companies actively working in the field while delivering top-notch services. Moreover, there are a number of blockchain-based gaming apps that have become quite popular in the gaming industry within a short span of time. So, let us have a look at the top 25 blockchain-based gaming companies or apps whose contributions to the industry are noticeable.
1.  Playkey

Playkey is a cloud gaming service that allows gamers all over the world to play the latest and hottest video games —even the most modern and system-intensive ones— on low-spec PCs and laptops and  MacOS-based machines. All that is needed is a decent internet connection. Games are available "as is" with all of their specific features, including Multiplayer, social features, and achievements. 
2.  Immutable

Immutable is advancing the world of NFTs through Immutable X, an industry-leading NFT minting and trading platform, and Immutable Studios, an NFT game development studio. Their Apollo platform allows game publishers to integrate decentralized assets accurately at scale. They integrate with games that developers have already built, reducing friction and barriers to entry.
3.  Horizon Blockchain Games Inc.

Horizon makes blockchain-powered video games for people interested in a new digital gaming experience. Their goal is to create gaming marketplaces and universes controlled by players. They are building a community-driven platform for decentralized games where players can experience digital ownership, open economies, transparency, privacy, and the ability to earn real-world value through.
4.  Worldwide Asset eXchange (WAX)

WAX has created a full suite of blockchain-based tools that allows anyone to trade digital or even physical items instantly and securely, to anyone, anywhere. Participants of the Worldwide Asset eXchange gain access to a global community of collectors and traders, buyers and sellers, creators and gamers, merchants, dApp creators, and game developers.
5.  DMarket

DMarket is an in-game item and NFTs trading platform, and technology for building metaverses. DMarket is a gaming provider working to expand the use of blockchain in gaming marketplaces and in-game purchases.
6.  The Abyss

The Abyss is a digital distribution game platform and a one-space place for the best online multiplayer games with built-in solutions for all MMO/MMORPG fans. The Abyss provides special terms and conditions for gamers and developers by delivering multiple social and income-generating opportunities available through blockchain-powered services.
7.  Enjinstarter

Enjinstarter is the premiere IDO & INO launchpad for gaming, metaverse & P2E projects. They are bringing together gamers, guilds, publishers, gaming studios, etc. to build a sustainable metaverse gaming & entertainment ecosystem. Their goal is to expand the crypto collectibles movement in scalable and user-friendly ways.
8.  Mythical Games

Mythical is a next-generation game technology studio. Mythical Games believes that true ownership of digital assets, verifiable scarcity, and integrated secondary markets will spawn a new generation of games. These new economies, based on digital ownership, will bring players, developers, and content creators closer to the games they love.
9.  OpenSea

OpenSea is the first and largest peer-to-peer marketplace for non-fungible tokens or NFTs. Applications for NFTs include collectibles, gaming items, domain names, digital art, and many other items backed by a blockchain. OpenSea is an open, inclusive web3 platform, where individuals can come to explore NFTs and connect with each other to purchase and sell NFTs. 
10.  Decentraland

At Decentraland, we are creating a virtual world that will grow beyond any centralized control. To accomplish this, we're building a suite of supporting tools and applications designed to help people create three-dimensional content, games, and applications. All of this will be hosted and accessed on a fully decentralized VR platform. Our work touches on virtual reality, dApp development, game design, cryptocurrencies, and 3D art and design.
11.  Dapper Lab

Dapper Labs uses the power of play to deliver blockchain-based experiences that are made for you and ready for the real world.  The serious business of fun and games on the blockchain. No jargon or nonsense. Just good fun.
12.  The Sandbox

The Sandbox is a user-generated gaming platform where creators can create assets and gaming experiences to monetize them on the Ethereum blockchain. Imagine Minecraft ft. Roblox on the blockchain. It features 3 main components: a Voxel editor software (Vox Edit), a Marketplace, and the Game Maker.
13.  Lucid Sight Inc.

Lucid Sight has innovated on and explored new technologies across multiple platforms (iOS, Android, VR, Console, and PC), working with major IPs and brands. To date, Lucid Sight has built over two dozen games, apps, and experiences using its cutting-edge multiplayer tech stack. These games include MLB Champions, CSC x Star Trek, and Justice League for PSVR. In 2021 Lucid Sight acquired Colyseus, a 6-year-old open-source multiplayer engine built on JavaScript. Colysues joins Lucid Sight's existing technology stack to create Colyseus Arena, a cloud solution for the democratization of multiplayer game development. 
14.  World of Ether

World of Ether is the world's first decentralized game using Ethereum to buy and store collectible characters (Etherians) on the blockchain. The game allows players to breed their characters to create legendary monsters, buy Etherians in the marketplace, or battle other players over rare Etherian breeds. The blockchain traces each player's moves on its transparent ledger to prevent cheating or hacking.
15.  Alien Worlds

Alien Worlds is an NFT metaverse where players explore seven planets across the metaverse. Planets in Aliens World are like districts in real life. Each planet has its own characteristics and is governed by different rules. Players can earn by mining assets, battling other explorers, and from rental commissions from the land they own.
16.  Uplandme Inc.

Upland is a property trading game paired with a decentralized economy. Players buy, sell, trade, and develop virtual properties that are based on real-world addresses. Blockchain technology ensures true ownership for the players. Uplanders collect in-game currency as a reward for their ownership and for the completion of Collections that group together a predefined amount of properties.
17.  Sky Mavis

Sky Mavis develops blockchain-based games and products. Its first game, Axie Infinity, is a digital pet universe where players battle, raise and trade cute creatures called Axies. Each Axie can possess 6 out of hundreds of possible body parts. Each body part has its own battle move so the combinations for creating unique little battlers are infinite.
18.  Sorare

Sorare offers a platform to buy, sell and play with official football Cryptogoods. Sorare's goal is to create a digital environment where football enthusiasts may collect, trade, and interact with the beautiful game in innovative ways.
19.  Yield Guild Games

Yield Guild Games is a play-to-earn gaming guild that brings players together to earn via blockchain-based economies. We are the settlers of new worlds in the Metaverse.
20.  gDEX Metaverse

gDEX Metaverse is a revolutionary Web3 community gaming platform powering gamers, creators, and guilds in the Metaverse.
gDEX enables interoperability with a robust suite of Web3 chain agnostic tools that allow gamers, creators, and guilds to seamlessly manage all their Web3 gaming virtual assets, identity, activity, & experience from one platform across the metaverse.
21.  Rage.Fan

Rage Fan is a platform offering Fantasy Sports and Quizzing games that require skill, knowledge, and interaction. Underpinned by blockchain technology, Rage. The fan will systematically solve the different issues faced by players, such as eliminating high entry, rake, and withdrawal fees, making operations completely transparent, and increasing the fan's influence on the in-game decision-making.
22.  Double Jump Tokyo Inc.

Double Jump Tokyo is the leading startup in Japan that specializes in developing blockchain games. Their international team and group of engineers bring expertise in gaming, finance, blockchain technologies, and cryptocurrency. Double Jump Tokyo is the leader in Japan for cumulative NFT transaction volumes.
23.  AnRKey X

AnRKey X is a multi-release DeFi game studio and all-in-one Play to Earn platform powering gamers and creators in the metaverse. We enable a community-owned and fully decentralized gaming economy making it easy for billions of gamers and creators around the world to easily monetize their gameplay, participate in ownership & earn real money.
24.  Playcent

Playcent is a blockchain-based user-generated content platform for interactive apps and games. It's a remix tool that anyone can use to make interactive games, mini-apps, and memes based on the various templates created by independent developers.
25.  Gala

Gala Games has been built to give power to the gaming community. As the first blockchain gaming platform, Gala Games has created an ecosystem where players and creators may be rewarded for their participation. GALA is currently based on the Ethereum blockchain and conforms to the ERC-20 standard. GALA is a non-refundable utility token that will be used as the medium of exchange between participants in the Gala. Gala Games is here to fundamentally redefine both the gaming and blockchain spaces.
Closing Thoughts
Each of the names mentioned above has made significant contributions to the blockchain gaming industry. The integration of blockchain technology into the gaming industry has brought about higher levels of transparency and security, which proves to be extremely beneficial. The fullest potential of blockchain technology has not yet been utilized since it is evolving itself. However, it is expected that the utilization will be more and better in the time to come for the further benefit of the gaming industry.