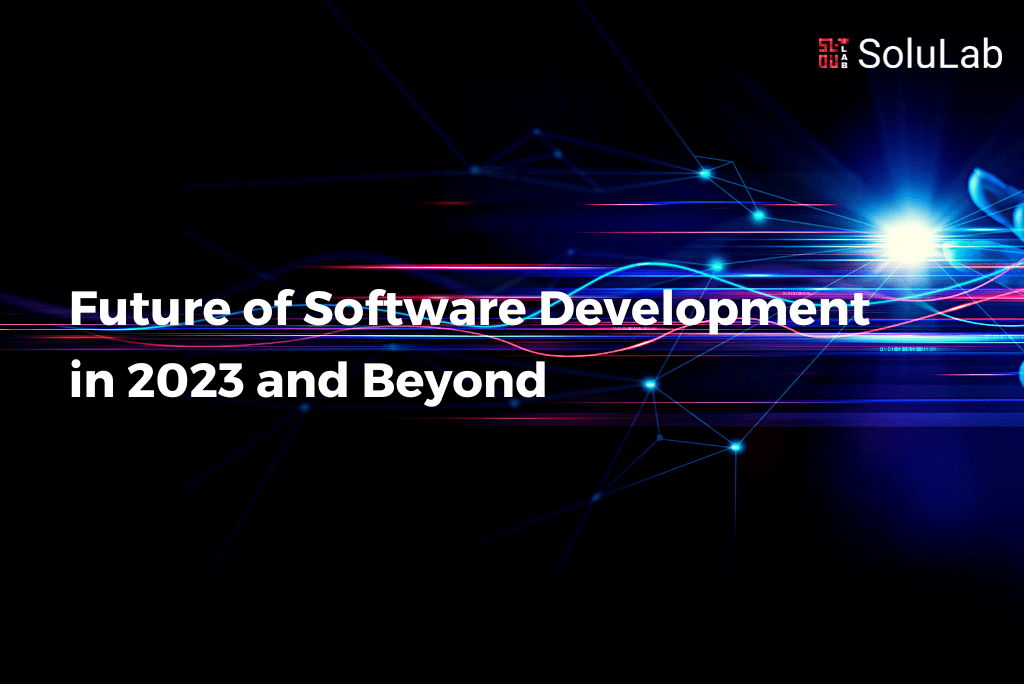 With every year passing by, global technology advancement and usage are increasing rapidly. It's no wonder the earth has more IoT devices than its total pollution since 2008; also 63.5% of the world's population uses the internet. 
Software development methodologies and frameworks aren't the same; technologies like blockchain and Artificial Intelligence are revolutionizing software development processes, making them as complex and simple as possible.
While some of the software innovations are easing security concerns, some of them are decoding complex software development techniques. 
Let's discuss to understand the possible trends and technologies that will potentially change the software development process and how a business based in the USA can set its future through these technologies. 
1.  Blockchain Technology Usage
Using blockchain technology in software development is something going to be more prevalent due to its advantages. Worldwide investment in blockchain implementation has already touched $6.6 billion, with a constant up rise. 
An error-proof, secured and efficient system, blockchain possesses numerous advantages to use for software and application development; let's understand concisely – 
Blockchain has Smart Contracts; a program injected into mainstream blockchain to complete tasks automatically when predefined conditions are met. Smart Contracts can be used to perform various transactions and verification within an application. 
Also, blockchain acts as an immutable ledger, so participants can do nothing but verify, maintain, and watch the transactions happening in a multi-authentication software or application. 
Altogether, blockchain implementation will become a norm in the software development industry, with an expected growth projection of $67.4 billion in 2026. 
2.  Microservices Architecture
To satisfy demands for highly efficient, multi-functional yet simple and intuitive applications, microservices architecture is an amazing software development methodology to use. It's versatile, effective and definitely applicable for huge and complex developments. 
In contrast to a monolithic architecture, software developers can build a single software in multiple divisions, having their own different development strategies and planning. Monolithic architecture is suitable for small projects, but the major software development projects nowadays are complex and require more flexibility and security. 
So, this software architecture will rise up with the preceding years of software development. 
3.  Low-Code Development
With the increasing demand for customized software and applications, low-code development is a procedure that is gaining momentum. Likewise, the demand factor, today's learning-focused business environment, lets business owners learn business fundamentals before plunging into the main field. So, they usually become capable of using and understanding codes and managing software development teams. 
Low-code development platforms let users develop useful applications without seeking professional developers. A visual development interface, drag-and-drop facility, and pre-existing code library are some of the components of a low-code application development platform. Through these components, users can compile software with more productivity and time savings. 
Low-code development has benefits over conventional development methodology, and it will flourish more in the future. However, this process can require developers due to the nature of complexity in software development. So, it's recommended to consult software development services prior to making development decisions. 

4.  Cloud-Computing Adoption
Cloud-computing infrastructure in software development isn't a new thing; businesses have been using clouds to store corporate data since. According to statistics, 60% of corporate data is stored in cloud storage.  
Cloud computing provides unlimited development resources, a development environment and staging servers. With unlimited resources, developers can enhance the software's usability, scalability and features. Staging servers makes coding and testing easier, ultimately increasing the time efficiency and productivity of the development process. 
In contrast to traditional software development, cloud-based software development isn't dependent on resource scarcity, requires comparatively low-end hardware, and it's more flexible. 
Cloud-computing adoption will definitely increase in future, and 2023 will be the preceding year. 

5.  DevSecOps
DevSecOPs are among the latest emerging software development methodologies available in the industry. With the concerning amount of security vulnerabilities around the world, DevSecOPs is the development procedure that enables security processes from the beginning of development. 
DevSecOps is often referred to as security DevOps, named as it arrived from the DevOps software development methodological concept. Static Application Security Testing, Dynamic Application Security Testing, and Interactive Application Security Testing are the implementation in this development process, with constant automated scanning throughout the framework. 
Software security is an important thing, and the DevSecOps strategy is definitely built for the future world. 
How A USA-Based Business Can Implement These Technologies
The USA is amazing for satisfying business requirements, especially for software development requirements. And, for software development services in the USA, SoluLab is among the popular names for 10+ years of industry experience. Our company possesses all resources to develop high-end and futuristic software solutions. Whether you need software development consultation, or need to hire software developers for your in-house team, SoluLab is ready to serve you to satisfy the technological needs of your business. 
Ending Thoughts
The future of software development is bright, as the upcoming decades will open up more demands for automation or software. Likewise, with the increased demand for user-centric or specific market-centric technology, customizable software demand will gradually rise.
From blockchain implementation to DevSecOps methodology, the modern era of software development will depend on some fundamentals. Analyzing customer and user demand, properly segmenting the market, and providing service to the target audience are some steps a software development framework must include. Through this updated framework, futuristic software development will become capable of gaining more strength and establishing a firm grip on the industry. 
Read Also: Top 10 Software Development Companies in USA 
However, software development processes aren't easy; the future will bring more challenges, complexities and roadblocks to compete in order to build any sensational software or application. So, it's always recommended to consult software development services providers while staying updated with the constant market upbuild. 
Author Bio
Akash Guha is a content writer with a grasp of different web content creation. He has an interest towards writing website content for multiple industries like blockchain, mental health and finance. Also, he is aimed to write simple and easy-to-understand content.
[/fusion_text][/fusion_builder_column][/fusion_builder_row][/fusion_builder_container]