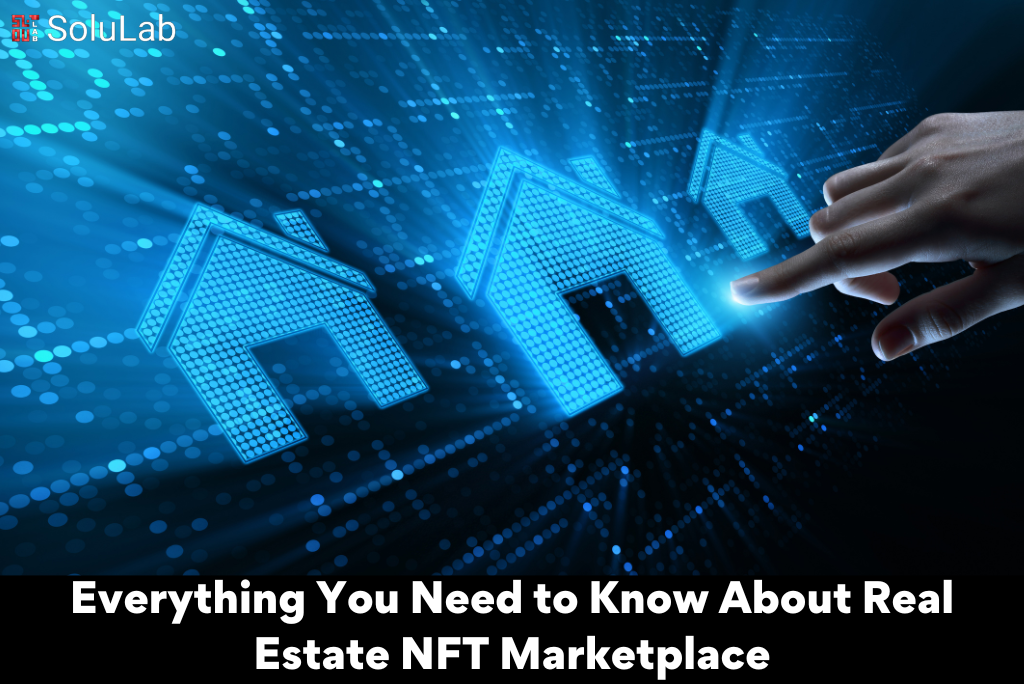 The seasons should modify the way the earth looks! The goal of this season is for virtual real estate to flourish. Actual real estate & digital cryptographic assets, or NFTs, are combined. NFT marketplaces are climbing the ladder using their revolutionary decentralization philosophy as they gather momentum daily. The trading forum that was created for individuals based on their preferred NFTs is evolving into the Real Estate NFT marketplace.
The cryptocurrency economy's NFT sector is booming. The product variety in the NFT market is gradually expanding. It is anticipated that the additional real estate will have a greater impact on both the physical and virtual worlds. Here is all the information you need to know about real estate nft and the real estate marketplace. 
What is Real Estate NFT and Real Estate NFT Marketplace
An NFT is a programmed piece of real estate that users can visit in a virtual setting using their 3D avatar. Users can acquire NFTs tied to certain fields of land in the metaverse to signify sole ownership of their holdings. As developers create virtual worlds in which we can explore cities, interact in novel social settings, and even buy and sell, the super universe is rapidly being exploited. You can purchase real estate or land in these settings or video games. These virtual goods are traded as NFTs that are logged on the blockchain. A physical real estate NFT marketplace is produced by registering a tangible piece of real estate (such as your house, place of business, or workplace) on a blockchain.
These virtual worlds are created alongside NFT dwellings, just like in the real world, or you can buy a single NFT unit in an NFT building. In essence, NFT virtual real estate will have some traits with physical real estate. Additionally, the digital world as well as its premises—which are frequently imitations of actual locations—can also be impacted when important companies and businesses are involved. The real estate NFT marketplace is a platform that gathers traders together in an online forum to create, purchase, sell, and auction virtual properties all under one roof. This development's main goal is to make it simpler to transact and exchange services between actual and virtual land. The trading strategies differ depending on whether markets are centralized or decentralized.
Features of Real Estate NFT
Real Estate NFT's salient characteristics include:
Be entirely upfront about the full transfer of property ownership, not just a partial one.

Unlike in the case of music or art, there is no need to move or interact with the property in real estate NFT. Paperwork is the center of all work.

The only barriers in real estate that deter potential clients are rising marginal costs, brokerage cuts, as well as other minor fees. Utilizing NFT lowers all costs, resulting in outstanding pricing.

NFT merely skips a few phases in the property purchase process; it does not eliminate paperwork such as tax forms, deed forms, etc.
Utility, project specifics, and location are the primary determinants of property pricing in the metaverse, just like in other NFTs. Real estate has also been altered by blockchain technology, which has affected many other businesses. The intrinsic beauty of NFT is that it is designed to optimize tasks that still need to be completed in the actual world. We've outlined four possibilities NFT can help the real estate sector below.
Improve security and transparency in the industry 
Having your title document on paper has the drawback that it is very easy to lose, change, or tamper with. Real estate transactions may be safer and more productive with the encryption of tangible assets. Since NFTs are kept on a blockchain ledger, anyone may check their legitimacy by looking up their own history & previous transactions. Additionally, by minting your title deed or any additional document as an NFT, you may dramatically lower the possibility of malevolent actors manipulating papers because of the blockchain's immutable record. Ownership of your property is assured.
High-speed, high-liquid exchange 
The transfer of assets is safe and almost instant using NFTS. Consider your present property-buying process. The entire procedure may take weeks or even months to complete using conventional methods. Even if there is an agreement, it may take several weeks to sign and exchange contracts. Although the real estate sector is notorious for its cumbersome procedures, NFTs can assist streamline and expedite these procedures. Transaction history & ownership are open to all users because the NFT runs on a decentralized ledger. Additionally, smart contracts can be used to automate and maintain the procedures and bureaucracy associated with transferring asset owners. When requirements are satisfied, this blockchain program automatically carries out commands.
Safe and automatic via smart contract 
Purchasing real estate using smart contract functionality can start a number of automated processes for dividends, payments, maintenance, and other things. Theoretically, selling NFT assets might be as easy as a few clicks, complete with digital verification of the transferee's identity, money, and assets. Improved security & data integrity is two more reasons you would wish to adopt NFT for real estate, in addition to transparency, quick delivery, and unquestionable proof of ownership.
NFT and Proportional Ownership 
How investors can manage various investor projects is one of the fundamental practical applications. Each property is divided into tokens that function as shares using proportional ownership tokens. A deed can be divided into tokens to benefit joint investors and grant them ownership rights. With their own automation and regulations, several elements can be included in smart contracts. They can, for instance, individually hold each party accountable for their contributions, & in cases involving several investors, each party is answerable for the majority vote results. Partially owned tokens are currently managing to perform an additional step around that specific area of law, but full-asset tokens are among the regulatory areas that need attention at this early stage.

Read more: 15 Blockchain Companies Shaping the Real Estate Industry
How Does Real Estate NFT Work?
Real estate NFTs as well as other NFTs do not differ all that much. They are bought using the seller's preferred cryptocurrency, kept in a digital wallet, and, if speculative, are resold for a profit to a buyer with the appropriate amount of funds. Because they represent a portion of a real estate project rather than a single goal or virtual asset, investments maintained as FO tokens behave more like equities. Since ownership is merely a share in a company, profits are paid as with any share-based investment. For instance, let's say you owned one of the ten tokens issued by a company that makes investments in apartment buildings.
In such a situation, you would receive a check for 10% of the net profit at the end of an earnings cycle. You have the ability to severability, which allows you to sell those tokens whenever you choose, just like with all NFTs & shares. Some real estate investment crowdfunding platforms mandate that you hold your shares for a specific amount of time, and NFT-backed venues will likely also have a minimum hold time when they gain popularity.
The paperwork for NFT transferred assets must first be prepared. This includes binding them to a smart contract, obtaining permission, or taking other legal action to obtain a government clearance.

An NFT that contains legal information regarding an asset, such as documents, disclosures, reports, photographs, or videos, is mined.

Now, NFT may be integrated into the NFT marketplace platform, which focuses on real estate.

The deal is made through bidding, direct purchase, lending, or the purchase of any used goods.

Once a buyer has been chosen, a digitally signed smart contract involving them guarantees the transfer of all cryptocurrency from the buyer's cryptocurrency wallet to the seller's cryptocurrency wallet following the transfer of full ownership of the NFT.
Pros And Cons Of Investing In Real Estate NFTs
Pros: 
NFT real estate possesses many potentials for investment, including: 
Using an F-NFT or a conventional full NFT, you can arrange your eggs in the baskets of your choice. Additionally, you are free to trade, sell, or purchase property whenever you like. This also enables everyone, regardless of wealth/geography, to invest in real estate.
There is no requirement that you use a real estate broker. With other investors, you can immediately purchase, sell, & trade your real estate NFTs.

Purchasing NFT properties takes a shorter process with minimal waiting time. That's because smart contracts used for real estate NFTs automate many methods, making it a very efficient way to buy and sell a property. 

The procedure of buying NFT homes is quicker and involves less waiting. This is so because real estate NFTs use smart contracts to automate numerous processes, making it a very effective way to acquire and sell a property.
Cons:
Investing in Real Estate NFTs has a number of drawbacks, including Real estate do have a lot of untapped potential in both the physical and digital worlds. But there are always dangers and drawbacks. Some of them are as follows:
You might not be able to recoup the whole purchase price when you sell your house. You could not get the return on your investment that you expected in the event that the value of your home drops.

As of right now, current law does not explicitly recognize the NFT as an asset. Since actual physical real estate cannot be immediately tokenized, the investor must hold the property through a legal corporation as a workaround.

The NFT is not yet specifically recognized as an asset by current legislation. Real estate that is actually physical cannot be instantaneously tokenized, so as a workaround, the investor must hold the property via legitimate business.

In contrast to real-world NFTs, virtual real estate NFTs might not be at risk in this regard. You could have to deal with unreported mortgages & unpaid real estate taxes after purchasing the property. If you don't do the usual due diligence when purchasing real estate, you can run into more issues than you think.
How To Create a Real Estate NFT Marketplace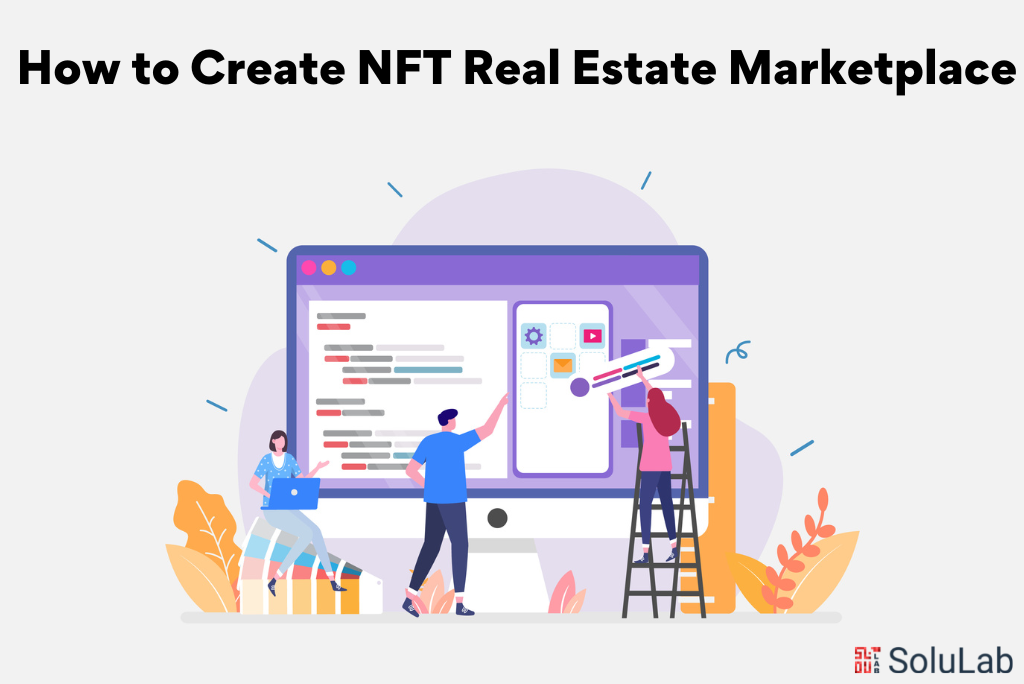 Requirement of Analysis
Business owners looking to establish a real estate marketplace must be aware of the client's basic needs. These needs can be specified from the perspectives of investors, business partners, traders, NFT specialists, and qualified NFT real estate buyers. A more individualized marketplace will increase your chances of success. A proper NFT real estate marketplace must include a smart listing & bid interface that can handle heavy traffic volumes.
Market Research
An NFT in real estate is the ideal fusion of several technological possibilities. As blockchain technology advances, new market trends in technology emerge. An NFT marketplace development organization is now in charge of creating solutions that call for constant improvement. For companies offering NFT marketplace development services, industry research, periodicals, journals, and other educational tools can be beneficial. You can use this information to create highly personalized, scalable, and forward-looking NFT solutions.
Product Discovery
Once you've decided what you want to sell, it's time to consider if the market or your intended audience will be satisfied. During this phase of product discovery, you can examine the potential of the real estate marketplace, as well as its key features and end goal. Clients can also use advanced prototype tools during this phase to view their production in real-time. In addition to being visually described, the user may also gather consumer insights in order to propose solutions and enhance the functionality of the product. A crucial part of the total procedure is this step. Based on the product, we can establish a fair management and development plan.
Design
After you have a product structure available, you can create an appealing marketplace design that will help your users interact with your product. To make your product user-ready for a variety of audiences, you should adhere to a multilateral product design strategy focusing on varied criteria. A strong design will rapidly convert viewers into potential buyers. In a busy interface, a fully functional NFT marketplace will be able to comprehend the most complex requests. To create an appealing and useful design, you will need a skilled group of NFT marketplace developers who can draw on their understanding of product design, the NFT real estate industry, and your target audience.
UI Development 
A completely functional interface for an NFT marketplace can be created during this stage. The functionalities can be incorporated into the fully working interface by both the NFT marketplace developers using the fundamental framework & programming languages to achieve the goals. Engaging UI developers that have a good understanding of the NFT market and who can materialize an appropriate product utilizing project documentation and design concepts is preferred. To build an NFT real estate marketplace, you will require the following technological resources: 
All of your data can be kept and utilized on a cloud network rather than on a server thanks to cloud storage. This provides you the freedom to both expand and restrict your operations in order to produce a seamless and comprehensive NFT offering. The APIs, web portals, & mobile applications that the cloud infrastructure offers are appropriate for automating and controlling solutions.

You can create a clever, secure, and safe environment for managing various data scopes with the aid of a proper DBMS. The idea is that there shouldn't be any restrictions on the sustainability and dependability of data in an NFT real estate marketplace.

A blockchain development business may craft an engaging frontend and a potent backend that produce a customer-focused NFT marketplace using a variety of frameworks, computer languages, and scripts. The three main technologies utilized to create an NFT real estate marketplace are React.js, Express.js, and Node.js. To store NFTs, utilize a blockchain. Blockchain implementation is necessary to ensure safe and efficient operation. The execution of protocols bound within an NFT marketplace is made possible by smart contracts. Blockchain applications are implemented using frameworks such as Drizzle, Ganache, & Truffle. On the blockchain, there are numerous NFT marketplaces such as Ethereum, Binance Smart Chain, Solana, Cardano, & Polygon. The developers will create the Smart Contract and distribute it to your marketplace.
Establishing Blockchain Ecosystem
Creating a blockchain ecosystem has the following goals:
Ensure robust functionality

Continually follow the process

Adapt to the product's ambitious Blockchain objectives

 
Interconnect a crypto Wallet
One of the most important prerequisites for a multi-featured NFT real estate marketplace is a crypto wallet. It supports cryptocurrency use and offers secure gas fee transmission on both ends. To execute secure and seamless transactions in a blockchain-enabled NFT marketplace, you will need a crypto-compatible wallet with the necessary capabilities. You can also use a cryptocurrency wallet application development business to produce a tailored crypto wallet created for your market.
Testing
The software that will be listed on the platform needs to have every little and major chained feature, functionality, interface, and NFT examined. You look at the design, development, and other components that go into making an all-encompassing NFT marketplace solution.
Deploy
Once you have a product, you must deploy it on the server effectively and securely. Smart Contracts and external resources will be combined into a single, deployable bundle.
Launch
You can launch your NFT real estate marketplace on a variety of platforms after Design and Development. There are numerous ways to present your product to such a big audience, including prospective customers, partners, and investors.
Conclusion
So where to buy NFT real estate, The real estate markets of the metaverse can now include physical assets, sometimes known as "blended" NFTs. Expert agents for virtual trading environments will soon be accessible. Due to their simplicity, these NFTs will likely be adopted in the future by both tech-savvy & geriatric users. Our blockchain experts at Solulab will provide you with cutting-edge technologies if you're considering creating your own Real Estate NFT Marketplace.