Before going further, here is an overview from an expert, about how the medtech industry can remodel to Virtual Reality and Augmented Reality by changing the healthcare landscape.
"As we know it how technology is altering the face of healthcare . Earlier, Virtual Reality and Augmented Reality were associated only with game and film industries, but nowadays are bringing real change in the healthcare industry. 
Gone are the days when students practiced on real patients. Nowadays, VR and AR solutions can not only improve medical education and training but also provide profound patient treatment, medical rehabilitation, consultation, and diagnosis." What's next?
Industry Aspect of AR and VR
A recent report by Research and Markets states that, "Augmented Reality and Virtual Reality in the healthcare market reached $769.2 million in 2017. Experts predict that this figure will grow to $ 4,997.9 million by 2023".

According to the Goldman Sachs Global Investment research, "the application of VR and AR in healthcare will take second place after video games in terms of the market size in 2025".
Despite positive growth prospects, the healthcare industry has not properly adopted AR and VR for now. Virtual Reality has acquired lots of  attention in recent years after technology boom. However, it's still in its earlier stage.   
As the report by Research and Markets claims, the major players in the market for AR and VR in healthcare are Oculus VR (US), Google (US), Mindmaze (Switzerland), Microsoft (US), Psious (Spain) and Medical Realities (UK).
Regardless of the great hype and investment that flows from these corporations, there are some big hurdles listed below that are holding AR and VR to be applied on the full-fledged scale.
Expensive And Confining Hardware
VR technology adoption goes hand-in-hand with the development of Virtual reality hardware. It's been a long time since the very first appearance of VR headsets, the technology has come a long way, still it has many constraints. They are, first of all, price, convenience, and the level of realism.
The likes of  Oculus Rift and HTC Vive which are first generation headsets have fallen in price, most of the healthcare institutions are unwilling to invest in them. Also, the devices face lots of drawbacks in terms of sound rendering animation, the field of view, motion tracking, display quality, etc. 
On the one hand, we have mobile headsets like Samsung Gear VR and Google Cardboard that give mobility but don't offer the immersiveness users experience.However, to create a more immersive experience devices need to be vast not mobile phones, this makes them not accessible for the everyday consumer. 
Another crucial aspect of using VR headsets in healthcare that has to be addressed by the hardware producers is hygiene.
For healthcare industry to adopt VR technology it needs to be lightweight, affordable, portable and comfortable. With growing technology on exponential level this goal is achievable in the long run.
Lacking Great Content
From a user's point of view, fascinating VR content that would transfer them into the new reality and provide quality experiences is exactly what is most valued. A recent survey by VR Intelligence and SuperData found out that 52% of survey takers believe that lack of content is a great barrier against the adoption of VR.
In the healthcare sector, this is a critical problem, since patient outcomes are dependent on how good the content is. One of the major challenges faced by healthtech is developing quality VR application for various platforms and needs. 
Thus, its vital for healthtech VR startups to have perfect talent, including VR programmers, talented 3D artist, creative experienced designers and other specialists that can create  amazing content that will live up to the potential of VR technology.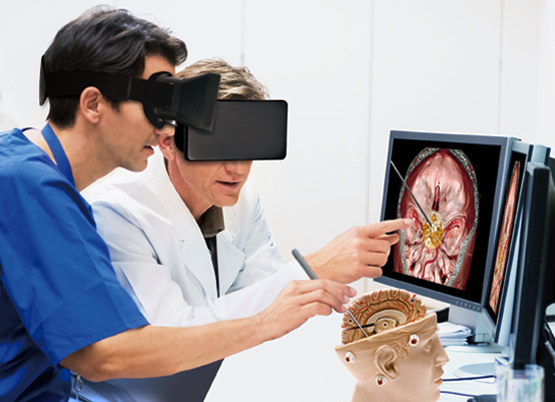 VR & AR Training
Its difficult to find patients who are aware and exposure to VR devices and content. Because of this adaptation period increases. The challenge of training patients to use VR headsets will remain until VR becomes a common technology. 
During this point of time, VR and AR development companies must R & D to deliver the best natural realistic experiences to the users and try to reduce motion sickness. Also,  development of user-friendly apps is a must to guarantee a short learning curve.
Among other obstacles that hover over healthtech are legal issues and regulations, lack of funding and enough research studies about the health effects of VR and AR.
How An Experienced Professional VR Development Team Is Needed To Create A Virtual Reality Solution For Healthcare
With the challenges mentioned above, we can say that it's possible to launch our own Virtual Reality product development project. If we observe  at what it takes to develop a VR experience, everything comes down to building a dedicated development team.
First of all, there is a need to gather a group of experts who know the ins and outs of developing fascinating and immersive experiences with VR engines. 
To hire your own VR development team, it's necessary to have the right people for the following roles mentioned below: 
A programmer having huge experience in creating VR experiences based on the chosen game engine, such as Unity or Unreal.
How a concept artist needs to create visual design of the assets, environments, characters  and other elements of the VR experience. Also, to create a illustrations giving the idea of the Virtual reality solution for healthcare.
A professional 3D artist converts concept art into VR assets and develops all the elements of the VR/AR experience, which includes graphics, animations and effects.
A VR designer creates and develops the idea behind the VR experience. He understands well how VR works. Here he develops a connection between the virtual world and the real world. 

Quality Assurance Specialist's foremost role is to test software, hardware platform integration, and device compatibility. A good combination of applied skills and innovative approaches to manual and test automation are crucial for testers who work with AR & VR solutions.
Besides all these, experts such as a sound designer or a professional creative writer who will help you with voice acting and storytelling is much needed.
Best Tools For Developing A Virtual Reality Solution For Healthcare
While choosing a technology for VR solution, it's vital to consider all the pros and cons of each technology, such as price, availability of designers, engineers, and others. For instance, concerning the price, Unity offers a completely free version ready for download. It also has the Pro version which costs $1,500.
Unreal Engine 4, by contrast, is free of charge. It has a royalty fee of 5% though, which means that you will need to give 5% of everything you earn.
Both engines offer great asset stores where you can choose everything you need from realistic animation, 2D art and 3D models, SDKs, templates, and tools which speed up the development process.
Some Successful VR & AR Healthcare Startups
Their are number of  startups which has made progress in this sector are growing steadily around the world. Below mentioned are list of startups which could turn out to be a big corporation in upcoming years. 
VRHealth
is an Israeli healthtech company with headquarters in Boston.
It develops several VR/AR products designed for physical therapy, psychology, cognitive rehabilitation, pain management, and coordination disorders. Its solutions are used across 30 locations in the US. The company utilizes VR and AR technology to deliver real-time data analytics to patients and clinicians. One can use these virtual reality healthcare solutions not only in the hospital but also at home. You don't need to go to the hospital to be evaluated. It can be done remotely and when you go to the doctor, your profile is already there for diagnosis or treatment.
Vivid Vision
is a San Francisco startup that supports all the major VR headsets and helps people improve their vision.
Patients play VR games on the computer at home or under clinician's supervision. The experiences are designed to treat amblyopia (lazy eye), strabismus (crossed eyes), and vergence disorders (eyes not moving together properly). As of May 2017, Vivid Vision raised $2,200,000. Already, 88 clinics around the world use these solutions.
ImmersiveTouch
is a Chicago VR solution for surgical training.
It is utilized today in top medical centers such as Johns Hopkins, the University of Calgary, and the University of Chicago. This innovative VR platform provides an immersive 3D operating experience for surgeons allowing them to see and take part in the whole surgical procedure. Besides, doctors can also upload patient scans in Virtual Reality for case review or detailed surgery planning.
Psious
is a Spanish behavioral health tech company that offers a Psious Toolsuite solution to people who suffer from anxiety-related disorders.
With the help of medical experts, they created its own unique content – relaxation exercises. These exercises help patients suffering from depression and other mental illnesses. 
Conclusion :

Innovation and new technology are having a huge impact in the healthcare industry. No one would have imagined in their wildest dreams that it would be possible to diagnose in slightest manner, experience surgical procedure, or teach yourself about health conditions by simply sitting at home with VR headsets. 
Despite all the challenges healthtech is facing now with the help of AR and VR solutions  the industry will thrive and transform the way patients and doctors experience and practice healthcare. In turn, virtual reality solutions for healthcare will bring overall positive change in the world.