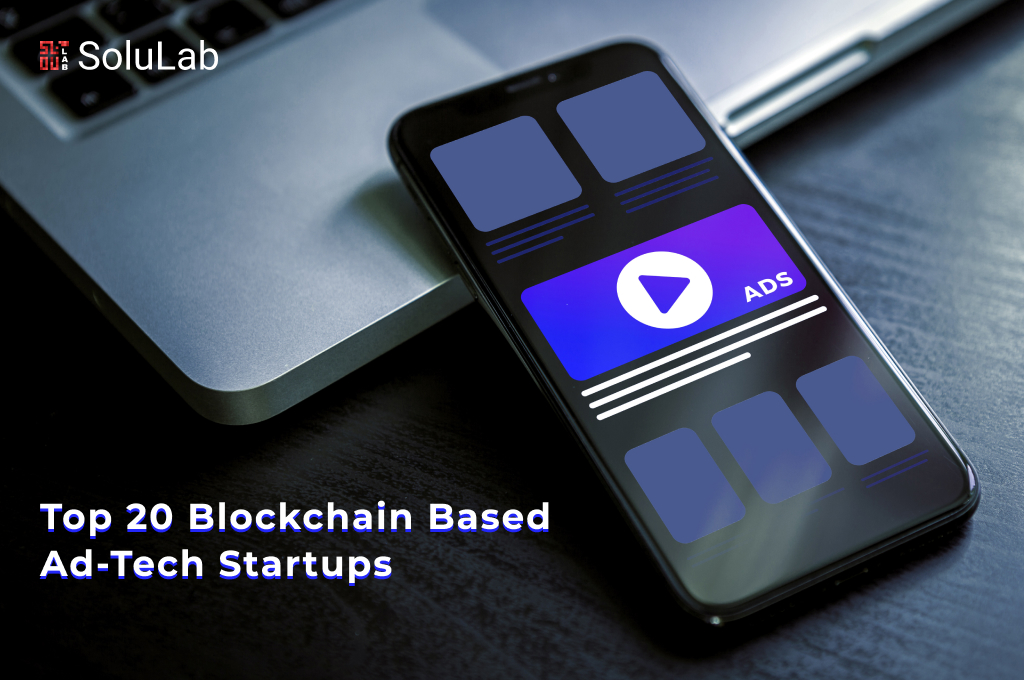 Advertisement technology which is better known as Adtech refers to an overarching term that encompasses various tools and software advertisers use to reach out to the audience along with delivering & measuring digital advertising campaigns. However, the integration of blockchain technology into Adtech certainly benefits the industry to a great extent. Blockchain technology brings a lot to Adtech's table, such as bringing transparency, promoting supreme accountability, helping to foolproof operations with the use of smart contracts, enhancing privacy, and limiting advertisement fraud activities. It is exactly the reason why the players in the Adtech industry are planning to integrate blockchain technology into their business and utilize its benefits in an ideal manner.
The increasing demand for blockchain services in the Adtech industry has resulted in a number of startups popping up to deal with the same. These startups have played a significant role in appropriately shaping the industry with the proper integration of blockchain technology. So, to give a better idea about the blockchain-based startups aiming to leave a mark in the Adtech industry, we have listed the top 20 names here.
1.  Adbank Inc.

Adbank is a Canadian-based start-up that's creating technology to tackle the $50 billion ad fraud problem, currently the second most profitable form of income for organized crime. Using AI and blockchain technology, Adbank's payment protocol provides full transparency of transactions between advertisers and publishers while creating a new cryptocurrency-powered ecosystem that detects and reduces fraud at scale. 
2.  Adshares

Adshares is the first genuinely decentralized marketplace for programmatic advertising. It is also the most advanced blockchain-based project in the advertising market. We use our own blockchain to connect publishers and advertisers and let them make direct deals. 
3.  Unbanked

Unbanked is a global fintech solution built on blockchain. Predicated on the belief that financial access and control is a fundamental human right, Unbanked connects traditional enterprise, and banking systems with blockchain infrastructure, expanding the utility of cryptocurrency for investing and everyday purchases.
4.  XCHNG

XCHNG is an open and unified blockchain-based framework for the digital advertising ecosystem. XCHNG enables the related targeting and activation of audiences, bolsters ad-spend efficiency and transparency, establishes a next-generation system of record for all participants, and provides the opportunity to tokenize the framework to treat digital as a true asset class, standardizing the valuation of ads. 
5.  Logiq

Logiq provides innovative ways to target, engage, and influence online consumers. At Logiq, they help small- to medium-sized agencies create and optimize their marketing strategy through accessible and powerful software and client-first services. Logiq believes in making marketing accessible, affordable, and transparent through constant campaign optimization and client education.
6.  Ambire 

Ambire removes middlemen by transacting advertising directly from advertisers to publishers. The Web3 smart wallet is made for humans. Available on 11 EVM chains and L2. 
7.  MadNetwork

MadNetwork is a custom blockchain designed to authenticate and manage the identity of organizations, people, or assets in the digital world.
8.  Datawallet

Datawallet Consumer First Compliance is an easy-to-install, comprehensive, and flexible platform to manage a business's data privacy compliance needs. Consumers get a clean, clear, and 21st-century user experience that makes it easy for them to understand how their data is managed and make informed decisions about the usage of their data. Datawallet turns compliance into a win-win, where consumers feel safe about their data and companies achieve compliance with ease.
9.  Reklaim

Reklaim is driven by the evolution of consumer data and privacy. Offering compliant consumer data to brands, agencies, platforms, and data companies, Reklaim allows consumers to visit reklaimyours.com, put in an email or a mobile phone number and unveil data that has been circulating in the market without their consent.  Consumers then have the option of choosing to reklaim this data by placing it in their account.  With a Reklaim account consumers can choose to opt-in to share their data with brands in exchange for compensation or opt out. 
10.  BIGtoken

BIGtoken is the leading ethically-sourced identity, data, and insights creation platform. Consumers provide informed opted-in data in exchange for value, while advertisers get access to opted-in, first-party data for audience insights and media activation.
11.  Civic Technologies

Civic is a leading provider of identity management tools for Web3, empowering people to easily and privately manage their identities across chains with an on-chain representation of their reusable identity. The company's flagship product, Civic Pass, is an integrated permissioning tool that helps business customers enable secure access to their on-chain assets. Users may also manage their Web3 identity, presence, and reputation with a dashboard. 
12.  NYIAX

NYIAX creates solutions to clear the barriers between media buyers and sellers, enabling strong, safe, and seriously impactful partnerships. Built on the Nasdaq financial framework, the NYIAX platform brings the certainty of the financial space to the ad marketplace, allowing for unmatched security, transparency, and efficiency across all transactions, regardless of the complexity or scale. 
13.  Basic Attention Token (BAT) 

Basic Attention Token (BAT) Creates an ad-free environment on the browser, protects privacy, and then uses the Basic Attention Token to exchange value between publishers, advertisers, and users.      
14.  Presearch     

Presearch is an open, decentralized search engine that rewards community members with Presearch Tokens for their usage, contribution to, and promotion of the platform. Presearch has an innovative go-to-market strategy to target the most frequent searches – web workers – and gain early adoption, on our way to releasing future versions of the open-source platform that will utilize a blockchain-based index, curated by the community.
15.  Kind Ads

Kind Ads A Decentralized Trust Protocol for Domains & Publishers they are building a better bridge between publishers, advertisers, users, and app providers. As a pioneer in developing new digital advertising technologies, the Kind Ads Ecosystem will provide the necessary tools and platform for addressing existing market inefficiencies.
16.  BitClave

BitClave is disrupting online search. They are building an open, public, decentralized marketplace to help efficiently match seller offers with buyer needs. Leveraging BitClave's blockchain-based solutions, businesses can efficiently gain customers and their loyalty. End users can efficiently receive competitive offers and get rewarded for sharing their personal data.
17.  Verasity

Verasity's mission is to significantly increase advertising revenues for video publishers, on any video platform, through its rewarded player and ad stack utilizing its patented Proof of View. As a solution to ad fraud, Verasity offers VeraViews, which "uses a patented Proof-of-View technology to record valid ad engagement and it stores the data immutably on a public ledger."
18.  Brave Software

Brave Software's fast, privacy-oriented browser, combined with its blockchain-based digital advertising platform, is reinventing the Web for users, publishers and advertisers. Users get a private, speedier Web experience with a much longer battery life, publishers increase their revenue share, and advertisers achieve better conversion. 
19.  Gather Network

Gather has developed a powerful new technology that allows web and mobile developers to earn money by contributing processing power, unlike any other digital monetization tool available today. Imagine an Internet where web and application developers can generate revenue without having to rely on intrusive Ads. A new revenue stream without ads, and one that is reliable and rewarding. The processing power gathered will then be redistributed, providing a cheaper alternative to current Cloud markets products.
20.  WOM Protocol
The WOM (word-of-mouth) Protocol is a blockchain-based marketing technology that gives brands, content creators, publishers, and social networks a way to monetize word-of-mouth recommendations on any app or platform.WOM Protocol also launched an NFT market yaaas.me and a crypto education and recommendation app BULLZ, live on iOS and Android.
Conclusion
Every blockchain-based Adtech startup mentioned above is trying to the best of its possibilities to provide value as well as creative inputs into the Adtech market to help overcome the existing problems. The rate of adoption of blockchain technology by the Adtech industry has consistently risen over the past few years, and the rising trend is expected to continue in the time to come.