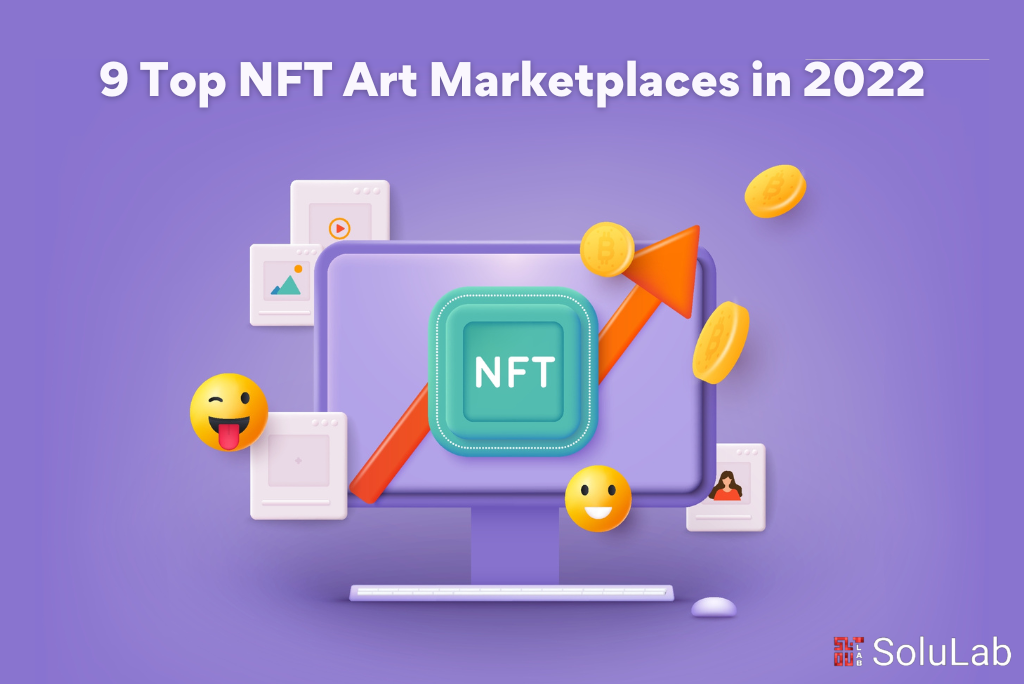 Finding a unique new project to buy or selling a brand-new work of art may depend on which NFT marketplaces are the finest. Additionally, NFT markets provide more than just places to buy & sell digital art; they also serve as a gateway to a society of ardent creators and collectors.
The fees you will pay as well as the type of art which is sold – does it fit your style? – must be taken into account in order to select the finest NFT marketplace for you. even the cryptocurrency and blockchain that will be utilized. There are plenty to choose from, and our guide to NFT cryptocurrency can be useful. The majority of NFT marketplaces utilize Ethereum, but some are switching to newer blockchains because of their lower gas fees (which you'll pay to construct your NFT) and lower carbon impact.
The best NFT art marketplaces for buying and selling digital art are listed below. Any of these marketplaces should meet your needs, even if you're buying, selling, or even just inquisitive about NFT. Anyone working in the creative sector today ought to at least be aware of what an NFT marketplace is and how it operates, even if you don't currently have any plans to use one.
1. OpenSea

One of the best and most prominent NFT marketplaces, OpenSea, was founded in 2017. By 2022, three blockchains will be supported: ETH, $MATIC, & Klatyn. On OpenSea, you can pretty much find any sort of NFT. You can use categories to trade some of the most popular NFT projects, including CryptoPunks, Decentraland, and others. On OpenSea, you can trade with any of them. One of OpenSea's key benefits is the mining tool. Authors, artists, & designers can use this mining tool to create their own NFT collections and goods.
Read also: OpenSea Business Model and Revenue Sources Explained
You can also mint your Non-Fungible Token immediately on the Ethereum network via OpenSea's website. People may now instantaneously convert their efforts into NFTs thanks to this.
Benefits: 
Covers a wide range of NFTs

Supports more than 150 cryptocurrencies

Now uses the Polygon blockchain
Drawbacks: 
It uses Ethereum, which uses high gas fees
2. Rarible

Rarible, a significant NFT marketplace also running on the Ethereum blockchain, is a community-owned platform. Rarible places a greater emphasis on the social aspect of their business than other businesses. Users can track one another and monitor overall user behavior. Rarible offers the same ability for users to create their own ERC-721 coin that OpenSea does. Additionally, you can add royalties and design your smart contract similarly to a minter. That sounds amazing, huh? There is more. Furthermore, Rare offers $RARI, the first officially recognized cryptocurrency within the NFT sector. Engaging on the Rarible is all you need to do to start earning $RARI.
Benefits:
Use three kinds of blockchains

Communal

Offer low gas fees
Drawbacks:
Dominated by Popular brands
3. Larva Labs (Crypto Punks)

CryptoPunks was one of the first NFTs built on the Ethereum network. It has 10,000-pixel art figures, each with a unique personality. Initially offered for free, there was now only one choice left: purchase. Remember that purchasing one is actually a costly venture. The cheapest CryptoPunk costs 72.89 ETH or approximately $222,379.36 The backdrop colors of these Punk NFTs stand for numerous concepts. No punks are featuring blue backgrounds available, and no bids are now being accepted. The owner of the red-background punks is selling them. Last but not least, there will be a live auction featuring punks with purple backgrounds.
Benefits:
Creative collection of NFTs

Maintain scarcity
Drawbacks:
4. NBA Top Shot

Owners of the platform are the NBA & Women's NBA. By tokenizing every NBA great player's crucial moments, it aims to encapsulate each player's outstanding performance into NFTs within the type of cards. Other items that famous athletes wear are also transformed into NFTs. The rights of ownership and credibility are granted to NBA Top Shot users. Since the release of these tokens, there has been a considerable surge in demand for card tokens. NBA Top Shot has created a private NFT platform using the Flow Blockchain via Dapper Labs that only allows users to trade NFTs on their website.
Benefits:
Creative and rare concept

High in demand
Drawbacks: 
Mainly focus on sports & card NFTs

Limited collections
Read more: How to get started with NFT art?
5. NiftyGateway

NiftyGateway, one of the major NFT markets, collaborates with very well artists and businesses to create Nifties (NFT Collection). Your Nifties can be shown in the metaverse, added to a collection, or stored in a bitcoin wallet. For a customer of exclusive NFTs, Nifty Gateway is a high-end secondary market where they can purchase limited edition NFTs. However, owing to NiftyGateway's restrictions on the kinds of NFTs that are offered, you will not be able to view all of the popular projects, including crypto punks, bored monkeys, etc. like you could on OpenSea. NiftyGateway is a terrific platform for artists and customers to create and trade premium, exclusive NFT collections.
Benefits:
Accept Fiat currency

Utilize limited Open Editions
Drawbacks:
It's dominated by celebrity NFTs
6. SuperRare

SuperRare is dedicated to creating unique, priceless NFT art. It positions itself as a better iteration of Rare. It is more expertly handled, has a cleaner interface, and has a more streamlined, minimalistic appearance. You must upload your artist profile in order to register as a creator. You should plan on getting 85% of the total sale price for each piece of art you sell. This is because SuperRare charges a 15% fee on all selling its assets. The creators will receive royalties totaling 10% of all subsequent sales. The 3% buyer transaction fee is the responsibility of the bidder for each transaction. Currently, SuperRare only takes ETH as payment. Other forms of payment are not accepted.
Benefits:
Rare and creative artwork

Has a gallery mode

Editorial Blog
Drawbacks: 
Take a low number of applicants
7. Foundation

Foundation is an additional communal NFT marketplace platform here on the list. It simply exists to advance the cultures of bitcoin, NFT, and digital art. Foundation promotes the voices of underprivileged people, which facilitates NFT trading. The Foundation team's decision as to what type of art is shown on any platform's website is final. Due to the site's focus on digital art projects, the team has a strong reputation for managing live auctions and streamlining the online bidding process. NFT producers will get 85% of the sale, similar to SuperRare. The foundation keeps 15% of the donation. Each extra NFT sold will result in a 10% royalty payment to the artist.
Anyone can register for a Foundation account to start earning NFTs. The clock starts to count backward from 24 hours as soon as customers submit their initial proposals and they match the baseline pricing of a particular NFT. If a user submits a bid within the final 15 minutes of the countdown, the countdown is prolonged by an extra 15 minutes.
Benefits:
Creative & limited NFTs

Mainly artist-based NFT marketplace

High-quality art and projects
Drawbacks:
Limited & exclusive list

High fees
8. MakersPlace

If you're trying to locate and purchase one-of-a-kind digital pieces of art, MakersPlace is a great place to start. This network connects a number of writers, painters, and designers of digital artists who wish to sell their original artwork to customers around the globe. Every single NFT on the website has been printed and digitally autographed by the artist. They were the primary focus when developing MakersPlace. Artists have the ability to specify the number of editions they wish to distribute when uploading their work on MakersPlace. The Ethereum-based blockchain handles everything for them, enabling them to concentrate on running MakersPlace and cultivating their clientele. From our perspective, truly exceptional. keeps documents in a safe area with access restricted to the original creator and any subsequent owners.
Benefits:
NFTs of well-known artists

Impressive art collections

Rare NFTs
Drawbacks:
9. Axie Market

The decentralized video game Axie has a global NFT platform called the Axie market. The platform features a vibrant ecosystem of 3rd party games and applications, as well as more than 2 million active users. Users of the platform can create new Axies, adorable digital animals with Pokemon-like appearances that you can grow and use in the game.
These creatures can be purchased or traded on popular markets like UniSwap or the Axie Marketplace. Axies are primarily used in-game for warfare. Due to the growing ubiquity of Axie Infinity, users have a sizable market for trading.
Benefits:
Unique Collections

Popular in users
Drawbacks:
Conclusion
Now that we've discussed the best NFT marketplaces for you to hop in. Trading NFTs is going to become more and more popular as time goes on and the metaverse grows. Add your name to the list of those who want to know more about NFTs faster by doing so right away. By picking the best market to trade NFTs on, you may increase your return on investment. To avoid fraud, exercise common sense and research before starting to invest. Choose a market that fulfills your buying and storage needs based on the NFTs you desire as well as the cryptocurrency you plan to use for transactions.