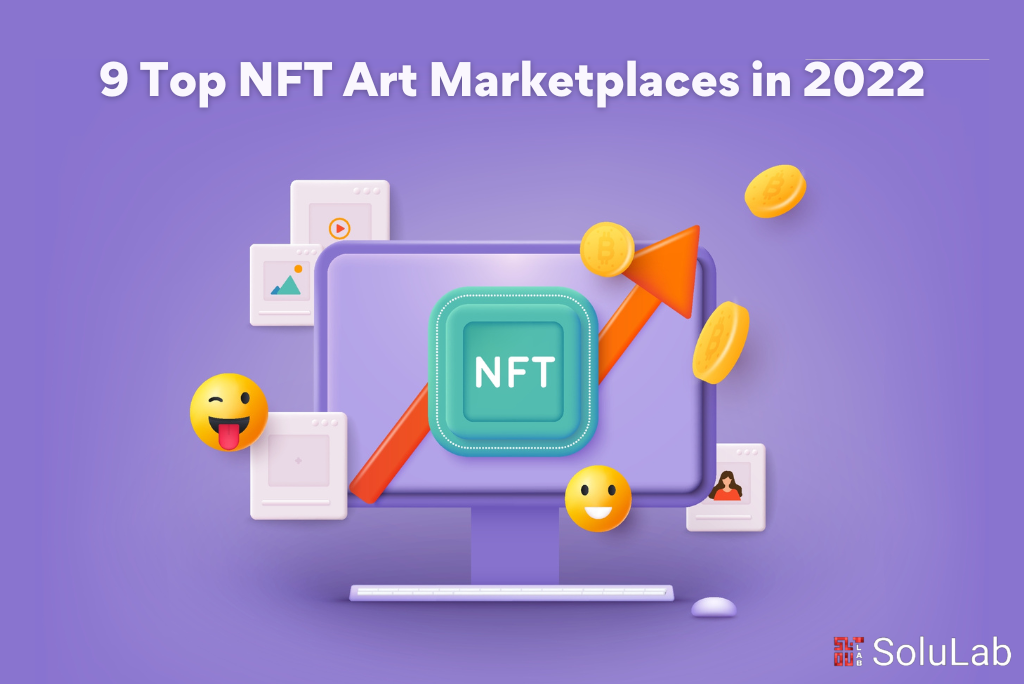 The NFT Market exceeded the $40 billion threshold set last year. Many people worry about choosing a trustworthy and affordable NFT marketplace to operate on and grow their portfolio. This area is for you if you wish to participate in the NFT sector and are unsure which market to choose. You can create and trade pricey non-fungible tokens on a number of blockchain-based platforms. Finding the best NFT marketplace for you can be challenging because there are so many unique NFT art marketplaces accessible for trading NFTs.
To assist you in making a choice, we will now quickly review each of the top NFT marketplaces available. Without further ado, let's start with our list of the best NFT marketplaces.
1. OpenSea

OpenSea, one of the most well-known and significant NFT marketplaces, was established in 2017. Three blockchains are supported as of 2022: ETH, $MATIC, and Klatyn. You may find practically every kind of NFT on OpenSea. If you want to trade some of the most well-known NFT projects, like CryptoPunks, Decentraland, etc., you can do so with categories. All of them are available for trading on OpenSea.
The mining tool in OpenSea is one of its main advantages. This mining tool helps authors, artists, and designers establish their personal NFT collections and develop their products.
Additionally, OpenSea's website gives you the option to mint your Non-Fungible Token directly onto the Ethereum network. This makes it possible for people to instantly turn their efforts into NFTs.
2. Rarible

One of the major NFT marketplaces also on the Ethereum blockchain is Rarible, which is community-owned. Rarible emphasizes the social component of its business more than other companies. Users can follow each other and keep tabs on user behavior in general. Similar to OpenSea, Rarible enables users to design their own ERC-721 token. You can also incorporate royalties and create your smart contract like a minter. Sounds fantastic, huh? More exists. Additionally, Rare features $RARI, the very first regulated cryptocurrency in the NFT space. Earning $RARI is really easy to do; all you have to do is engage on the Rarible.
3. Larva Labs (Crypto Punks)

One of the original NFTs based on the Ethereum blockchain was CryptoPunks. Each of the 10,000-pixel art figures in it has a distinct personality. The items were initially free, but now there was only one option: purchase. Keep in mind that buying one is really an expensive endeavor. The least expensive CryptoPunk is 72.89 ETH, or roughly $222,379.36. These Punk NFTs' background colors represent many ideas. No bids are being accepted, and there are no available punks with blue backgrounds. The punks with the red backgrounds are being sold by their owner. Last but not least, there is a live auction on purple-backdropped punks.
4. NBA Top Shot

The NBA and Women's NBA are the platform's owners. It seeks to capture each NBA great player's excellent result into NFTs in the type of cards by tokenizing their key moments. Additionally, other objects worn by well-known athletes are converted into NFTs.
Users of NBA Top Shot are given ownership and credibility rights. The demand for card tokens has significantly increased since the launch of these tokens.
Using the Flow Blockchain from Dapper Labs, NBA Top Shot has been developed as a private NFT platform that only permits users to trade NFTs on their website.
Read more: How to get started with NFT art?
5. NiftyGateway

One of the main NFT markets, NiftyGateway, works with well-known artists and companies to produce Nifties (NFT Collection). You can display your Nifties in the metaverse, add them to your cryptocurrency wallet, or add them to a collection. Nifty Gateway is a premium secondary market for acquiring limited edition NFTs for a client of exclusive NFTs. You won't be able to see all of the trending projects, such as crypto punks, bored monkeys, etc., like you can on OpenSea, though, due to NiftyGateway's limitations on the kinds of NFTs that are available. For artists and customers to develop and exchange premium, exclusive NFT collections, NiftyGateway is a great platform.
6. SuperRare

SuperRare is committed to producing original, valuable NFT art. It presents itself as an improved version of Rare. It has a more polished interface, a more uncluttered, minimalistic appearance, and is more carefully managed. To register as a creator, you need to submit your artist profile. On every piece of artwork you sell, you should anticipate receiving 85% of the final sale price. This is due to the 15% fee that SuperRare levies on all primary sales. 10% of all subsequent sales will go to the creators as royalties. The bidder is responsible for paying the 3% transaction fee for buyers for each transaction. SuperRare only accepts ETH as payment at this time. No other payment methods are accepted.
7. Foundation

Another community NFT marketplace Platform on this list is Foundation. It only exists to enhance the NFT, bitcoin, and digital art cultures. Foundation facilitates NFT trading by elevating the voices of underrepresented groups. What type of artwork is displayed on any platform's web page is totally up to the Foundation team's discretion. The team has a solid reputation for organizing live auctions and optimizing the online bidding process because the site primarily concentrates on Digital art projects.
Similar to SuperRare, makers of NFTs will receive 85% of the sale price. 15% is retained by the foundation. The artist will receive a 10% royalty fee for each additional NFT sold. Anyone may create a Foundation account and begin accumulating NFTs. As soon as consumers submit their initial offers and they match the basic price of a specific NFT, the clock begins to run backward from 24 hours. The countdown is extended by an additional 15 minutes if a user places a bid in the last 15 minutes of the countdown.
8. MakersPlace

MakersPlace is an excellent place to start if you're looking to find and acquire unique digital works of art. This platform links several authors, artists, and creators of digital art who want to market their original works to consumers across the world. The artist has issued and digitally signed each and every NFT on the site. MakersPlace was created with their needs in mind. When uploading their work to MakersPlace, artists have the option of indicating the quantity of editions they desire to distribute. The Ethereum-based blockchain takes care of everything for them, allowing them to focus MakersPlace on producing work and building their client relationships. Really special, in our opinion. stores documents in a secure location that only the creator and subsequent owners will have access to after purchase.
9. Axie Market

The decentralized video game Axie has a global NFT platform called the Axie market. The platform features a vibrant ecosystem of 3rd party games and applications, as well as more than 2 million active users. Users of the platform can create new Axies, adorable digital animals with Pokemon-like appearances that you can grow and use in the game. These creatures can be purchased or traded on popular markets like UniSwap or the Axie Marketplace. Axies are primarily used in-game for warfare. Due to the growing ubiquity of Axie Infinity, users have a sizable market for trading.
Conclusion
As time passes and the metaverse expands, trading NFTs will grow in popularity. Don't wait and add your name to the list of people who wish they had known more about NFTs sooner. You can earn a good ROI by selecting the right market to trade NFTs on. Before beginning to invest, use common sense and do some research to prevent fraud. Depending on the type of NFTs you want and the cryptocurrency you plan to use for transactions, select a market that meets your buying and storage needs.