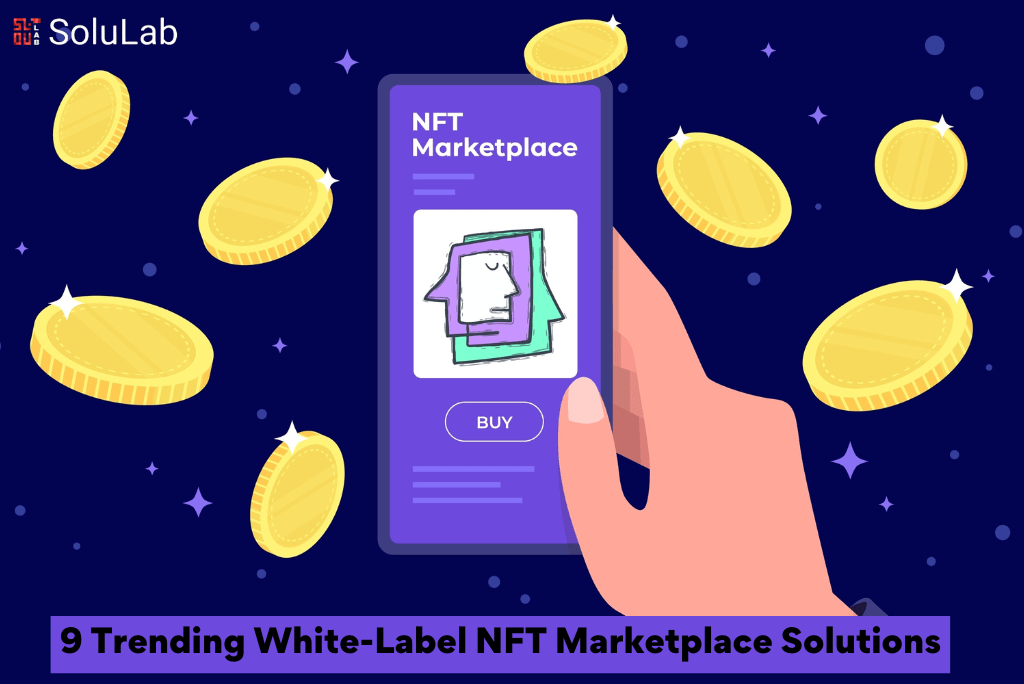 According to DappRadder, NFT Marketplaces had a vertical increase in trading volume of 700%, worth $10.67 billion, in the q3 of 2021. NFT and digital trading's rising popularity, White label Your prospects of expanding your business in the digital market in a variety of ways have risen thanks to White-Label NFT Marketplace development models.
Even though it has been there since 2008, Blockchain technology remains a relatively young idea, and it has seen numerous changes in the industry over the years. Blockchain technology has grown in popularity and become the center of any firm in today's market because of the numerous technological developments that produce something new in this area every year. The market is the latest change to the NFT & NFT trading marketplaces because of the popularity of blockchain technology.
The Non-fungible Tokens have been there since 2014, but it took them almost five years to become well-known and feel their presence in the market. NFTs are also now valued at over $200 million in just a few short months, having grown more quickly when their existence became known. Nearly 90% of it actually peaked in February 2021.
The most fascinating and lucrative aspect of the current NFT revolution is that its potential is still mostly unrealized because of how plain the surface appears. It also offers anyone joining the market a very lucrative business opportunity. The smartest people in the field also have many opportunities to advance more quickly.
All you need for that is a flawless marketplace that is brimming with possibilities and skills. Here is a list of the Top White Label NFT marketplace solutions from across the world that people value highly for their potential and capacity to make business operations easier.
The fact, however, cannot be disputed. The industry has a number of well-established companies, with a few that are still in the background. And in order for you to particularly exalt your innovative business concept, navigate through this wonderful Readymade NFT marketplace, which may be elevating you with a false sense of potential. Below is a list of reputable NFT markets that you may browse at your leisure and use to keep up with current trends thanks to a greatly enhanced user experience.
White label NFT marketplace — what is it?
A pre-built, totally customizable white-label NFT marketplace is what your NFT business requires. An NFT white-label marketplace must be pre-integrated with all of the necessary functionality to support customers and creators in their free creation, purchase, exchange, and sale of NFTs. You simply need to add your own NFT business labeling to make the NFT marketplace appear to be your own.
Highlighting Features of an NFT Marketplace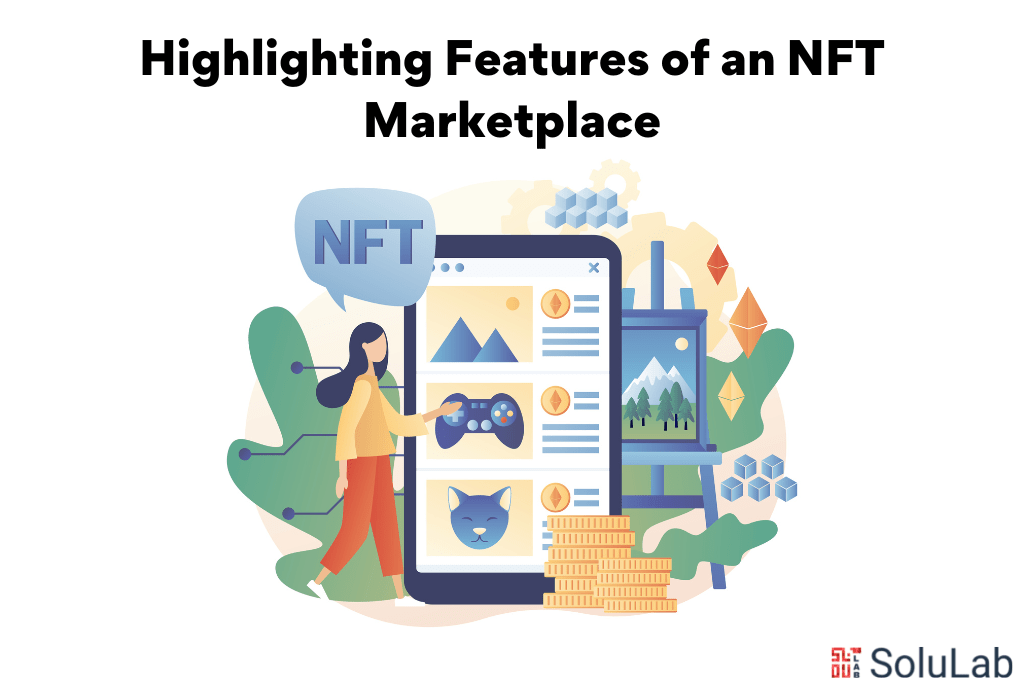 1. NFT Minting Process through White-Label NFT Marketplace
Daily NFT transactions take place in an NFT marketplace, so it's critical that the entire NFT minting procedure is at the very least reliable and error-free. There is currently some white label NFT minting platforms that provide both lazy minting (where NFT gas fees are charged at the moment of purchase) as well as traditional minting methods (where gas fees are charged at the moment of NFT creation), each of which has a different purpose and a different target audience.
2. Crypto Payment
An NFT marketplace must support crypto payment for most of its transactions in addition to NFT minting, making it a crucial component you cannot do without. Through crypto payment, both buyers and sellers can interact in a safe, secure, & transparent manner using cryptocurrency. The transactions are recorded on the blockchain for all time and are fully accessible and readable.
3. Customization & customizable
The white label nature of an NFT marketplace means that it has a level of customizability with which you can apply your own branding – and popular white-label NFT marketplaces should all support this. At the base level, you should expect basic customizability such as the ability to change the header & footer of the NFT marketplaces to add some touches to your brand. On a more advanced level, you should expect the ability to deep-customize your NFT marketplace further with theme customization, add-ons, and so on.
4. Dashboard of Management
Because NFT marketplaces are white label, you can customize them to add your own branding, and all well-known white-label NFT marketplaces ought to enable this. You can expect some basic customization at the most basic level, like the ability to alter the NFT marketplaces' header and footer to better represent your brand. At a more advanced level, you should anticipate having the option to further deep-customize your NFT marketplace with add-ons, theme customization, etc.
Read more: How will White-Label NFT Marketplace Development Benefit your Business?
9 White-Label NFT Marketplace present In The Market
A few NFT markets with substantial trading volume and rising recognition in the market are listed below. Each one of these White label NFT platforms is limited to a particular demographic and has a special feature to draw users and artists. You will find the greatest Pre made NFT Marketplace model featuring enhanced and greatly expanded capabilities to operate the business while immersed in the flow.
Here, we've provided a list of them that may be motivating for you, ultimately igniting your desire to create your own White Label NFT platform & turning it into a success story that will serve as an inspiration for your commercial operations.
OpenSea

OpenSea is among the primary NFT markets with rising user traffic and fairly good market tradability. a multifaceted NFT trading platform comparable to Rare that can exchange special digital assets The 20th Century Fox collaborators created and sold a limited edition of Deadpool Two unique digital posters thanks to OpenSea's reputation in the market. We can also argue that OpenSea appeared in the world, eliminating the restriction and allowing the crypto industry to fully explore the market.
Rarible

Rarible is the market pioneer who introduced NFT trading. The first & most well-known marketplace on the international market, also known as NFT Marketplace, is infallible. This is the first place in the developing digital era for creators to discover their ideas, works, and invocations with value. Additionally, it provided a platform for makers and collectors to work together to understand and adapt to their respective markets. Not only that, but Rarible has continued to maintain its originality. Technology was able to easily transition into improved technology thanks to the interface's simplification and simplicity. Furthermore, it is indisputable that Rarible created the opportunity for developers to acquire stock in the company.
SuperRare

The more useful SuperRare becomes, the more superior it is as a marketplace. For platform creators, there is more room for growth. It provides more than simply a venue to transact and exchange NFT; it also enables social interaction in the marketplace. The idea of a social network in marketplaces similar to SuperRare has acquired traction and expanded the platform's functionality. In the forum, the buyers and sellers converse, talk about NFTs, and interact with the locals.
Axie Infinity

The gaming platforms which have equally positioned themselves on the front row in the digital trading market cannot be overlooked within the list of talkies on Blockchain technology, NFT, as well as other topics. Axie Infinity-style game NFT marketplaces were established in an effort to link popular gaming cultures with the technology trend. Users and gamers on the site can breed and engage in combat, and they can also exchange their Axies as NFT in the market, together with their qualities, powers, and other characteristics, using Ethereum blockchain networks. The most valuable collectible generated $42 million in sales by June 2021 because of the pioneering information about NFT Marketplace, which includes Axie Infinity.
CryptoPunks

Since its inception with Ethereum blockchain networks in June 2017, The CryptoPunks has experienced both the first-generation NFT's speed and the eventual rush. For their uniqueness, around 10,000 Cryptopunks are establishing rarity & producing scarcity in the ecosystem.
DecentraLand

The NFT revolution's entirely transactional nature is the most astounding development, & Decentraland is such a prime illustration. In June 2018, during DecentraLand's early phases, a real estate company got close to a $1 million transaction for 259 parcels with an ambition to build a virtual metropolis known as the Metaverse, according to the welcome of a Digitized Real Estate Trade. The Ethereum blockchain, which has generated significant fanfare and has a place in the cryptocurrency world, powers this 3-D VR platform.
Foundation

Artists can play their games on a completely unique platform called Marketplace Like Foundation. All selected artists & collectors have more room to delve into their specialized areas. These platforms made it clear that they wanted to enable consumers to experience the entire range of the creative economy's characteristics.
NBA Top Shots

The National Basketball Association joining the NFT bandwagon is another amusing development. It's the most technologically significant time in basketball and NFTs history. The fans were ecstatic to experience this moment in time. a chance to purchase NBA Top Shots, Video clips, as well as other game-related materials. Additionally, there is room for NFT, which has overflowed with chances for participants and enterprises with improved profitability, to expand into other sports and nations. The Blockchain enabled this to happen.
Turnkey Town 

Recent technical advancements assist you in creating a popular NFT trading platform. They support you in putting fair business practices into place and working effectively on blockchain networks so that you can undoubtedly rely on them for a brighter future. Turnkey Town offers its customers a sure-fire solution, and their personalization creates a special connection between the business and the customer.
Conclusion
These are some markets with expanded capabilities and distinctive action tales. You can select the best option available and the one that is most appropriate for your company, launch it, and then make any necessary customizations based on customer expectations and operational needs. Although it doesn't look like the party has begun yet, it is actually already hopping. Although anything may appear to be simple and magical from the outside, there are many technical & logical inputs that must be processed internally. Additionally, there's always room for fresh updates and innovations. With your carefully built White Label NFT platform, which includes the necessary adaptations and input from the top local developers, you may explore your ideas and progress among the NFT industry's titans.