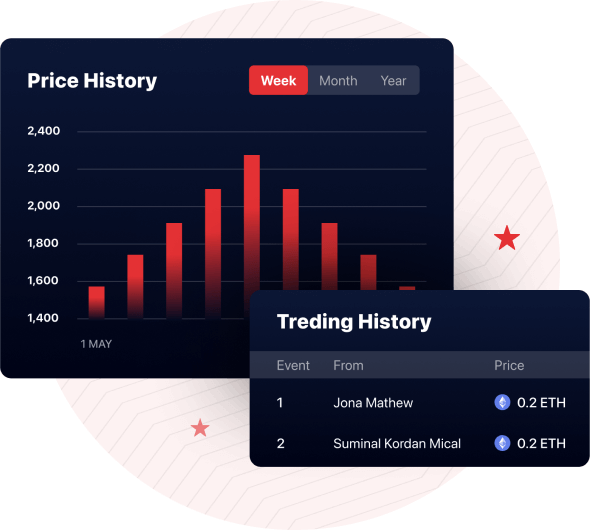 The Power of NFTs in the
E-commerce World
The NFT space is a $41 billion industry with thousands being traded on a daily basis. For the new generation of digital collectors, NFT is a new asset class. It is a new tokenization archetype that gives you the brand leverage to ingrain an "authentic" feel in your first copies. Be the first to create a market of the future completely homogenized for creators and fans with SoluLab's white label trusted NFT marketplace development services provided by experts. Get started with an entrepreneur venture through your own marketplace solution for any business use case of your choice.
White Label NFT Marketplace Development Made Easy
Build your digital presence in the world of crypto trading by launching the best white label NFT marketplace platform. Mint, list, and sell your favorite masterpieces; all through the unified white label NFT marketplace.
Admin Dashboard

Keep a record of your buyers and NFT collections, and have complete control over transactional reports through powerful analytics.

Buyer Website & Application

Centralised environment to view and bid on the NFTs. Easy NFT purchases through the FIAT currency.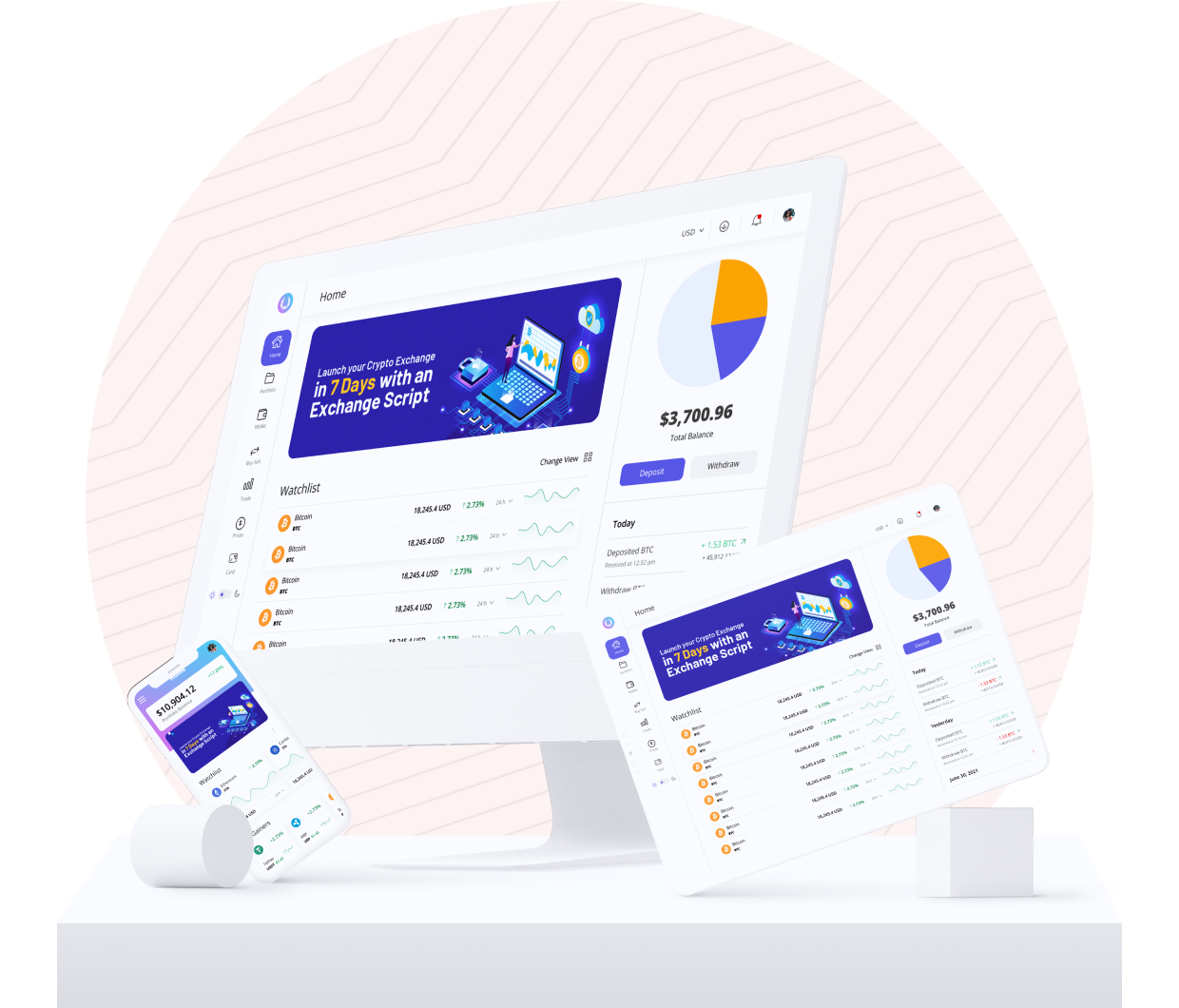 Clients Tell Us What They Think of Us!
"SoluLab is my go-to company for any assistance related to tech. Their excellent services and time management skills never fail to impress me. SoluLab employees are a really well-equipped team with a focus on customer satisfaction. At the same time, they put their NFT marketplace solutions at the center with a solution perspective. I have not experienced any dissatisfaction since the day I worked with this company. They really do business by understanding the customer. Thank you for each. I think we will be working together for many years."

Ritesh Kakkad
Co-Founder, XinFin
"I have always felt secure and satisfied while working with SoluLab. The whole project was carried out in a hassle-free manner. I have worked alongside the SoluLab recently and without a doubt I highly recommend their services. The team was prompt with providing updates, project deliverables, and we're able to execute the intended purpose and vision of the product we requested. As well as offering exceptional customer service throughout the entire project."

Zach Weakland
CEO, Liquid Craft
"SoluLab's expertise in white label NFT marketplace development proved to be crucial in the success of our project. Every member of the SoluLab team is an expert in their specific domain, which simply amazed me. SoluLab has been reliable in their service and support. Though sometimes communication and project completion can be slow, their app development has been high-quality, and they have been able to modify and upgrade whenever asked. I would recommend their services."

Jake Collins
Co-Founder, NFTY
Why Are We Different?
Check out the key attributes of our feature-packed white label NFT marketplace development company
Minimal Gas Fees

Unlocking cost-efficient transactions with the lowest gas fees, enabling seamless blockchain interactions.

Customizable

Tailor-made solutions to meet your unique needs, ensuring unparalleled personalization and satisfaction.

Royalties

Rewarding their intellectual property and granting financial stability and long-term benefits.

Multi-chain Support

Enabling compatibility and interaction across various blockchain networks seamlessly.

Lazy Minting

NFT creation by automating the minting process, making it effortless, efficient, and accessible to everyone.

Rent Ecosystem

Revolutionizing the rental market by seamlessly connecting tenants and landlords, streamlining transactions.

Variable Platform Fees

Offering flexible pricing based on the specific needs of each client, ensuring fair and cost-effective solutions.

Multi-Wallet Support

Seamlessly manage multiple wallets in one place, simplifying your financial transactions security.
Fascinating Facts
Saved on Custom Development

White Label Projects Delivered

Cryptocurrencies Supported

Secured Regulatory Compliance
Robust Integrations to Enhance NFT Trading Experience
Extend the functionalities of the white label NFT marketplace platform with various tools and
shine bright in the digital asset industry.
Blockchain Networks

Blockchain networks are vital in best white label NFT marketplace platforms, ensuring secure, transparent, and decentralized transactions for digital assets, fostering trust, and enabling efficient trading between creators and users.

Smart Contracts

Our White label NFT marketplace development services incorporates smart contracts, ensuring secure and transparent transactions. Smart contracts automate processes, eliminate intermediaries, and provide immutable records, enhancing the efficiency and trustworthiness of the platform.

Wallets

Our white label NFT marketplace solution guarantee secure storage, facilitating seamless transactions, and elevating user experience and platform trustworthiness to new heights.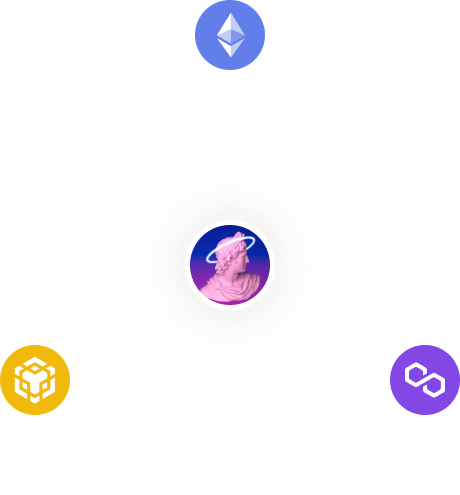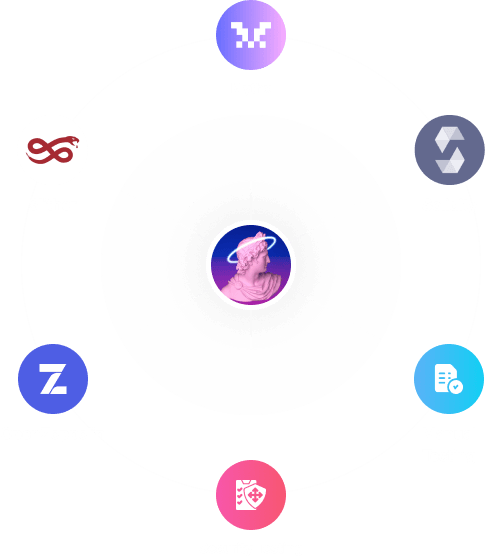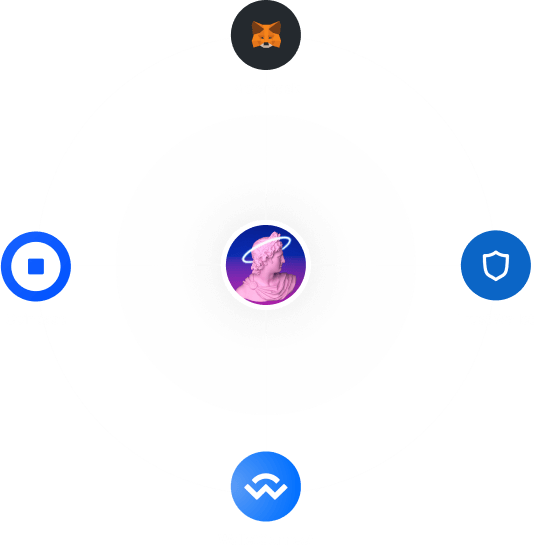 You Get A Bit More With Our White Label NFT
Marketplace Development Services
Auxiliary services to support the functioning of your white label NFT marketplace and
build a profitable business empire.
Effortless Company Branding

On-Premise Deployment Support

Pro Minting

Multiple Royalties

Ticketing & Support System Integration

Customer Service Chatbot

Support Warranty Period

Smart Contract Audit Report
Frequently Asked Questions
Non-Fungible Tokens, often known as NFTs, are singular tokens. Each NFT token will be identified from other NFT tokens by a special identification code and other metadata. Tokens that are non-fungible are exclusive. Digital currencies like Bitcoin, on the other hand, are fungible because you can exchange one for another and still get the same product.
Click here to read more about NFTs and non-fungible tokens.
Picture a marketplace that can be customized to reflect your brand's unique identity and seamlessly integrated with your business. That's a white-label marketplace, a turnkey solution that allows you to offer a platform without developing one from scratch. It's a digital store where creators, collectors, and traders can monetize their products or services by converting them into NFTs, ready for secure and seamless trade.
Imagine a marketplace that can be tailored to suit the distinctive identity of your brand and is completely linked with your company. A white-label marketplace is a ready-made NFT marketplace solution that enables you to offer a platform without having to build one from the ground up. It's a digital marketplace where producers, consumers, and traders may profit from their goods and services by transforming them into NFTs that are prepared for safe and easy trading.
1. Less Complex Customization: White-label NFT marketplaces provide significant customizability, enabling businesses to customise the platform to their own requirements. This produces a unique and captivating platform that can help them stand out from rivals.
2.
Encrypted Security:
Our White-label NFT solutions offer strong encrypted security standards. Security is a top priority for every NFT marketplace. Additionally, it assures that token storage and transactions are extremely safe, reducing the possibility of hacking and phishing attacks. 3.
Decentralized:
Our White-label NFT marketplaces are completely decentralized, thus there is no need for outside interference. Additionally, this provides consumers total authority over their assets. 4.
Cost-Effectiveness:
Using our white label NFT marketplace solutions rather than starting from scratch is more economical for an NFT marketplace. Businesses also save money and time, which they can use for other elements of their operations. 5.
Rapid deployment:
Our White-label NFT marketplaces can be implemented more quickly than ones that are created from scratch. Additionally enterprises can benefit from the high demand for NFTs and acquire a competitive edge.
Let's take a closer look at the five most widely used blockchain platforms used by developers to create NFT Marketplaces, as well as their individual benefits and drawbacks.
Due to its established reputation and sizable user base, which make it perfect for launching new initiatives, Ethereum is the most widely used blockchain for the establishment of NFT marketplaces. For large-scale applications, it may be challenging to employ due to scalability difficulties.
A PoS-based blockchain called Flow, developed by Dapper Labs, has the ability to support ecosystems of apps, especially those pertaining to gaming and digital collectibles like NFTs.
Charles Hoskinson, a co-founder of Ethereum, created the Cardano blockchain, a sophisticated, decentralised proof-of-stake network that offers programmers a welcoming environment to create apps that are incredibly scalable and robust. With the help of Hydra's Layer 2 scaling technology, Cardano is expected to operate efficiently, handling more than 250 transactions per second.
With almost 400 projects in DeFi, NFTs, and Web3, Solana is regarded as one of the fastest programmable blockchains in the symmetric encryption market. The blockchain, which does 65,000 transactions per second and has the potential to reach 700,000 TPS when the network grows, is built on a new combination of PoH and PoS consensus techniques.
With its great scalability and short transaction times, EOS is becoming more and more popular as a leading blockchain for the development of NFT marketplaces. For certain developers, though, its lack of flexibility might be a disadvantage.
Depending on the solution configuration you require, starting a whitelabel NFT marketplace using the CoinFactory platform will cost you. Contact us right now for a price quote.
The solution accepts payments made with fiat money, credit and debit cards, bank wire transfers, virtual currency, and other methods.
The user experience when purchasing an NFT on the NFT marketplace solution is intended to resemble that of making a purchase on a typical e-commerce website. Metamasks and connected wallets that are difficult to utilise for average consumers are not necessary.
If you simply need the most basic branding adjustments, you can launch the NFT marketplace in a week. Based on your company's needs, we can additionally add special features and functionalities.
Send us a message with your needs for an NFT marketplace solution, and one of our solutions experts will get in touch with you right away. Learn more about our white-labeled crypto solutions and platforms by taking a thorough tour of our crypto solutions.
Yes, we take confidentiality seriously. Your interactions and information shared with us are treated with the utmost privacy and confidentiality.
Yes, we retain ownership of our intellectual property (IP) and keep it confidential. We have strong measures in place to protect our valuable ideas and innovations, including non-disclosure agreements and strict security protocols. Preserving our IP allows us to maintain our competitive advantage and drive innovation in our industry.
Tell Us About Your NFT marketplace Project

Find out how SoluLab can help you set up and scale your crypto business.
Have our business experts on the phone to understand your crypto operations and guide you through a demo customized to your business industry.
---
We are trusted by the best around the world