Incoming: New features of Microsoft Office 2019
Like smartphones and mobile applications, today there is not desktop PC or a laptop that does not have a Microsoft office package. This Microsoft office package usually includes Microsoft Word, PowerPoint, Excel, One Note and OutLook.  This software has become a part of our daily lives, helping each and one of us in writing various documents, reports, financial calculations, sending and receiving work e-mails, etc. Most of us have upgraded and have been using Microsoft Office 2016 for a while now. As per the Microsoft Office 2019 release date, 24th September 2018, Microsoft Office 2019 had been launched for windows 10 and MacOS. Microsoft Office 2019 price of Home and Business package is USD 249.99 and price of Professional package is USD 439.99.
With modifications and new upgrades, Office 2019 features have the potential to help home usage, student usage and professional usage in better and efficient ways. Currently there are three versions of Microsoft. They are Office 365, Office 2016 and the newly launched Office 2019. Microsoft Office 2019 operates on a local system and serves as a local version of Microsoft Office suite unlike the cloud-based Office 365 version. Microsoft Office 2019 is a one-time buy and own it forever type software. It does not require any annual subscription charge but as a reason, one purchase can be used only in a single PC system.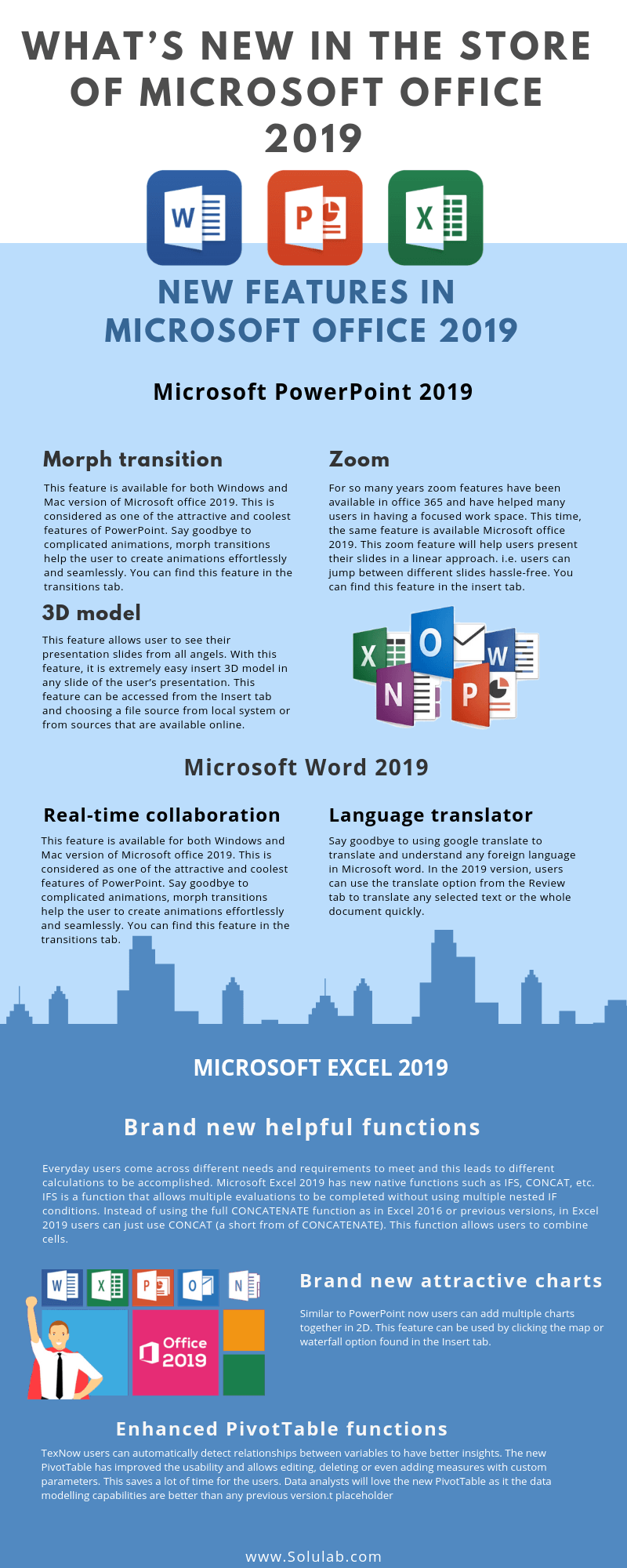 New features in Microsoft Office 2019
Microsoft PowerPoint 2019

Following are three interesting features in Microsoft PowerPoint 2019.
Morph transition
This feature is available for both Windows and Mac version of Microsoft office 2019. This is considered as one of the attractive and coolest features of PowerPoint. Say goodbye to complicated animations, morph transitions help the user to create animations effortlessly and seamlessly. You can find this feature in the transitions tab.
Zoom
For so many years zoom features have been available in office 365 and have helped many users in having a focused work space. This time, the same feature is available Microsoft office 2019. This zoom feature will help users present their slides in a linear approach. i.e. users can jump between different slides hassle-free. You can find this feature in the insert tab.
3D model
This feature allows user to see their presentation slides from all angels. With this feature, it is extremely easy insert 3D model in any slide of the user's presentation. This feature can be accessed from the Insert tab and choosing a file source from local system or from sources that are available online.
Microsoft Word 2019

The following are some interesting features that enhance user experience in Microsoft Word 2019.
Real-time collaboration
It is always comfortable to have all files in one place. This allows easier access to files in any device, anytime and anyplace. This feature allows users to share files in an instant with just one click. Users also have the ability to allow access or give no access to editing of their files amongst anyone they have shared with. If editing is done, then those changes can be seen in real-time too and who has made that edit. You can identify this feature in the top right Corner by a share button.
Language translator
Say goodbye to using google translate to translate and understand any foreign language in Microsoft word. In the 2019 version, users can use the translate option from the Review tab to translate any selected text or the whole document quickly.
Microsoft Excel 2019

The following are some interesting features that is available in Microsoft Excel 2019.
Brand new helpful functions
Everyday users come across different needs and requirements to meet and this leads to different calculations to be accomplished. Microsoft Excel 2019 has new native functions such as IFS, CONCAT, etc. IFS is a function that allows multiple evaluations to be completed without using multiple nested IF conditions. Instead of using the full CONCATENATE function as in Excel 2016 or previous versions, in Excel 2019 users can just use CONCAT (a short from of CONCATENATE). This function allows users to combine cells.
Brand new attractive charts
Similar to PowerPoint now users can add multiple charts together in 2D. This feature can be used by clicking the map or waterfall option found in the Insert tab.
Enhanced PivotTable functions
Now users can automatically detect relationships between variables to have better insights. The new PivotTable has improved the usability and allows editing, deleting or even adding measures with custom parameters. This saves a lot of time for the users. Data analysts will love the new PivotTable as it the data modelling capabilities are better than any previous version.
Microsoft OneNote 2019
In previous older version of the Microsoft OneNote, there seemed to be a confusion in which is desktop version and software version. This confusion is eradicated in the new Microsoft OneNote 2019 by having a Windows 10 version to be pre-installed and a standalone OneNote 2016. The Windows 10 version serves to be the default application for 2019 users and subscribers of Microsoft Office 365.
For Mac users, the confusion is even further reduced as 2019 version of OneNote only allows users to use more stickers via automatic updates.
Microsoft Outlook 2019
Most of the professional workers use outlook to draft and send e-mails. With Microsoft Outlook 2019, these professional will have access to enhanced streamline of their work with Outlook. The new feature is called as Focus mode and it allows users to add multiple people in an e-mail by just using the "@" command. Contact cards have been upgraded and made more attractive.
In Mac users can also schedule the time of sending letter and have access to attractive new e-mail templates.
Conclusion: is it worth it to buy Microsoft Office 2019?
The noticeable new features in Microsoft Office 2019 can be seen more in Microsoft PowerPoint and Microsoft Word. Some might say that, most of these new features are already available in Office 365. But still, it sounds better to make a one-time purchase of Microsoft Office 2019 and have accessibility forever, rather than making monthly payments to Office 365 in order to have pre-access to some of these features. The choice is still yours, based on your requirement and need. Either way, as a user you are going to have a bright future with all the new features helping to you efficiently work from home or as a student or as a professional.