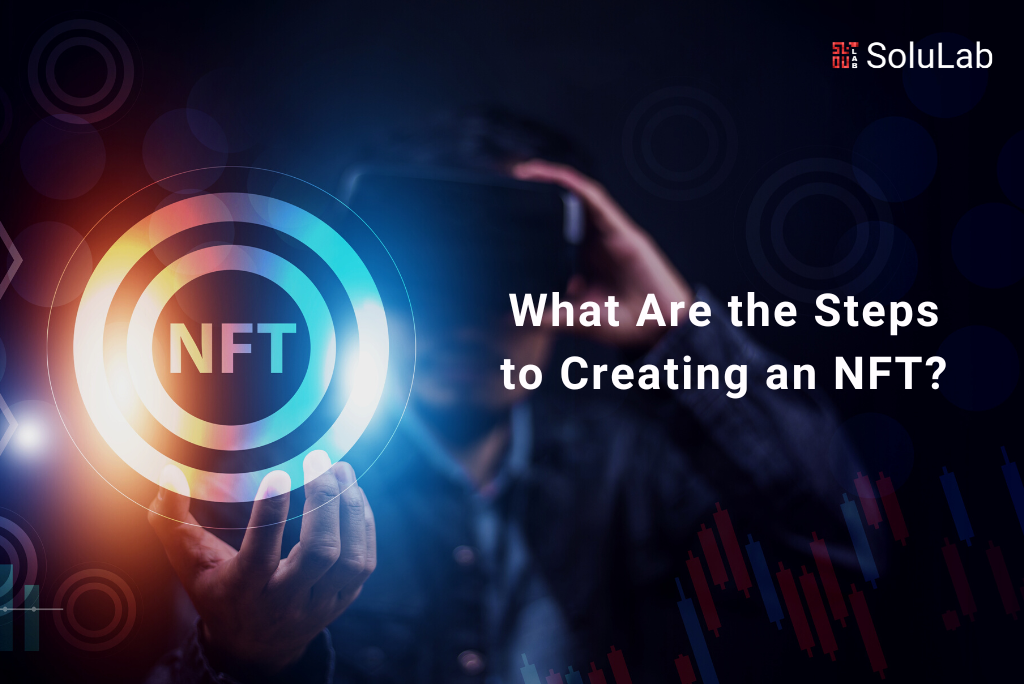 Non-fungible tokens (NFTs) seem to be cryptographic assets on the blockchain that represent intangible, one-of-a-kind digital objects like works of art, photographs, in-game collectibles, or tweets that other assets cannot replicate because of a certain set of characteristics. Each NFT serves as proof of ownership and validity and is one of a kind, has a fixed supply, and can't be exchanged for another.
In the cryptocurrency sector, the market for non-fungible tokens, aka NFTs, is booming. Artists and designers are being compensated with millions of dollars for their work. This would be extremely beneficial to a community that has fought to have its art valued at what it truly is  With NFTs becoming more and more popular, artists and other individuals from a variety of fields may want to understand how to create a profitable NFT.
The steps to create NFT are simple. A user can select content and buy a cryptocurrency wallet. They should choose the appropriate NFT marketplace and adhere to the rules. An NFT can be shared or traded once it has been created. Here is everything you need to know regarding how to create an nft token.
What is an NFT?
Non-fungible tokens (NFTs) are cryptographic commodities on a blockchain with particular identifying numbers and information that set them apart from one another. Because each NFT is distinct, they cannot be swapped for one another as cryptocurrencies can. But at the other hand, cryptocurrency is fungible and may be exchanged for other currencies in an equivalent amount. Because each bitcoin has the same value, it may be exchanged for one another. Digital artwork, including images, animated films, or music, is frequently used to illustrate NFTs. On NFT exchanges, they may be purchased and sold, usually for a cryptocurrency.
Read also: How to Create NFT Art Without Coding
An NFT marketplace or cryptocurrency exchange that supports NFT minting can be used to create an NFT. To build an NFT from scratch, adhere to these six procedures.
How do NFTs work?
NFTs, ask for the use of a method known as cryptography to create digital tokens. This process of creating tokens is known as minting in the cryptocurrency community. Typically, you must pay for the creation of smart contracts using cryptocurrency to mint NFTs. Blockchain technology uses smart contracts, which are bits of computer code, to store data transparently and safely. These regulations regulate the ownership & transferability of NFTs in the end.
Who can create an NFT?
Anyone who has some spare cash at their disposal can create an NFT. The tools available on modern NFT platforms allow you to construct various types of NFTs and add unlocked information to your files. You may produce your NFT utilizing simple minting tools found on NFT markets, regardless of whether you're a firm, artist, musician, collector, or any of the other categories.
How Much Does It Cost to Sell an NFT?
After being listed, the NFT ought to have a special URL you may share with others. When a transaction is made, sellers must pay a small fee to the NFT marketplace. For instance, Binance charges a 1% platform fee in addition to additional costs, whereas OpenSea charges a flat 2.5% of the selling price.
Read also: How to get started with NFT art?
However, you have the option to include a royalty charge when you establish the NFT, which gives you a cut of each sale of your NFT. Up to 10% of every sale can go to the creator.
Steps to create nft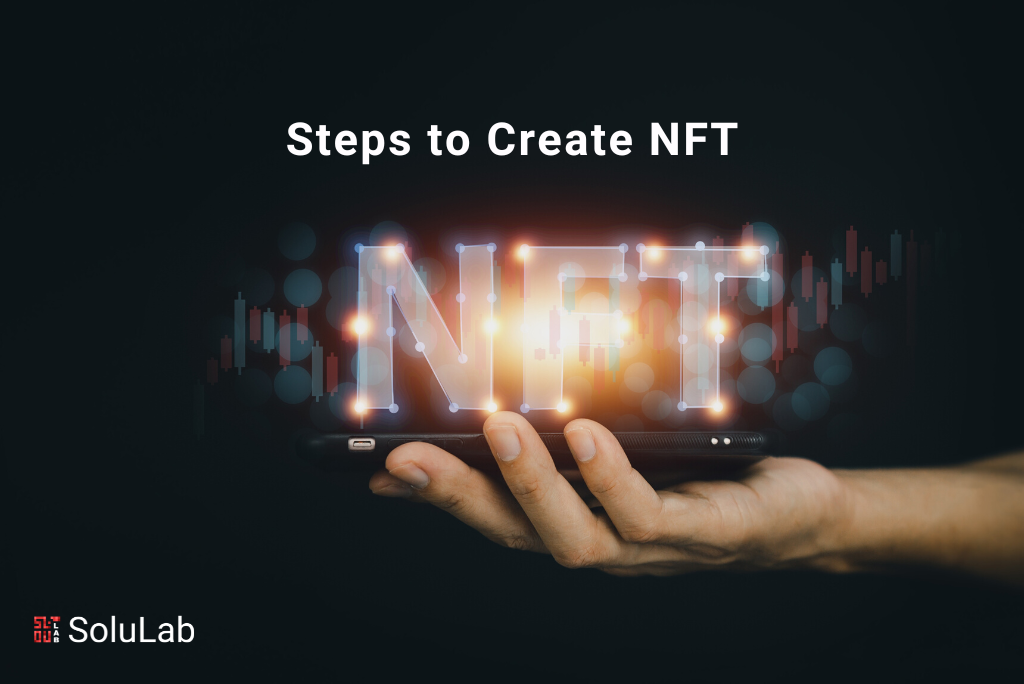 Step 1: Determine what you wish to create
NFTs are frequently connected to a work of digital art. This might be a picture, an audio recording (like a song), or even a brief video clip (such as an animated GIF). The objective is to produce an original work of digital media that may be sold, just like a painting can be sold in an art gallery.
NFTs provide creators value since they are special things that they can only own in NFTs. Making an NFT out of digital content you don't own might have legal repercussions, so it's extremely crucial to make sure you have the legal right to use it.
Step 2: Pick a blockchain
Several blockchains can be used to store your NFT. It's critical to select a blockchain that meets your needs since it will permanently store a record of your NFT.
Ethereum
Ethereum, the most well-known NFT blockchain, is home to hundreds of NFT collections. The ERC-721 standard, which is used to generate Ethereum NFTs, keeps the NFT's information on the Ethereum blockchain. This standard, which defines the minimal interface—ownership information, security details, and metadata—needed for exchanging & distributing gaming tokens, was created by the same group that created the ERC-20 smart contract.
This blockchain now uses the proof-of-stake (PoS) consensus process, which makes it considerably more environmentally friendly than it ever was. The majority of NFT marketplaces allow for the construction of Ethereum NFTs, albeit doing so may incur expensive gas costs due to the Ethereum blockchain.
Solana
Solana is the Ethereum blockchain's closest rival. As a quicker, more affordable alternative to Ethereum, Solana provides transaction costs of less than $0.01 and an expanding number of NFT-compatible apps. Furthermore, Solana uses both the proof-of-history as well as the proof-of-stake (PoS) consensus techniques and has substantially quicker transaction rates than Ethereum.
Flow
Another PoS blockchain, called Flow, is home to the well-known NBA Top Shot NFT collection and is made for NFTs and decentralized gaming apps. The Flow blockchain has seen a large number of sports franchises construct markets, making it a desirable location for the development of sports-related NFTs. Other blockchains that allow NFTs include a number, each of which has a community and decentralized applications (dApps) for creators & NFT owners.
Step 3: Configure an NFT wallet
To store your NFT after selecting a blockchain, you will require a digital wallet that works with that blockchain. Download the crypto wallet program, enter your password and username then store your private keys as well as recovery phrase offline for backup reasons to establish a wallet.
Popular wallet programmes that handle various blockchains include the following:
MetaMask: A well-known cryptocurrency wallet called MetaMask supports a large number of cryptocurrencies as well as the Ethereum & Solana blockchains. It may be installed as a browser extension or used as a mobile app.
Coinbase Wallet: In addition to Solana NFT collections, Coinbase provides a digital wallet that accepts ERC-721 NFT tokens. It may be installed as a browser extension or downloaded as a mobile app.
Ledger Nano X: Both Ethereum & Solana NFTs are supported by the Ledger Nano X hardware wallet if you wish to keep your NFTs securely.
Step 4: Select an NFT Platform
You can construct an NFT on an increasing number of platforms, but the best ones provide a full-service marketplace to list & sell NFTs. Some of the most well-liked NFT systems are listed below:
OpenSea: The OpenSea NFT platform is by far the most widely used. OpenSea is the leading platform for Ethereum-based NFTs, with more than $20 billion in trade activity since its introduction in 2017 and more than 2 million NFT collections posted. In July 2022, OpenSea began offering support for Solana NFTs.
Solanart: Solanart, the Solana-based NFT platform, houses some of the most well-known Solana NFT collections and has a user-friendly interface and straightforward minting application procedure.
Crypto exchanges: NFT creating is supported by several crypto exchanges, including Binance Exchange. On the platform, you may easily mint or generate your NFT and select the blockchain of your choice.
Step 5: Build the NFT
It's really simple to create an NFT after you've selected a platform. Here is an illustration of how to create an NFT on OpenSea:
Connect your wallet: Choose the digital wallet you want to connect to by clicking the wallet symbol in the OpenSea menu. You'll need to sign a confirmation on your wallet app for this.
Select the "Create" option: When you do this, a menu for creating NFTs appears. It includes a part for uploads and sections for NFT features, properties, & blockchain.
Upload your media file: The image or other piece of material that you will be purchasing is this. You have the option to directly upload or link to a media file located elsewhere.
Fill in the details: You must give your NFT a name and a description. Secret Discord channel invites, coupon coupons for goods, and other unlocks material are all potential extras. Unique characteristics are another possibility. You may also set a cap on the number that can be produced.
Select your blockchain: Your NFT creating will be stored on this blockchain, which cannot be altered once it has been created.
Create the NFT: Simply choose "Create" after entering the NFT's information.
Your file will upload and the NFT will be produced after you click "Create." However, the NFT has not yet been placed on the market, and you may potentially update the metadata up until you place it on the market.
Step 6: Place the NFT Up for Sale
It's easy to list an NFT for sale, and the majority of NFT platforms let you do so without charge. Once your NFT is produced and in your wallet, all you need to do is click the "sell" button on the platform of your choice and choose the price and duration of the sale.
You may create the listing once you've entered all the information on your sale. You will have to sign a few transactions in your digital wallet to do this, some of which could involve paying transaction costs on your preferred blockchain. The average Solana transaction costs less than $0.01, however putting an NFT on the Ethereum blockchain can cost significantly more, depending on the network fees in effect at the moment.
Conclusion
The opportunities are practically endless once one has the knowledge and abilities required to learn how to create nft. You have three options with your NFT: exhibit it, hold onto it in the hopes that its value will increase, or sell it. NFTs are the assets of the future, and today is the ideal time to participate in this exciting and rapidly evolving environment.
FAQs 
1. What is the cost of creating an NFT?
Depending on petrol and site expenses, the price of minting an NFT frequently changes. For instance, you may anticipate paying about $70 to protect the token on the Ethereum network. The average site price is $300, while some sites let you list NFTs for free.
2. Is it possible to mint an NFT for free?
If the NFT platform you use allows for lazy minting, it is feasible. Without actually producing a token for the NFT, this operation creates metadata for it. That NFT is then formally minted when someone buys it, and the associated gas cost is charged to the purchaser. Bear in mind that costs can astound those attempting to purchase your items. Therefore, even though you avoid paying minting expenses, you could pay a price in terms of lost sales and investment prospects.
3. What are the requirements to create an NFT?
Understanding a few ideas, including minting, blockchain, cryptocurrency wallets, markets, and gas costs, is necessary for the establishment of NFT. NFTs are simple to use once the creator grasps how they work.
4. What is the best way to make NFT from scratch? 
You must upload your asset along with other necessary information to mint an NFT on a marketplace. This includes the name, description, and any photographs, videos, or audio. Your NFT will be developed and listed after everything is finished.