To all the food truck owners, who are making a difference in the world by filling the hungry stomachs of people. Nowadays food truck owners are relying heavily on the latest technology to run their operations. Increasing sales by being a part of different food festivals quickly is possible by developing a mobile app for Your food truck startup. Do you want to stay ahead of your competition? Keep Reading. 
Why Does Food Truck Startups Need Mobile App Development? 
As a food truck startup, you may feel, you are already happy with the consumers you have and the amount of revenue you may get. You may also feel that your food truck startup has the potential to grow even more but you do not know how to grab customers and sustain them. This is one of the major reasons why you need an on-demand food delivering app development or a restaurant finder app development. It helps in enhancing customer satisfaction, customer retention and finding new customers every day. 
It may not be in your agenda to develop a mobile app for your food truck business but this article will prove to you that, a mobile app will help your food truck business to save time and also generate higher Return on Investments (ROI).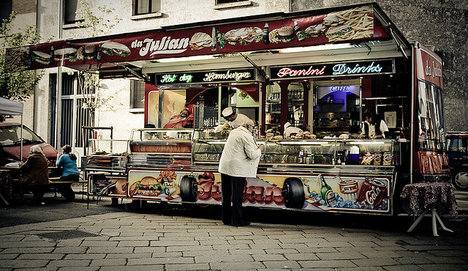 The mobile app serves to be a ladder that uplifts your food truck startup 
Maximizing profits and leveraging the environmental variables to the success of food truck startup with convenience is possible with mobile app development. Following are some of the approaches on how you can uplift your food truck business with a food delivery mobile app. 
Build and increase your food truck brand image 
Customers today not just prefer food. They prefer to have a story or history behind the food they eat. Use the mobile app platform to tell a story about the ingredients of the food you provide. Talk about if it is homemade or organic. Let customers read such information through your food truck mobile app. This automatically builds a brand image for your food truck business. With such a mobile app, the story of your food truck, in turn, will have the capacity to reach customers worldwide. 
Engage customers with a customized taste 
Use the mobile device platform to obtain food tastes and preferences of your customers. This helps you to understand your customer behavior and also provide food services accordingly. You can use the same platform to allow customers to order food online and get it delivered to their doorstep or order online and pick it up to their convenience. With such services, you can provide a taste of food depending upon customer inputs and seasonal differences. 
Provide coupons and offers based on locations 
Different customers have different preferences, likes and buying behavior. But, all customers are common when it comes to the attribute of discounts and offers. No customers will say no to that. Increase awareness on the fact that customers will have accessibility to discounts and offers when they order and pay through your food truck mobile app. This will increase your mobile app users. You can use the same platform to provide coupons and promotional codes that customers can use to avail offers. 
Provide loyalty benefits to customers 
When you successfully accomplish all the above, automatically most of the customers will start being loyal to your food truck business. They also indirectly increase your brand image and customer base through word of mouth. Now you understand that you need to retain such kind of customers for life with loyalty towards your food truck business. And such kind of loyalty does not come easy. 
You can provide customized benefits or the same benefits to all loyal customers in terms of free food on a particular day or special care during festival occasions, etc. through your food truck mobile app. It is your choice and another story that builds the brand image for your food truck startup. 
Stay environment-friendly with e-transactions 
Today customers not just eat, they are aware of the pollution problems. The world today is aware of the problems caused by degradable materials such as plastics and polythene bags. It is highly important for you to be aware of this too. Hence, allow customers to order online and pay online to avoid paper transactions. Use paper bags for delivery of foods and use degradable materials such as the strong leaf of compostable plastics to preserve food. 
Also, spread eco-friendly awareness through your food truck business. This serves as a Corporate Social Responsibility (CSR) even though your food truck may just be a startup. Who says you can't compete with a big giant, right? Don't let anything stop you from doing good and being good. 
Pull customers with mobile Wi-Fi hotspot 
There is nothing more that will make customers happy than free Wi-Fi. Your food truck can provide free Wi-Fi that customers can use to use mobile internet and also access your food truck mobile app for special offers. You can combine different food services of your food truck via this mobile hotspot to understand customers even better. 
For example, using of Intranet or Wi-Fi from your food truck router, you can configure your mobile app framework to analyze how many times customers purchase what food and when. This also helps you to understand foods that do not move and foods that sell often. You can also track how many times a customer buys a particular food based on their number of clicks for a particular food in your food truck mobile app. 
Conclusion: On-demand food truck mobile app help customers understand your business 
If you think that building a mobile app is the end of your food truck journey, again you are wrong. Why stop when you can expand more? The mobile app is a stepping stone to your food truck business in sustaining within the competitive food truck markets.  The next step is building a website that integrates your food truck business with your food truck mobile app. Want to know more? Get in touch with us for more information and avail our expert development services.