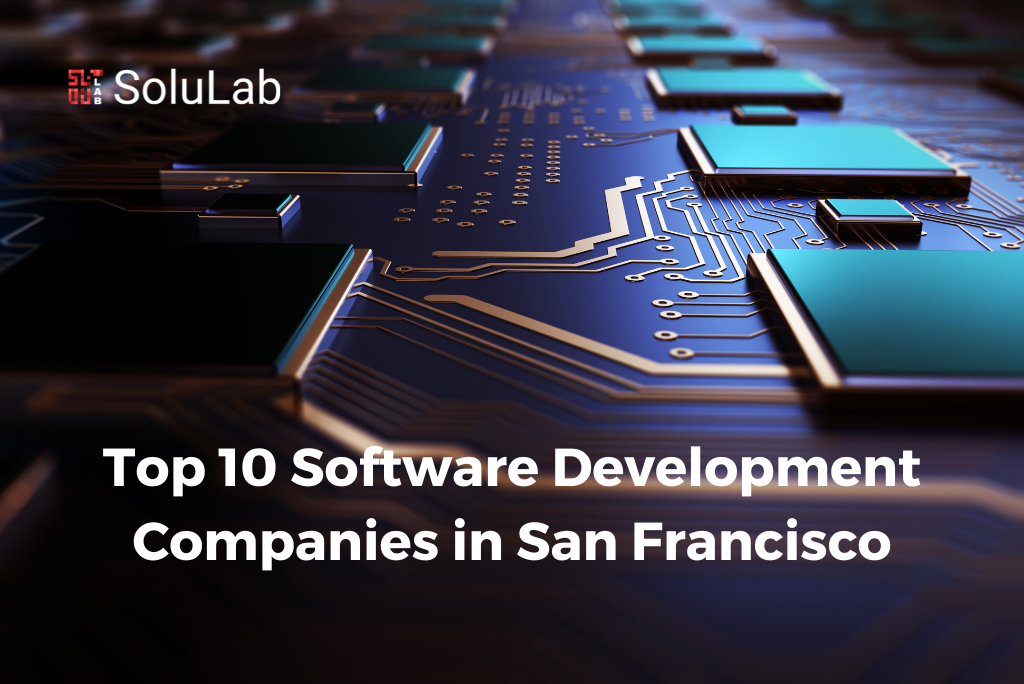 Looking for the top 10 software development companies in San Francisco? Here you go, then.
Everyone appears to be racing to develop their solution, either to maximize profit or to establish their company's presence in the market. However, if you don't have an IT background, you may face difficulties, and to avoid this, you may look for a possible solution such as a capable software development company. 
San Francisco is home to many software development firms that provide a wide range of software services, but not all of them can meet the demands of your project. 
For instance, some companies might offer digital transformation and emerging solutions like blockchain, whereas others might offer general software services like mobile and web development.
So it's important that you thoroughly understand companies and their services to select the one that masters the nuances of your project and technology. Especially if you are unsure of the type of development you require.
Think it's too much work? To find out what service you need and which company to assess? Then we've just made your day.
Here are our picks for the top software development companies in San Francisco for your product development.
1. SoluLab

Let's start with the most cutting-edge company, which is actively transforming enterprises with its blockchain, SaaS, mobile app, and data-driven digital solutions. 
SoluLab was co-founded by two technophiles (a former VP of Goldman Sachs and a former Principal software architect of Citrix)
The company merged with the idea of establishing a trusted knowledge-sharing marketplace that connects the right talent with knowledge seekers across industries and geographies. 
Right from the very moment of Ethereum's rise, SoluLab has been the most capable blockchain solution provider. 
Though it originally made its debut as a blockchain company, over the years it gained knowledge of all decentralized development spectra, such as NFT marketplace development, AR/VR games, the metaverse, Dapps, smart contracts, and Defi. 
To this day, SoluLab holds a good track record of delivering more than 1500+ projects and 500+ happy customers around the world covering a multitude of industries like healthcare, supply chain, transportation, education, retail, finance, oil and gas, government, etc.
Development Services– Blockchain, SaaS, Digital Transformation, Mobile and Web Apps, Metaverse, AR/VR,  NFT Development, Smart Contract Development,  Web 3.0, ML, Data Science, AI, and DevOps.
Hourly Rates- $25- $49
2. Miquido

Miquido is a full-service software development company that aims to solve challenges faced by businesses with its cutting-edge technology and data-driven research.
Founded in 2011, Miquido knows the techniques and strategies to transform bold business ideas into cutting-edge digital products.
The company masters the art of Web development, mobile app development, AI, product design and strategy, and team augmentation, the most in-demand services in the IT market.
Moreover, to effectively cater to its services and promise maximum satisfaction to clients, the company follows its four pillars; transparency, business-oriented processes, 360°services, and long-term partnership.
Read Also: Top 10 Software Development Companies in USA
To this day, Miquido has successfully delivered 250+ digital solutions with 300+ professionals onboard, covering industries like fintech, entertainment, eCommerce, healthcare, and more.
Development And Other Services– Ideation and Strategy, Product Design, Web and Mobile Development, AI, Cloud Services
Hourly Rates- $25- $49
3. iTechArt Group 

iTechArt Group provides development elites to fast-moving enterprises, startups, and all-sized companies that craft flawless, robust, and reliable solutions. 
Founded in 2002, iTechArt Group has over 20 years of experience serving clients from around the world with a multitude of tailored software services such as custom software development, mobile, and web app development, QA and testing, cloud development, and UI/UX design.
The company has been recognized for its excellence in software paradigms and has received plenty of awards year after year, such as the Gold Stevie Award for the Fastest Growing Tech Company of the Year, in 2022.
For years, the company has been catering its services to a wide range of industries like fintech, entertainment, eCommerce, healthcare, gaming, marketing, cybersecurity, insurance, and Edtech, with over 500+ happy clients.
Development Services– Web and Mobile Development, Cloud Development (DevOps, Salesforce, SaaS),  QA and Testing (Mobile and Automated), Design (UI and UX), Custom Software Development.
Hourly Rates- $50- $99
4.  Vates

Vates combines decades of experience, high-level software engineering, and a creative approach to build cutting-edge software for all-sized client companies.
It's a nearshore development company that caters to the demand of clients residing in its neighboring countries for minimal time zone and cultural differences, better collaboration, and effective solution building.
Founded in 1991, Vates has gained a solid reputation for its tech-savvy professionals, who take clients' projects from scratch and turn them into competent business solutions in a matter of weeks.
For almost 31 years, the company has served companies with a multitude of software services that involve custom software development, application testing, IT consulting, IT consulting and support, the Internet of Things, and big data in sectors like telecommunication, financial services, and consumer products and services.
Development Services– Custom Software Development, Application Testing, IoT, and Big Data.
Hourly Rates- $25- $49
5. WLCM App Studio

WLCM App Studio is among the most creative IT dev shops in San Francisco. Once clients join hands with WLCM, they get long-term creative, strategic, and technical product development services, making it an appealing company for software development.
The company was established in 2011, to provide effective, creative, and robust software services to firms that want high-quality execution, and true partnership to conquer new heights of corporate wealth.
WLCM masters the areas of mobile app strategy, user experience, interface design (UX/UI), custom app development, and ongoing app maintenance and iteration.
Apart from development, the company also offers branding, launch, prototyping, and top-tier talented developers.
Development Services: Mobile App Strategy, User Experience and Interface Design (UX/UI), Custom App Development, and Ongoing App Maintenance and Iteration
Hourly Rates- $50- $99
6. SF App Works

SF App Works is among the best software development companies in San Francisco. The company helps businesses and large enterprises explore, design, and develop innovative technologies to drive agility.
Moreover, SF App Works offers advice on technical strategy, design, development, tuning, and improving custom software for mobile, web, and API. Whether the client is a startup or a Fortune 500 company, the company caters to all sizes of IT firms with its latest grade, agile, scalable, and effective software.
SF App Works has been offering core services—web development, app development, prototyping, design and UX, and no-code development—to industries like corporate, finance, and education.
The best part about the company is the efforts it puts into creativity so the produced solution can stand out from the competition, giving the client company traction in a particular industry.
Development Services– Web Development, App Development, Prototyping, Design and UX, and No-code Development.
Hourly Rates- $50- $99
7. mTraction Enterprise

mTraction Enterprise is a leading software development company in San Francisco that aims to boost online success by providing innovative, cross-functional, and versatile digital transformation solutions to align businesses' operations with their strategies.
Founded in 2005, the company has over two decades of experience in the design, development, and deployment of custom mobility solutions for a wide range of industries, including telecom, ISP, entertainment, e-commerce and retail, fintech, BFSI and healthcare, education, and FMCG.
The company has successfully delivered 1000+ projects covering multiple custom software development services, including mobile and web app development, native app development, QA and cloud services, and iOS and Android development.
Development Services–  Mobile and Web App Development, Native App Development, QA and Cloud Services, and iOS and Android development.
Hourly Rates- $25- $49
8. Zazz

Established in 2011, Zazz aims to create memorable digital experiences based on users' demands, behaviors, and engagement by ideating and innovating better solutions for overall agile business operations.
The company follows a bottom-up approach to software development that keeps users at the center of the company's universe, allowing the company to calibrate customer-first solutions for greater satisfaction, engagement, and retention.
With over two decades of experience serving multiple custom software development services, Zazz has mastered customer-first services including blockchain development, mobile, and web app development, cloud computing, IoT development, and VR and AR development, covering different industries such as medical, financial services, e-commerce, and others.
To this day, Zazz has delivered over 760+ projects with a 95% customer satisfaction rate. If all you require is an eye-pleasing app, then Zazz is the best option for your product.
Development Services–  Blockchain Development, Mobile, and Web App Development, Cloud Computing, IoT Development, and VR and AR Development
Hourly Rates- $50- $99
9. Diffco.

Founded in 2008, Diffco provides top elites that turn any client's ideas into real software solutions, web services platforms, mobile applications, SaaS, and AI.
With over a decade of experience, a deep understanding of global markets, and unmatched technical expertise, the development team at Diffco is capable of creating a reliable digital solution for all industry verticals.
Moreover, the company goes way ahead to build, accelerate, polish, maintain, and support clients' solutions for flawless business operations.
The company has successfully delivered 1000+ projects to over 400+ customers ranging from industries like business services, financial services, and consumer products and services; through multiple development services including mobile and web app development, AI, and computer vision development.
Development Services–  Mobile and Web App Development, AI, Computer Vision 
Hourly Rates- $50- $99
10. TheoremOne

TheoremOne is a custom software development and effective technology consulting firm well known for its innovative product development. It aims to build new business lines using the latest-grade technology as an enabler.
Founded in 2007, the firm assesses businesses with its four effective strategies (innovate, rescue, modernize, and accelerate), aligned to meet the specific requirements to boost the client's overall business operation.
TheoremOne advises clients on product strategy, engineering, QA, and culture, then joins hands with them to build, deploy, and embrace new ways of working using custom software applications and business platforms.
With over 15 years of operating as an innovation partner, the company has served a multitude of software services to various sectors like telecommunications, business services, and IT.
Development Services–  Mobile and Web App Development, Custom Software Development, Engineering, Automation, and Digital Transformation
Hourly Rates- $150- $199
Conclusion
There you have it—a list of the top 10 custom software development firms in San Francisco.
The above-mentioned firms are capable of delivering quality products whether you require digital transformation, decentralized solutions, or in-general software applications.
Read Also: Top 10 Software Development Companies in Los Angeles
Using this narrowed-down list of companies, you can easily assess each based on its portfolio, years of experience, mastery of required technology, maintenance, support functionalities, and other areas to join hands with the one that suits your budget and project requirements.
FAQs
What Can The Software Development Companies Help Me With?
If you have an idea for building the next social media, a binge platform, or any revolutionary concept, software development companies can make it go live within weeks. They collaborate with you to get your opinions on the software, feedback, and considerations to effectively provide a cutting-edge solution just as you asked with tons of improvements and bundled features.
From the business point of view, however, business-oriented solutions can help your organization match the pace of changing customer requirements, and effectively streamline operations within your entities for short turnaround and maximum profits.
What I Should Know Before Contacting A Software Development Firm?
The clients should be aware of what kind of solution they need, its target audience, their overall objective, the budget they have for the project, deadlines, and bottlenecks. Having a clear idea of these parameters will make things easy, and they can explain everything in detail to a software development firm, so they can follow the same lead, and produce and deliver solutions accordingly.
However, if the client doesn't know what they need, it's wise to contact a technical expert or a software firm that will guide clients on their requirements for certain business operations.
Shall I Outsource My Software Development Project?
Yes, outsourcing holds all the benefits when it comes to software development, which is why it's always a good choice to outsource software development projects to a software outsourcing company. These benefits include low-cost and high-quality products, better innovation and reach, and access to global talent.
How Can I Hire Software Developers?
You can hire software developers in San Francisco or anywhere else based on your project requirements, budget, and the number of experts required. For this, you have to contact a software development firm and ask if they have a model to augment teams or developers for a certain project.
Here you may have to get involved a bit and assess the team, interview, and then onboard for your product development. However, the steps here may vary from company to company.
Why Should I Join Hands With SoluLab?
SoluLab is the sole destination, whether you want to hire developers or completely hand over the projects while maintaining control over its development processes. We follow the ideology of a client-first, centric solution that helps us calibrate software applications for our clients' betterment. 
We master the art of digital transformation, decentralized development, and other general software development practices, which makes us an all-in-one solution. Furthermore, we offer flexible engagement models and pre-vetted developers that are easily accessible by clients as per their choice and comfort.