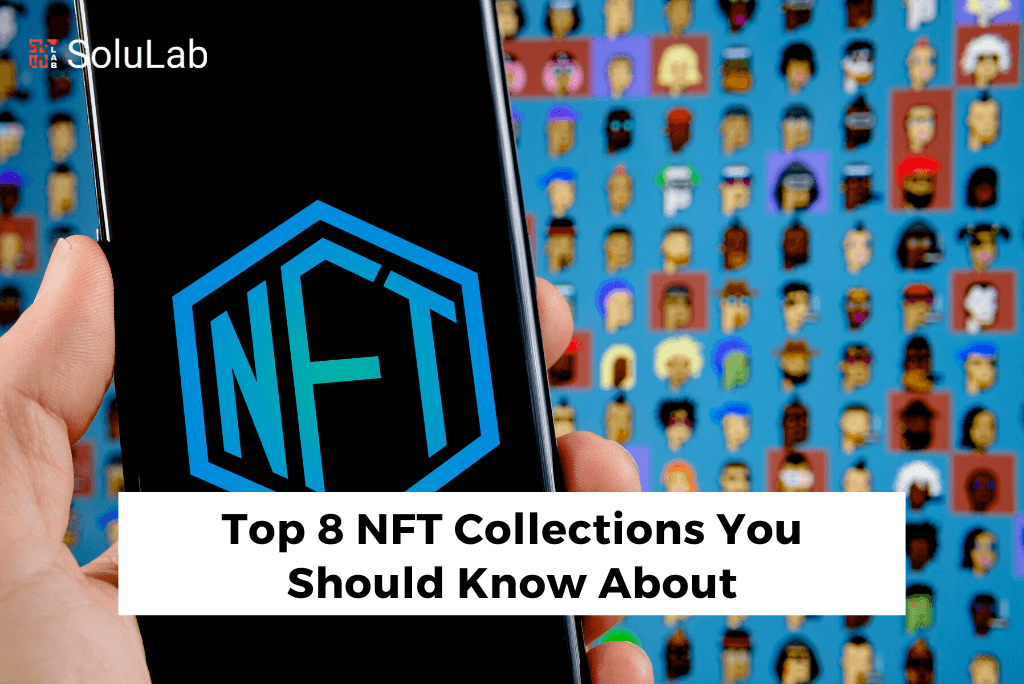 One of the key reasons why this area has become so well-liked and through which many digital artists were able to make millions of dollars is because of the best NFT collections of digital art. Digital art admirers amass priceless items for their personal enjoyment and later resale at a higher price. The top NFT collections, that we shall discuss today, are highly regarded and contain both uncommon and common things. But we'll talk more about that later!
What Is an NFT Collection?
An unlimited amount of non-fungible tokens that are connected by a common interest or field are referred to as an NFT collection. A collection can also represent various independent components of the same thing. Complete lists of NFT collections are worth far more than individual pieces. Brands or sports teams frequently release licensed NFT sets, as well as the items in the set range in rarity. The monetary value of more widespread items is higher.
1. Bored Ape Yacht Club
Probably one of the best NFT compilations available is this one. The 10,000 NFTs in this collection are kept here on the Ethereum network. Each NFT shows a cartoon ape's profile image and is distinct due to the fact that it was created using more than 175 different conceivable qualities, such as facial expression, headgear, and clothes. These traits also indicate that even some Bored Apes are rarer than others.
It's crucial to understand that purchasing a Bored Ape NFT entails more than just purchasing a work of digital art. Additionally, you get admission to the Bored Ape Yacht Club, with a number of advantages. The least expensive Bored Ape NFT on OpenSea as of September 2022 will price you 79.2 ETH, or around $121,500 at the time.
Read also: How NFTs Enable the Market for Digital Collectibles
Regarding the most expensive BAYC sales, there was a recent one where Bored Ape #6588 was sold for 769,9 ETH on September 1st.
2. CryptoPunks
Another extremely valuable and well-liked NFT collection is CryptoPunks. Punk, cyberpunk, and artists like Daft Punk served as inspiration. It is one of the earliest NFT initiatives, together with BAYC and CryptoKitties. The top 10 biggest NFT sales just include up to five NFTs from this collection. Alien CryptoPunk #7523 went for $11.75 million, while CryptoPunk #5822 brought in $23.7 million. Additionally, CryptoPunk #4156, CryptoPunk #5577, and CryptoPunk #3100 all sold for a combined $10.26 million, $7.7 million, and $7.6 million, respectively.
3. Mutant Ape Yacht Club
The Yuga Labs team developed Mutant Ape Yacht Club as an NFT collection of Bored Ape Yacht Club. There are 20,000 Mutant Apes in there.
A bored ape must be exposed to something like vials of mutant serum or it must be manufactured and sold to the general public in order to produce a mutant ape NFT. Bored apes that have undergone mutations to become mutants retain some of their original characteristics. This NFT collection is primarily intended to reward members of the Bored Ape Yacht Club. Considering that the team behind this project is well-known and it already has a thriving community, funding in Mutant Ape Yacht Club could be a wonderful choice. This project also has a very defined roadmap, which is an asset.
4. Otherdeed for Otherside
The forthcoming metaverse Otherside mixes blockchain gaming with MMORPG game elements. Much as in other MMORPG games, hundreds of individuals will be able to participate together in this game. The world of the game will belong to the players, as well as the characters will indeed be NFTs. You can lay claim to the territory in this metaverse thanks to Otherdeed. There are 200,000 Otherdeeds in all; half of them will become accessible in April 2022, and the remaining half will be given to Otherdeed holders who make metaverse contributions.
5. Moonbirds
Moonbirds is yet another top NFT collection by volume. It includes 10,000 Pay – for – performance NFTs, each with a distinct set of characteristics, some of which are more uncommon than others. Moonbirds can be used as a utility token to get access to a private Discord server and an exclusive private club. Once inside, you get access to a number of special drops, Parliament gatherings, and forthcoming initiatives such as the PROOF metaverse.
Read also: How to Get Started with Digital Collectibles?
You can also nest the Moonbird, which gives you advantages over others. And the NFT never leaves your wallet. This is done to honor the most devoted members of the community. However, if successfully nest your Moonbird, you can't put it up for sale online. Only unnested NFTs are eligible for trading.
6. Rare Apepe Yacht Club
Bored Ape Yacht Club & Rare Pepes served as the inspiration for Rare Apepe Yacht Club. A variety of strangely creepy Ape Pepe animals is the end product. Rare Labs was in charge of its design. After being made available in March 2022, Rare Apepes soon rose to the top of the most in-demand NFTs. There are several ideas for Rare Apepe YC's future, including the development of a serum that really can improve certain traits in Rare Apepes. The outcome will presumably resemble mutant apes in some way. According to prophecy, these ten items will reach their legitimate owners. Another great construction that has the neighborhood talking is this one.
7. CLONE X — X TAKASHI MURAKAMI
An NFT collection that is a brilliant illustration of how blockchain technology and the arts have converged. One of the most well-known modern Japanese artists, Takashi Murakami founded the Superflat art style, which was influenced by the two-dimensional imagery frequently seen in manga and anime. The distinction between fine art and popular culture is hazy in Murakami's works. He best exemplifies it with his motif of smiling flowers. Through paintings, sculptures, prints, & performances to commercial art and, more recently, NFT art, he creates a variety of works. Murakami's first NFT project with RTFKT is titled Clone X. An NFT from this collection costs approximately 7.5 ETH, which is currently equivalent to nearly $11,500. As with most of his works, Murakami draws inspiration from Japanese culture and videos for his current NFT project, Murakami Flowers.
8. DigiDaigaku
Check out DigiDaigaku if you're looking for intriguing and rare NFT collections. It is made up of 2022 characters designed to resemble anime by Limit Break. What makes these folks interesting is that they exist in a shadowy realm that is hidden from outsiders. Because of this, not much is currently known about it. Currently, the least expensive DigiDaigaku NFT on OpenSea is selling for 13,37 ETH, or roughly $20,000.
Conclusion
While some people believe that purchasing NFTs is just a waste of money, everyone else is making significant investments in well-known NFT collections. It's hazardous, just like any other trade, but it can be profitable. Additionally, for a lot of these projects, NFTs are just the beginning and are utilized to finance the creation of a metaverse or a blockchain game project. This indicates that they are useful assets rather than only works of art.