Collaborate With Leading NFT Marketplace Development Company in San Francisco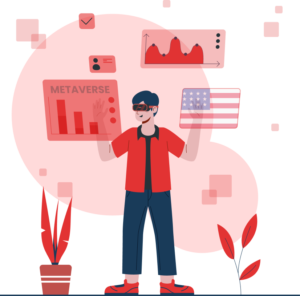 Partner with the leading NFT marketplace development company in the San Francisco and unlock unparalleled opportunities for success. Our expert developers and designers are equipped with cutting-edge technology and a deep understanding of the NFT market. From conceptualization to deployment, we ensure seamless execution and deliver custom NFT marketplaces that are scalable, secure, and user-friendly. Don't miss out on the NFT revolution – take the leap and partner with us to create your own NFT marketplace that will captivate your audience and drive revenue like never before.
Unlock Your NFT Potential with Top NFT Marketplace Developers in San Francisco
If you're looking to tap into the booming NFT market, why settle for anything less than the best? Partner with the top NFT marketplace developers in the San Francisco and unlock your full NFT potential. With our deep expertise in blockchain technology and extensive experience in creating successful NFT marketplaces, we are the trusted choice for your business. From custom features to seamless user experiences, we'll work closely with you to bring your NFT marketplace vision to life, tailored to your unique needs. Lets collaborate with us today and set yourself up for NFT success!
Here's what you will be offered:
Cost-effective solutions
Manual and tool testing
Timely delivery of projects
Superior client satisfaction rate
9+ years of professional experience
Our NFT Marketplace Development Services in San Francisco
We provide specific NFT marketplace development services in San Francisco that create a secure and customizable platform for trading digital assets. Our platform ensures user-friendliness and security with features like digital wallets and smart contracts.
NFT Consulting

We break down the intricacies and help you understand, analyze and strategize high-performance NFT projects incomparably.

NFT Marketplace Development

Once we have decided on the key features, we will begin writing the code and developing your revolutionary NFT marketplace.

NFT Smart Contract Development & Audit

We develop meticulous and automated smart contracts with extensive and systematic analysis of smart contracts, enforcing highly secure audits.

NFT Token Development

SoluLab helps you ace the NFT domain by creating unique and compatible tokens on different blockchain platforms.

NFT Game Development

We offer high-end NFT game development services focused on revolutionizing the entire gaming world with a classic innovative touch.

Asset Tokenization

Speedy and secure tokenization of your digital asset on an integrated blockchain network tailored to your business requirement.

NFT Wallet Development

Helping you develop secure wallets that offer multi-currency support, platform compatibility, QR scanner, transaction tracking etc.

NFT Marketplace Support

Monitoring and providing support for any new upgrades or glitches faced. Make sure that all nodes are functioning correctly.

NFT Whitelabel Solution

Our experts will create an NFT whitelabel solution for you where you can monetize your digital art or other collectibles by converting them into NFTs.
Unique NFT Marketplace App Development Services in San Francisco
As a leading NFT Marketplace App Development Company in San Francisco, we understand that every business has unique challenges and requirements. That's why we take pride in creating bespoke solutions specific to your business's needs. Our team of experienced developers and designers works closely with you to gain a deep understanding of your projects and identify areas where technology can be leveraged to drive growth and efficiency.
Our NFT Marketplace Development Technology Stack
Looking For a Reliable Partner For NFT Marketplace Development in San Francisco?
At SoluLab, we specialize in NFT Marketplace Development Services that can assist your business in achieving its goals. We have years of experience and are well-equipped to provide unparalleled NFT Marketplace Development Solutions tailored to your unique needs. Our team of developers possesses the expertise, knowledge, and experience to deliver customizable solutions that can effectively drive the growth of your business.
NFT Use Cases
Here are some of the top use cases of NFTs, which include representing and verifying digital ownership in various domains like gaming, finance, sports, and art.
NFT for Real Estate

With NFTs, buyers can own a fraction of a property and get a share of rental income. Fractional ownership lowers the entry barrier for investors and facilitates ownership transfer without a physical contract.

NFT for Sports

Fans can purchase these NFTs and own a piece of their favorite team or player's history. NFTs for sports can also enable revenue sharing between athletes and fans, allowing athletes to monetize their brand and build a stronger connection with their fan base.

NFT for Accessories

NFTs for accessories can provide a new way for designers to showcase and sell their products. NFTs can also enable designers to earn royalties on secondary sales, providing a new revenue stream for their business. Users can leverage this feature to own a unique, collectible item and support their favorite designers.

NFT for Art

NFTs can enable artists to monetize their digital creations and provide a new way for collectors to invest in art. Users can leverage this feature to own a unique digital art piece and support their favorite artists.

NFT for Games

NFTs can enable developers to create new revenue streams by selling unique and rare in-game items and earning royalties on secondary sales. This creates a new economy within the gaming industry and can incentivize developers to create more innovative and engaging games.

NFT for Music

By creating NFTs, musicians can offer limited edition digital albums, concert tickets, and other unique merchandise that fans can collect and own. These NFTs can also be used to prove the authenticity and ownership of the music item, making it a valuable and collectible asset.

NFT for Digital Collectibles

NFTs offer collectors an innovative way to invest in one-of-a-kind digital items. Digital assets like virtual trading cards, rare video game items, and other unique digital items can be represented by NFTs. NFT owners can easily prove ownership and authenticity of their digital items, making them valuable and sought-after collectibles.

NFT for GIFs

Creators can monetize their GIFs and engage with their fans by assigning ownership and selling or auctioning them as one-of-a-kind items. This creates a new market for digital art and enables creators to earn income from their work.

NFT for Precious Metals

With NFTs, buyers can have ownership of precious metals such as gold, silver, and platinum, making it easier for users to trade and track ownership of these assets.
Our execution Process
Discovery Workshop

Here, we understand your business, goals, pain points and priorities. These multiple brainstorming sessions help us to map out the existing workflows and your future goals.

Strategy and Solution Design

At this stage, once we gather your requirements in a whiteboard session, we begin designing, prototyping, and user testing your platform or product.

Development

Programming and coding based on the designs approved by you takes place in this stage. Our development lifecycle consists of 3-stages: Alpha phase, Beta phase and Release phase.

Testing and QA

We continue our data-derived validation process, carry out in-depth QA testing, for each release of your product or platform to ensure that the final product, that is ready for the market.

Launch and Maintenance

Here, your product or platform goes LIVE. On your approval, our devs publish your product in live environments. We exclusively take care of cloud and on-premise hosting.

Support and Customer Service

To ensure continuous improvement, we perform ongoing product and platform maintenance and optimization, deploy market strategies, and provide real/fix support.
Features of NFT Marketplace Solution
Our NFT marketplace solution offers customizable design and functionality, secure payment and escrow services, powerful search and discovery tools, and social features for building a community around your platform, all focused on delivering a seamless user experience. Whether you're starting from scratch or enhancing an existing marketplace, we have everything you need to succeed in the NFT market.
Lazy Minting

With lazy minting, users can create NFTs on-demand instead of having to pre-mint them before they are sold. This saves time and resources for creators and allows them to respond quickly to market demand.

Smart Contract Integration

NFT platforms that integrate with smart contracts enable users to set custom rules and conditions for their NFTs. This allows for more advanced use cases like automated royalties, programmable ownership rights, and more.

Tokenization

Tokenization allows users to create unique digital assets that are backed by a blockchain. This provides a level of security and authenticity that is not possible with traditional digital files.