According to a trusted market research company, the global blockchain market is expected to grow at a CAGR of 79.6% and reach the market size of USD 7,683.7 Million by 2022. 
The numbers itself speak volume and hype of the blockchain development.  Further, the blockchain technology has immense potential to disrupt almost all industries in a significant manner.  Earlier only banking, insurance and finance sectors were exploring the ways to adopt blockchain in their existing systems. However, in the current scenario, be it healthcare sector or education sector, logistics and supply chain industry or food and pharmaceutical industry, travel and hospitality industry or retail and eCommerce industry – blockchain has its way to go ahead.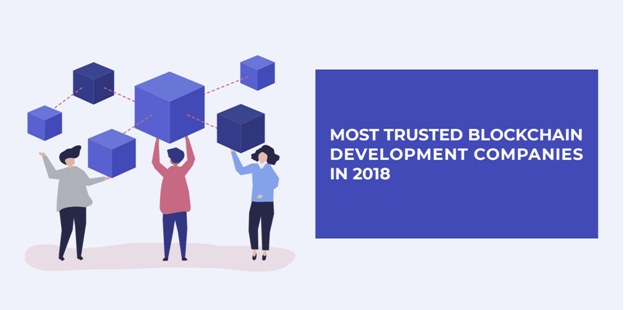 In short, we can say that the world is moving towards the adoption of blockchain technology. So the demand of blockchain development companies will be at its peak in the coming years.
Need For Blockchain Developers And Blockchain Development Companies
According to TechCrunch, Since January 2017, the demand for blockchain engineering talent on Toptal has grown 700 percent, and 40 percent of the fully managed software development projects requested in the last month require blockchain skills.
Understanding the need of blockchain, feasibility study in a particular use case and finally its adoption and integration in the existing systems is a decades-long journey.  And it can't be handled by a single blockchain developer. For that, you need to hire trusted blockchain development companies.
In addition, there are countless innovative companies, across the globe, trying to decipher market inefficiencies and solve them by leveraging the potential benefits that blockchain technology can offer. These blockchain development companies are present in every industry, every domain – from content creation and transportation to financial services and others.
The blockchain ecosystem flourishes on account of the tokenized economies, blockchain developers, blockchain service providers and entrepreneurs who are breaking the mold in the global IT industry.  Let's take a look at the frontrunners and trusted players in the blockchain domain across the globe.
Most trusted blockchain development companies in 2018
The blockchain technology being quite new requires unique expertise. Many companies claim to have adequate domain knowledge. However, there are several implementation and adoption challenges, which need to be known beforehand. For your blockchain project, you need to hire not only expert but also most trusted blockchain development service provider.
Note: Hourly rate has been fetched as is from Goodfirms.
1. SoluLab – Hourly Rate: $50 – $99/hr
SoluLab is a leading blockchain development, mobile app development and web development agency based in the USA. It has a global recognition with offices located in India, New York and other parts of US. Since its inception in 2014, SoluLab has helped entrepreneurs, startups and small businesses to launch digital initiatives to market faster without compromising quality. Some of their products were technically so potential that it even helped to raise Venture Capital funding. Also, they have a great exposure in enterprise blockchain development.
Their specialties include: Smart contract development and audit, private blockchain development, ICO development and launch, crypto wallet development and hyperledger and multichain development among others.
Further, it is recognized as the topmost global Blockchain Development Company in USA and Smart Contracts Development Company in 2018, as awarded by Goodfirms, Clutch and Upwork. It is also recognized as the top enterprise app development company.

2. LeewayHertz – Hourly Rate: $100 – $149/hr
LeewayHertz provides end to end solution to build enterprise-grade blockchain applications using emerging technologies. The company was established in 2007 and headquartered in San Francisco. They develop blockchain applications for startups and enterprises.
Their blockchain development services include smart contracts development, dApps development, blockchain consulting, crypto wallet development and others.
It is featured as the best software development company on the Clutch, Goodfirms, and Appfutura.
3. Techracers – Hourly Rate: $50 – $99/hr
Techracers help startups and small businesses with their unique IT solutions. Originated in 2012 and based in India, it is one of the frontrunners in the areas of technological innovations. They provide end-to-end breakthrough services under one roof where the team conceives, designs and tests real-world blockchain applications.
Their blockchain development services include ICO launch, smart contract auditing, cryptocurrency development, private blockchain development and cryptocurrency wallet development.
Techracers is featured as the top IT Company on Goodfirms and Great Place to Work.
4. IntellectSoft – Hourly Rate: $50 – $99/hr
Intellectsoft is a full-service software partner, capable of developing, marketing, and maintaining both web and mobile application since its inception in 2007. Its offices are located in USA, UK and Norway. It provides blockchain development services through its business segment named Blockchain.Intellectsoft.net. As part of Intellectsoft Group, Intellectsoft Blockchain Lab has access to the biggest pool of engineering, cryptography, and cybersecurity talent in Eastern Europe.
Other areas of expertise include: blockchain consulting, AML/KYC/GDPR compliance, Distributed eCommerce solutions among others.
It is also featured on Clutch, IT Firms, Inc 500 and IAOP The Global Outsourcing 100 as top mobile app development and blockchain company.
5. Blockchain App Factory – Hourly Rate: $50-$99/hr
Blockchain App Factory is an enterprise blockchain technology solution & services provider. It has the advantage to have successfully completed 30+ end to end ICOs with diverse permutations of tech stacks. The company is headquartered in India.
Its specialties include ICO Development, ICO Marketing, Cryptocurrency Development, Blockchain App Development, Cryptocurrency Wallet Development, Cryptocurrency Exchange Development, and MLM Software Development among others.
6. Eleks – Hourly Rate: $25 – $49/hr
Established in 1991, Eleks has its presence in Ukraine and Polland with delivery centers across Eastern Europe and sales offices in Europe, the US and Japan. The company helps its clients transform their businesses digitally by providing expert software engineering and consultancy services.
Along with emerging IT technologies like Data Science, IoT, AR/VR, company provides blockchain development services that optimize financial operations and reinforce asset management.
Eleks has been featured in various publications like IAOP The Global Outsourcing 100, The Webby Awards , Clutch and European Business Awards.
7.  Hidden Brains InfoTech- Hourly Rate: < $25/hr
Hidden Brains is a leading enterprise mobile and web app development company with offices in USA, Norway and India. It offers reliable Blockchain consulting & development services that streamline business operations as well as make them more secured.
The services they offer under blockchain technology are: cryptocurrency development, POC development, hyperledger development among others.
It has won the ninth edition of the Deloitte Technology Fast 50 India 2013 Program as one of the 50 fastest-growing technology companies in India. It has also bagged Corporate Excellence Award at International Conference on ICT for Intelligent Systems (ICTIS – 2017) held at Ahmedabad, India.
8.  Appinventive Technologies – Hourly Rate: < $25/hr
App Inventive is basically a mobile app development company with maximum client reviews on Clutch. It has its presence across the globe with offices in India, USA, Germany, France and Florida. App Inventive helps businesses to top the decentralized World with Blockchain App Development.
Their other specialties are: MVP Creation, Smart contracts development and audit, End-to-end DAPP development and other custom blockchain solutions.
Also, it has been awarded as the top blockchain app development company in 2018 by Clutch, Appfutura and Mobile App Daily.
9. Openxcell – Hourly Rate: < $25/hr
Openxcell is recognized as a leading software and mobile app development company. It has earned name via delivering innovative software solutions and engaging mobile apps. It was incorporated in 2009 and headquartered in the USA.
OpenXcell is tuned for the Blockchain development demands that are driving true differentiation in today's enterprise. Their varied offerings under the umbrella of blockchain tech includes: supply chain blockchain, private blockchain development, ethereum based applications and smart contracts, as well as buying, selling or exchanging multiple cryptocurrencies among others.
Openxcell is CMMI level 3 Development Company and also finds it position under top 15 blockchain development companies on Goodfirms.
10. Parangat Technologies – Hourly Rate: < $25/hr
Parangat Technologies, established in 2010, provides tailored Mobile applications and Web software development services to startups and enterprises. The company has its presence in India, United States, United Kingdom and Australia.
Their suite of blockchain app development services caters to all requirements and budgets- starting from ideation to launch and deployment to maintenance. The company provides various blockchain services like blockchain consultation, smart contract development, creation of E-wallet, exchange and ICO, and others.
Wrapping up
The abovementioned list of the most trusted blockchain development companies 2018 has been curated from our in-house extensive research. All of these blockchain development companies have a global presence and strong portfolio. Their client reviews are real as well as verified by the portals like Clutch, Goodfirms, Appfutura and similar others. If you are in the quest of a trusted blockchain development company, have these companies' websites on the top of your list.