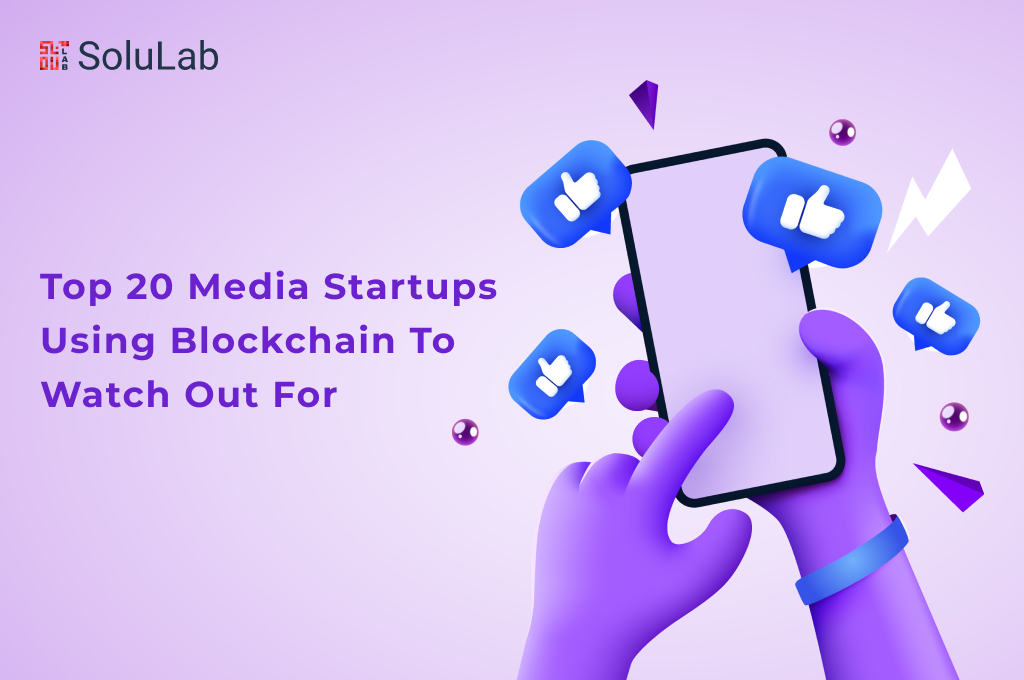 Blockchain technology has been adopted by almost every industry, and the media industry is not an exception to the trend. The adoption of blockchain technology in different industries has been trending in recent times. It is majorly due to the wide range of benefits offered by blockchain technology, such as transparency, immutability, traceability, and many more. In addition to this, the integration of blockchain technology in the media industry helps overcome several challenges existing at present. It is exactly the reason why media businesses are planning to hire blockchain development services to utilize the potential of blockchain technology in the best possible manner.
Blockchain technology in the media industry is allowing for disintermediation, micropayments, streamlined royalty payments, usage-based payments, and many more. With the help of blockchain technology, the power is placed back in the hands of content creators, along with providing a more customer-centric approach. A huge number of media blockchain startups are consistently working to make the best of the available technology to offer significant benefits to the media industry. Here is a list of the top 20 media blockchain startups to watch out for.
1.  Sapien

Sapien is the natural evolution of social media. Sapien is a decentralized, community-driven social platform that provides unprecedented tools for content organization and communication. Built on the Ethereum blockchain, Sapien realizes the true potential of digital assets in a social context, unlocking a new frontier of collaboration to create a truly democratic value economy.
2.  Rally

Rally allows creators to form their own always-on digital economies centered on the value they create for their fans.  Powered by digital assets on the blockchain, Rally offers additive creator monetization through deeper fan engagement and rewards. Their mission is to empower creators to build long-lasting successful online businesses.  
3.  Audius

Audius'​ mission is to create a fully decentralized community of artists, developers, and listeners collaborating to share and defend the world's music.
4.  Mirror

Mirror is a web3-native publishing platform that powers a new writing ecosystem. Writers on Mirror don't just publish, they build community and fund their writing by minting their work as Writing NFTs  — collectible, minted versions of posts on Mirror. Readers on Mirror don't just consume content, they collect it and discover new writers in each other's collections. All of this happens within a tightly integrated web3 product centered around an intuitive editor that allows writers to incorporate smart contract-based economic blocks.
5.  Verasity

Verasity bills itself as a blockchain company where eSports, adtech and digital rights management collide. More specifically, the company aims to increase advertising revenue for video publishers by eliminating ad fraud with its Proof-of-View technology. And on the eSports side, Verasity has partnered with some big gaming names like PUBG Mobile and Riot Games.
6.  Steemit

Steemit is the first social network built on the Steem blockchain, a decentralized reward platform for publishers to monetize content and grow the community. It is a sort of Reddit.
7.  Indorse

Indorse is a LinkedIn-like decentralized platform based on the Ethereum blockchain. The platform uses different methods to validate skills in a simple and objective way, including decentralized consensus, where examples of skill are judged anonymously by random other users. It also uses AI-based systems like chatbots for automated real-time validation. Unlike traditional social media platforms, where users can make any claim about themselves which is often taken as the truth, Indorse verifies and validates the claim, and rewards users for endorsing it.
8.  Props Project

Props Projects platform enables every user to engage in real-time and gain upvote curation power, content trending boosts, and status for their contributions to the growth of the network.
9.  Hashnode
Hashnode is a free content creation platform that enables developers to create a full-fledged & optimized blog mapped to their custom domain for free. It is an online community platform for software developers to ask questions and get answers from community members. It allows users to ask or answer questions, participate in conversations, write blogs, and earn rewards as cryptocurrency for their questions & answers. Users can also share news and follow their favorite programmers/software developers on the platform.
10.  Hapramp Studio

Hapramp Studio builds solutions that enable people to take control of their data, earn a fair fraction of its monetary value, and make a living off their passion. It deals with security & privacy solutions on secured applications.
11.  Plutoverse

Plutoverse is a virtual world. A world that is designed for social interaction between digital identities. Every element of this world is created and owned by the players. We built it for creators, artists, and misfits – we built it for people like us.
12.  Cryptowire

Cryptowire is a blockchain and cryptocurrency-focused content platform that provides the latest news about the blockchain market. Offers training, research, awareness, information and market data.
13.  Decrypt

Decrypt Media is an independent media brand covering stories from business, politics, art, culture, technology, education, and the latest news. It's a newsroom of professional journalists, with a sophisticated perspective and desire to bring transparency and accountability to the space. We also want to provide a platform for "good actors" who are pioneering best business practices and profile entrepreneurs and projects that seek positive social impact.
14.  The Coin Bureau

The Coin Bureau is an informational portal for all things cryptocurrency. Our group of professionals provides in-depth insight into blockchain technology, distributed protocols, and cryptocurrency trading/analysis. The Bureau also has an extensive collection of crypto coin and exchange reviews. We pride ourselves on our impartial and thorough coverage of the industry. We are always considering new candidates. Please reach out to us via linked in or through our contact form.
15.  The Tokenist 

The Tokenist is a media platform for providing relevant, high-quality, and differentiated information for the security token industry. Our unique insights are derived from backgrounds in digital media consulting, crypto asset marketing, and private market investing. This perspective allowed them to recognize early on the disruptive potential of blockchain technology applied to private securities.
16. The Defiant

 The Defiant curates, digests, and analyzes all the major developments in decentralized finance, so that you can stay informed and smart about the most cutting-edge and fastest-changing corner of crypto and finance. They are delivering journalism with authority; objective, data-backed, primary-source, reported pieces, written by insiders who can also provide informed analysis on the latest moves.
17. Crypto Briefing

Crypto Briefing is a crypto research and news media company. They have grown into a resource for the community, reporting on the trends in cryptocurrency and calling attention to innovators.
SIMETRI is their battle-tested suite of research tools—including investment reports, trade recommendations, and a live trading dashboard—with a proven track record of helping people make sound crypto investments.
18.  Blokt

Blokt is a leading blockchain and cryptocurrency resource. They provide you with the latest breaking news in the world of crypto and have many industry tools available for their users.
19. Blockonomi

Blockonomi is a fast-growing blog launched in 2017 which aims to cover aspects of Cryptocurrencies, fintech, and the blockchain economy. They focus on creating informative articles, news, and tutorials to help you gain an understanding of this new technology.
20. Coinidol

CoinIdol is a blockchain news outlet that provides daily coverage of current events and market-moving news in the digital asset industry.
Conclusion 
The media blockchain startups mentioned above have emerged to be notable performers in the media industry. Their valuable inputs into the industry, along with a classic innovative touch, ensures the delivery of the best of services. Although a number of startups are working dedicatedly to bring about the necessary change in the media industry, the transformation is not yet over. It is because of the evolving technology on a regular basis and incomplete utilization of the same. However, it is expected that the fullest potential of blockchain technology will certainly be utilized within a decade or so.